Share this infographic on your site!
Bloodthirsty — Inside the Mind of a Serial Killer
Serial killers are as fascinating as they are horrifying. As much as we fear them, we can't help but be captivated and perplexed by their nature. Let's take a look at some of the most infamous — and chilling — serial killers in history, along with a closer look inside their minds.
Serial Killers Through History
Here's a brief list of some of the deadliest serial killers in history. (1)
1940s
John George Haigh
Also known as: The Acid Bath Murderer
Where: England
Active: 1940-1949
Crimes: Convicted of killing and dissolving in acid the bodies of 6 people.
Sentence: Hanged in 1949.
1950s
Peter Manuel
Where: Southern Scotland
Active: 1956-1958
Crimes: Convicted for killing 9 people, but thought to have killed as many as 18.
Sentence: Hanged in July 1958.
1960s
Names: Ian Brady and Myra Hindley
Where: Greater Manchester, England
Active: 1963-1965
Crimes: Sexually assaulted and murdered 5 victims ages 10-17.
Sentence: Both received life in prison.
Donald Henry "Pee Wee" Gaskins Jr.
Where: American South
Active: 1969-1975
Crimes: While he claimed that he killed more than 100 people, it's not clear whether that's true or if he simply wanted to be a famous serial killer.
Sentence: Executed in South Carolina's electric chair Sept. 6, 1991.
1970s
David Berkowitz
Also known as: Son of Sam, .44 Caliber Killer
Where: New York City
Active: 1976
Crimes: Shot and killed 6 people, wounded 7 others.
Sentence: 25 years to life for each murder, served consecutively.
Ted Bundy
Where: U.S.
Active: 1970s
Crimes: Kidnapped, raped and murdered many women, 12 of whom he decapitated.
Sentence: Death by electric chair in 1989.
Edmund Kemper
Also known as: The Co-Ed Killer
Where: California
Active: 1970-1973
Crimes: Killed and dismembered 6 women, then murdered his mother and her friend.
Sentence: Though Kemper asked for the death penalty, he was given life in prison.
Larry Bittaker and Roy Norris
Also known as: The Tool Box Killers
Where: California
Active: 1979
Crimes: Raped, tortured and murdered 5 women.
Sentence: Bittaker was sentenced to death, but Norris was given 45 years for testifying against Bittaker.
Pedro Alonso Lopez
Where: Colombia
Active: 1970s
Crimes: Raped and killed more than 300 girls around South America, mainly in Colombia and Peru.
Sentence: Life in prison after a mass grave was found with 53 of his victims' bodies.
1980s
Dennis Rader
Also known as: The BTK Killer
Where: Wichita, Kansas
Active: 1974-1991
Crimes: Stalked, tortured and murdered 10 people.
Sentence: 10 consecutive life sentences.
Richard Ramirez
Also known as: The Night Stalker
Where: Los Angeles, CA
Active: 1984-1985
Crimes: Robbed, raped, mutilated and murdered many people, from a 9-year-old to a couple in their 60s. He was known for being a Satanist and smearing pentagrams on the walls of his victims' homes with their blood.
Sentence: Sentenced to death, but died in prison in June 2013.
Jeffrey Dahmer
Also known as: The Milwaukee Cannibal
Where: Milwaukee, Wisconsin
Active: 1978-1991
Crimes: Raped, murdered, dismembered and cannibalized 17 men and boys.
Sentence: 15 consecutive life sentences, but killed by a fellow inmate after just two years.
Andrei Chikatilo
Also known as: The Butcher of Rostov
Where: Russia
Active: 1980s
Crimes: Raped, murdered and mutilated at least 52 women and children.
Sentence: Executed by firing squad in 1994.
The Psychology of Serial Killers
"I don't feel guilty for anything. I feel sorry for people who feel guilt."
Ted Bundy (2)
The nature of psychopathy is still somewhat a mystery to the medical and scientific community: Is it upbringing or nature or a mixture of both that drives these people to do what they do? And are they "fixable"?
Psychopathy and Psychosis: A Closer Look
Psychopaths understand right from wrong. They are unlikely to become psychotic unless they suffer from additional mental illnesses or take powerful drugs.
Traits of psychopaths (3)
Superficial charm
Pathological lying
Lack of remorse or guilt
Impulsivity
Unrealistic goals
Early behavioral problems
A feeling of being above the law
Traits of psychotic patients (4)
Delusions and hallucinations
Loss of interest in regular activity
Lack of personal hygiene
Illogical beliefs
Paranoia
Confused or bizarre behavior
Violence toward self and others
3%+
Lifetime prevalence of a psychotic disorder (5)
30 to 40 years
Ages at which adults are at a higher risk of brief psychotic disorder (6)
Brief psychotic disorder is more likely to affect those of a low socioeconomic class, those with other personality disorders and immigrants. (6)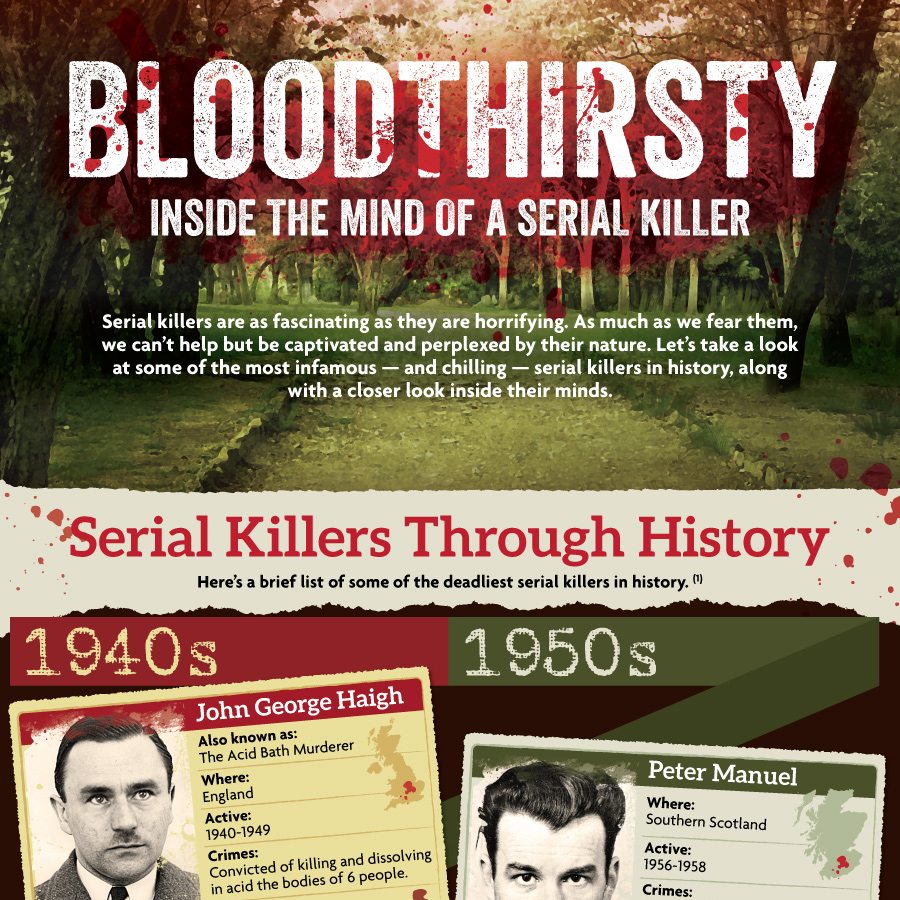 Sources:
1. http://list25.com
2. http://www.psychologytoday.com
3. http://www.fbi.gov
4. http://www.wisegeek.com
5. http://www.schizophrenia.com
6. http://www.ietherapy.com
Check out our Top Online Criminal Justice Degree Programs for 2015
Back to Features
FAQ
Home
Rankings
Resources
Contact Us
About CJD Hub