In honor of their contribution to a safer society, Criminal Justice Degree Hub decided to profile some of America's most famous justice seekers of the past century.
These intrepid few investigated the crimes, shaped the cases and made a splash in the public consciousness. In some cases, they successfully nailed some of the biggest perps in the past century; in others, not so much. Whatever the outcome of their most famous cases, they possessed persistence, guts and style, as well as a flair for staying in the public eye and became as famous as the criminals they were chasing.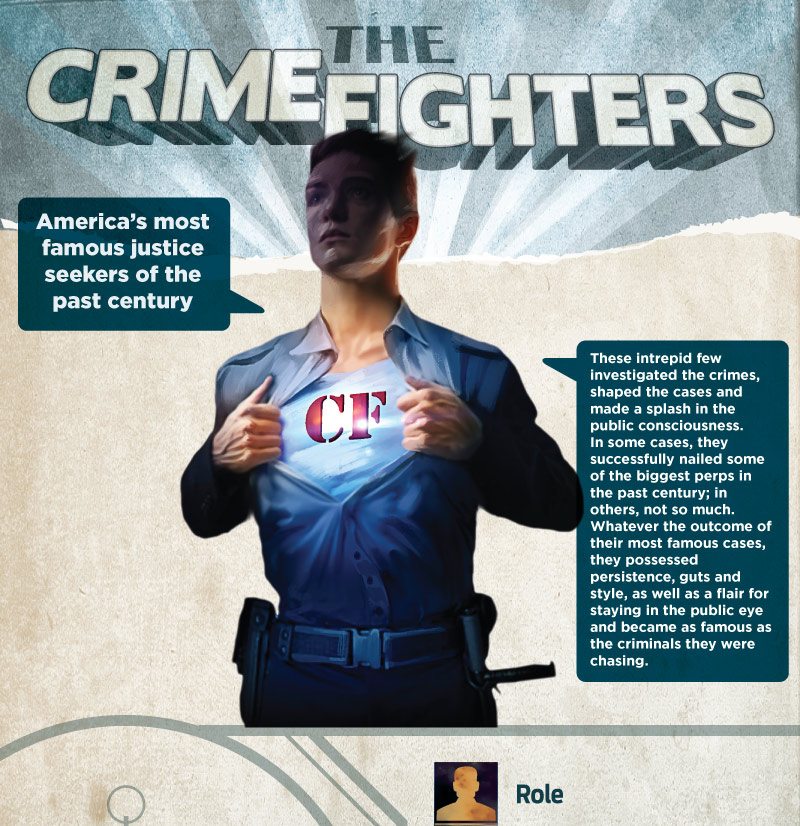 Thomas E. Dewey
Role: Special prosecutor of organized crime and district attorney of Manhattan
Most Famous Case: New York vs. Salvatore "Lucky" Luciano, the first boss of the Genovese crime family, considered the father of modern organized crime
Case Dates: 1935-41
Result: Luciano was convicted of 62 counts of compulsory prostitution, sentenced to up to 50 years in state prison. Luciano was released from prison during World War II after agreeing to spy for the U.S. Navy and died in Italy on Jan. 26, 1962.
Where are they now: Dewey died March 16, 1971.
Featured Schools
Robert H. Jackson
Role: Chief prosecutor for the United States for the Nuremberg Nazi trials; associate U.S. Supreme Court justice
Case dates: 1945-46
Most Famous Case: Trial of the major war criminals, including Reichsmarschall Hermann Goering, Deputy Fuhrer Rudolf Hess, SS leader Ernst Kaltenbrunner and 21 others
Result: Of the 24 defendants, 12 were sentenced to death, three were acquitted, four sentenced to prison terms of between 10 and 20 years, three were sentenced to life in prison, one was considered too frail to stand trial, and one committed suicide before the trial began.
Where are they now: Jackson died Oct. 9, 1954.
J. Edgar Hoover
Role: First director of the Federal Bureau of Investigation
Most Famous Case: Investigation and arrest of Bruno Richard Hauptmann, the accused kidnapper and murderer of Charles Lindbergh's infant son. As director of the FBI, his methods included infiltration, burglaries, illegal wiretaps and planted evidence, and his legacy is tainted because of it.
Case Dates: 1932-35
Result: Hauptmann was convicted and sentenced to the death penalty.
Where are they now: Hoover died May 2, 1972.
Eddie Egan and Sonny Grosso
Role: New York City police detectives
Case Dates: 1961-62
Most Famous Case: Drug bust that inspired the film "The French Connection"
Result: Seizure of more than 112 pounds of heroin with a street value at the time of more than $32.5 million and breakup of a drug smuggling ring
Where are they now: Grosso is a TV and film producer; Egan died Nov. 4, 1995.
Vincent Bugliosi
Role: Deputy district attorney, Los Angeles County
Most Famous Case: Charles Manson and the Manson family murder trials
Case Dates: 1969-71
Result: Manson and his four co-defendants were all convicted of first-degree murder and sentenced to death; the state of California subsequently outlawed the death penalty, and those sentences were commuted to life in prison.
Where are they now: Bugliosi is an attorney and author.
Carl Bernstein and Bob Woodward
Role: Washington Post reporters
Most Famous Case: The Watergate burglary, in which the Democratic National Committee offices were broken into, was the tip of the iceberg in a political conspiracy that included President Richard Nixon and his top associates
Case Dates: 1972-74
Result: President Richard Nixon resigned in disgrace, while several aides resigned or were convicted of Watergate-related crimes. Bernstein and Woodward won a Pulitzer Prize for their coverage of the scandal.
Where are they now: Both men have gone on to write best-selling books, and Woodward is still working at the Post as an associate editor.
Joe Pistone (aka Donnie Brasco)
Position: FBI agent in New York
Most Famous Case: U.S. vs. 120 members of New York mafia families, including leaders of the Bonnano family
Case Dates: 1976-81
Result: Cases against the Bonnano family resulted in the conviction of 120 mob members to prison for life.
Where are they now: Pistone is an author and law enforcement consultant who still lives under an assumed name.
Marcia Clark and Christopher Darden
Role: Los Angeles deputy district attorneys
Most Famous Case: Murder trial of football star and actor O.J. Simpson, accused of killing his ex-wife and another man
Case Date: 1995
Result: Simpson was acquitted after a trial that lasted 11 months; in 2008, a civil verdict that held him liable for $33.5 million in damages in Goldman's death and his ex-wife's battery was upheld. Simpson was convicted of armed robbery and kidnapping in Nevada in 2007 and is serving a 33-year sentence.
Where are they now: Clark is a columnist and has published two novels; Darden practices law in Los Angeles.
Lanny A. Breuer
Role: Assistant attorney general for the criminal division, U.S. Department of Justice
Most Famous Case: BP Deepwater Horizon oil spill
Case Date: Ongoing
Outcome: As a result of the 2010 oil drilling platform explosion and spill, which killed 11 oil rig workers and spewed 5 million barrels of oil into the Gulf of Mexico, BP pled guilty to 11 felony manslaughter counts and was ordered to pay $4 billion in damages, the largest judgment in U.S. history.
Where are they now: Breuer plans to return to private practice after stepping down from the Justice Department.
Sources: The Federal Bureau of Investigation, The Telegraph, New York State, Encyclopedia Britannica, Manhattan District Attorney's Office, roberthjackson.org, Washington University of St. Louis Law School, Time, Newsweek, The Washington Post, bobwoodward.com, carlbernstein.com, National Geographic, People, cnn.com, The Guardian, pbs.org, christopherdarden.com. usatoday.com, U.S. Department of Justice, economist.com.
Related:
TOP 25 MOST AFFORDABLE CLINICAL PSYCHOLOGY ONLINE PROGRAMS
30 PROS AND CONS FOR GETTING A FAST ONLINE MASTER'S DEGREE
ARE ONLINE MASTER'S PROGRAMS EASIER TO GET INTO?
5 TYPES OF NONPROFIT ORGANIZATIONS RECOGNIZED BY THE IRS
89 RACIAL EQUITY RESOURCES FOR HEALTHCARE, EDUCATION, AND COMMUNITIES