1. Conquest Knight XV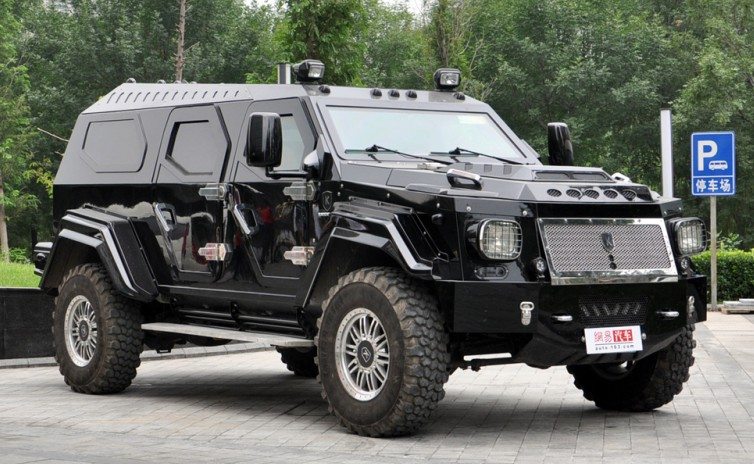 Just as Tough as it Looks
Armored vehicles are used for various reasons. Conquest Vehicles designs and builds heavily armored private security vehicle armored luxury SUVs. Their flagship vehicle is the Knight XV. Adapted from military SUVs, the Knight XV's design will withstand extreme violence while keeping its occupants safe from harm. Every vehicle is custom built starting with a luxurious base model with a variety of options that provide a truly regal armored ride.
The Foundation
The Knight XV is an armored vehicle. It was designed that way. Unlike many civilian armored vehicles, it is not an armored version of a normal car. When combined with its other security features it provides unrivaled protection for its passengers. It is a large vehicle, almost twelve feet long, eight feet wide, and eight feet high. It tips the scale at approximately six tons and has a 6.8L V10 Ford flex-fuel engine. The engine can run gasoline or up to eighty-five percent ethanol. The chassis is based on the Ford F550 Super Duty.
Featured Schools
The Standard Cabin
The standard interior is an exercise in opulence – and security. Hand-crafted leather seating for six passengers is the most apparent luxury. Lighting needs are amply met with map lights and ambient lighting. For entertainment, there is a remote-controlled dual-screen rear console. Laptop stations for the rear seats make work or play on the road simple. Front and rear FLIR night vision cameras are standard and have screens for the driver and passengers to monitor their surroundings. The windows are two-inch bulletproof glass with powered front windows.
Interior Options
The options for the interior are extensive. The seating can be upgraded from the boardroom to first-class aircraft sleeper seats. A partition with a two-way intercom between the driver and passengers provides privacy. Entertainment upgrades include a large flat screen TV, Satellite TV, an upgraded media system, and an entertainment bar. A cooler box and cigar humidor add creature comforts to the package. Optional curtains for the rear passenger and/or rear windows provide additional privacy. Bolt locks for the doors increase security for the cabin.
Exterior Options
The Knight XV has several exterior options to increase the utility and security of the vehicle. There is a siren with two way P/A and intercom system and hidden front strobes for VIP, security, or law enforcement purposes. An auxiliary fuel tank adds to the 63-gallon capacity of the main tank and remote starting to have the vehicle ready to go as soon as the driver is. Surveillance cameras and external microphones prevent nasty surprises when exiting. To aid in locating the vehicle and discovering what happened if it is missing A GPS transmitter and black box help locate the vehicle and tell what happened if needed. For high-risk buyers, there is a system to detect devices magnetically attached under the vehicle and wire mesh tailpipe protection.
The Knight XV is an incredible armored vehicle. It would be a good fit for any high-end private security team. It is too expensive for most law enforcement agencies, but for those that can afford it, it may be the coolest criminal justice vehicle ever.
3. ASV Panthera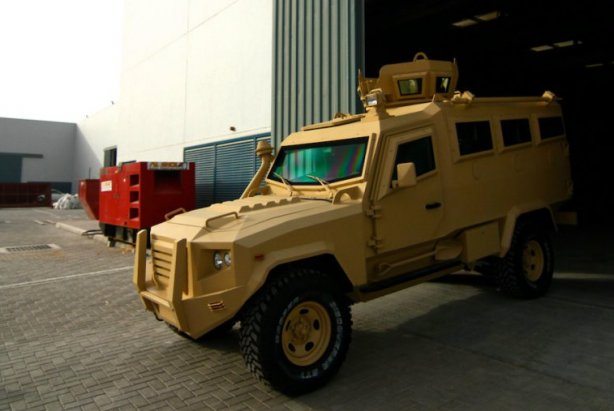 A Versatile Fighting Vehicle
The ASV Panthera is a heavily armored private security vehicle manufactured by Ares Security Vehicles LLC in conjunction with the Ukrainian Company PJSC. This multi-role vehicle can be tailored to many different situations. These configurations can suit anything from private security to terrorist attacks, wars, urban unrest, and any other type of conflict.
The vehicle is also designed with the latest materials and technology. This helps it withstand more firepower although it weighs less than conventional fighting vehicles. At the same time, the ASV team focused on a number of different aspects of its design. This allowed them to create a state-of-the-art defense vehicle that is both reliable and cost-effective.
Power
The ASV Panthera is powered by a 4.2-liter diesel turbo intercooler. There is also an engine variant that is run by gasoline. It is equipped with a five-speed manual transmission. This combination allows the Panthera to get in and out of battle zones in no time.
Interior Features
The ASV Panthera is loaded with interior features that are perfect for private security and military operations. One great feature that the vehicle provides is a modular seating arrangement. This provides the owner with a choice of flip-up seats, bench seats, blast mitigating seats, and slung seats for the crew compartment. This enables it to fully maximize the available space to carry a large number of either personnel or supplies.
Another feature available with the Panthera is a first aid kit and emergency stretcher. With this, it can be converted to a medical evacuation vehicle at any time. It also has the latest surveillance, communications, and electronic countermeasure equipment. ASV also ensures that only state-of-the-art equipment is installed in the Panthera. Additionally, both the crew, commander, driver and air-conditioned cabin can be designed to meet specific requirements. At the same time, the vehicle was created with an emphasis on safety to increase crew survivability.
Exterior Features
In addition to being loaded with interior options, the Panthera is also equipped with outstanding features on the outside. A lot of these are designed in order to help the crew meet any battlefield condition and gain the upper hand. The Panthera has a roof-mounted search camera and lights that are remote-controlled. This enables the crew to assess conditions in order to make the best decision in any situation.
The vehicle also comes equipped with a jerry can holder, shovels, toolboxes, sand ladders, and tow bars that are ready to use any time. Buyers also have the option of having rear and side gun ports, roof-mounted gun turrets, roof hatches, and roof racks installed for added protection.
4. Paramount Group Marauder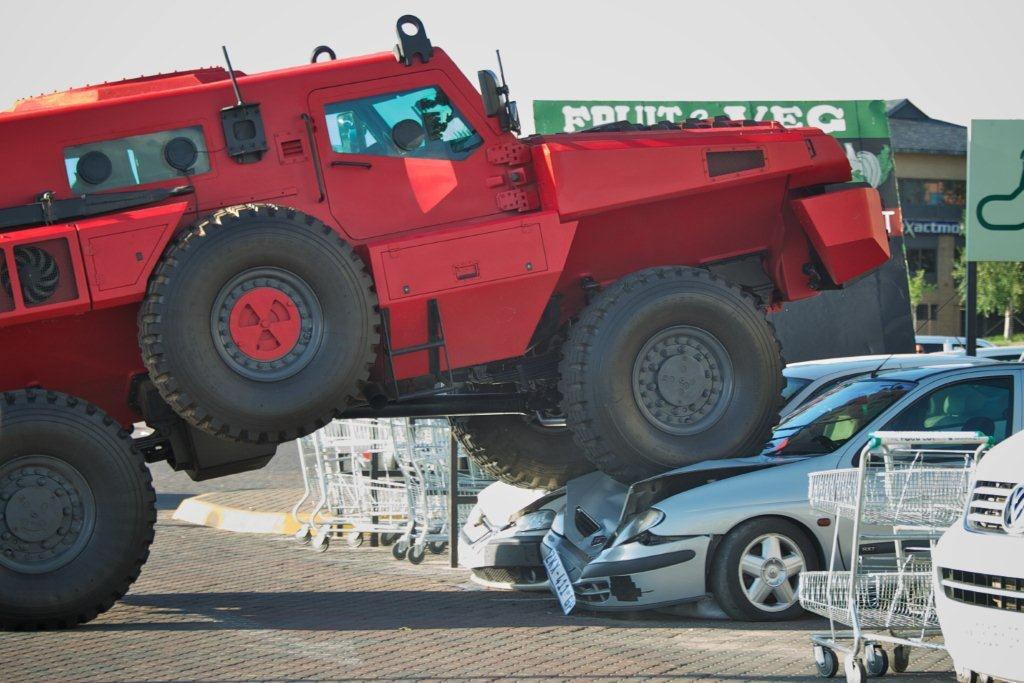 A New Breed of Defense Vehicle
The Marauder is a heavily armored private security vehicle that is a mine-protected 4×4 armored vehicle. It is manufactured by the South African firm Paramount Group. Launched in 2007, it offers excellent crew protection and survivability. It also demonstrates outstanding payload capacity. It is designed to be a highly agile multi-role mine-protected armored vehicle. It is perfect for people working in private security or as military contractors.
Features
The Marauder has a double skin hull monocoque structure. This provides the vehicle with a smooth finish and a modern appearance. The commander and driver are placed side by side in a well-developed layout. This layout is designed for optimal communication.
This private security vehicle is manufactured with large bulletproof windows. This will provide occupants with excellent all-around visibility. It is powered by a diesel engine that is protected upfront. This allows it to have more space for troops and the crew. It is also designed with a deep and narrow V-shaped hull. This provides all-round protection against mines and IEDs.
Paramount Group also designed this fighting vehicle with ease of maintenance in mind. This allows for cost-effective repair and production of the vehicle.
Armament
The Marauder can be equipped with medium and light caliber machine guns. It can also support mortar firing platforms, missile launchers, and cannon weapons. The storage bin that is fitted on the vehicle allows it to perform extensive missions autonomously.
Protection
One of the main strengths of the Marauder is its double-skinned hull protection. This protection extends throughout the crew compartment and cabin. It offers STANAG 4569 level four mine protection under the hull. It also has a double anti-tank mine under any wheel.
The vehicle also has ballistic protection against 50 caliber ammunition and 7.62 x 54 mm API 32 RB. Additionally, the vehicle can withstand 155 mm Air Burst high explosive ammunition.
The Paramount Group also designed the crew seating arrangement to increase survivability during extreme accelerations. These accelerations often occur during mine explosions. At the same time, private security companies also have the option of purchasing add-on armor plates. This additional protection can be installed in the vehicle's internal space between the side walls if required.
Engine

The Marauder is equipped with a powerful six-cylinder diesel turbo engine. This engine is coupled with a semi-automatic transmission. It delivers a total of 801 Nm torque and 165 kW of power. It can also be manufactured with a wide variety of engines that have increased power at the customer's request. This enables it to provide excellent off and on-road mobility.
5. Navistar Defense MaxxPro Dash DXM MRAP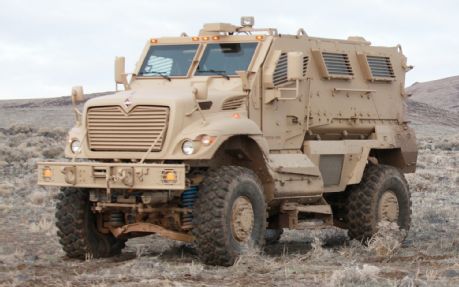 An All American Fighting Vehicle
The MaxxPro Dash DXM MRAP is an armored vehicle that is manufactured by Navistar Defense. It is designed to be an ambush-protected and mine-resistant armored fighting vehicle. At the same time, it was created with an emphasis on enduring improvised explosive device ambushes and attacks. Additionally, it can survive in nuclear, chemical, and biological attack environments. This is the reason why it is perfect for private security and military operations worldwide.
Protection
The Maxx Pro Dash DXM MRAP is manufactured utilizing a crew capsule. It also has a V-shaped hull. This hull is mounted on the vehicle's International WorkStar 7000 chassis. This unique hull shape is designed for one purpose. It is made to deflect the blast from either an improvised explosive device or a land mine. This provides maximum protection for the vehicle's occupants. The manufacturer can also customize the vehicle's exterior armor. This will allow it to meet specific mission needs. The vehicle also has side plating and bullet-resistant windows for added protection. The armor that the MaxxPro Dash DXM uses is manufactured and designed by Plasan. This company has been manufacturing armored vehicles since 1985.
Engine
The Dash DXM is powered by a 9.3-liter MaxxForce 9.3D. The vehicle's engine was based on Navistar's family of six diesel inline engines. Additionally, this engine is fed by a single geometry-variable turbocharger. Another power source in the vehicle is the Hydraulic Electro Two Unit injectors.
With this combination of turbochargers and injectors, this fighting vehicle's engine has the capability to operate using two fuel sources. This includes either JP8 or diesel. It can also produce up to 1,525 pounds per foot of torque and 465 horsepower. All of this power is transferred to the ground using the stout Allison 3000 automatic five-speed transmission.
Suspension
Unlike the previous MaxxPro Dash vehicles, this Navistar fighting vehicle is equipped with an improved DXM suspension system. The DXM suspension system is well known in the military vehicle industry as a no-compromise solution. This allows the vehicle to have greater off-road mobility while letting occupants experience a high-quality ride.
It can also be easily merged with other straight axle fighting vehicles. Additionally, Navistar's proven platform puts durability, quality, and reliability where soldiers or private security need it most in their fields of operation.
Weapon Systems
The MaxxPro features a shielded transversing roof-mounted machine gun turret for self-defense. This turret can be equipped with either a 12.7 mm heavy class or a 7.62 mm machine gun. For night actions, the vehicle can be equipped with blackout lights. It also has a backup electrical system that is powered by a 400 amp alternator and four 12 volt batteries.
The MaxxPro DXM also has full air brakes that are very active when in motion. When the vehicle is parked, hand-operated and air-activated brakes are applied to the rear axle. Hutchinson Runflat wheels are preferred for the vehicle. These are mounted on single Michelin 395/85R20 all-around XZL tires.
Related:
JOBS IN LAW ENFORCEMENT OR AS A FEDERAL AGENT
HOW LONG WILL I HAVE TO GO TO SCHOOL FOR A CRIMINAL JUSTICE DEGREE?