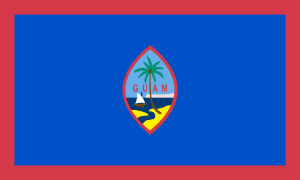 If you are looking for a criminal justice school in Guam, you've come to the right place. Below you'll find a comprehensive list of traditional colleges and universities offering well-respected and accredited criminal justice programs. If you live in Guam but would prefer to get your criminal justice degree online, click here for a list of the top online schools.
One of the five United States territories with an established civilian government, Guam is located in the western Pacific Ocean as the largest and southernmost of the Mariana Islands. The island has a population of 173,334 total inhabitants, with an average 1.3 percent population growth annually. About 37 percent of the population is native Chamorros, while the rest are of Philippine, American, Chinese, or Japanese descent. The tropical marine climate allows for hot and humid weather throughout the year. Due to its location on the western edge of the Pacific Plate, Guam occasionally experiences earthquakes too.
Featured Schools
The island is well-known for its coral reef, sandy beaches, mangroves, and coastal cliffs. It is situated near the Mariana Trench, which is considered the deepest part of all oceans on the globe. Since Guam is a popular travel destination for tourists from Asia and other parts of the world, the economy depends primarily on tourism and locally owned businesses. With a number of U.S. military bases on the island, the Department of Defense is another sizable source for the economy.
Criminal Justice Jobs Outlook in Guam

According to the Bureau of Labor Statistics, there were 2,710 jobs in protective service and law enforcement positions in May of 2012. For every 1,000 jobs on the island, 44.428 were in the criminal justice field. As the population continues to grow, more enforcement officers and protectors will be needed. The location quotient for the field is 1.8, while it is expected for the profession to increase by 6.0 percent between 2010 and 2020. Those employed in law enforcement and criminal justice jobs earn an average of $32,040 annually or $15.40 in hourly wages.
Financial Aid in Guam

The following are some of the scholarships and grants that are offered for tuition assistance to students in Guam:
Academic Competitiveness Grant (ACG) – provided to eligible full-time students enrolled in two or four-year colleges that have maintained a 3.0 GPA after their first year of college.
Pell Grant – based upon financial need, eligible students receive funding every semester for tuition, room, and board, or textbook supplies to achieve college success.
Federal Supplemental Educational Opportunity Grant (FSEOG) – awarded to students that demonstrate an exceptional need for financial assistance in supplement to the Pell Grant.
Leveraging Educational Assistance Partnership Grant (LEAP) – designed to be gifted to student achievers that show a financial need, maintain a GPA of 2.0, and receive at least a 20 on the ACT test.
Related: