Check out this list of 50 Good Cops – Police that are a credit to the force, a benefit to their communities, and make the badge look good!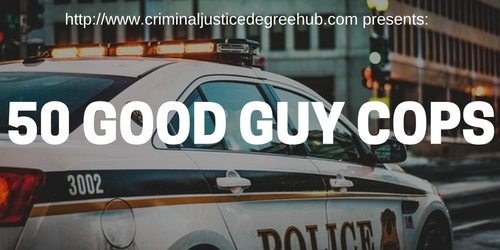 Last month we featured 10 Bad Guy Cops who were caught on camera while acting badly on duty. This month, amidst a lot of news, we're featuring 50 Good Guy Cops who demonstrate that while things may need to change with how police interact with the public, not all police officers behave badly.
Featured Schools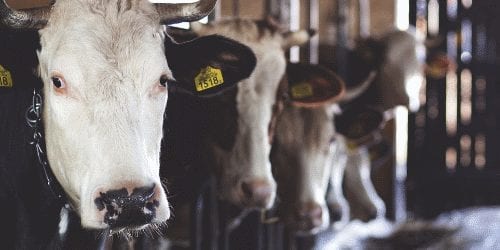 Starting four years ago, the US Food & Drug Administration and Department of Justice took action against a raw milk farmer in Elkhart County, Indiana. The farmer was producing raw dairy and selling it to an organic food co-op, which prompted investigations by the FDA and DOJ. Repeated investigations. According to Elkhart County Sheriff Brad Rogers, the federal investigators started turning up for unsolicited and unconstitutional inspections as often as every two weeks, rather than the typical yearly inspections.po
The farmer reached out to Sheriff Rogers when the DOJ sent a subpoena to appear before a grand jury. Rogers researched the issue and concluded that no one had gotten sick from the milk and the feds, therefore, were trying to make an example of the farmer.
He emailed a lawyer at the DOJ, stating:
I understand that you have made recent requests to (the farmer) for documents and to appear before a grand jury, and he has had a number of inspections and attempted inspections on his farm within Elkhart County. This is notice that any further attempts to inspect this farm without a warrant signed by a judge, based on probable cause, will result in federal inspectors' removal or arrest for trespassing by my officers or I. In addition, if any further action is taken by the federal government on (the farmer), while he is in Elkhart County, I will expect that you or federal authorities contact my office prior to such action. I will expect you to forward this information to your federal associates, including the FDA.
The subpoena was cancelled shortly after, and Rogers, an elected Sheriff, went public ("A Sheriff Interposes") to let people know that elected officials can "stem the tide of federal overreach if they apply just a little backbone. He also decried the nanny state telling us what we can or cannot eat or drink, even raw milk.
Sheriff Rogers is a prime example of a Good Guy Cop.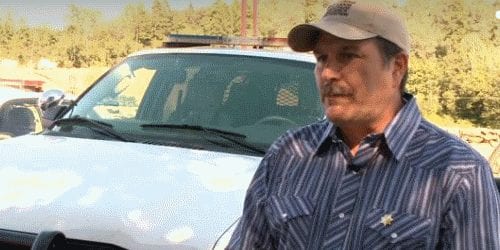 El Dorado County Sheriff John D'Agostini was displeased with the U.S. Forest Service.
While Sheriff D'Agostini wouldn't provide specifics, he had received "numerous, numerous complaints against the federal agents of the forest service and announced that he was stripping the Forest Service of their authority to enforce California law within El Dorado County, California.
Sheriff D'Agostini was quoted as saying:
"I take the service that we provide to the citizens of El Dorado County and the visitors to El Dorado County very seriously, and the style and manner of service we provide. The U.S. Forest Service, after many attempts and given many opportunities, has failed to meet that standard.
The Sheriff has deputizing powers, including removing deputization from other agencies, and good guy cop D'Agostini doubts that removing the Forest Service's authority will increase response times when campers and other people outdoors call for assistance or to report a crime.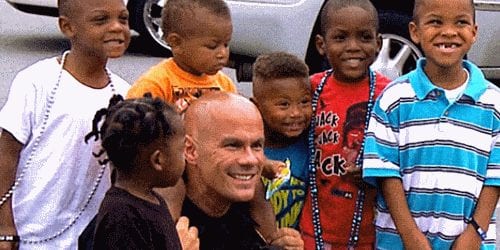 An Arkansas police officer in North Rock received $64,000 from a GoFundMe campaign set up by rapper The Game.
The Game set up this donation campaign to spotlight Officer Tommy Norman's efforts to reach out to the local community and ease racial tensions by reaching out to, and spending time with, underprivileged, inner-city children.
Watch a video of rapper Killer Mike talking about Officer Norman's efforts on CNN, or the Today Show's feature about this good guy cop.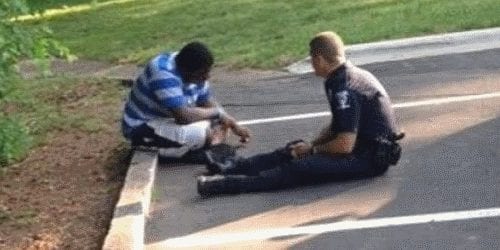 Officer Tim Purdy, of the Charlotte-Mecklenburg Police in North Carolina, was caught on camera sitting on the ground and helping a potentially suicidal teen work things out.
After the boy, who has autism and a history of violence, left his home, Officer Purdy tracked him down and tried to figure out what to do. When the boy sat down, Purdy joined him and had a conversation with the boy.
Good guy cop Purdy has been applauded by many for his act of compassion, including by the organization Autism Speaks, who says that children with autism often have many challenges, including depression and anxiety.
Officer Purdy serves as a powerful example of how police can take the time to empathize and understand others' needs and be a force for good, one life at a time.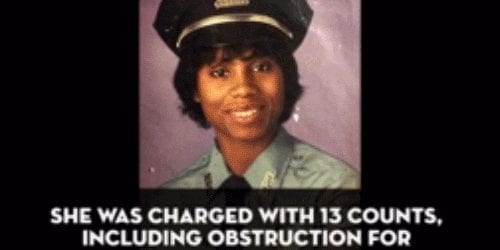 Officer Cariol Horne responded to a call about a domestic disturbance. Upon entering the house, the suspect was handcuffed and on the ground, subdued. Despite the suspect being under control, another officer – Officer Greg Kwiatkowski – was repeatedly punching the suspect in the face.
While Horne and other officers removed the suspect from the house, Kwiatkowski followed them to continue attacking the suspect, even going so far as to choke him.
Officer Horne tried to talk Kwiatkowski out of the attack to no avail and proceeded to remove the officer's arm from the suspect's neck. Officer Kwiatkowski then turned his assault on Officer Horne, punching her in the face.
Officer Horne ended up facing charges, including 13 counts of obstruction, including a false charge of jumping on Officer Kwiatkowski's back and/or punching him, which Kwiatkowski denies ever happened. She was also denied her pension after being on the force for 19 years.
Luckily, as of 2015, Buffalo Mayor Byron Brown had set a meeting to revisit her case with "fresh eyes. Hopefully this good guy cop, who stopped an assault on a man in custody by her fellow officer, can get some justice of her own.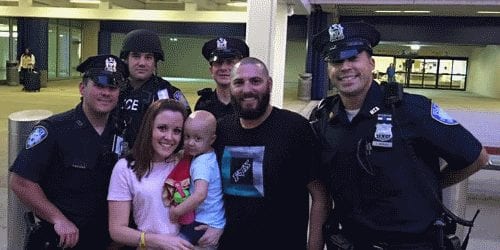 Little Natalie was diagnosed with stage 4 Neuroblastoma.
While in the hospital receiving chemotherapy, Natalie stated that she wanted to meet some police officers. A short time later, Natalie received a surprise visit by the Phoenix, Arizona Police Department.
When she was brought to NYC for surgery, the NYPD even picked her up from the airport.
With all of these good guy cops as an example, Natalie's family is asking for police patches from around the country so they can make blankets for her and other cancer patients.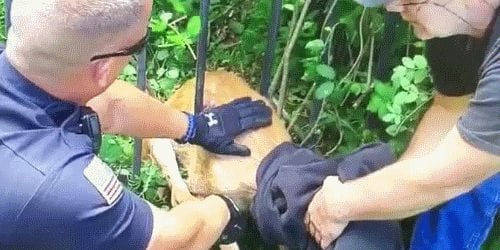 In Rome, New York, the police got a call from a concerned homeowner about a deer stuck in their backyard fence.
Officers Aaron Page and Alex Spyniewski responded, finding the doe had gotten stuck while trying to squeeze through a pair of fence bars and failing.
They tried what they could to separate the bars, even going so far as using a car jack to give the trapped deer some clearance.
When that didn't work, the officers requested backup from the Fire Department and their Jaws of Life, which parted the bars and let the animal free.
We give credit to these good guy cops for doing their best to save a helpless animal, and for knowing the right thing to do in a unique situation.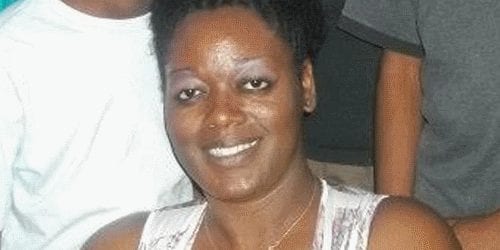 At the recent, instantly-infamous Dallas Rally for the two black men who were shot by police, Shetamia Taylor and her son were in the crossfire as shots rang out.
An officer shouted for Shetamia to run, as the assailant had a gun, but she had already taken shot in the back of the leg and couldn't run, so she lay on top of her son to protect him.
An officer asked if she had been hit, then covered Shetamia and her son with his body to shield them together. Three others, most of whom were white, stood around her as further protection.
As they were guarding Shetamia and her son's lives, one of the officers was struck and killed by the assailant, Micah Johnson.
She spoke in a press conference about these good guy cops, and thanks them for their sacrifice.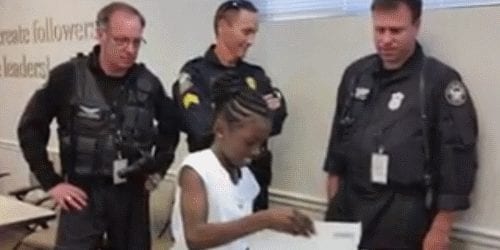 In Atlanta, officers threw a birthday party for the daughter of fallen APD Officer Shawn Smiley.
Elizabeth Smiley's father died in a helicopter crash while searching for a missing child on November 3, 2012, leaving behind his wife and three children, including Elizabeth.
The good guy cops behind this birthday surprise were members of the helicopter unit. They've been labeled the children's "Uncles in Blue for their support of the family since the tragedy.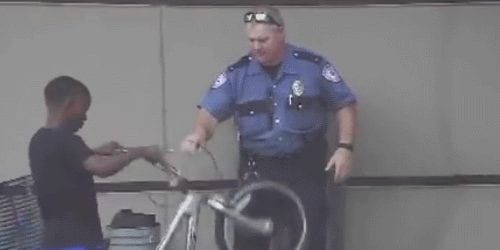 This is a quick time-lapse video of how to create goodwill in the community, giving officers a chance to do some simple good that doesn't involve heroic stunts – just a good guy cop offering everyday help.
Here, an officer of the Lufkin PD takes the time to replace and fill an inner tube for a child's bicycle and asks the child to come back again to get the other tire fixed.
Simple acts of outreach and goodwill make a huge impact on the community and can boost relations between good guy cops and the neighbors they serve.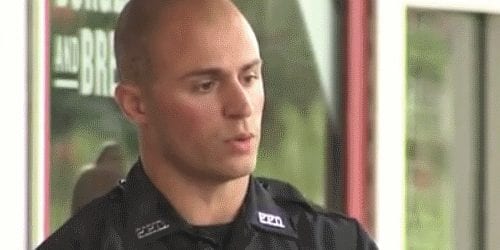 An officer in Pensacola, Florida responded to a call about a puppy left in a hot car.
Officer Anthony Giorgio heard the puppy barking and located the car sitting in the sun on a 94 degree day.
Noting that the inside of the car appeared to be hotter than outside, he called his sergeant and gaining permission for entry into the car, Officer Giorgio broke the window with his baton.
This good guy cop rescued a puppy from a life-threatening situation.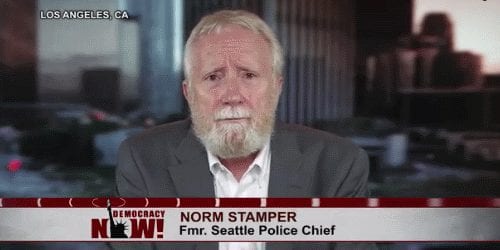 Norm Stamper, former chief of the Seattle Police Department, has written a book: To Protect and Serve: How to Fix America's Police.
He was interviewed about the current state of policing in the US and the distrust among the public, as well as the benefit of bystanders' cameras to the police and the public.
According to Stamper:
But we have altogether too many officers that police chiefs and sheriffs are fond of calling bad apples. Well, when you get as many bad apples as we seem to see in police work today, it's time to examine the barrel. It is time to look at the entire orchard and to recognize that even a fresh apple placed into that toxic environment is going to turn bad.
This good guy cop is speaking out and trying to close the gap between cops and citizens, and encourage recording to keep everyone safe and accountable.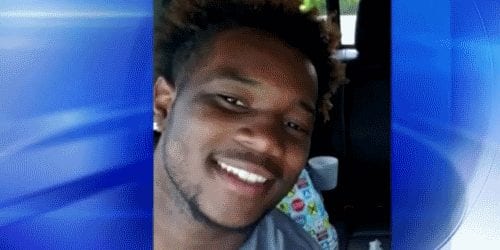 Officers responded to a call in Barnesville, GA about a tent pitched on Gordon State College's campus. The found a homeless teenager, Fred Barley, who had ridden his bicycle six hours to register fo for his second semester. He was waiting for the dorms to open so he could move in and find a job.
Among the officers who responded was Officer Dicky Carreker of the Gordon police department. He and the other officers paid for two nights in a nearby motel for the student, and Carreker's wife posted the story to Facebook.
People responded to the student's plight and helped him pay for a month in the motel and bought him a new bike, clothes, and school supplies among other gifts, and helped him secure a job. The college is also allowing him to move into the dorms early.
There was also a GoFundMe page set up for Barley that raised $36,000.
Because of the empathy demonstrated by these good guy cops, Fred not only has help for his future, he's made a lot of new friends.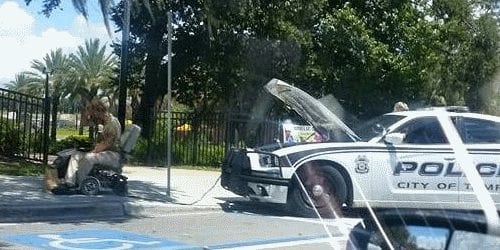 This is a case of a picture being worth a thousand words.
Here we see a Tampa, Florida officer using his patrol car to charge an electric wheelchair for a citizen stranded in the baking Florida sun.
This good guy cop is another example of how a simple good deed can change someone's day and engender goodwill in the community.
The Sheriff's Office in Martin County, California responded to a call about an cries coming from near the Roosevelt Bridge.
On the scene, they heard the cries of a black kitten in the water, struggling to stay afloat. The Marine Unit rescued the kitten and these good guy cops took it to the nearby Humane Society, where the little feline was given the name Roosevelt after the bridge near its rescue site.
The Sheriff's Office has been tracking Roosevelt's health and the kitten is doing well. The Human Society is preparing Roosevelt for adoption.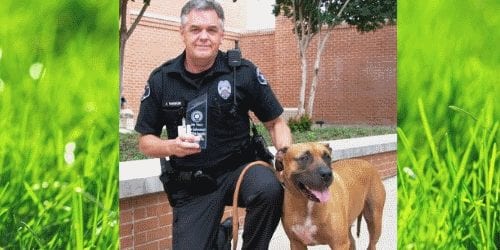 You may be surprised to see the K9 unit's newest recruit.
The much misunderstood and maligned Pit Bull may be the next generation of K9 officers, charged with the task of keeping the peace in place of the ubiquitous German Shepherd.
Animal Farm Foundation and Universal K9 have teamed up to save pit bulls from shelters and train them to be police dogs. So far, the program has placed nine pit bulls in various police departments and has shown that the members of this sidelined breed are just as capable as their forebears.
Rescuing shelter dogs is a win-win: it gives a hard-working, loyal animal a second chance, and is a cost-effective way to bring K9 units in without paying hefty fees to breeders. These pit bulls will make some truly good guy cops.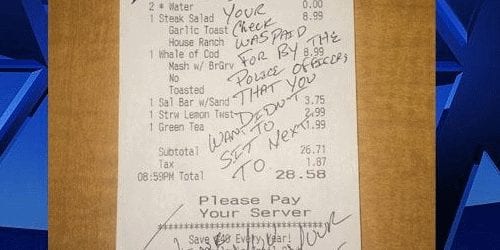 A table of police officers were enjoying dinner at Eat N' Park in Homestead, PA outside of Pittsburgh.
When a couple came in and the server attempted to seat them next to the officers, the couple declined. Officer Chuck Thomas said, "It's ok, sir. You won't have to worry about it, we won't hurt you, but the man declined again and asked to be seated somewhere else.
The officers were fully aware of recent tensions between police and those they're charged to protect, so they decided to pay the couple's bill as a sign of good will.
Good guy cop Officer Thomas said:
"Essentially the whole goal of it was to let him know that we're not here to hurt you," Thomas said. "We're here for you. We work for the public. And we just want to better the relationship between the community and the police."
The gesture even solicited a smile from the couple as the officers left.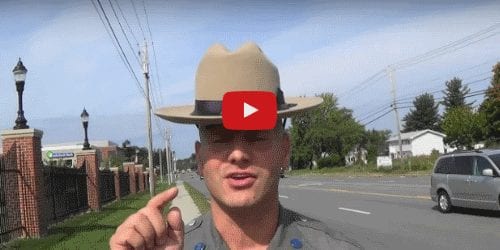 In Albany, NY, a citizen was stopped for filming the New York State Police Station. Despite the citizen's legal right to film public property from public access areas – that is, the sidewalk he was on – the citizen was stopped by Officer Fougere of the New York State Police.
Fougere repeatedly demanded identification, wrongly stating that he could require identification at any time. Fougere also demanded to know why the citizen in question was filming the station.
The fact that there was no evidence of an upcoming or in-progress crime was lost on Officer Fougere.
The good guy cop in this story is Fougere's sergeant, who comes out and lets the trooper know that it's perfectly fine and legal to film the police station and he should leave the man alone.
The story ends well, with Officer Fougere even stating that he was wrong.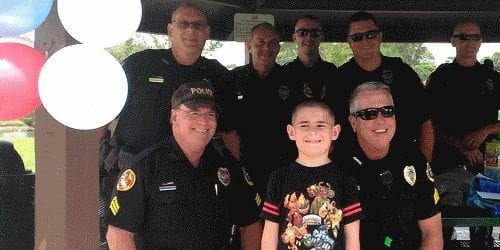 When none of his classmates RSVPd to the autistic boy's birthday for the third year in a row, Daniel Nicastro's parents reached out to the local police department and delivered invitations.
They explained that they were throwing a party for their autistic son's 8th birthday and that having police stop by would make Daniel's day.
Daniel's parents didn't expect much, but on his birthday, a number of patrol cars pulled up to the birthday party at the park and seven officers got out, bringing gifts of comic books.
Daniel said it was the best party ever, where real life superheroes – that is, these good guy cops – came in and saved the day.
Sgt. Paul Neugebauer said he and other officers who stopped by simply wanted "to make this boy's birthday and nothing else really."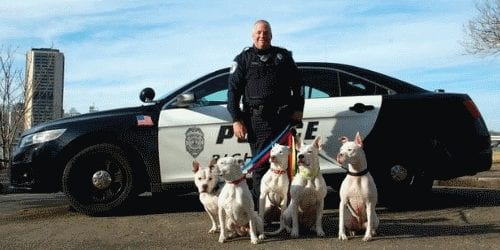 Detective Mac Adams of the Richmond Police Department is a true good guy cop. Not only does he organize for non-profits, he's single-handedly rescued five deaf dogs, four of which are pit bulls.
Deaf dogs routinely go un-adopted at shelters and are often euthanized. Adams and his family advocate for deaf dogs and tries to correct the negative stereotypes surrounding the pit bull breed. He said:
"I have met many gentle, calm, good-natured Pit Bull type dogs since getting my guys, he said. "They are truly a great breed that has been used by an portion of the population for nefarious purposes and the breed, not the people, have suffered for it.
Good guy cop Adams was even invited to the board of nonprofit Deaf Dogs Rock, which advocates for deaf canines.
Another group of good guy cops and animal lovers is the Petal Police Department in Petal, MS.
They found a puppy roaming the streets after it had been abandoned at the local dog park. They named her Felony and brought her to the station because the local shelter was full. She took to the station immediately, enjoyed the officers' company, and curled up in a chair for a nap.
Felony found a home that very day with on of Petal PD's own officers.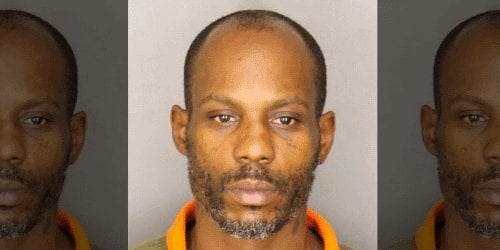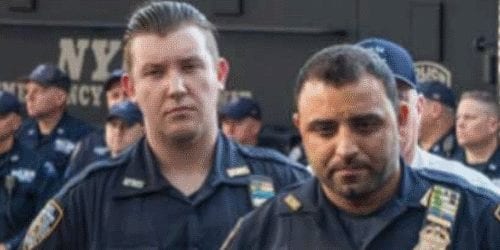 On February 8, 2016 in Yonkers, Earl Simmons – known as rapper DMX – may have nearly died from a drug overdose.
Four officers came to his aid in a Ramada parking lot and found him with no pulse. They performed CPR on Simmons until a medic could inject him with an anti-opioid to counteract any drugs that may have been in his system.
A police spokesman said that no drugs were found at the scene, no charges were filed, and that "The cops did a great job, they saved [his] life — no doubt about it.
These four good guy cops responded in an emergency situation and saved a citizen's life, regardless of the circumstances they may have found

Officers Drive Potential Bomb Away From People
Sergeant Hameed Armani and Officer Peter Cybulski put themselves in harm's way to save a group of bystanders.
They were on patrol in Times Square when an SUV pulled up alongside them. A passenger in the SUV tossed a blinking, clicking device into the patrol car, onto the dashboard.
The two men thought, with good reason, that the device was an armed bomb. Instead of fleeing the vehicle and saving themselves, they immediately decided to drive away from the crowded square to a less populated spot to minimize damage to bystanders.
From PX11:
"I look around, saw a lot of kids, a lot of young people, said Armani, a 10-year NYPD veteran and father to a young daughter. "We both look at each other and I go, 'We're going to go, but I'm not going to have anyone else go with us.'

Armani drove their van, sirens flashing, eastbound to 46th Street and Sixth Avenue, the officer said…When both NYPD members were a safe distance away, they requested bomb squad.
The bomb turned out to be fake, and the instigator was found and apprehended. These good guy cops had no idea until the bomb squad took care of it, and risked their lives to save lives around them.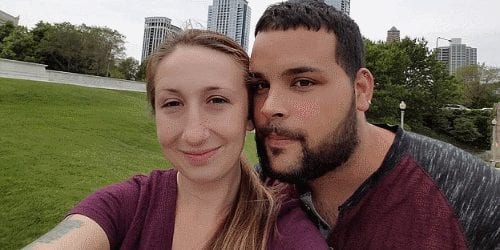 Deputy Eric Cheek responded to a 911 call from a woman that ended in a scream. Upon arrival, Cheek heard further screaming and a gunshot as he approached a home in Deltona, Florida.
As he got closer, Cheek heard a man say "You're going to die today, and children begging him "Please don't kill her. The man, Emmanuel Rosado, husband and father to the victims in question, shot his wife in the buttocks and opened fire on the deputies after arguing over custody of the children during a separation.
Cheek sought cover and viewed the woman crawling out the front door and to the driveway and dragged her, bleeding, to safety while his partner, Justin Ferrari, ran inside to rescue three children by ushering them out the back door. They apprehended Rosado on the back porch.
These good guy cops put themselves in the line of fire to successfully rescue a family from an enraged man with a gun.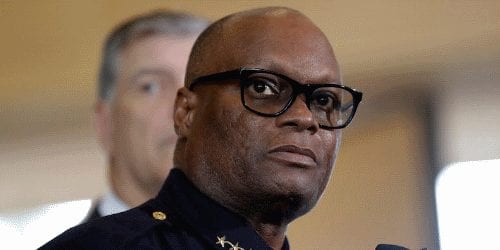 After Black Lives Matter protesters asked Police Chief David Brown if he agreed with any of their points in the wake of the Dallas police shootings, he said:
"I probably wouldn't protest or complain. I'd get involved and do something about it, by becoming part of the solution, and "We're hiring. Get off that protest line and put an application in.
This good guy cop has been commended for his work with the Black Lives Matter protesters, and applications to the Dallas Police have jumped from 11 per day to 40 per day in the wake of his comments. They need to fill 200 positions and this boost in applications may be just what they need to fill out the force and take some of the strain off of the current officers.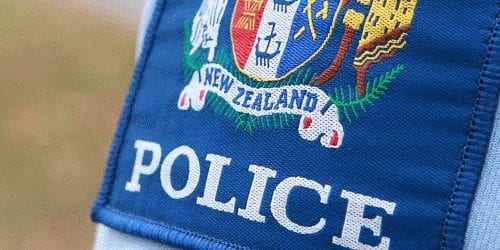 When a New Zealand police dog handler stomped on an burglary suspect's head, three of his fellow officers told him to stop and turned him in for breach of protocol and excessive force.
"Officer E was found guilty of excessive force by an independent conduct authority.
The incident happened after chasing down one of two men who were attempting to break into a house. The man was large and resisting arrest, being pinned on his stomach with his hands underneath, refusing to put his hands behind his back for cuffs.
Officer E walked up and immediately stomped on the suspect's head, causing his ear to bleed. The other three good guy cops criticized him and held him accountable for his actions.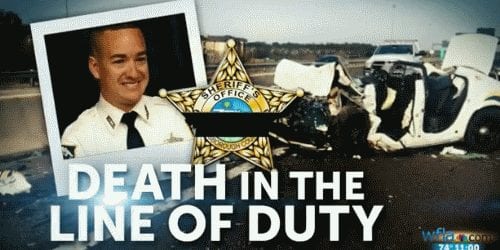 Deputy Drives Into Another Car's Path to Protect People
A deputy in Florida appears to have purposely put his vehicle in the path of another car going the wrong way to prevent the driver from hitting another car. Hillsborough County Sheriff's Deputy John Robert Kotfila, Jr. rushed around Sarah Geren's vehicle during her commute home from work after she noticed a car heading toward her, westbound in the eastbound lane.
"I started to pull over to the side of the road, but that hadn't even occurred all the way when the officer rushed around me… one or two seconds after he passed me, he hit the car, instead of me, said Geren.
Good guy cop Deputy Kotfila died from the impact after saving Ms. Garen from a similar fate.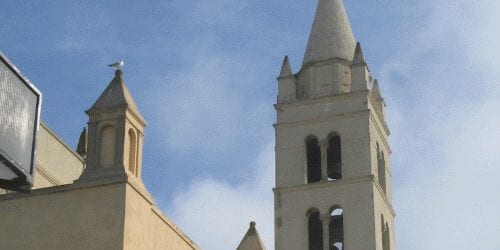 A high school boy was caught on camera assaulting a visually impaired boy in Southern California. The video, taken at Huntington Beach High School, was shared through social media, showing a teen punching a visually impaired student, with a third boy stepping in and punching the original aggressor, asking why he tried to "jump a blind kid.
The police identified and arrested the 17 year old attacker on suspicion of misdemeanor battery against the visually impaired student (the third student, standing up for him, was not charged).
These good guy cops took action to prevent further bullying at Huntington Beach High.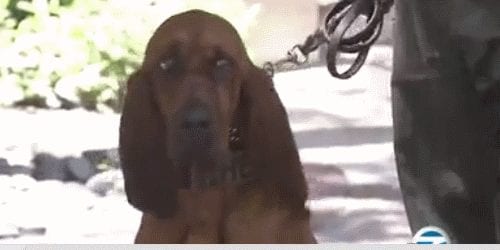 In Twin Peaks, California, a K9 officer tracked down a kidnapped girl who had been taken into the woods.
San Bernadino Sheriff's K9 unit Deja, and handler Deputy Josh Stone, were called into the mountains to help locate a kidnapped 16-year-old girl who had been fighting with a man in her grandmother's home. When the man left, he took the girl with her.
Later, a call came in from a witness who heard a girl screaming for help. When he looked outside, he saw a man with a flashlight dragging a girl into the woods by her hair.
After getting the scent from a few of the victim's personal items, Deja tracked her through the woods an to a house, where the dog would not budge from the front door. The girl and the suspect were both inside.
Not all good guy cops are human, and credit goes to both Deja's handler, Deputy Stone, and Deja, too.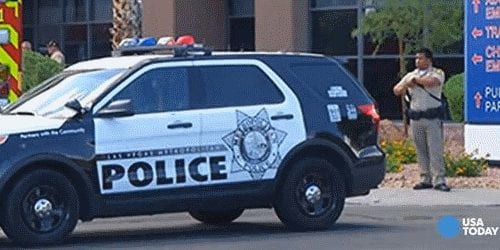 A man allegedly walked up to a patrol car sitting at a stop light in Las Vegas and, without provocation, started firing into the marked SUV.
One officer was struck in the hand as the shooter fired multiple shots into the vehicle.
The good guy cop in this case was the injured officer's partner, who chased the man down on foot, retrieved the man's weapon, and arrested him without firing a single shot of his own.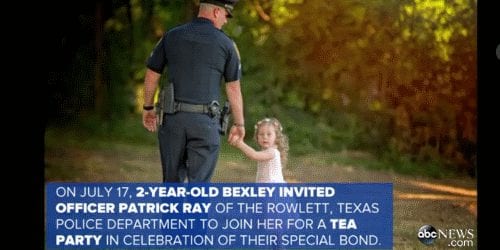 2-Year-Old Bexley Norvell invited Officer Patrick Ray to a tea party. Officer Ray, of the Rowlett Texas Police Department had saved her life last year and she wanted to spend some time with him.
On July 26, 2015, Bexley's mother noticed that Bexley's lips were blue and she was going limp. Unaware that Bexley had swallowed a penny, her father called 911. Officer Ray responded while on his lunch break and quickly did a sweep of little Bexley's throat, removing the penny and saving the girl's life.
Good guy cop Officer Ray is close with the Norvells, seeing each other at Thanksgiving, Christmas, and even at the Norvell children's birthdays.
Officer Ray had this to say about Bexley and the tea party:
It was something that I just couldn't turn down because I knew it was going to be really special for her mom and Bexley," Ray told ABC News. "I have two boys, so I don't get to do that type of stuff you do with a little girl. She's a sweetheart. She's my best friend.

Some members of the Meridian, Ohio police department had taken classes on interacting with dogs in an effort to reduce the number of dog attacks and dog shootings when police are forced to interact with dogs while on duty.
Officer David Gomez learned techniques second-hand from officers that had taken classes and reported back, and was eager to implement his knowledge when he answered a call about two aggressive dogs on the loose.
A video shows Gomez interacting with the dogs, keeping calm and not showing fear, and every other technique that he knew. He said the training he had received worked perfectly and that he was able to avoid using deadly force on the dogs.
Good guy cop Gomez collected the dogs, returned them home, and issued the owners a citation. More police interacting with dogs would do well to follow his example. The training came from Jim Osorio's Canine Encounters Law Enforcement Training, and Osorio would like the video of Officer Gomez's interaction to encourage other departments to release their own footage, as well as seek out similar training for their own officers. Not only would it protect dogs' lives, it could protect police from dogs and improve departments' public relations by resorting to lethal force against dogs less often.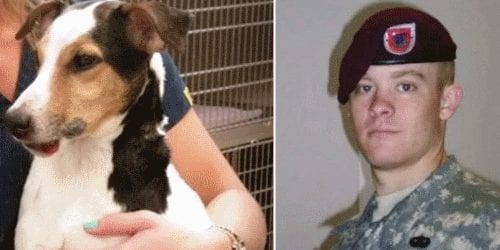 Cop Saves Dog's Life
Moline Police officer Tyler Hoogerwerf saved a dog's life by rushing to its aid after being struck. Jake the dog was hit by a vehicle while chasing a squirrel and had trauma to the head, including brain swelling and a fractured jaw.
Hoogerwerf had the owners carefully place Jake into his squad car and rushed him to the Animal Emergency Center of the Quad Cities in Bettendorf, Iowa. He overheard that money was tight and didn't want Jake to be put down just due to financial inability. The Emergency Center's personnel posted to Facebook commending the officer's actions and stating that he offered $300 of his own money to help pay for Jake's care.
This good guy cop is the same one that helped rescue cats during a fire at the Henry County Humane Society in Illinois.
Officer Matt Schuman is a school resource officer for Washington County School District in Utah and is credited for saving two lives in two separate incidents in a single day.
First, he revived a teen who felt ill in gym class, started vomiting and collapsed while being led out of Dixie Middle School by Schuman and her parents. She was suffering a seizure and cardiac arrest. Schuman caught her when she fell and performed CPR until EMTs arrived.
Later that day, Schuman was heading home from working at a school wrestling match and heard a call from dispatch about a 9-month-old choking. He was only a few houses from the scene, so rushed to the home and removed the obstruction from the infant's throat.
Schuman is twice a hero and an amazing good guy cop.
Officer Darren White of the Albuquerque police department spent years in a D.A.R.E band, touring through the 90s and singing to kids about the perils of drugs, including marijuana. Even into the 2000s, he kept his hard line stance, stating in a 2007 interview:
"I've never supported medical marijuana. I'm very sympathetic to the patients. I watched my father die of cancer, and it's the most difficult thing in the world, but I don't think you have to smoke marijuana to gain the comfort and relief that's provided by the THC.
Now, however, he's changed his mind. After being prescribed a narcotics regimen after a leg reconstruction and back surgery, he understands the negative effects of prescription painkillers on quality of life. He turned to medical marijuana to help and this good guy cop is now a cardholder and freely admits that, while he had reasons behind his beliefs, he was wrong.
Police Chief "C of the Gloucester, Maine posted an open letter to heroin addicts on the department's Facebook page.
In his message, the Chief reached out to heroin users with compassion and understanding, stating that there had been 4 overdoses in 24 hours, but all of them had been saved by increased availability of Narcan, which counteracts heroin's effects.
Chief C states that each individual is "important and worth it. Instead of cracking down on addiction, he instead offers help:
…We accept you. We know that you don't want this. We are open 24 hours a day, 7 days a week to help you when you want it. There is recovery and a new life that can and should be yours. You deserve it. Your life is more meaningful than your death. Don't be ashamed of your illness. We are not ashamed of you, It's time…come and get the help.
Chief C even offered to put people who "aren't ready in contact who has gone through the recovery process to help them prepare themselves for their own recovery. This good guy cop also says that no Gloucester officer will accept another award until every victim of drug addiction in the country has immediate access to sustainable care.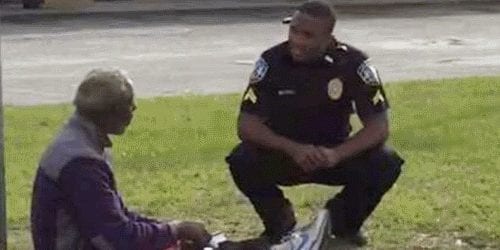 Corporal Brandon Lord of the Savannah-Chatham Metropolitan Police Department received a call of a middle-aged man walking down the middle of the road. He approached the man and could tell immediately that the man was in distress.
The man had been trying to get to Walmart and kept arriving at bus stops to late, missing each bus. He also hadn't had a thing to drink all day. Lord said he didn't even think about it, and just went into a nearby convenience store and came back to the man with food and water, then sat down to talk and let the man eat.
They shared some small talk and when the man finished his food, this exemplary good guy cop drove him to Walmart.
A witness to the events said:
"There is so much negativity about the police and public servants that I wanted to share an image of an officer doing the right thing. I have many friends who work for EMS and are police officers, and I know what a thankless job it can be. Police officers put their lives in danger every day, so there should be more positive stories about them."
A homeless mother showed up to the lobby of the Prince George's County Police Department in Hyattsville, Maryland. She was the victim of domestic abuse, was hungry, and had nowhere else to go.
Corporal Che Atkinson found she had left the local shelter and arranged for a relative to come pick the pair up from the station but found them still there the next morning, the relative being delayed. That's when this good guy cop stepped up to help her and rented a hotel room for the woman and her young child, as well as providing food and drink for them as it had been two days since they had eaten.
Atikinson's sergeant documented this act of kindness surreptitiously and shared it via Facebook. Atkinson said, ""This is a helpless child so it's our duty to help and that child was definitely in need.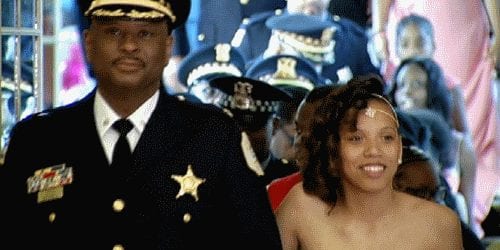 The Chicago Police and the National Organization of Black Law Enforcement Executives sponsored their second annual Daddy-Daughter Dance this Spring where fathers and daughters in the community were invited to attend, with participation rates doubling from the previous year.
The good guy cops from the Chicago PD escorted dozens of girls without fathers to the dance, to give them a chance to attend while reaching out to the community. They escorted some girls the previous year, and Sergeant Kimberly Woods had this to say:
"After last year's event, we had several officers and the young ladies that they escorted, they kept up with one another and it really bridged a gap. It let the girls know that officers are just people too and we dance, and we dance funny like your dads do."
A 911 call came in from Tennessee from a 79-year-old man who had gone two days without food.
The man said he was relying on Social Security benefits, limiting his income. On top of this, his caretaker has been accused of stealing his debit card, and was caught on film using the card and has been arrested. This only served to further complicating access to his money.
The good guy cops of the Mount Pleasant Police Department dipped into their own pockets to buy the man $160 worth of groceries and brought the bags directly to his home.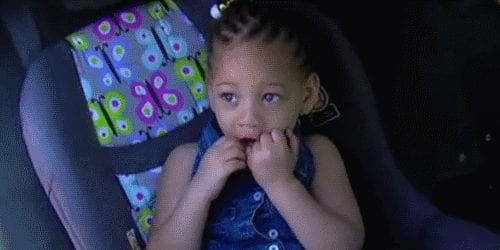 Officer Joshua Scaglione of the City of Westland, Michigan Police Department pulled over 28 LaVonte Dell for tinted windows and noticed Dell's 3 year old daughter was riding in the back of the vehicle without a car seat.
Scaglione asked Dell to get out of the car and, instead of writing a ticket, had a conversation to assess the situation.
LaVonte Dell had been going through some tough financial times and was unable to afford a safety seat for his little girl. Scaglione asked Dell to follow him to Walmart and offered to buy a car seat for the little girl.
Scaglione and Dell shopped at Walmart together, picking out a car seat that Dell's daughter loves and getting to know each other.
They reconnected after a Facebook post about the generous officer's actions went viral. Good guy cop Scaglione said:
"You know, a ticket doesn't help all the time. I've been in a tough situation like this guy before. I figured it'd be better to help him out and just raise more awareness about car safety rather than give him a ticket that would dig him deeper in a hole and make things worse for him.

Not every one of our good guy cops is American, or even a guy. PO1 Judy Ann de Villa was riding a city bus home from work at 11:35pm when a man, 39 year old Juanito Arsenio, backed by two accomplices, pulled out a gun and declared a heist. He took a handbag from a lady sitting directly across from him, but de Villa immediately stood, announced herself as a cop, and pointed her gun at him.
She requested he surrender but Arsenio jumped out of the bus with the handbag, aiming his gun at de Villa. Pursuing the suspect, she cornered him and shot him in the butt, which knocked him down, and retrieving his weapon. This good guy cop wants everyone to remain alert – even she didn't expect a hold-up in a busy neighborhood like the one she was in.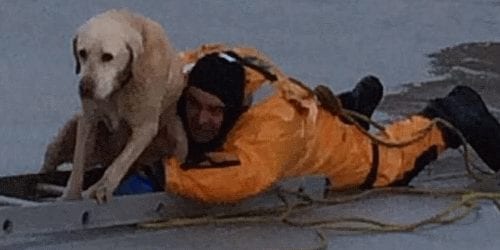 On February 2, deputies were alerted to a yellow lab which had broken through ice in shallow water. Surrounded by ice, the dog was stranded 50 feet from the shoreline, standing in the icy water up to its chest.
As the deputy walked back to the car to call for assistance, the dog started barking to him in distress.
Two members of the local Fire and Rescue team came out with equipment. A ladder was extended out onto the ice and firefighter Aaron Lovell, wearing an ice rescue suit, crawled out to help the dog.
Another firefighter and two deputies pulled Aaron and the lab to the shore. The labrador was shivering violently and was rushed to the vet for emergency care, making a full recovery. Sometimes, good guy cops work hand-in-hand with good guy firefighters to make a small difference in the world, and a large difference in an animal's life.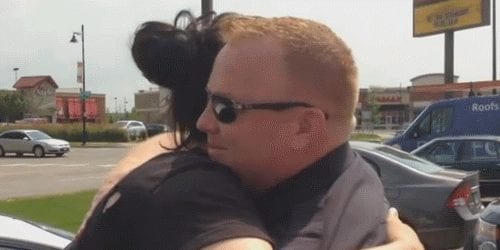 To give back to the community he loves, Commander Brian Peters of Brooklyn Center, Minnesota, decided to hang up his ticket book for the last day on the job.
Instead, he spent that final workday handing out gift cards that he purchased himself. The gift cards, to stores like Target and the local grocery store, were worth $50 each.
Peters said, "My goal was to walk around the city and just find people that could maybe use a little extra cash or income to buy the kids some toys. He also told the local news that, "The citizens and city have been wonderful to me. I am very blessed so it feels good to always give back.
He spent the day driving around town, looking for people to share the gift cards with. He gave one to a mother who stated she'd use the money for food and school supplies, one to a woman with a damaged car, and one to a man and his girlfriend. This good guy cop hopes that his gesture will help to build goodwill and positive relationships between residents and the local police, that other good guy cops will follow his lead.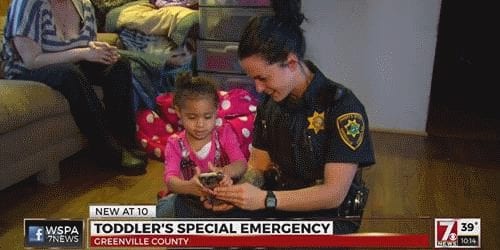 A muffled 911 call came in, with a toddler babbling on the other line. Just in case there was a real emergency, dispatchers sent Greenville County, South Carolina police to check it out.
While her mother was at work, 2-year-old Aaliya stays with her grandfather. Her mother had taught her how to use a phone and how to call 911 in an emergency. This particular emergency had to do with little Aaliya's pants and the fact she couldn't get them back on properly.
When the police showed up at the house, Aaliya's grandfather was confused, with no clue she had called the police. But in she ran, half of one pant leg on, and said "Hey!
Sheriff's Deputy Martha Lohnes was there and has two younger sisters. Being used to this sort of thing, she helped Aaliyah get her legs sorted out and tied her shoes for good measure. She returned to the house later that week for a news segment starring little Aaliyah.
Pebbles, Aaliya's mother, has since explained what constitutes an actual emergency.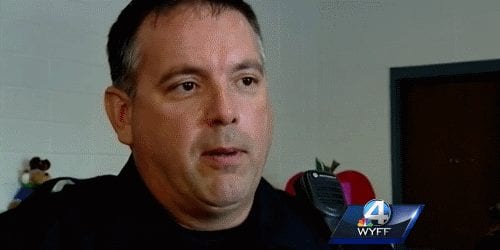 Another story just next door in South Carolina comes from Spartanburg County.
Spartanburg School District 6 was the first in South Carolina to host Resource Officers after the Sandy Hook tragedy, including Master Deputy Mike Gibson. He takes his job seriously and attempts to show the students that the police in their schools are not there to use guns and put people in jail, but to be their friends and be part of the school.
A couple of years ago, Deputy Gibson had to write a report about a boy who had been abused. Gibson said, "When I saw him, it was just something tugged at my heart. I said, 'I can help this child.' He went home to tell his wife about the boy and his story.
Stating that God put this boy in his path, Gibson and his wife came to a decision to help the boy if the chance arose.
The boy ended up being taken from his parents and put into foster care. The Gibsons, who already had three of their own children, went through classes to bring him into their home as a foster child despite some of the workers saying he was "unadoptable." In the end, the family ended up adopting him, showing that a good guy cop, along with his good guy wife and family, can really make a difference in a student's life.

The Wichita, Kansas Police Department and a local Black Lives Matter group planned a cookout together to bring the community together on a beautiful Sunday.
The police spend the day talking and eating with people at the "First Steps Community Cookout that was created to replace a planned protest that had been set for the same day. Rather than sitting back and letting the protest move forward, Police Chief Gordon Ramsay sat down with A.J Bohannon and other members of the activist group.
The cookout gained even more gravitas in the wake of the Dallas police shootings that same Sunday morning.
"My heart goes out to the families, those officers in Baton Rouge, but I think the fact that that did happen makes this event more meaningful. I definitely think this is a start for this community, and I definitely want to keep it going, Bohannon said.
These good guy cops came in uniform and spent the day laughing, chatting, eating, and playing with the citizens in their community.
For many residents, this was the first time they had ever sat and spoken with a police officer. Chief Ramsay spoke out, challenging other police departments to do the same thing, stating that "it takes two parties to make a healthy relationship.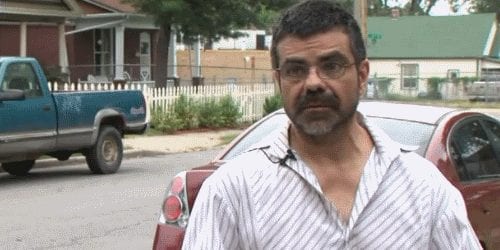 Officer Zach Stamper of the Roeland Park Police Department was responding to a call about a suspicious person at a park and found Samuel Meixueiro who had a larger story than just a man loitering in the park.
Meixueiro said that he sometimes must sleep outside in order to keep his job. The man commutes 5-6 hours each way to work in an effort to keep his job. Due to a historied past, Meixueiro has had a difficult time finding work, has lost his job, and has been sleeping in a church – or sometimes outside to avoid the extreme commute on foot from the church to work.
That day, he had decided to take a break in the local park when someone phoned the police.
When Officer Stamper heard the story, he understood Meixueiro wasn't a vagrant but a man trying his best to keep his head above water. He offered him a ride to work, but the story stuck with him.
Half an hour later, good guy cop Officer Stamper came back and gave Meixueiro a bicycle and duffel bag to help him shorten his travel time.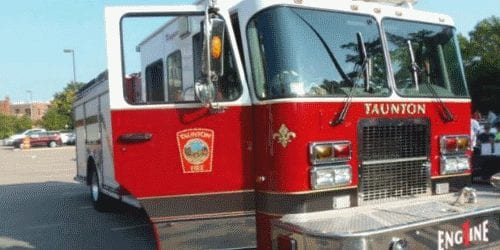 We'll wrap up our list of 50 Good Guy Cops with a heroic story from a regular officer:
At 10pm, during a routine patrol, Officer Jeffery Danner reported seeing smoke to the fire department and made his way toward it and found a two-story house on fire.
He exited his cruiser and knocked on the front and side doors. When no answer came, he kicked in a glass door and entered the house.
Inside, he found that he had awoken a 27-year-old mother and informed her of the fire. They ran upstairs to grab her 9-year-old son and the family shi-tzu.
This good guy cop, unprepared and unplanned, entered a burning home to save three lives all before the fire department had a chance to arrive. Luckily, they had the fire under control in fewer than 15 minutes, saving the house. Without Officer Danner's keen eye and quick response, this story may not have had a happy ending.