If you are looking for a criminal justice school in Illinois, you've come to the right place. Below you'll find a comprehensive list of traditional colleges and universities offering well respected and accredited criminal justice programs. If you live in Illinois but would prefer to get your criminal justice degree online, click here for a list of the top online schools.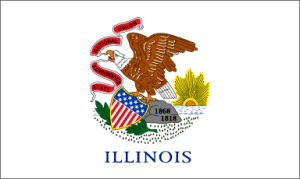 Illinois is located in the mid-western area of the United States, and is the 5th highest populated state in the nation. Many people like to think of Illinois as a microcosm for the entire country, which means that you will get a little bit of everything. There are major urban centers, such as Chicago, and plenty of suburban and rural locations as well. Chicago is by far the highest populated city in the state, with close to 3 million people living there. The next closest are Aurora and Rockford, with 200,000 and 150,000 residents respectively. It is likely that the best job opportunities in the criminal justice field will be located in the main Chicago area, along with the surrounding suburbs.
There are many job opportunities that a person can take up once they complete their criminal justice degree. There are criminal justice jobs available all over the state of Illinois. For example, it is possible for someone with a criminal justice degree to work as a bounty hunter, a corrections officer, a crime scene investigator, a customs agent, a parole officer, a police officer, a detective, or a security officer. Criminal justice students may also go on to the legal profession, becoming paralegals before they study at law school to become criminal defense lawyers.
As an example of salaries, lower ranking police officers in Chicago will make between $70,000 to $95,000 a year. This depends on the hours they work, and their position within the department. Higher ranking officers, such as deputy chiefs, chiefs, and general counsel will earn salaries between $100,000 to $200,000 a year. There are plenty of great jobs in the criminal justice field, with private employees also earning solid salaries throughout the state.
The Illinois Student Assistance Commission is in charge of ensuring that every student has enough funding to attend a two year or four year college institution. If you are serious about getting your criminal justice degree, it is important to speak with your prospective school about funding options. They will have private scholarships, loans and grants, and those can be combined with state scholarships to complete your funding.
Scholarships in Illinois are given on a merit basis, with students who have high grades being in line for specific grants. In addition, there are need based scholarships which ensure that a student who has gotten into an Illinois institution has enough money to attend school.
Illinois Criminal Justice Programs:
* – Denotes Online Program Available
American Intercontinental University, Hoffman Estates
AABA – Criminal Justice*
Associate of Arts – Business Administration: Criminal Justice Administration concentration*
BS – Criminal Justice: Law Enforcement*
BS – Criminal Justice: Special Populations*
Bachelor of Science – Criminal Justice: Forensic Science concentration*
Bachelor of Science – Criminal Justice: Law Enforcement concentration*
Bachelor of Science – Criminal Justice: Special Populations concentration*
Aurora University, Aurora
Bachelor of Arts – Criminal Justice
Benedictine University, Lisle, Naperville, Springfield
Certificate – Disaster Management*
BAM – Disaster Management*
MPH – Disaster Management*
Black Hawk College, Moline
Certificate – Law Enforcement
Certificate – Private Security
Associate of Applied Science – Law Enforcement Technology
Associate of Science – Law Enforcement
Blackburn College, Carlinville
Bachelor of Arts – Criminal Justice
Carl Sandburg College, Galesburg
Certificate – Criminal Justice
Associate of Applied Science – Criminal Justice
City Colleges of Chicago-Harold Washington College, Chicago
Certificate – Basic Police Services
Associate of Applied Science – Criminal Justice
Associate of Arts – Criminal Justice
City Colleges of Chicago-Kennedy-King College, Chicago
Associate of Arts – Criminal Justice
Associate of Science – Criminal Justice
City Colleges of Chicago-Olive-Harvey College, Chicago
Certificate – Criminal Justice / Public Police Service
City Colleges of Chicago-Truman College, Chicago
Certificate – Criminal Justice
Associate of Applied Science – Criminal Justice
City Colleges of Chicago-Wilbur Wright College, Chicago
Certificate – Criminal Justice
Associate in Applied Science – Criminal Justice
Associate in Applied Science – Paralegal
College of DuPage, Glen Ellyn
Certificate – Criminal Justice
Certificate – Homeland Security
Certificate – Paralegal Studies
Associate in Applied Science – Paralegal Studies
Associate in Arts – Criminal Justice
Associate of Applied Science – Criminal Justice
College of Lake County, Grayslake
Certificate – Criminal Justice
Certificate – Emergency and Disaster Management
Certificate – Paralegal Studies
Associate in Applied Science – Paralegal Studies
Associate of Applied Science – Criminal Justice
Associate of Arts – Criminal Justice
Danville Area Community College, Danville
Associate of Science – Law Enforcement
Associate of Science – Parole Officer
Bachelor of Science – Law Enforcement 2+2 Program
Elgin Community College, Elgin
Certificate – Law Enforcement
Certificate – Public Safety Communications
Vocational Certificate – Nurse-Legal Consultant
Vocational Certificate – Paralegal
Associate of Applied Science – Criminal Justice
Associate of Applied Science – Paralegal
Ellis University, Chicago
Associate of Applied Science – Paralegal Studies*
Bachelor of Arts – Paralegal Studies*
Bachelor of Science – Behavioral Sciences: Criminal Justice*
Bachelor of Science – Criminal Justice*
Certificate – Fraud Examination*
Eureka College, Eureka
Bachelor of Science – Criminal Justice/Sociology
Governors State University, University Park
Bachelor of Arts – Criminal Justice
Master of Arts – Political and Justice Studies
Greenville College, Greenville
Bachelor of Science – Criminal Justice
Harper College, Palatine
Certificate – Emergency Management
Certificate – Forensic Science
Certificate – Public Safety Dispatcher
Associate in Applied Science – Paralegal Studies
Associate of Applied Science – Emergency Management
Associate of Applied Science – Forensic Science
Associate of Applied Science – Law Enforcement
Heartland Community College, Normal
Certificate – Corrections
Associate of Applied Science – Criminal Justice
Illinois Central College, East Peoria
Associate in Arts and Science – Criminal Justice
Associate of Applied Science – Crime Scene Technology
Associate of Applied Science – Industrial and Business Security
Associate of Applied Science – Law Enforcement
In-Service Training – Central Illinois Police Training Center
Illinois Eastern Community Colleges, Mount Carmel, Olney, Robinson
Associate Degree – Corrections Parole Officer
Associate Degree – Corrections / Youth Supervisor
Associate of Science – Administration of Justice
Associate of Science – Corrections-Parole Officer
Associate of Science – Corrections-Youth Supervisor
Associate of Science – Corrections
Associate of Science – Crime Scene Investigation
Bachelor of Arts – Corrections-Parole Officer
Bachelor of Arts – Corrections-Youth Supervisor
Illinois State University, Normal
Bachelor of Arts / Bachelor of Science – Criminal Justice
Bachelor of Arts / Bachelor of Science – Political Science: Leadership and Social Justice
Master of Arts / Master of Science – Criminal Justice
Illinois Valley Community College, Oglesby
Certificate – Criminal Justice
Certificate – Forensic Investigations
Associate of Applied Science – Criminal Justice
ITT Technical Institute, Burr Ridge, Mount Prospect, Orland Park
Associate of Applied Science – Criminal Justice
Associate of Applied Science – Criminal Justice*
Bachelor of Applied Science – Criminal Justice
Bachelor of Applied Science – Criminal Justice*
John A Logan College, Carterville
Certificate – Criminal Justice
Associate of Applied Science – Criminal Justice
Joliet Junior College, Joliet
Certificate – Corrections
Certificate – Criminal Justice
Associate of Applied Science – Criminal Justice
Associate of Applied Science – Law Enforcement
Judson University, Elgin
Master of Arts – Organizational Leadership
Kankakee Community College, Kankakee
Associate in Applied Science – Law Enforcement
Associate in Applied Science – Paralegal / Legal Assistant Studies
Associate in Arts – Criminal Justice
Certificate – Paralegal / Legal Assistant Studies
Kaplan University, Chicago
AAS – Criminal Justice*
AAS – Fire Science*
AAS – Paralegal Studies*
Advanced Start Bachelor of Science – Corrections*
BS – Legal Studies*
BS – Criminal Justice*
BS – Fire Science*
BS – Fire and Emergency Management*
BS – Paralegal Studies*
BS in International and Comparative Criminal Justice*
BSBA – Criminal Justice*
BSCJ – Computer Crime*
BSCJ – Corrections*
BSCJ – Crime Scene Investigation (CSI)*
BSCJ – Forensic Psychology*
BSCJ – Homeland Security*
BSCJ – Juvenile Justice*
BSCJ – Law Enforcement*
Post-Bacc Certificate – Paralegal*
MPA – Criminal Justice*
MS – Criminal Justice*
MS – Fire and Emergency Services*
MS – Homeland Security / Emergency Management*
MS – Legal Studies*
MSCJ – Corrections*
MSCJ – Global Issues in Criminal Justice*
MSCJ – Leadership and Executive Management*
MSCJ – Policing*
MSLS – Education and the Legal System*
MSLS – Health Care Delivery*
MSLS – Legal System and the Media*
MSLS – State and Local Government*
Kaskaskia College, Centralia
Certificate – Criminal Justice
Kishwaukee College, Malta
Associate of Applied Science – Corrections
Associate of Applied Science – Criminal Justice
Associate of Science – Criminal Justice
Lake Land College, Mattoon
Associate in Arts – Criminal Justice / Law Enforcement
Lewis and Clark Community College, Godfrey
Associate of Applied Science – Criminal Justice
Associate of Applied Science – Paralegal
Certificate of Proficiency – Criminal Justice
Certificate of Proficiency – Paralegal
Lewis University, Romeoville
Associate of Science – Forensic Investigations
Bachelor Degree – Criminal Justice*
Bachelor of Arts – Paralegal Studies
Bachelor of Science – Criminal / Social Justice
Master of Science – Criminal / Social Justice
Masters Degree – Criminal Justice*
Lincoln College, Lincoln
AS – Criminal Justice*
Associate of Arts – Criminal Justice
Associate of Science – Criminal Justice
BS – Criminal Justice and the Study of the Criminal*
Lincoln Land Community College, Springfield
Certificate of Achievement – Criminal Justice Studies*
Certificate of Completion – Community Police Officer*
Associate of Applied Science – Criminal Justice*
Associate of Arts – Criminal Justice*
Associate of Arts – Law Enforcement*
Loyola University Chicago, Chicago
Bachelor of Science – Criminal Justice
Master of Arts – Criminal Justice
MacCormac College, Chicago
Certificate – Legal Office Technology
Associate in Applied Science – Court Reporting
Associate of Applied Science – Court Reporting
Associate of Science – Paralegal Studies
MacMurray College, Jacksonville
Associate of Science – Criminal Justice
Bachelor of Arts / Bachelor of Science – Criminal Justice
McHenry County College, Crystal Lake
Associate of Applied Science – Criminal Justice
Midstate College, Peoria
Associate of Applied Science – Judicial Reporting
Bachelor of Science – Realtime Reporting: Judicial Reporting
Bachelor of Science – Realtime Reporting
Millikin University, Decatur
Bachelor of Arts – Human Services
Moraine Valley Community College, Palos Hills
Certificate – Security Services
Associate of Applied Science – Criminal Justice
Morton College, Cicero
Associate in Applied Science – Law Enforcement Education
Associate in Arts – Criminal Justice
Northeastern Illinois University, Chicago
Bachelor of Arts – Justice Studies
Northwestern College, Bridgeview, Chicago
Certificate – Paralegal
AAS – Criminal Justice*
Associate in Applied Science – Criminal Justice
Associate in Applied Science – Paralegal
Associate of Applied Science – Criminal Justice
Oakton Community College, Des Plaines
Certificate – Law Enforcement
Associate of Applied Science – Law Enforcement
Olivet Nazarene University, Bourbonnais
Bachelor of Science – Chemistry: Forensics Concentration
Bachelor of Science – Criminal Justice
Parkland College, Champaign
Associate of Applied Science – Criminal Justice
Associate of Arts – Criminal Justice Education
Prairie State College, Chicago Heights
Associate of Arts – Criminal Justice
Prince Institute, Schaumburg
Certificate – CART / Captioning
Certificate – CART / Captioning*
Certificate – Judicial Reporting
Certificate – Judicial Reporting*
Certificate – Scoping / Proofreading
Certificate – Scoping / Proofreading*
Associate Degree – CART / Captioning*
Associate Degree – Judicial Reporting*
Associate Degree – Professional Transcription*
Quincy University, Quincy
Associate of Applied Science – Criminal Justice
Bachelor of Science – Criminal Justice
Bachelor of Science – Forensic Science
Rasmussen College, Aurora, Rockford
AAS – Criminal Justice*
AS – Criminal Justice: Homeland Security*
AS in CJ – Correction*
AS in CJ – Law Enforcement*
Associate Degree – Forensics*
Associate of Arts – Accounting: Financial Investigations*
BS – Criminal Justice*
BS in CJ – Client Services*
BS in CJ – Homeland Security*
Rend Lake College, Ina
Occupational Certificate – Criminal Justice: Corrections
Occupational Certificate – Criminal Justice: Police Science
Occupational Certificate – Criminal Justice: Private Protection
Associate of Applied Science – Criminal Justice
Associate of Arts – Criminal Justice
Richard J. Daley College, Chicago
Certificate – Criminal Justice
Associate of Applied Science – Criminal Justice
Associate of Applied Science – Public Police Requirements
Richland Community College, Decatur
Associate of Applied Science – Corrections
Associate of Applied Science – Criminal Justice
Certificate – Correctional Officer
Certificate – Emergency Telecommunications
Certificate – Patrol Officer
Certificate – Probation and Parole Officer
Robert Morris University, Chicago
Associate in Applied Science – Paralegal Studies
Bachelor of Professional Studies – Law Office Administration
Rock Valley College, Rockford
Associate in Applied Science – Criminal Justice
Rockford Career College, Rockford
Diploma – Legal Secretary
Associate of Applied Science – Information Technology: Network Security
Associate of Applied Science – Paralegal
Roosevelt University, Chicago
Certificate – Paralegal
Diploma – Paralegal
Bachelor of Arts – Criminal Justice
Bachelor of Arts – Paralegal
Bachelor of Professional Studies – Criminal Justice Leadership
Saint Xavier University, Chicago
Bachelor Degree – Criminal Justice
Sauk Valley Community College, Dixon
Associate of Applied Science – Corrections
Associate of Applied Science – Law Enforcement
Shawnee College, Ullin
Certificate – Computer Forensics and Investigations
Certificate – Criminal Justice Technology
Associate of Applied Science – Administration of Justice Technology
South Suburban College, South Holland
Associate in Applied Science – Court Reporting / Verbatim Technology
Associate in Applied Science – Paralegal / Legal Assistant
Associate of Applied Science – Court Reporting
Associate of Applied Science – Criminal Justice
Certificate – Court Reporting / Verbatim Technology Basic
Certificate – Court Reporting / Verbatim Technology: Machine Shorthand Secretarial
Certificate – Court Reporting / Verbatim Technology
Certificate – Court Reporting
Certificate – Criminal Justice
Certificate – Paralegal / Legal Assistant
Southeastern Illinois College, Harrisburg
Associate of Applied Science – Criminal Justice
Certificate – Law Enforcement
Southern Illinois University-Carbondale, Carbondale
Bachelor of Arts – Criminology
Bachelor of Arts – Paralegal Studies
Bachelor of Science – Criminal Justice
Bachelor of Science – Forensics
Southern Illinois University-Edwardsville, Edwardsville
Bachelor of Arts / Bachelor of Science – Criminal Justice
Southwestern Illinois College, Belleville
Associate in Applied Science – Paralegal Studies
Associate of Applied Science – Administration of Justice
Certificate – Administration of Justice
Sparks College, Shelbyville
Certificate – Court Reporting*
Springfield College in Illinois, Springfield
Associate of Science – Forensics
Taylor Business Institute, Chicago
Associate of Applied Science – Criminal Justice
The Chicago School of Professional Psychology, Chicago
M.A. – Applied Forensic Psychology Services*
Psy. D – Forensic Psychology
Triton College, River Grove
Associate of Applied Science – Criminal Justice Administration
Associate of Arts – Criminal Justice Administration
Associate of Science – Criminal Justice Administration
University of Illinois at Chicago, Chicago
Bachelor of Arts – Criminology, Law, and Justice
Doctor of Philosophy – Criminology, Law, and Justice
Master of Arts – Criminology, Law, and Justice
University of Illinois-Springfield, Springfield
Bachelor of Arts – Criminal Justice
Waubonsee Community College, Sugar Grove
Bachelor of Science – Criminal Justice
Western Illinois University, Macomb
Bachelor of Science – Emergency Management
Bachelor of Science – Forensic Chemistry
Bachelor of Science – Law Enforcement and Justice Administration
Westwood College, Calumet City, Chicago, Woodridge
Check out our Top Online Criminal Justice Degree Programs for 2015
Back to States
FAQ
Home
Rankings
Features
Resources
Contact Us
About CJD Hub