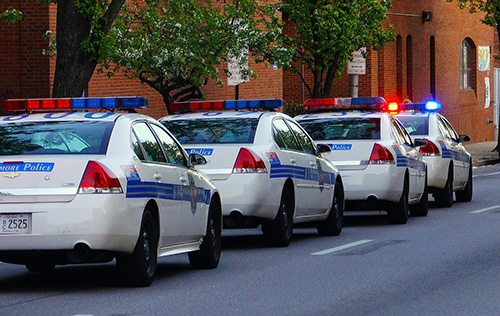 The latest in Criminal justice degrees will always be about good guys vs. bad guys. Follow along to learn more.
Criminology programs combine principles of sociology, law, and psychology to prepare students to deal with criminals, understand the justice system and work to prevent crime.
Featured Schools
Criminal justice degrees will always be about good guys vs. bad guys, but in recent years the bad guys have gotten much more sophisticated and sinister. Fortunately, in colleges and universities that offer criminal justice degrees, administrators are responding to that challenge, as are students willing to take the risks to make our country safer.
Criminal justice careers typically fall into one of two categories: law enforcement or legal. Law enforcement refers to careers related to the practice of criminal justice, like policing, and those that deal with the causes of criminal behavior and society's response to crime, like forensic psychology and criminology. Legal careers focus on providing legal services to individuals and businesses as legal representatives or as public officials in the courts. The 10 Criminal justice "majors" listed below, are in alphabetical order.
Border Patrol Agent
These days with the talk about border security in the U.S. southwest, this major is all the more important. The work of a border patrol agent changes on a daily basis. For the most part, these men and women expect the people and vehicles attempting to cross their country's borders. What this entails will depend on the person's position and the nature of security in the area. Here is a list of some common job duties that you may come across as a border patrol agent:
• Control drug dogs
• Scan cars
• Inspect vehicles
• Enforce immigration laws
• Arrest illegal immigrants
• Monitor the country's border
• Prevent illegal immigration
• Work with law enforcement
Salary: According to U.S. Customs and Border Protection, border patrol agents typically start at the GS-5, GS-7, or GS-9 level ($27,431 to 41,563), depending on their experience and qualifications, with opportunity for advancement soon after being hired.
Computer Forensics
This is a relatively new field of criminal justice. As technology improves and scientific knowledge increases, investigating and solving crimes involves a growing reliance on computer forensics. This is particularly true given the rising rates of cybercrime. Also referred to as digital forensics, this field uses a combination of scientific reasoning and criminal justice methodology in the identification and analysis of evidence.
Working as a computer forensics technician, analyst or investigator can involve a variety of tasks and responsibilities, although the positions often have some duties in common, such as preserving evidence and writing reports. Some forensics professionals use technology to analyze physical evidence; others focus on extracting evidence from computers or data storage.
Salary: Although the U.S. Bureau of Labor Statistics (BLS) does not have a specific occupational listing for computer forensics professionals, many of the job duties are included under the categories of private detectives and investigators, and forensic science technicians.
As of May 2012, the BLS reported a median annual wage of $45,740 for private detectives and investigators, with the top 10% earning at least $79,790. Forensic science technicians had a median annual salary of $52,840 as of May 2012; the top 10% earned more than $85,000.
Counter-Terrorism
After 9/11, counter-terrorism has become a major point of emphasis for the federal government, which aims to defend US citizens from the growing threat of terrorism from around the world. Individuals who pursue a counter-terrorism degree can find many opportunities to contribute to this important mission.
Unlike some law enforcement-related disciplines, the goal of sifting through the myriad of online, print and other media to transmit information relating to terrorism is so great that not just federal agencies are involved. In fact, as many news outlets have reported, there is a growing number of civilian firms that are involved in data mining and other activities. Careers include but are not limited to those in the CIA, FBI, Homeland Security, the military, the NSA, and various state agencies interfacing with those agencies.
Salary: The average salary varies greatly depending on the particular job description and geographic location of the job.
Criminal Profiler
This justice major has been around for a while, but thanks to American TV shows like "Criminal Minds" and a whole onslaught of movies, it's become a popular specialty.
Criminal profiling is an investigative profession used to assist law enforcement and government agencies in pursuing unknown perpetrators. Criminal Profilers typically have a background in forensic and/or investigative psychology, giving them the skills needed to recognize the personality traits and characteristics of criminals based on crime scene evidence.
Salary: The National Center for Analysis of Violent Crime is staffed by active Special Agents as well as non-FBI professionals. Special Agents fall within the Bureau's pay regime which provides its employees with at least a GS-10 pay grade. For those Special Agents who remain active in the field, this pay grade may be elevated up to GS-13, but for those who choose a supervisor, instructor or executive track, it is possible to obtain a GS-14 or GS-15 rating. Pay ranges from about $45,000 to more than $120,000 annually, based on grade.
Diplomatic Security Agent
Given the state of this very dangerous world, these jobs are increasingly important. These special agents are part of the Bureau of Diplomatic Security, an agency that offers protective services to members of the government leads worldwide investigations into crimes, and ensures that Americans abroad are safe.
The U.S. Department of State is the lead foreign affairs agency formulating and implementing the President's foreign policies. Department employees represent the interests of the United States throughout the world. The Department carries out this mission at 275 embassies and consulates around the world, offices in the metropolitan Washington, DC area, and other locations in the United States.
Special Agents manage a range of security programs on a worldwide basis. In addition to living and working overseas, this includes assignments at Diplomatic Security field offices in eight major U.S. cities as well as at 23 resident and satellite offices.
Salary range (taken from current job openings): $41,954 – $56,383
Federal Air Marshall
Federal air marshals provide security on airplanes as well as coordinate security operations necessary to protect national transportation infrastructure. These agents provide security under the direction of the Transportation Security Administration (TSA). Their primary responsibility is to protect airplane passengers from terrorists. Air Marshals are very skilled marksmen, some of the better trained federal agents with firearms. The TSA estimates that air marshals spend 5 hours daily, 15 days monthly, and 181 days annually, adding up to about 900 hours every year flying in a plane.
Salary: In the TSA, the salary steps include letters A through M. The starting pay depends on factors like education and experience. Salary increases as TSA employees are promoted to higher levels of responsibility. The current TSA pay scale is available at http://www.tsa.gov/careers/pay-bands
Forensic Serology
The job of a forensic serologist is to analyze blood found at a crime scene and answer questions about it. This may involve testing to ascertain whether the substance is blood and to determine whether it is human blood.
Further tests determine blood type, and Rh factor and identify the antigens and antibodies present in the sample. New techniques involving DNA can be used to link blood and other bodily fluids to a particular individual or suspect.
As a forensic serologist, you may also become an expert in interpreting blood patterns at a crime scene. Experts in the field can answer questions about directions of assault, the angle of the weapon, and the distance between the victim and suspect by analyzing the blood splatter at a crime scene. Did you know that a serologist can help determine how long a person has been deceased based on the blood present at the crime scene?
Salary Range: $37,000 – $60,000
Homeland Security
A homeland security degree can help individuals qualify for a wide range of positions at the Department of Homeland Security and other federal agencies and aid in protecting the United States from the growing threat of global terrorism. Homeland security degree programs are available at numerous college campuses across the United States and also through online universities.
Homeland security degree programs at universities and colleges aim to provide students with a strong foundation of knowledge and analytical skills to enter a career in homeland security. Students gain an understanding of the modern challenges of transnational security, terror groups, and cyberwarfare.
Here is a sample of courses in homeland security that are offered through degree programs:
• Introduction to Terrorism
• Introduction to Homeland Security
• Concepts of Terrorism
• Psychology of Terrorism
• The Politics of Terrorism
• Root Causes of Terrorism
• Covert Action & Intelligence
• Homeland Security Fundamentals
• Homeland Security and the Legal System
• Homeland Security Administration: Policies and Programs
• Homeland Security and Defense in Practice
• Border Security
Salary: Average salary is about $54,000
ICE Special Agent
The role of the Immigration and Customs Enforcement agency, which is part of the Department of Homeland Security, has increased significantly since the horrific events of 9/11 and subsequent acts of terrorism by ISIS. ICE Special Agents are also known as ICE criminal investigators.
This job requires an intensive understanding of terrorism, the law, and threats to the United States. ICE Special Agents play a key role in Immigration and Customs Enforcement, so the hiring process is fairly intensive.
Salary: $40,000-$68,000
Security Analyst
Security analysts are computer specialists who deal with all aspects of an organization's information security. It's a specialty that these days is more important than ever.
Security analysts plan, install, and upkeep security software, train employees about computer security, and in some cases, help to prosecute cybercrime. Security analysts are becoming more specialized in areas like cyber security law enforcement as cyber-attacks and security concerns increase in the workplace.
Salary: $59,000 – $115,000
Related: