Becoming a legal nurse consultant can take longer than becoming an RN and expanding your practice through traditional channels. However, this is a great option for nurses who wish to work behind the scenes rather than directly with patients. There are many opportunities opened to knowledgeable nurses interested in helping clients in a different setting. If you have always been interested in pursuing a career in law and love talking about the medical field, this could be a great career choice for you.
What is the Difference Between a Nurse Paralegal and a Legal Nurse Consultant?
If you are considering getting into the legal aspects of the nursing field, you will need to know the difference between a nurse paralegal vs legal nurse consultant, they are as follows:
Featured Schools
Legal Nurse Consultants: On the one hand, an MSN legal nurse consultant members of a specialty sector in which nurses provide legal advice and guidance to attorneys about medical issues. However, they do not practice law and are not paralegals.
Nurse Paralegals: On the other hand, if you are wondering what is a nurse paralegal and how this job differs from being a legal nurse consultant, nurse paralegals are both nurses and paralegals. Therefore, they may work in both the legal and medical fields.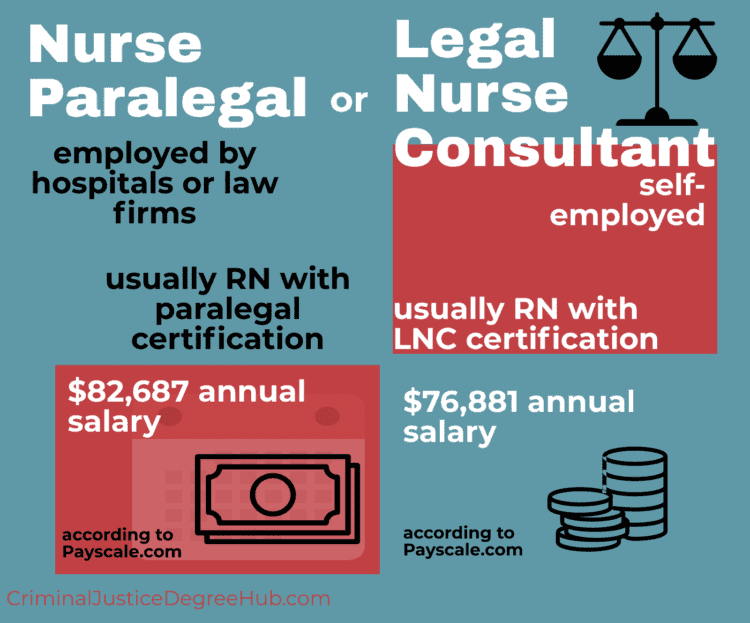 What Does a Legal Nurse Consultant or Nurse Paralegal Do?
Legal nurse consulting firms hire legal nurse consultants and nurse paralegals for their expertise in medicine and law. According to the American Association of Legal Nurse Consultants, a legal nurse consultant analyzes, evaluates, and gives opinions on delivery of health care and medical issues. What does a legal nurse consultant do? They perform casework related to medical-legal affairs.
What does a nurse paralegal do? Nurse paralegals also have a background in nursing and training as a paralegal. They may work within legal nurse consulting firms or directly for attorneys.
Here are some activities that nurses may perform in either of these roles:
Analyze medical records
Interview clients
Prepare a chronology or summary based on medical records
Identify standards of care for medical malpractice suits
Conduct research of medical literature
Facilitate reviews by expert witnesses
Consider the merits of a case
Write medical portions of legal documents
Inform attorneys and clients about medical issues
Participate in case management
Identify medical needs and costs of plaintiffs
Serve as an expert witness
Prepare for deposition or trial
Perform cost of care estimates
Legal nurse consultants work in a variety of venues where they can interact with consumers, medical professionals and legal teams, including:
Legal nurse consulting firms
Law firms
Health care facilities
Government or insurance agencies
Business and industry
HMOs
Forensic environments
Patient Safety organizations
Self-employed independent practices
You may wonder what does a legal nurse consultant do versus what does a nurse paralegal do? Job descriptions for both roles tend to overlap. The main difference is that a nurse paralegal generally reports to and works for an attorney, although this may occur in a variety of settings.
How Do I Become a Nurse Paralegal or LNC?
The American Legal Nurse Consultant Certification Board has the only certification for nurse paralegals and LNCs that is accredited by the American Board of Nurse Specialties. The legal nurse consultant certification (LNCC) involves an exam and you must have a current RN license and 5 years' experience as an RN.
To obtain the legal nurse consultant certification, you go through additional training after finishing nursing school. The training itself takes about a year, but nurses must have proof that they worked for 2,000 hours as a legal nurse consultant within a 5-year period.
How do I become a certified legal nurse consultant and what are my options to obtain a legal nurse consultant certification? To get a legal nursing consultant certification, nurses must attend accredited nurse paralegal programs.
Nurse paralegal online programs cover the courses elearners need to prepare for their certification for legal nurse consultant exam.
How do I become a legal nurse consultant if I am already working and can't afford to quit? Many nurse paralegal online programs are 100% computer-based, so you can study on your own time.
How do I become a legal nurse consultant? After you get your RN license, you might decide to go straight into a paralegal program or get a few years of experience. It takes 5 years of RN experience to become eligible for a legal nursing consultant certification.
What are the best nurse paralegal programs for certification for legal nurse consultant? Make sure that you choose an accredited program that is respected in your region. There are many online resources that contain rankings and reviews that can help you make a final decision.
How do I become a certified legal nurse consultant without quitting my job? Many online paralegal programs offer part-time enrollment because they are designed for working professionals.
Remember that you can find online programs that allow you to study at home, or you may choose a more traditional classroom setting. It really comes down to the way that you learn most effectively, the availability of programs in your area and your work and family commitments.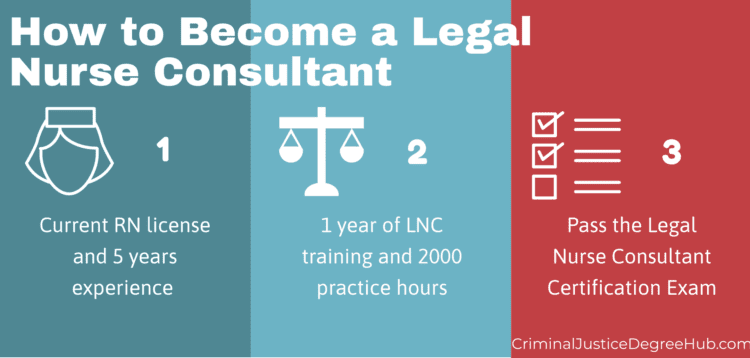 What is the Legal Nurse Consultant Certification Exam?
Here's an overview of the process to qualify for the legal nurse consultant certification exam.
Obtain a high school diploma or GED.
Complete a nursing program at an accredited school. (2-4 years)
Pass the NCLEX and become a registered nurse.
Gain experience as an RN (5 years required)
Get education and training as a nursing legal consultant.
The legal nurse consultant certification exam is based on the practice of current legal nurses. The tests were developed by SMT. Here's what to expect when you take the legal nurse consultant certification exam. The test has 200 questions and runs approximately 4 hours.
The legal nurse consultant certification exam tests your ability to apply your knowledge in the field of nurse legal consulting. Therefore, the questions are case studies in which you read a passage and then answer questions about it.
According to the LNCC, the scope of the exam include proficiency in the following tasks:
Investigate, research, and analyze records, literature, research, guidelines, laws, and other documents that relate to a medical-legal case.
Apply knowledge to determine issues involving causation, damages or standard of care
Draft materials to be used by an attorney for evidence in healthcare-specific cases
Collaborate with attorneys and clients to work out case strategy as part of the case management
Support adjudication in settlements, arbitration, trial or mediation
Are Legal Nurse Consultants in Demand?
Legal nurse consultants can make a very good living. RNs make an average of $73,000 and, although the salaries for legal nurses aren't broken out on the BLS, nurses can expect a bump in salary commiserate with their additional education and training.
Are legal nurse consultants in demand? According to legalnurse.com, there are 1.8 million lawyers in the U.S. and more and more of them are expanding their practices to specializations related to medical cases. Hiring nurse legal consultants frees up an attorneys time to concentrate on litigating the case. It can also prove more cost-effective than hiring other medical experts to provide testimony pertinent to a medical-related case.
Where are legal nurse consultants in demand? Nurses can find jobs as legal consultants in all 50 states. There are many choices for certified LNCs.
Here are some questions to ask yourself if you are considered this career move:
Would I enjoy a job that doesn't involve direct patient care?
Am I willing to go back to school and earn the necessary certification?
Would I enjoy working alone or with clients and coworkers?
Depend on your preferences, you can tailor your career to meet your needs. Choose from a small, dynamic company or a large government agency. Nursing legal consultants even work in large corporations. You can find work in the business or forensics department of an insurance agency or open your own private consulting firm.
How Much Do LNCs make?
According to payscale.com, a nursing legal consultant makes over $48 an hour on average. The amount of money that you can expect to earn will vary based on a number of factors. For example, if you have 10 years of experience as a registered nurse, you are likely to command a higher salary than someone with just five years of experience under their belt. Another factor that influences your salary involved the demand for nurses in your area in general.
If nurses are more in demand where you live, they probably earn a higher average salary than in more saturated areas. This means fewer nurses may choose to live the field to become legal nursing consultants.
According to Payscale.com, LNC's report a job satisfaction rate of 4.1 out of 5. So, if this is something that you have been considering, now might be the time to do some research.
Visualizations and graphics for legal proceedings often need an expert's approval for accuracy. Nurse legal consultants often find themselves creating reports, summaries, and documentation that helps attorneys and other professional make a recommendation for billing and settlement costs.
Related:
What is a Legal Nurse Consultant?