If you are looking for a criminal justice school in North Carolina, you've come to the right place. Below you'll find a comprehensive list of traditional colleges and universities offering well respected and accredited criminal justice programs. If you live in North Carolina but would prefer to get your criminal justice degree online, click here for a list of the top online schools.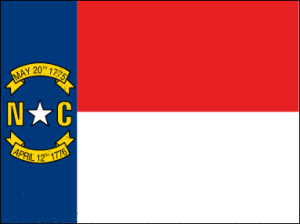 Located on the east coast and stretching from Georgia in the south to Tennessee in the west, many consider North Carolina as a mix of different types of cities, towns, communities and cultures. North Carolina is the 10th highest populated state in the country, and the 28th most expensive. It is nicknamed both the "Tar Heel State" and the "Old North State", referencing the college sports teams and its location relative to the old south. Charlotte, Raleigh and Greensboro are the three largest cities in NC, with populations of 750,000, 400,000 and 300,000 respectively. Getting a criminal justice job in one of these cities is possible, especially if you get your criminal justice degree from a top NC college.
The "triangle" area of North Carolina, which includes Raleigh-Durham-Chapel Hill is probably one of the highest growing commercial and job sectors in the United States. While other areas of the country are in decline, the Triangle is very much growing. People are finding new jobs, new homes are being built, and public transportation is improving. For those going to college in North Carolina, there are great criminal justice job opportunities available. The public sector includes jobs in the police department, state prisons, and other law enforcement related fields. It is also possible to get a private job with a criminal justice degree, with people working as private detectives, investigators, security managers for major companies, and criminal defense lawyers.
Salaries in the state will vary depending on the profession, with public officers earning between $35,000 to $65,000 a year. Private salaries are notably higher, especially those for criminal defense lawyers and top private investigators. Remember that lawyers must also attend law school, and most individuals work as paralegals after they complete their criminal justice degree.
Scholarships in North Carolina vary depending on the institution you are interested in attending. If you wish to go to a state college, such as North Caroline State University or University of North Carolina – Chapel Hill, there are plenty of college specific scholarships and grants that you can get. That is in addition to the traditional state and federal scholarships available. Private colleges, such as Duke, will have a few of their own scholarships, but those are often given out on merit. For need based aid, you will have to rely on government grants and loans.
North Carolina Criminal Justice Programs:
* – Denotes Online Program Available
Sponsored North Carolina Programs

Alamance Community College, Graham
Associate of Applied Science – Criminal Justice Technology
Appalachian State University, Boone
Bachelor of Science – Criminal Justice
Bachelor of Science – Risk Management and Assurance
Master of Public Administration – Public Administration
Master of Science – Criminal Justice
Asheville-Buncombe Technical Community College, Asheville
Associate in Applied Science – Criminal Justice Technology
Barton College, Wilson
Bachelor of Science – Criminal Justice
Bachelor of Science – Criminology
Beaufort County Community College, Washington
Certificate – Basic Law Enforcement Training
Associate of Applied Science – Criminal Justice Technology
Belmont Abbey College, Belmont
Bachelor of Arts – Criminal Justice and Security Studies
Brunswick Community College, Supply
Certificate – Basic Law Enforcement Training
Caldwell Community College and Technical Institute, Hudson
Certificate – Paralegal Technology: Family
Certificate – Paralegal Technology: Wills
Campbell University, Buies Creek
Bachelor of Arts – Criminal Justice Administration
Bachelor of Science – Information Technology & Security
Cape Fear Community College, Wilmington
Certificate – Criminal Justice Technology: Industrial Security
Certificate – Criminal Justice Technology
Certificate – Paralegal Tech
Associate in Applied Science – Criminal Justice Technology
Carteret Community College, Morehead City
Certificate – Basic Law Enforcement Training
Certificate – Criminal Justice Technology
Associate in Applied Science – Criminal Justice Technology
Associate of Science – Paralegal Tech
Catawba Valley Community College, Hickory
Certificate – Basic Law Enforcement Training
Certificate – Court Reporting
Associate of Applied Science – Criminal Justice Technology
Central Carolina Community College, Sanford
Certificate – Paralegal Tech
Associate Degree – Criminal Justice Technology: Latent Evidence
Associate Degree – Criminal Justice Technology
Central Piedmont Community College, Charlotte
Certificate – Criminal Justice Management
Certificate – Latent Evidence
Diploma – Paralegal Tech
Associate of Applied Science – Criminal Justice Technology
Associate of Science – Paralegal Tech
Chowan University, Murfreesboro
Bachelor of Science – Criminal Justice
Cleveland Community College, Shelby
Certificate – Basic Law Enforcement Training Academy
Certificate – Criminal Justice
Diploma – Technology: Criminal Justice
Associate of Science – Technology: Criminal Justice
Coastal Carolina Community College, Jacksonville
Associate in Applied Science – Criminal Justice Technology
Associate of Applied Science – Paralegal Technology
College of the Albemarle, Elizabeth City
Certificate – Basic Law Enforcement Training
Associate of Applied Science – Criminal Justice Technology
Craven Community College, New Bern
Certificate – Criminal Justice Technology*
Diploma – Criminal Justice Technology
Associate of Applied Science – Basic Law Enforcement Training
Associate of Applied Science – Criminal Justice Technology
Associate of Arts – Criminal Justice
Davidson County Community College, Thomasville
Associate of Applied Science – Paralegal Technology
Associate of Arts – Criminal Justice
Associate of Science – Forensic Biology
Durham Technical Community College, Durham
Certificate – Basic Law Enforcement Training
Certificate – Environment, Health and Safety Technology
Associate of Applied Science – Criminal Justice Technology
Associate of Applied Science – Emergency Preparedness Technology
Associate of Applied Science – Paralegal Technology
East Carolina University, Greenville
Bachelor of Science – Criminal Justice
Master of Public Administraton – Public Administration
Master of Science – Criminal Justice
Edgecombe Community College, Tarboro
Certificate – Criminal Justice Technology
Associate of Science – Criminal Justice Technology
Elizabeth City State University, Elizabeth City
Bachelor of Science – Criminal Justice
Fayetteville State University, Fayetteville
Bachelor of Science – Criminal Justice
Bachelor of Science – Forensic Science
Master of Science – Criminal Justice
Fayetteville Technical Community College, Fayetteville
Certificate – Basic Law Enforcement Training
Certificate – Criminal Justice Technology: Latent Evidence
Diploma – Paralegal Studies
Associate of Arts – Criminal Justice Technology: Financial Crime and Computer Fraud
Associate of Arts – Criminal Justice Technology: Latent Evidence
Associate of Arts – Criminal Justice Technology
Associate of Science – Paralegal Technology
Forsyth Technical Community College, Winston Salem
Certificate – Basic Law Enforcement Training
Certificate – Criminal Justice
Certificate – Paralegal Technology
Associate of Applied Science – Criminal Justice Technology
Associate of Applied Science – Emergency Preparedness Technology
Associate of Applied Science – Latent Evidence
Associate of Applied Science – Paralegal Technology
Associate of Science – Criminal Justice Technology
Gaston College, Dallas
Certificate – Legal Office Administration
Associate of Applied Science – Criminal Justice Technology
Associate of Applied Science – Emergency Preparedness Technology
Associate of Applied Science – Latent Evidence
Associate of Applied Science – Legal Office Administration
Associate of Applied Science – Paralegal Technology
Guilford College, Greensboro
Bachelor of Arts – Forensic Biology
Bachelor of Arts – Peace & Conflict Studies
Bachelor of Science – Community & Justice Studies
Bachelor of Science – Criminal Justice
Guilford Technical Community College, Jamestown
Certificate – Basic Law Enforcement Training
Certificate – Emergency Preparedness Technology
Associate of Applied Science – Criminal Justice Technology
Associate of Applied Science – Cyber Crime Technologies
Associate of Applied Science – Emergency Preparedness Technology
Associate of Applied Science – Paralegal Technology
Haywood Community College, Clyde
Associate of Science – Alliance Program in Criminal Justice
Associate of Science – Criminal Justice Technology*
Associate of Science – Fish and Wildlife Management Technology
High Point University, High Point
Bachelor of Arts – Criminal Justice
Isothermal Community College, Spindale
Associate of Applied Science – Criminal Justice Technology
ITT Technical Institute, Charlotte, High Point, Morrisville
Associate of Science – Criminal Justice
Bachelor of Science – Criminal Justice: Cyber Security*
Bachelor of Science – Criminal Justice*
James Sprunt Community College, Kenansville
Associate of Applied Science – Criminal Justice Technology
Johnson C Smith University, Charlotte
Bachelor of Arts – Criminology
Johnston Community College, Smithfield
Certificate – Paralegal Technology
Diploma – Paralegal Technology
Associate of Science – Criminal Justice Technology: Latent Evidence
Associate of Science – Criminal Justice Technology
Associate of Science – Paralegal Technology
King's College, Charlotte
Certificate – Legal Administration
Associate Degree – Legal Administration
Associate Degree – Paralegal
Lenoir Community College, Kinston
Certificate – Basic Law Enforcement Training
Associate of Applied Science – Criminal Justice Technology
Livingstone College, Salisbury
Bachelor of Arts – Criminal Justice
Mayland Community College, Spruce Pine
Certificate – Basic Law Enforcement Training
Certificate – Criminal Justice
Certificate – Law Enforcement Training
Associate of Applied Science – Criminal Justice
Associate of Arts – Occupational Technology
Associate of Arts – Public Safety
McDowell Technical Community College, Marion
Certificate – Basic Law Enforcement Training
Meredith College, Raleigh
Bachelor of Arts – Political Science: Law and Justice
Minor – Criminal Justice
Methodist University, Fayetteville
Bachelor of Science – Chemistry: concentration in Forensic Science
Bachelor of Science – Justice Studies: concentration in Applied Forensic Science
Bachelor of Science – Justice Studies: concentration in Human Services
Bachelor of Science – Justice Studies
Master of Justice Administration – Justice Administration
Miller-Motte College, Cary
Bachelor of Science – Criminal Justice
Miller-Motte Technical College, Raleigh
Associate Degree – Paralegal Studies
Mitchell Community College, Statesville
Certificate – Basic Law Enforcement Training
Associate in Applied Science – Criminal Justice Technology
Associate in Arts – Pre-Criminal Justice
Montgomery Community College, Troy
Certificate – Basic Law Enforcement Training
Certificate – Criminal Justice Technology
Associate of Applied Science – Criminal Justice Technology
Mount Olive College, Mount Olive
Bachelor of Arts – Criminal Justice
Bachelor of Science – Criminal Justice and Criminology
Bachelor of Science – Criminal Justice
Nash Community College, Rocky Mount
Certificate – Basic Law Enforcement Training
Certificate – Emergency Medical Dispatch
Certificate – Emergency Medical Services
Certificate – Fire & Rescue
Associate of Science – Criminal Justice: Latent Evidence Technology
Associate of Science – Criminal Justice Technology
Associate of Science – Emergency Preparedness Technology
North Carolina A & T State University, Greensboro
Bachelor of Arts – Criminal Justice
North Carolina Central University, Durham
Bachelor of Science – Criminal Justice
Bachelor of Science – Public Management
North Carolina Wesleyan College, Rocky Mount
Bachelor of Arts – Criminal Justice
Pamlico Community College, Grantsboro
Certificate – Criminal Justice Technology
Diploma – Criminal Justice Technology
Associate Degree – Criminal Justice Technology
Pfeiffer University, Misenheimer
Bachelor Degree – Criminal Justice
Piedmont Community College, Roxboro
Associate of Applied Science – Criminal Justice Technology
Pitt Community College, Winterville
Certificate – Basic Law Enforcement Training
Associate of Applied Science – Criminal Justice
Associate of Applied Science – Financial Crime & Computer Fraud
Associate of Applied Science – Paralegal Technology
Randolph Community College, Asheboro
Certificate – Basic Law Enforcement Training
Diploma – Criminal Justice Technology*
Associate of Science – Criminal Justice Technology*
Richmond Community College, Hamlet
Diploma – Criminal Justice Technology
Associate of Applied Science – Criminal Justice Technology
Roanoke-Chowan Community College, Ahoskie
Certificate – Web/Security
Associate of Applied Science – Criminal Justice Technology
Robeson Community College, Lumberton
Certificate – Basic Law Enforcement Training
Associate of Applied Science – Criminal Justice Technology
Rockingham Community College, Wentworth
Certificate – Basic Law Enforcement Training
Associate in Applied Science – Criminal Justice Technology: Financial Crime & Computer Fraud
Associate in Applied Science – Criminal Justice Technology
Associate in Arts – Criminal Justice
Rowan-Cabarrus Community College, Salisbury
Certificate – Technology: Criminal Justice
Associate of Applied Science – Technology: Criminal Justice
Sampson Community College, Clinton
Diploma – Basic Law Enforcement Training
Associate of Applied Science – Criminal Justice Technology
Sandhills Community College, Pinehurst
Associate in Applied Science – Criminal Justice Technology
Shaw University, Raleigh
Bachelor of Arts – Public Administration: Emergency Management
South College-Asheville, Asheville
Associate of Applied Science – Criminal Justice
Associate of Applied Science – Paralegal Studies
South Piedmont Community College, Polkton
Certificate – Criminal Justice: Latent Evidence
Certificate – Criminal Justice
Diploma – Criminal Justice
Associate of Applied Science – Paralegal Technology
Associate of Science – Criminal Justice Technology
Southwestern Community College, Sylva
Certificate – Latent Evidence
Associate in Applied Science – Criminal Justice Technology: concentration in Latent Evidence
Associate in Applied Science – Criminal Justice Technology
Associate in Applied Science – Cyber Crime Technology
Associate in Arts – Criminal Justice
Associate of Applied Science – Legal Office Administration
Associate of Applied Science – Paralegal Technology
St Andrews Presbyterian College, Laurinburg
Bachelor of Arts – Forensic Studies
Stanly Community College, Albemarle
Certificate – Basic Law Enforcement Training
Certificate – CCT Forensic Accounting
Certificate – Computer Forensics
Certificate – Criminal Justice: Corrections
Certificate – Criminal Justice – Law Enforcement
Diploma – Criminal Justice
Associate in Applied Science – Criminal Justice
Associate in Applied Science – Cyber Crime Investigation
Associate in Applied Science – Information Systems Security
Surry Community College, Dobson
Associate of Applied Science – Paralegal Technology
Associate of Science – Criminal Justice Technology*
Certificate – Paralegal Technology
The University of North Carolina at Charlotte, Charlotte
Bachelor of Arts – Criminal Justice
Master of Science – Criminal Justice
The University of North Carolina at Wilmington, Wilmington
Bachelor of Arts – Criminology: Criminal Justice
Bachelor of Arts – Criminology
Master of Arts – Criminology and Public Sociology
Tri-County Community College, Murphy
Associate of Applied Science – Criminal Justice Technology
In-Service Training – Law Enforcement/Detention/Telecommunications
University of Phoenix, Charlotte, Raleigh
Associate of Arts – Criminal Justice*
Bachelor of Science – Criminal Justice Administration – Human Services*
Bachelor of Science – Criminal Justice Administration – Management*
Bachelor of Science – Criminal Justice Administration*
Bachelor of Science – Organizational Security Management*
Master of Science – Administration of Justice and Security*
Vance-Granville Community College, Henderson
Certificate – Basic Law Enforcement Training
Associate in Applied Science – Criminal Justice Technology
Wake Technical Community College, Raleigh
Associate of Applied Science – Criminal Justice Technology
Associate of Applied Science – Latent Evidence
Wayne Community College, Goldsboro
Certificate – Basic Law Enforcement
Associate of Applied Science – Criminal Justice: Latent Evidence
Associate of Applied Science – Criminal Justice
Western Carolina University, Cullowhee
Bachelor of Science – Criminal Justice*
Bachelor of Science – Emergency Disaster Management*
Bachelor of Science – Forensic Anthropology
Bachelor of Science – Forensic Science
Bachelor of Science – Parks and Recreation Management
Western Piedmont Community College, Morganton
Certificate – Basic Law Enforcement Training
Certificate – Criminal Justice Technology
Associate in Arts – Criminal Justice
Associate of Applied Science – Criminal Justice Technology
Associate of Applied Science – Paralegal Technology
Wilkes Community College, Wilkesboro
Certificate – Criminal Justice Technology
Diploma – Criminal Justice Technology
Associate of Applied Science – Criminal Justice Technology
Wilson Community College, Wilson
Associate Degree – Paralegal Studies
Winston-Salem State University, Winston-Salem
Bachelor of Arts – Justice Studies
Check out our Top Online Criminal Justice Degree Programs for 2015
Back to States
FAQ
Home
Rankings
Features
Resources
Contact Us
About CJD Hub