Here is a list of Online Forensic Science Master's Degree Programs for those of you in the field considering a higher degree. The advantages of a master's degree in forensic science are considerable. Not only can you qualify for leadership roles in management, but you can learn more advanced skills that make you more valuable and in demand. That also means a higher salary. But if you don't want to leave your current job to go back to school, there are much forensic science master's programs online.
Evaluating a master's in forensic science online offers the opportunity to build on your experience. The challenge is identifying the advantages of the program and clarifying when it works with your goals. An online master's in forensic science program recognizes that you have worked in forensics and may have experience or training from an undergraduate degree and working in the field. You are not starting from the beginning, so you can focus on the classwork with a better idea of where the studies are going before you start a class. It builds on your knowledge, so you may not need as much assistance from your professor.
Featured Schools
How We Ranked the Best Forensic Science Master's Programs Online
To rank the best master's degree in forensic science online programs, Criminal Justice Degree Hub editors began with accredited, reputable schools offering online forensics master's. From there, we ranked the programs according to Alumni Salary, Reputation, and Tuition Cost. That way, students can feel confident that their master's degree in forensic science online program will pay off.
1. University of Florida

The University of Florida offers one of the best forensic science masters programs online with the option to choose from four concentrations. Along with a MS in forensic science, students have the potential to earn a masters in forensic toxicology, forensic drug chemistry, and forensic DNA. Students are able to enroll in the program year-round with degree requirements met in two to three years. Courses focus on forensic science, data analysis, and quality assurance in laboratories. The University of Florida has a high success rate in the field for post-graduation investigative job placement.
The University of Florida is an extremely popular public college on the east coast. More than 52,000 students are enrolled in one of the university's hundreds of undergraduate, graduate, and certificate programs. The 2,000-acre campus has a suburban feel with bustling student life. Through the sponsorship of hundreds of student organizations and Division I Southeastern Conference sports teams, the college helps students stay involved.
Degree: MS in Forensic Science – 4 concentrations
2. Saint Joseph's University

By earning a master's degree in forensic science online at Saint Joseph's University, students are preparing to enter the criminal justice field as an investigator. The program awards each graduate a Master of Science in Criminal Justice with a concentration in Intelligence and Crime Analysis. The 30-credit curriculum features intelligence techniques, enforcement agency policies and procedures, and crime prevention strategies. Saint Joseph University has a solid track record for educating crime analysts and intelligence officers at the local, state, and federal levels.
Saint Joseph's University is a private college with a convenient location in the city of Philadelphia. The east coast college is also located within driving distance of New York City and Washington DC. As a Roman Catholic college, there is a religious component included in many of the majors offered. Top-ranked degree programs from the university include education, business, and communication majors.
Degree: MSCJ – Intelligence and Crime Analysis
3. Oklahoma State University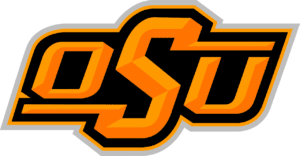 Oklahoma State University is known for having innovative forensic science masters programs online. At the conclusion of the 39-credit program, students will have earned a Master of Science in Forensic Investigative Sciences. Specialized courses within the program include forensic toxicology, victimology, and pathology. Oklahoma State University's forensic science degree program is very flexible with students able to choose specialty classes based on their interests.
Oklahoma State University is a public college home to more than 28,000 enrolled students. The Norman campus is one of the largest in the state—encompassing over 4,100 acres. As a research college, the school is the source of major projects through funding from agencies like the National Weather Center. Summer internships are available for students who wish to continue their research during school breaks. The benefits of Oklahoma State University include affordable tuition rates and low student-to-faculty ratios.
Degree: MS in Forensic Sciences
4. Florida International University

Florida International University has recently expanded its offerings to include a master's degree in forensic science online. The FIU Professional Science Masters in Forensic Science is delivered through a 16-month accelerated schedule with 32 credits from distance learning courses and a capstone internship needed for graduation. Classes delve into topics such as forensic analysis, biology, forensic chemistry, information systems, and forensic science leadership. Florida International University's forensic science major has an established return on investment with high program success rates.
Although only established in the 1970s, Florida International University has a massive undergraduate enrollment of more than 48,000 students. The college is made up of two central campuses located in West Miami and North Miami. Most students are involved in the many campus activities including annual festivals like the South Beach Food and Wine Festival. Florida International University has competitive academic departments with only 59 percent of applicants gaining admittance.
Degree: PSM in Forensic Science
5. University of Central Florida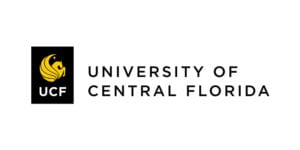 Students are able to earn a master's degree in forensic science online at the University of Central Florida. The competitive graduate program allows students to choose one of three concentrations: Forensic Analysis, Forensic Biochemistry, or Forensic Professional. The 32-credit programs feature the study of analysis and research methods in forensic science. A non-thesis option is available for the Forensic Analysis track for those who have already obtained a position in a forensic laboratory. The University of Central Florida's forensic science degrees carry a high value in the industry with a positive overall reputation.
The University of Central Florida has a convenient location in the city of Orlando. Housing is limited on the campus with freshmen not required to live during their first year of study. The college has a large Greek system with 40 fraternities and sororities on campus. Admission to the college is very selective with only 43 percent of applicants getting into the university. Highlighted programs at the University of Central Florida include health profession majors and education majors.
Degree: MS in Forensic Science
6. National University

At the National University, a Master of Forensic Sciences can be earned through online study. The comprehensive degree track focuses on the real-life application of forensic practices. Specialization options are Criminalization and Investigation. The former focuses on lab studies while the latter delves into field investigation. Requirements can be finished within two years of study. Graduates from the National University's master's degree in forensic science online program have secured positions within law enforcement, laboratories, federal investigation agencies, and legal firms.
The National University has the distinction of being one of the largest nonprofit colleges in the country. The private college focuses on accelerated degree options that allow courses to be done in four-week intervals. Online classes are popular with enrolled students or they can attend in-person courses at 20 satellite campuses throughout California and Nevada.
Degree: Master of Forensic Sciences
7. La Salle University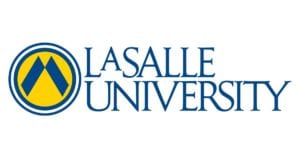 La Salle University has one of the top rated forensic science master's programs online. At the conclusion of the program, graduates will have a MS in Economics Crime Forensics. This degree is 100 percent online with a strong focus on analyzing economic crimes. Courses are done in eight-week sessions with degree conferment available in two to three years. Graduates of the degree program gain positions as digital forensics analysts, fraud investigators, and auditors.
La Salle University is a private college that was established in 1863 in the city of Philadelphia. The college has 40 undergraduate majors and 15 graduate majors currently offered. The university has a unique program for students who enter college with an undeclared major. Explore U includes mentoring and workshops to help a student choose an area of study.
Degree: MS in Economic Crime Forensics
8. Emporia State University

Emporia State University is a popular choice for those seeking a master's degree in forensic science online. The program is part of the Department of Biological Sciences and has a strong laboratory component. A total of 40 credit hours is needed for graduation through courses such as Forensic Microscopy, Molecular Techniques, and Biological Evidence. Within the job market, Emporia State University is considered a top-ranking school for scientific studies.
With a rural location, Emporia State University boasts a scenic 212-acre campus. The public college has recently undergone a major overhaul with over 1,000 classes being switched to online delivery. The college has recently added more accelerated degree options, hybrid format degrees, and certification programs. The school boasts small class sizes and high retention rates.
Degree: MS in Forensic Science
9. Nova Southeastern University
At Nova Southeastern University, a Master of Science in Criminal Justice is available with a specialization in Investigative Forensic Technology. A total of 30 credits are needed for graduation with classes included such as criminal law, legal research, behavioral analysis, and forensic psychology. Nova Southeastern University has a high post-graduation job placement rate with graduates securing positions within the field of law enforcement at the local, state, and federal levels.
Nova Southeastern University consists of a small, private campus in South Florida. The college is affiliated with the Roman Catholic Church and includes a religious learning element within numerous majors. The college has a Dual Admission program that permits a student to apply to the college's undergraduate and graduate school simultaneously. Popular major choices among students include health professions, business, computer science, and psychology.
Degree: MSCJ – Investigative Forensic Technology
10. Saint Leo University
Saint Leo University's online Forensic Science MS in Criminal Justice comes from a school that is both one of the best online educators in the nation, and one of the best criminal justice schools as well. Those two strengths together ensure that students in the online forensic science master's program have the highest level of instruction in not only science and technology, but in leadership, policy, ethics, and more.
Saint Leo University is a Catholic institution considered the first Catholic university in Florida. However, today Saint Leo is better known for its extensive and exceptional online program. Beginning in the 1970s, when the college began offering outreach courses to servicemen and women, SLU expanded its distance education with the advent of the internet. Today, Saint Leo is a national leader in online education.
Degree: MSCJ – Forensic Science
Should I Get a Forensic Science Master's Online?
The clear advantage of an online master's degree in forensic science is the flexibility of your schedule. You can keep up with your work schedule and continue to address personal obligations without giving up on your degree. You work around your needs and complete the classwork when you have time. That allows you to finish a degree at your own pace.
Choosing an online master's degree also allows you to cut back on the costs of your education. Online programs may offer special rates or low-cost options for students on a budget. It may also cut back on costs associated with spending time on campus, so you may not have as many fees that add to your basic tuition expenses. Exact costs vary by college or university, so you will want to evaluate the details before finalizing a school for your degree.
What Can I Do with a Forensic Science Master's?
When you are looking into your career opportunities with a forensic science degree, you may notice that your options focus on criminal investigations and work in government. Crime scene investigator jobs with a local police department or a federal agency are a common type of position available after completing your degree. The crime scene investigation jobs may require some on-the-job training to ensure that you are prepared to handle the challenges of a crime scene and work with other police officers to gather evidence.
You may also work in a laboratory environment evaluating the results of tests from a crime scene. Working in a lab means you are actively running tests to gain more information from the evidence gathered at a crime scene. In some cases, you may work in both areas of the investigation. The exact role of a professional with a master's degree in forensic science may vary based on your interests and goals.
Government positions may vary widely based on the goals of the organization. In the case of government roles, you may focus on a specific type of crime. For example, working with the FBI may result in looking into cyber crimes or hacking cases rather than working on traditional crime scenes. You may also work in a medical examiner's office to examine bodies for the cause of death or related concerns. The exact role of a forensic science professional may vary, but primarily focuses on solving crimes and evaluating evidence.
How Much Can I Make with a Forensic Science Masters?
When it comes to a crime scene investigator's salary, the options may vary based on your location. You should expect some differences between states and localities, as well as the type of organization. The average crime scene investigation salary is around $46,000 per year. The salary range is between $33,000 and $76,000 per year for crime scene investigations.
Small and local police stations may pay less when compared to income in larger urban settings. You can also expect some variation based on your work experience. When you have more work experience, you can expect your income to increase to reflect your greater knowledge of investigative strategies and methods of identifying details in a crime scene.
Working for a larger agency, such as the FBI, may result in a slightly higher pay when compared to a local police agency. The primary reason for the adjustment to your pay relates to the type of crimes you may investigate and the potential for crimes to occur over more than one state. That may complicate the investigation and result in more time spent working. Furthermore, the government agency may offer a higher compensation package due to the risks associated with the position.
You should expect to make a reasonable income as you gain experience as a crime scene investigator. The exact income will vary due to your location, the agency, your level of experience, and your specific focus in crime scene investigation. Expect your salary to increase over time as you learn more about your field and develop your skills. You should also recognize that specific areas of crime scene investigation and forensics may impact your opportunities and the salary that you can expect for your skills.
Related Rankings: