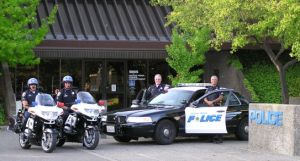 Here is a list of Associate Level Criminal Justice Jobs. Learn more about the wonderful careers that are available to you with this degree.
Acquiring a job in the criminal justice field can start you on one of the most rewarding career paths available, offering you the opportunity to work for the good of your community every day. Positions in law enforcement, the legal system, social work, and forensic science are necessary to maintain order and ensure that the innocent are protected and the guilty are punished. The best news is that, in many cases, these positions are open for anyone with a clean background and an associate degree in criminal justice. That means that after completing two years of college coursework, as opposed to a four-year degree, you could be part of the solution, helping to keep the streets safe in a career that offers good benefits and the potential for advancement.
Featured Schools
Criminal Justice Jobs
Although the job most commonly thought of in the criminal justice field is probably a position in law enforcement, criminal investigators and police officers are only a few of the roles necessary to keep the legal system running smoothly. Criminal justice jobs include positions responsible for prevention (like youth counselors or security officers), prosecution (legal aides and paralegals who work closely with the courts), victim advocates, correctional officers (maintaining order in prisons, jails, and detention facilities), and parole officers. In fact, any position which works primarily to uphold the law, from an insurance investigator to a crime scene technician, represents an essential element in the criminal justice system.
The Associate Degree in Criminal Justice
Criminal justice and criminology (the study of crime, specifically how crime affects society) are enormous categories with educational requirements ranging anywhere from a GED to a Ph.D. Lawyers, judges, psychologists who study criminal behavior, and forensic anthropologists spend years specializing in their field and acquiring graduate degrees, but their work would be impossible without a dedicated force of experienced technicians, assistants, analysts, and officers. The one thing all of these positions hold in common, aside from a strong desire for justice, is a background in law. This background is acquired at the most basic level through an Associate Degree in Criminal Justice, a two-year program that combines core college coursework (math, composition, etc.) with specialized criminal justice classes. A typical curriculum in a Criminal Justice program includes courses that study the nature of crimes, criminal thinking, and organizations established in criminal justice administration. Generally, survey courses in law and society are also required, and sometimes courses in areas of specialization, like corrections or homeland security, are also offered. Salaries at this level are varied but very good.
One of the great benefits of the Associate Degree in Criminal Justice is that it allows for more on-the-job experience, a feature that is becoming more and more attractive to potential employers.
The Top 10 Associate Level Criminal Justice Jobs
With so many radically different paths to follow within a criminal justice career, it can be difficult to choose an area of specialization. Do you feel most comfortable working in a law office, or are you drawn to the excitement of a career in law enforcement? Do you envision yourself working with troubled youth, or are you more interested in pursuing a job at a correctional facility? All of these positions have their own unique benefits and requirements.
In order to compile the following list of the Top 10 Associate Level Criminal Justice Jobs, three specific criteria were taken into consideration: salary, the potential for advancement, and overall job outlook.
1. Police Officer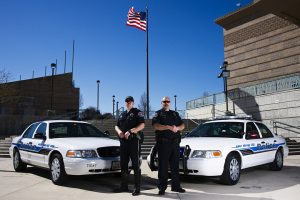 Education requirements for police officers vary by agency, and there are generally more requirements for police detectives than for uniformed patrol officers. Generally, police officers are required to complete training at an agency's police academy in addition to the degree they hold in criminal justice. Recruits at the academy study courses in civil rights, ordinances, and laws, and they also learn technical procedures like emergency response and firearms training.
Once they have graduated from the academy, police officers are then responsible for patrolling and enforcing laws on the street, traffic citations, testifying in court, and arresting criminals. Police officers are also required to respond to emergency and non-emergency calls, and they need strong written communication skills in order to properly document incidents and file the requisite reports.
According to the U.S. Department of Labor, the median annual wage for police and sheriff's patrol officers in May 2012 was $55,270. Detectives and criminal investigators make a little more, on average, at $74,300. Most police detectives and criminal investigators begin as patrol officers and work their way up, meaning that there is a strong opportunity for career development within the police force.
Overall, the job outlook for police and sheriff patrol officers is on the rise, albeit slowly, but there will always be a need for law enforcement officers at every level. This kind of job stability, coupled with a projected increase in available positions between now and 2022, keeps this position at the top of the 10 best Associate Level Criminal Justice Jobs.
2. Paralegal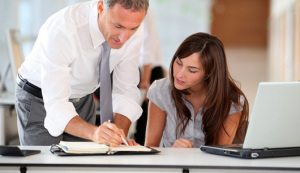 An Associate Degree in Criminal Justice also provides a good foundation for a career as a paralegal, which is basically a legal assistant who assists lawyers in preparing for trials, hearings, and other legal inquiries. Paralegals prepare drafts of documents, investigate the details of testimonies, and sometimes serve as research assistants to discover laws pertinent to specific cases. The majority of paralegals supplement their criminal justice degrees with internships, and these can lead to permanent positions in law firms, nonprofit organizations, and government agencies.
The Bureau of Labor Statistics puts the average yearly salary of a paralegal at somewhere around $40,000 but suggests that paralegals working for larger private firms can make significantly more. There also appears to be a growing need for paralegals, higher than average, as law firms discover that hiring these flexible workers is just as efficient (and far more cost-effective) than employing both legal secretaries and lawyers. In addition, many corporations are staffing in-house legal departments with paralegals to try and cut their legal expenses, meaning that opportunities for qualified paralegals extend far beyond the traditional legal environment.
Competition for higher-paying paralegal positions can be fierce, but holding an Associate Degree in Criminal Justice, pursuing certification in the National Association of Legal Assistants, and completing valuable internship hours can make you a viable candidate for these lucrative jobs.
3. Correctional Officer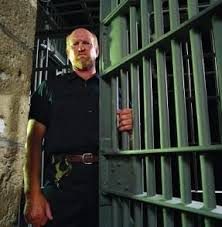 Correctional officers enforce laws inside prisons and jails, maintaining order and protecting inmates from assaults and theft. Within prison walls, correctional officers are responsible for controlling contraband and inmate behavior, as well as aiding in rehabilitation and the mediation of prisoner disputes.
Many state and local department of correction agencies requires additional training for correctional officers. Much like police officers, correctional officers take classes in self-defense, and security measures, and study laws about interpersonal relations within correctional facilities. There are many opportunities for advancement, and most correctional officers are regularly promoted to supervisory positions, or take advantage of openings in a related field like parole or probation.
The median annual wage for an entry-level correctional officer was $38,970 in 2012, according to the U.S. Department of Labor Statistics, but salaries increased with career advancement.
Every year brings an increase in the number of those incarcerated by state and private correctional facilities. Though these rising numbers may seem dismal to most law-abiding citizens, for those who hold an Associate Degree in Criminal Justice they indicate a continued need for qualified correctional officers, making this a position that isn't likely to disappear any time soon.
4. Private Investigator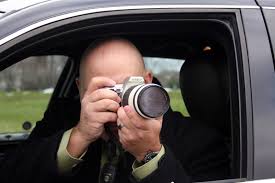 Private detectives and investigators work in a variety of environments, helping lawyers, companies, and individual clients discover the truth about people's backgrounds, locate missing persons, and investigate unsolved crimes or criminal allegations. Private investigators are often employed by law firms to verify facts or to establish witness credibility, and P.I.s are also vital to investigations by insurance companies that suspect fraudulent claims. Depending on the type of work they are involved in, private investigators might spend a significant amount of their time in the field, doing surveillance, or they might work out of an office, pursuing online research and investigating computer crimes.
The majority of private investigators have some kind of background in criminal justice, and most states require them to be appropriately licensed. Depending on their background, specialization, and employer, private investigators can make more than $79,000 a year, but the median income reported for 2012 was $45,740.
According to The 2014 Occupational Outlook Handbook, increased concern over identity theft and other cybercrimes, including internet scams and insurance fraud, has created an increased demand for private investigators. Since advances in computer technology will only cause these types of crimes to escalate in the future, the need for private investigators could see a steady rise between now and 2022.
5. Fish and Game Warden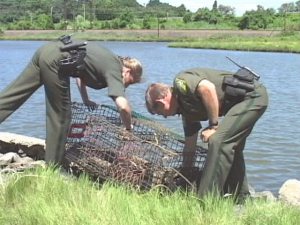 The primary responsibilities of fish and game wardens are to enforce laws related to fishing, hunting, and boating. For this reason, the majority of time spent on the job by a fish and game warden will involve patrolling wilderness and outdoor recreational areas to make sure all hunting and fishing laws are followed, and all boating ordinances are maintained. Fish and game wardens may also organize and respond to search and rescue calls, investigate accidents, and look into complaints pertaining to fish and wildlife maintenance, such as damage to crops caused by wildlife. It is also the responsibility of fish and game wardens to educate the public on existing game laws, to collect biological data, and to promote boating safety.
Some states, though not all, require fish and game warden candidates to have a bachelor's degree in wildlife management or another related field, all game warden recruits are required to attend a training academy prior to their employment. At the academy, game warden cadets learn occupational procedures such as boat operation and maintenance, water rescue, firearms training, and other security techniques, as well as various forms of wildlife and natural resource management skills.
Typically, state and federal agencies offer higher pay than local organizations, and there are generally better opportunities for career advancement in larger agencies. The median annual income for a fish and game warden was $49,730 in 2010. Regardless of the fact that hundreds of new game warden positions are added annually at both the federal and state level, job growth in this field has shown relatively little growth but the necessity to maintain this important workforce has remained a constant.
6. Fire Inspectors and Investigators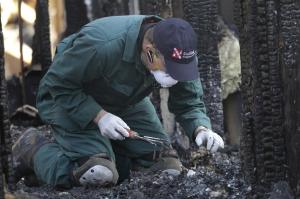 Although fire inspectors and fire investigators work closely in the same field, they each focus on dramatically different areas of criminal justice. Fire inspectors check to make sure businesses and individuals are complying with federal and state fire codes, and they are responsible for reporting code violations and any fire hazards that they discover. Inspectors closely examine evacuation plans, and gasoline storage facilities, and tests to make sure all fire protection equipment is in working order. If necessary, fire inspectors will return to make sure fire safety infractions have been properly corrected.
While fire inspectors focus primarily on fire prevention, fire investigators try to determine the causes of fires that have already occurred. Fire investigators will collect evidence at the scene of a fire, interview witnesses, and analyze the information they receive from laboratory testing to determine a fire's origin. Fire investigators are also responsible for documenting the scene, maintaining detailed records and evidence for legal proceedings, and testifying in court as to their findings. Sometimes fire investigators are employed by private companies or insurance firms to validate claims and rule out arson.
After they complete their associate degree, fire inspectors and investigators are often certified by a national organization such as the National Fire Protection Association or the National Association of Fire Investigators. Many fire inspectors and investigators also have some experience in firefighting or law enforcement.
Because about three-quarters of fire inspectors and investigators are employed by local government, the United States Department of Labor currently reports a slow rate of job growth in this field. However, as the housing market recovers and the construction of new buildings increases, the demand for both inspectors and investigators will also rise. On average, fire inspectors and investigators can expect to earn somewhere around $50,000 per year, with some positions paying over $87,000 annually.
7. Crime Scene Technician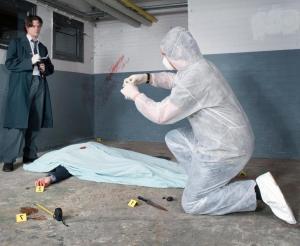 Otherwise known as a "Forensic Science Technician," many federal and state organizations require Crime Scene Technicians to possess a bachelor's degree in forensic technology, but some agencies only require an associate degree, provided the candidate has ample experience in the field and laboratory. Crime scene technicians have strong backgrounds in science, chemistry, or biology, and they need to be incredibly detail-oriented in order to process evidence to be used in criminal investigations.
Crime Scene Technicians document and photograph every aspect of a crime scene, collecting evidence such as fingerprints, blood, and any other bodily fluids that may be present. It is the responsibility of the Crime Scene Technician to catalog and preserve all evidence for use in future criminal proceedings. Depending on the agency with which the Crime Scene Technician is employed, some technicians are also responsible for laboratory analysis of evidence found at the scene, and the presentation of those findings in court.
Crime Scene Technicians can make anywhere between $32,000 and $85,000, depending on their level of education and experience, but on average make somewhere around $50,000 annually. The overall outlook for job growth in forensic science is slow, but new developments in forensic technology mean that law enforcement agencies will come to depend more and more on forensic evidence in criminal trials.
8. Bailiff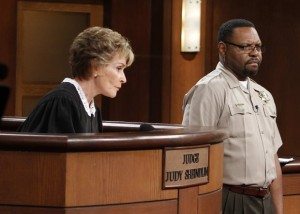 In law courts, bailiffs are responsible for providing security and maintaining order during legal proceedings and trials. Much like an officer at a correctional institute or a highly specialized security officer, bailiffs deliver documents, guard juries, and enforce the rules of the courtroom. Bailiffs, sometimes known as "court officers," are also responsible for calling witnesses to the stand, presenting them with the oath, and calling the court to order by announcing the arrival of the judge.
Bailiffs often receive the same training as other correctional officers and have the same opportunities for advancement or transfer. Because bailiffs work primarily in a court of law, they generally do not face the same levels of anxiety or illness brought on by employment within a correctional facility.
On average, bailiffs make around $36,000 per year. The job growth rate for bailiffs is the same as for correctional officers, but bailiffs have fewer opportunities for employment with private companies.
9. Police Dispatch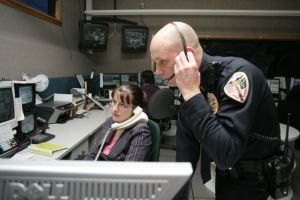 Although an Associate Degree in Criminal Justice is not a requirement for employment as a police dispatcher, a solid background in law and criminal activity can be of great benefit to anyone interested in this position. Police dispatchers are responsible for taking emergency and non-emergency calls and determining the best course of action for emergency first-responders.
Because most police dispatchers also work with firefighters and EMT responders, it's usually necessary for dispatch to evaluate which of the three emergency services is required, if not all three at once. Police dispatchers will radio the location and situation of the caller to the responding agencies, monitor the status of first-responding agencies, and sometimes offer medical instruction over the phone until the responders arrive.
While most police dispatchers work for state and local agencies, some dispatchers monitor alarm systems for private security firms, contacting law enforcement or fire safety officers when necessary. Police dispatchers are also responsible for communicating between jurisdictions to share information between law enforcement agencies.
Police Dispatch Operators require training for specialized equipment and high-risk procedures, and many agencies require an additional number of continuing education hours every few years. An aging population coupled with new innovations in emergency communications means that police and emergency dispatchers will be in high demand over the next decade. Because police and emergency dispatch is a high-stress job, there is also a significant turnover rate for the position, meaning that new dispatchers are often needed to replace old dispatchers who are transitioning into less stressful positions.
According to the U.S. Bureau of Labor Statistics, police dispatchers earned a median annual wage of $36,300, depending largely on the agency for which they worked.
10. Security Officer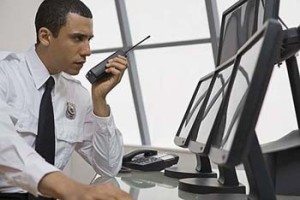 Security officers perform a variety of duties depending on the environment in which they work. Campus security officers maintain order on college campuses, respond to student complaints and violations, and patrol to ensure the safety of students and college property. Security officers in businesses are often responsible for customer safety, controlling access to certain areas, and protecting merchandise from theft or damage. Most of the time, security officers work in collaboration with other law enforcement officials, detaining shoplifters until the police arrive or providing detailed witness statements for use in criminal court. Security officers generally patrol areas in order to deter criminal activity, or they occupy stationary locations (such as gatehouses or security desks) to verify credentials and monitor surveillance equipment.
Because the work environments for security officers can vary to such an extreme degree, the training required can be different for each position. In general, all security officers receive some form of on-the-job training, but specific security training can encompass everything from computer systems to firearms training.
Jobs in private security are expected to grow a significant amount in the next ten years as many individuals and private corporations hire on additional security forces to supplement police protection. The opportunities for advancement within the field are excellent, and a number of security officers eventually start their own security companies. In 2010, the median annual wage for a security officer was $24,020, but armed guards generally make higher wages, and those officers who hold an Associate Degree in Criminal Justice are often favored for advancement.
Beginning Your Career in Criminal Justice
Regardless of the position you choose in the criminal justice system, you can rest assured that your job will be an important one in maintaining the safety and wellbeing of your community. Holding an Associate Degree in Criminal Justice means that you have the potential to gain valuable first-hand experience in your career, make important connections in your chosen field, and assist in the greater good while advancing your own personal career goals. Whether or not you decide to continue your education in criminology or criminal justice, an Associate Degree is a good start to a career that can be both lucrative and personally fulfilling, gaining you access to the most important and exciting job options available.
Related Rankings:
Top 10 Campus Bachelor's in Criminal Justice
10 Online Criminal Justice Degree Programs