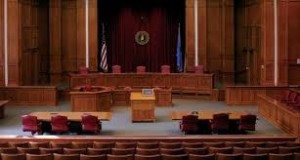 This is a list of the Top Master's Level Criminal Justice Jobs. If you are interested in this career please follow along!
It's common knowledge that a criminal justice degree can help you get your foot in the door for many different fulfilling and well-paying jobs, but a master's degree can open multiple other doors as well. Whether you've completed your master's degree in criminal justice or you're kicking around with the thought of doing so, these are ten different jobs that anyone with a master's degree in criminal justice can expect to be qualified for.
Featured Schools
The criteria used to rate the criminal justice careers chosen for this list is primarily the job outlook of the position in question.
Criminal Profiler
A criminal profiler is an individual that works to literally design and create profiles of criminals in order to help law enforcement solve crimes. The criminal profiler will examine various aspects of the crime(s) that have been committed by the criminal in order to develop a personality profile. This profile can be used to track down and even possibly predict the next move of the criminal in question.
A profiler will work alongside other investigators in order to develop an in-depth understanding of the criminal. They might spend long hours investigating and researching details and evidence from a crime scene in order to create a detailed profile that can be later used in bringing the criminal to justice. Various aspects of the crime that are taken into account by the criminal profiler often include how the criminal carried his/her crimes out, where the crimes took place, communications possibly left by the criminal, how the crimes were timed, any linking factors between victims, and more.
The criminal profiler will spend a lot of his/her time analyzing reports, visiting and studying the scenes of crime, creating reports, testifying in court, working alongside other law enforcement officials, and conducting research.
Job Outlook:
Many criminal profilers are currently employed by either federal or state organizations. However, many are also employed by the NCAVC (National Center for the Analysis of Violent Crime). Some of these individuals earn a salary up to $140,000. The mean at this time is around $77,000. The field for criminal profiling is one that requires lots of experience in addition to a master's degree, and it is one that is not highly abundant in jobs. However, criminal profilers that are employed are extremely valuable to their employer, organization, or institution. It is a field that is expected to slightly grow over the next several years.
Director of Court Services
The director of court services is often expected to design and implement compliant procedures and practices for court systems. Additionally, they are often directors and managers of many different projects in various programs such as jury systems, financial auditing, records management, child support enforcement, court operations, forms creation, and so much more.
The director of court services will also often recruit and terminate staff for the court services division, and he/she will handle training, coaching, and orientation for subordinate officails.
It is almost always preferred that an individual applying for a position as a director of court services display qualities such as a strength in making managerial decisions, the ability to communicate and lead, and the ability to handle various issues at once, as some might suddenly arise.
These individuals generally work in court systems and will rarely be presented with the need to commute elsewhere for their duties.
Job Outlook:
A director of court services generally sees an annual salary of anywhere from $54,000 to $59,000. However, salaries highly depend on the geographic location of the job. In some places, a director of court services might earn $35,000. In other places, he/she might be able to earn upwards of $80,000. The growth for this particular position and related careers is expected to see an 11% increase between 2012 and 2022. It's worth it to note that this type of job is generally not obtainable if the applicant does not already work for the court system as, for example, a court clerk.
Criminologist
A criminologist is a particular type of sociologist that focuses on studying the underlying factors that drive people to commit crimes and break the law. Using research conducted to determine driving factors for crime and illegal behavior, criminologists can then devise strategies to help prevent it.
In order for the criminologist to actively help prevent crime, he/she examines trends, patterns, and statistics, and geographic locations and demographics are also taken into account. Over the course of his/her career, the criminologist will spend the majority of their time conducting research. The criminologist might conduct research from the location of an office or study, or they might gather data and information in real-world situations.
It's not entirely uncommon for criminologists to interview criminals to determine underlying motives and factors that have contributed to their crimes. Some are closely tied with political figures, community officials, and law enforcement professionals to help them design policies for crime prevention. They can work for a number of employers including the government, committees, law enforcement agencies, universities/colleges, etc.
Skills that are required of a criminologist include strengths in mathematics (particularly being able to study statistics and determine probability), interpersonal communication, writing, and more.
Job Outlook:
Because criminologists work for many different types of employers, their salaries can range anywhere from $40,000 to more than $120,000. Sociology in general is expected to increase in outlook over the next several years. One of the major factors that contribute to the greater need for sociologists and specifically criminologists is population growth. Therefore, crime numbers are likely to increase proportionately. Additionally, criminology is a unique career. While growth and availability is expected to increase, it is still a rather uncommon position, and it would likely be somewhat difficult to find employment.
U.S. Marshal
A U.S. Marshal is an individual that undertakes many basic and high profile duties in law enforcement. U.S. Mashals can be involved in an array of operations that ensure that criminals are brought to justice. They often help task forces track down and bring criminals to justice, manage and transport prisoners, protect jurors, judges, and other individuals involved in the judiciary process, protect witnesses, and much more.
Because U.S. Marshals are needed in a variety of situations and procedures, they have many options for work environments. U.S. Marshals commonly work in prisons, courtrooms, offices, or even on a travel basis.
There are a variety of preferred skills and qualities by employers for U.S. Marshal candidates. These include excellent physical condition, the ability to work on a team with other law enforcement officials, as well as prisoners and the public, and being able to write clearly and well. U.S. Marshals often create reports and complete paperwork, so this means that written communication is just as important as verbal. It is also preferred that prospective applicants be well-versed at keeping up with trends in law enforcement and being able to adapt quickly to new situations and procedures.
Job Outlook:
At the beginning of employment, U.S. Marshals can earn anywhere from $38,000 to $48,000 per year. After they have completed a successful year of employment, promotion opportunities typically open up. Because the need for Marshals in law enforcement is and always has been a integral part of the criminal justice system, there will always be a demand for them. The agency hires when positions open up and funding allows, so it's a great idea to stay on top of the available careers via the U.S. Marshals government website.
FBI Agent
FBI agents are responsible for conducting criminal investigations at the national level. Types of crimes that FBI agents commonly look into are those that involve terrorism, organized crime, extortion, drug trafficking, white collar crime, foreign counterintelligence, and more. These types of agents have the ability to execute/obtain warrants, collect evidence, and appear in court. They also commonly interact with suspects and witnesses in order to collect evidence and intelligence on a particular case.
Applicants with knowledge of multiple language are generally great candidates for linguist positions. These individuals can help law enforcement analyze and prevent terrorism. In some cases, an FBI agent might go undercover in order to obtain information or evidence concerning a specific case. Wiretaps might be used and other types of technology might be used to obtain this sensitive information.
Work environments for FBI agents vary greatly. One FBI agent might work in an office day in and day out, while another might work out in the field. Many of these professionals spend lots of time in both settings. Travel might also be a frequent requirement for the FBI agent.
Job Outlook:
The median salary for an FBI agent is roughly $67,000. The lowest in the range of salaries comes in at around $54,000, while the highest ranks at around $106,000. The job market and outlook for FBI agents is only expected to grow at a rapid pace. As the population grows and national security becomes more important for keeping the nation safe, positions will become more common. Those with military experience and knowledge of more than one language will see the best chances at finding jobs as FBI agents.
DEA Agent
A DEA agent is a law enforcement official that is responsible for conducting research on the drug industry and bringing perpetrators to justice. Because the drug industry is so vast, the location of DEA agent's job can vary greatly. They can literally, in some cases, be enlisted and assigned to travel anywhere in the world.
Job duties of a DEA agent often include observing and tracking drug-related activity, writing reports, coordinating and managing anti-drug task force efforts, assisting in undercover tasks, apprehending and arresting criminals, testifying in court, confiscating evidence such as money, drugs, or weapons, and administering investigations.
Because DEA agents work closely with the drug industry to apprehend criminals, the field comes with quite a bit of risk attached. The risk is most amplified when DEA agents undertake undercover work. In certain operations, the agent might be tasked with handling of large amounts of drugs or money. In addition, many agents that go undercover might have to remove all of their credentials identifying their position for the time being to avoid conflict with criminals.
Job Outlook:
Because the war on drugs is one that continues to rage and require attention, there will always be a demand for DEA agents. The agency hires qualifying candidates on a periodic basis, and these candidates can begin the process via their local recruiting offices. The average salary of a DEA agent in their first year can expect anything from $47,000 to $57,000. This depends significantly on the location of the job. Once four years have been completed on the job as a DEA agent, he/she will likely be eligible for promotion and a $90,000+ annual salary.
Forensic Psychologist
Forensic psychology is an area of criminal justice that focuses largely on using the study of behavior to help solve problems such as custody conflicts, lawsuits, and insurance disputes. They spend a lot of their time within civil courts and working alongside criminals to help determine solutions for various cases.
A forensic psychologist is often responsible for assessing individuals for competency in different cases, administering therapy to victims of crime, and even providing second opinions. They will also commonly be assigned to work with child witnesses and give overall assessments/evaluations of offenders.
In cases that involve children, forensic psychologists often evaluate custody cases, follow up on reports of abuse, and help determine the eligibility certain individuals have of caring for their children.
Qualities often required of forensic psychologists include problem-solving skills, a want for working alongside others, patience, commitment, and creativity. Additionally, those that anticipate breaking into this career should enjoy studying and researching psychology and law. This type of career is undoubtedly highly challenging, but incredibly rewarding.
Job Outlook:
At a rate of around 12%, the job outlook for forensic psychologists is expected to grow over the next several years. Because the demand for psychological services in the criminal justice system will grow (partly due to population increases), job opportunities will as well. It's important to understand that a forensic psychologist's salary weighs heavily on the experience of the individual, as well as their geographic location. At any rate, the median salary over the past few years has been roughly $64,000 annually. Those that plan to apply for work via a government organization can expect to earn a slightly lower amount, but not by much. Those employed through the government earned an annual median of around $63,000.
College-Level Professor
A college-level criminal justice professor is an individual the instructs students on topics such as law, society, criminology, crime psychology and patterns, and more. Common job duties of a college-level criminal justice professor include developing lesson plans, creating assignments, and keeping tabs on their students' progress by observing their performance via grades, tests, and papers.
Professors also generally advise students on career choices and paths according to their goals and aspirations. They help administer this advice by staying informed on trends and what is happening in the fields of criminal justice and law. To do this, they might research scholarly articles, participate in seminars, and stay in touch with colleagues and other knowledgeable individuals in the field. Many students resort to approaching their instructors for advice. Therefore, it is highly likely that any professor will consult their students on this subject from time to time.
Skills that are preferred for college-level criminal justice professors include strong communication skills, being able to work alongside other members of faculty, the ability to develop competitive and relevant lesson plans, and more. The professor must also be extremely resourceful for students, and he/she must possess strong critical thinking and writing skills. It's not entirely uncommon that professors write and publish analysis and research papers.
Job Outlook:
The median annual salary of a criminal justice college professor is roughly $59,000. At this point, the demand for criminal justice professors is high. In general, job growth for college professors is expected to increase by 15% in the decade preceding 2018. Specifically, criminal justice professor demand will grow at a faster rate; by at least 20%. If you possess strong communication and leadership skills, it's obvious that a career as a criminal justice college professor is a promising one.
Federal Probation Officer
Offenders that commit federal crimes are generally assigned federal probation officers. The job of a federal probation officer generally consists of staying in close contact with offenders, monitoring their behavior and daily activity, and creating/submitting detailed reports on this information to the court system. If a federal probation officer catches the offender breaking the law or the stipulations of their probation, they are typically required to take them into custody.
It is common for federal probation officers to have several probationers at once to manage. This means that they must have a strong sense of time management, and they must be able to stay ahead of their duties. A large part of the federal probation officer's job is meeting regularly with offenders and speaking with their close acquaintances. In some cases, the officer might commute to their probationers' homes to meet with them. In other instances, the probationers might be required to appear at the officer's work place periodically to provide a status report and/or to complete drug testing evaluation. Federal probation officers often write reports on sentence recommendations and the statuses of their offenders. In some cases, federal probation officers might also testify in court as witnesses.
Job Outlook:
The median salary for a federal probation officer is around $48,000. Between the years of 2010 and 2020, the outlook for federal probation officers and probation officers in general is expected to grow by just under 20%. One of the primary reasons that this job position is at a higher demand is due to prison crowding and the lack of funds to keep these facilities operating efficiently due to the crowding. Lawmakers and law enforcement are actively searching for alternative means for imprisonment, and in this case, many offenders are being sentenced with parole/probation.
Criminal Justice Management
Criminal justice management is a broad term that blankets many different types of positions and jobs. A job in criminal justice management could be anything from a police chief of a relatively small force to a director of development at criminology or criminal justice college. In general, a person in a criminal justice administration position will oversee the capture of criminals and provide direction for staff under him/her for doing so.
Generally, these individuals are extremely knowledgeable and trained on various aspects such as emergency procedures, security protocols, and policing measures. Rather than searching out a particular job position in job listings, students with master's degrees in criminal justice can search out various management positions for lots of different organizations and administrations. These types of positions call for graduates with extensive knowledge of the criminal justice system as well as vast skill sets in managing others, leadership, and collaboration.
Various types of jobs that could possibly be available to those with master's degrees in criminal justice that are looking for careers in criminal justice management include police administration, security management, correctional administration, government management, management of juvenile corrections, border patrol supervision, and much more. The list is highly extensive.
Job Outlook:
Currently, there are several career paths in the criminal justice administration field that are trending. A few of these include, with median salaries, police chiefs ($85,000), security directors ($78,000), security managers ($53,000), etc. Because this type of field is so vast, the outlook for it is tremendous. There are many different paths that one can take when leaning in this direction. Just a few include probation/parole, federal law enforcement, emergency planning and management, loss prevention, risk compliance, and more