If you are looking for a criminal justice school in Arizona, you've come to the right place. Below you'll find a comprehensive list of traditional colleges and universities offering well respected and accredited criminal justice programs. If you live in Arizona but would prefer to get your criminal justice degree online, click here for a list of the top online schools.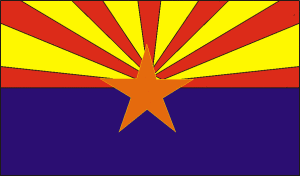 The State of Arizona is a very large state located in the Southwestern United States. The state is the home to over 6.5 million people, which makes it the fifteenth most populated state in the country. The state is also one of the largest, with a total area of over 113,000 square miles. Overall, the state is pretty sparsely populated with the majority of residents living in the Phoenix metropolitan area or near Tucson. Phoenix is the fourth most populated city in the country and the metro area is one of the fastest growing in the United States.
Criminal Justice Demand in Arizona
For those that are looking to pursue a career in criminal justice, looking at criminal justice schools in Arizona could be a great option. As mentioned previously, Arizona is one of the fastest growing states in the entire country. Along with the increasing population, there will be an increasing demand for people in the criminal justice field. This will provide not only great opportunity to get a job after graduation, but provide the greatest potential for growth.
Financial Assistance for Criminal Justice
Those that are looking to pursue a degree in criminal justice may find that the degree programs can be expensive. While people in these fields will likely be able to find good jobs at graduation, there are still ways to cut back on the costs of going to school. One of the best ways to cut down on the total costs would be to take advantage of potential scholarships, grants, and other forms of financial assistance. Those that go to school will be able to find financial assistance through either the school directly, through the local community, or even through private third party organizations.
Arizona Criminal Justice Programs:
* denotes online program available
Arizona State University, Tempe
BS – Criminology and Criminal Justice*
Arizona Western College, Yuma
Associate in Applied Science – Paralegal Studies
Bachelor of Arts – Administration of Justice
Certificate – Law Enforcement
Occupational Certificate – Paralegal Studies
Brookline College, Phoenix, Tempe, Tucson
Certificate – Legal Secretary
Certificate – Legal Secretary*
Diploma – Legal Secretary*
AS – Criminal Justice*
AS – Paralegal Studies*
Associate of Arts – Justice Administration
Associate of Arts – Paralegal*
BS – Criminal Justice*
Carrington College, Mesa, Phoenix, Tucson
Central Arizona College, Coolidge
Associate of Applied Science – Administration of Justice
Chandler/Gilbert Community College, Chandler
Certificate – Crime Intelligence Analysis
Certificate – Forensic Science
Certificate – Homeland Security
Certificate – Justice Studies
Certificate – Law Enforcement Training Academy
Cochise College, Douglas
Certificate – Public Safety Communications Officer I
Associate of Applied Science – Administration of Justice
Associate of Applied Science – Intelligence Operations Studies
Associate of Arts – Administration of Justice
Coconino Community College, Flagstaff
Certificate – Basic Detention Academy
Certificate – Basic Emergency Dispatch Academy
Associate of Applied Science – Criminal Justice
Associate of Arts – Criminal Justice
East Valley Institute of Technology, Mesa
Associate of Applied Science – Law
Associate of Applied Science – Public Safety
Associate of Applied Science – Security
Eastern Arizona College, Thatcher
Certificate – Police Academy
Associate of Applied Science – Administration of Justice
Associate of Arts – Administration of Justice
Estrella Mountain Community College, Avondale
Bachelor of Science – Forensics
Bachelor of Science – Law Enforcement
Everest College Phoenix, Mesa, Phoenix
Associate Degree – Criminal Investigations*
Associate Degree – Criminal Justice*
Associate of Justice – Criminal Justice*
Associate of Science – Criminal Investications*
Associate of Science – Criminal Investigations*
Associate of Science – Criminal Justice*
Associate of Science – Paralegal
Bachelor Degree – Criminal Justice*
Bachelor of Science – Criminal Justice
Bachelor of Science – Criminal Justice*
Fortis College, Phoenix
Certificate – Court Reporting
Certificate – Paralegal
Grand Canyon University, Phoenix
B.S. – Justice Studies*
B.S. – Public Safety Administration*
BS Safety & Emergency Mngt*
Bachelor of Science – Justice Studies
MS Leadership: Disaster & Fire*
MS in CJ: Law Enforcement*
MS in CJ: Legal Studies*
Master of Science – Criminal Justice
Masters Degree – Criminal Justice*
ITT Technical Institute, Phoenix, Tempe, Tucson
Associate of Applied Science – Criminal Justice
Associate of Applied Science – Criminal Justice*
Bachelor of Applied Science – Criminal Justice
Bachelor of Applied Science – Criminal Justice*
Bachelor of Science – Criminal Justice*
Bachelor of Science – Information Systems Security
Mesa Community College, Mesa
Associate of Applied Science – Administration of Justice
Certificate – Administration of Justice
Certificate – Forensic Studies
Mohave Community College, Kingman
Associate of Applied Science – Administration of Justice
Associate of Applied Science – Corrections Officer
Associate of Applied Science – Evidcence & Crime Scene Investigation
Northcentral University, Prescott Valley
Certificate – Homeland Security*
Certificate – Criminal Justice*
D.B.A. – Criminal Justice*
D.B.A. – Homeland Security*
M.B.A. – Criminal Justice*
M.B.A. – Homeland Security*
Ph.D. – Criminal Justice*
Ph.D. – Homeland Security*
Northern Arizona University, Flagstaff
Bachelor of Applied Sciences – Justice Systems Policy and Planning
BA / BS – Interdisciplinary Studies: Criminology and Criminal Justice
Bachelor of Science – Criminology and Criminal Justice
Master of Science – Applied Criminology
Ottawa University, Phoenix
Bachelor Degree – Human Services: Corrections*
Paradise Valley Community College, Phoenix
Associate of Applied Science – Administration of Justice
Penn Foster College, Scottsdale
Associate – Criminal Justice*
Associate – Paralegal Studies*
Phoenix College, Phoenix
Associate in Applied Science – Paralegal
Associate of Applied Science – Administration of Justice
Associate of Applied Science – Forensic Science
Certificate – Administration of Justice
Certificate – Crime and Accident Scene Photography
Certificate – Evidence Technology
Certificate – Fingerprinting
Certificate of Completion – Paralegal
Pima Community College, Tucson
Certificate – Crime Scene Management
Certificate – Fraud Examination
Associate of Applied Science – Administration of Justice Studies
Associate of Applied Science – Paralegal
Associate of Arts – Administration of Justice Studies
Post Baccalaureate Certificate – Paralegal
Rio Salado College, Tempe
Associate Degree – Law Enforcement Technology*
Certificate – Law Enforcement Technology
Scottsdale Community College, Scottsdale
Associate of Applied Science – Administration of Justice
Certificate – Crime Scene Investigation
Certificate – Crime Scene Technology
Certificate – Justice Studies
Certificate – Police Academy Prep
University of Arizona, Tucson
Bachelor of Science in Public Administration – Criminal Justice
University of Phoenix, Chandler, Mesa, Nogales, Phoenix, Sierra Vista, Tucson, Yuma
AA – Criminal Justice*
BS – Criminal Justice Administration: Human Services*
BS – Criminal Justice Administration: Management*
BS – Criminal Justice Administration*
BS – Organizational Security Management*
MS – Administration of Justice and Security*
Western International University, Phoenix
Bachelor of Arts in Legal Studies*
B.S. w/ Crim. Behavior Minor*
Bachelor of Arts in Criminal Behavior*
Bachelor of Science in Business / Minor in Legal Studies*
Yavapai College, Prescott
Associate of Applied Science – Administration of Justice
Associate of Applied Science – Paralegal Studies
Certificate – Arizona Peace Officer's and Standards Training
Certificate – Paralegal Studies – Legal Nurse
Certificate – Specialty Officer
Post Baccalaureate Certificate – Paralegal Studies
Check out our Top Online Criminal Justice Degree Programs
Back to States
FAQ
Home
Rankings
Features
Resources
Contact Us
About CJD Hub