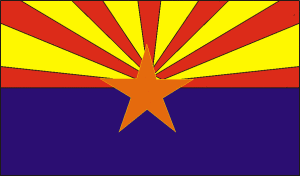 A criminal justice career in Arizona offers both rewarding challenges and challenging rewards. For people seeking criminal justice jobs in Arizona, they may find that not only is there a welcoming stance toward creating and filling criminal justice roles of all sorts, there are also a lot of initiatives specifically geared toward that effort. That's one of the many things that make Arizona a great place to start a criminal justice career. With so many schools containing full criminology and criminal justice departments, it's easy to see that Arizona takes criminal justice and criminal justice careers seriously. Those looking for criminal justice jobs in the state should have no issues with finding something fulfilling for themselves.
What Are the Common Criminal Justice Jobs in Arizona?
Criminal justice encompasses many jobs and career types. As with most places, the most common criminal justice jobs in Arizona come from the state itself, or its towns and cities. Those jobs include positions such as:
Featured Schools
Correctional officers
Customs and border protection officers
Forensic specialists
Crime scene specialists and technicians
Court investigator
Dispatchers
Case managers
Many other typical criminal justice jobs exist besides. Since criminal justice encompasses the courts, law enforcement, and corrections, there's an almost endless number of potential jobs and career opportunities for those who want to work in this field in any capacity. In addition, all criminal justice institutions look for people to fill administrative and other white-collar roles.
So, there are career paths and opportunities in that direction as well. In addition, the criminal justice system includes a very large number of private businesses and organizations that also need people with a passion for and knowledge of criminal justice systems. So, criminal justice careers need not adhere strictly to public service.
Do I Have to Work in Law Enforcement?
People often equate criminal justice to law enforcement by default. While law enforcement makes up a sizable portion of the criminal justice system, it's not the only component at play. People seeking a criminal justice career can do so through the courts, through corrections, or completely through private sectors.
In all parts of Arizona's criminal justice system, there's a need for people who have a high level of familiarity with computers, networking, and other information systems. These jobs exist with law enforcement departments and outside of them.
Digital forensics investigators may perform such work for law enforcement, but the same skills can earn someone the same or similar job with a private company or the courts. Some other criminal justice jobs and careers that don't require someone to work in law enforcement can include positions like:
Field asset protection analyst
Truancy case managers
Criminal law paralegals
Intelligence analysts
Victim advocates
Information systems security officer
Criminal justice instructors
So many choices exist that it's very possible for someone to avoid law enforcement altogether when they're choosing a criminal justice job or career path in Arizona.
How Is the Job Market in Arizona?
Arizona has seen an uptick in its economy that looks to continue going forward. When looking at the information, the state points out which jobs have a high demand currently. time. There are several other occupations that someone with a criminal justice degree or background can take a closer look at.
For example, teaching jobs currently have a lot of demand. This can include criminal justice instructors and security instructors and others who may want to take on an instructional role within the criminal justice system. In addition, Arizona wants analysts, and there are a lot of different analyst positions within criminal justice institutions.
Overall, the job market in Arizona looks good, and people looking for criminal justice careers or jobs will certainly find what they're looking for. Remember that criminal justice involves a perpetually necessary system, so even when certain criminal justice jobs aren't in high demand, it's safe to assume some other jobs in this sector will have employers looking for qualified individuals.
Where Are the Best Cities for Criminal Justice Jobs?
The best cities for criminal justice jobs are those where there's a need. Typically, larger metropolitan areas will have the most need for criminal justice specialists of every type, but the competition also rises in direct proportion to the population. Still, those who look in and around Phoenix, Tucson, and Mesa will probably find a large job market for criminal justice professionals.
Criminal justice jobs exist everywhere. Applicants who aren't averse to moving can keep an eye out for up-and-coming towns and cities. Population booms or new industries also come with a larger need for criminal justice personnel of every type. A good place to look is at census data that shows increases in population over time can help.
Related:
10 BEST ONLINE CRIMINAL JUSTICE PROGRAMS IN ARIZONA