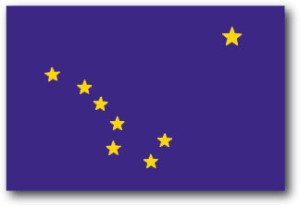 If you are looking for a criminal justice school in Alaska, you've come to the right place.
Situated on the northwestern extremity of North America, Alaska is the largest state in the United States by area. However, Alaska is the fourth-least populous and the least densely populated in the country with a population of just 731,449. Approximately half of these residents live within the largest city of Anchorage and its metropolitan area. The capital city, Juneau, is situated on the mainland, but it is the only capital city that is not accessible by road. Alaska is bordered by Canada to the east, the Arctic Ocean to the north, and the Pacific Ocean to both the west and south. The state is also known as Alyeska to natives, which is an Aleut word that means "the great land."
Featured Schools
The economy of Alaska is dominated by the oil, natural gas, fishing, and tourism industries. With its myriad of islands and peninsulas, Alaska possesses nearly 34,000 miles of pristine tidal shoreline, more than all the other states in the country combined. In addition, the state has more than three million lakes and more than 16,000 square miles of land is covered in glacier ice. Alaska is well-known for being the site of the popular Iditarod Trail Sled Dog Race, which starts in Anchorage and ends in Nome.
Criminal Justice Jobs Outlook in Alaska
According to the Bureau of Labor Statistics, there were 7,980 jobs in professions related to criminal justice in May 2012. Out of every 1,000 jobs, 25.039 positions were within the criminal justice or law enforcement industry. The location quotient is 1.02, but criminal justice employment is predicted to grow by 3.3 percent between 2010 and 2020. Employees in criminal justice professions in Alaska earned an average annual salary of $52,860, which is equivalent to $25.42 per hour.
Financial Aid in Alaska
A few of the various different grants and scholarships that are offered to residents in Alaska and could be used for pursuing a criminal justice major degree include:
AlaskAdvantage Education Grant – provided to eligible Alaska students in need of financial assistance that are enrolled full-time in qualifying postsecondary institutions and demonstrated exceptional academic preparation for college with top quartile SAT scores
Alaska Academic Competitiveness Grant (ACG) – awarded to students who have successfully completed a rigorous high school program and maintained a cumulative GPA of at least 3.0
Pride Foundation Scholarships – awarded to lesbian, gay, bisexual, transgender, and straight-ally students that are attending or planning to attend a college or university in Alaska
Related:
JOBS IN LAW ENFORCEMENT OR AS A FEDERAL AGENT
HOW LONG WILL I HAVE TO GO TO SCHOOL FOR A CRIMINAL JUSTICE DEGREE?