If you are looking for a criminal justice school in Georgia, you've come to the right place. Below you'll find a comprehensive list of traditional colleges and universities offering well respected and accredited criminal justice programs. If you live in Georgia but would prefer to get your criminal justice degree online, click here for a list of the top online schools.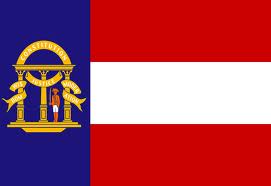 Situated in the Southeastern region of the United States, Georgia is the 24th most extensive and eight most populous state with a total population of 9,919,945 residents. The state is bordered by Florida to the south, Tennessee to the north, Alabama to the west, and South Carolina and the Atlantic Ocean to the east. Georgia is the most extensive state east of the Mississippi River in terms of land area, covering 59,425 square miles. Atlanta is the capital and largest city in the state, which is home to 5,457,831 people. Although this is by far the most populated area, 14 of Georgia's counties are ranked among the 100 fastest-growing in the nation.
While it may be nicknamed the "Peach State," Georgia is well-known for its widespread farms that produce eggs, cotton, poultry, peanuts, and of course, peaches. Georgia is also the leading producer of pecans in the entire world. Beyond agriculture, there are 15 Fortune 500 companies and 26 Fortune 1000 companies headquartered in the state. Georgia's total gross state product was $403.1 billion, while the per capita personal income is $35,979. And, the state continues to rapidly grow as a hub for communications, transportation, tourism, government, and other services for the East Coast.
Criminal Justice Jobs Outlook in Georgia
According to the May 2012 records from the Bureau of Labor Statistics, there were 99,990 jobs in criminal justice and law enforcement occupations. For every 1,000 jobs, 26.206 were in criminal justice related industries. While the location quotient for the field is 1.06, jobs are expected to increase at a rate of 1.8 percent between 2010 and 2020. Employees in criminal justice jobs in Georgia earn an average salary of $33,690, which is equivalent to $16.20 per hour. Detectives and criminal investigators are the top earners, making a mean annual salary of $58,060.
Financial Aid in Georgia
Some of the state-based scholarships and grants that students seeking a criminal justice degree in Georgia could use for financial assistance include:
Georgia HOPE Grant Program – offered to legal residents of Georgia who are attending a public technical college or public university, and are maintaining satisfactory academic progress as defined by the school.
COAG Scholarship – awarded to high school seniors and college students enrolled at an accredited institution in Georgia that are specifically pursuing a degree related to law enforcement, criminal justice, or pre-law.
GSFC Georgia Tuition Equalization Grant – non-repayable grant aid provided to eligible Georgia residents in independent colleges and universities in the state who demonstrate financial need.
Georgia Criminal Justice Programs
* – Denotes Online Program Available
Abraham Baldwin Agricultural College, Tifton
Bachelor of Science – Criminal Justice
Albany State University, Albany
Bachelor of Science – Criminal Justice
Bachelor of Science – Forensic Science
Master of Science – Criminal Justice
Albany Technical College, Albany
Certificate – Private Security
Diploma – Law Enforcement
Associate of Science – Law Enforcement
Altamaha Technical College, Jesup
Certificate – Criminal Justice Specialist
Diploma – Criminal Justice Technology
Associate of Applied Science – Criminal Justice Technology
American Intercontinental University, Atlanta
Associate of Science – Criminal Justice*
Bachelor of Science – Criminal Justice
Bachelor's of Science in Criminal Justice – Law Enforcement*
Andrew College, Cuthbert
Associate of Science – Criminal Justice
Armstrong Atlantic State University, Savannah
Certificate – Cyber Security Institute
Associate of Applied Science – Criminal Justice: Corrections
Associate of Applied Science – Criminal Justice: Law Enforcement
Bachelor of Arts – Law and Society
Bachelor of Science – Criminal Justice
Master of Science – Criminal Justice
Athens Technical College, Athens
Associate of Applied Science – Paralegal Studies
Atlanta Technical College, Atlanta
Certificate – Paralegal Fundamental Technical
Associate of Applied Technology – Paralegal Studies
Augusta State University, Augusta
Associate of Applied Science – Criminal Justice
Bachelor of Arts – Criminal Justice
Augusta Technical College, Augusta
Technical Certificate – Legal Office Assistant
Diploma – Criminal Justice Technology
Associate of Applied Science – Criminal Justice Technology
Associate of Applied Science – Paralegal Studies
Bainbridge College, Bainbridge
Certificate – Law Enforcement Management
Certificate – Law Enforcement Practitioner
Associate of Applied Science – Criminal Justice Technology
Associate of Arts – Criminal Justice
Bauder College, Atlanta
Associate of Arts – Criminal Justice
Bachelor of Science – Criminal Justice
Brenau University, Gainesville
Bachelor of Arts – Conflict Resolution and Legal Studies
Brown College of Court Reporting, Atlanta
Certificate – Court Reporting
Central Georgia Technical College, Macon
Diploma – Criminal Justice Technology
Associate Degree – Criminal Justice Technology
Chattahoochee Technical College, Jasper, Marietta
Certificate – Criminal Justice Supervisor
Certificate – Juvenile Justice Specialist
Diploma – Criminal Justice Technology
Diploma – Criminal Justice
Diploma – Emergency Management
Diploma – Homeland Security
Associate of Applied Science – Criminal Justice Technology
Associate of Applied Science – Emergency Management
Associate of Applied Science – Homeland Security
Clark Atlanta University, Atlanta
Bachelor of Arts – Criminal Justice
Master of Arts – Criminal Justice
Clayton State University, Morrow
Certificate – Paralegal
Associate of Applied Science – Paralegal
Bachelor of Science – Criminal Justice
Bachelor of Science – Legal Studies
College of Coastal Georgia, Brunswick
Associate of Science – Criminal Justice
Columbus State University, Columbus
Certificate – Criminal Justice
Associate of Applied Science – Criminal Justice
Bachelor of Science – Criminal Justice
Dalton State College, Dalton
Associate of Science – Criminal Justice
Bachelor of Science – Criminal Justice
Darton College, Albany
Certificate – Homeland Security
Certificate – Paralegal Studies
Certificate – Paralegal
Associate of Applied Science – Paralegal Associates
Associate of Science – Criminal Justice
Dekalb Technical College, Clarkston
Certificate – Legal Administrative Assistant
Technical Certificate of Credit – Basic Law Enforcement
Technical Certificate of Credit – Crime Scene Technician
Technical Certificate of Credit – Criminal Justice Technology
Technical Certificate of Credit – Information Security Specialist
Diploma – Criminal Justice Technology
Diploma – Information Security Specialist
Associate in Applied Science – Paralegal Studies
Associate of Applied Science – Criminal Justice Technology
East Central Technical College, Fitzgerald
Technical Certificate of Credit – Criminal Justice Specialist
Diploma – Criminal Justice Technology*
Associate of Applied Science – Criminal Justice Technology*
Everest Institute, Norcross
Flint River Technical College, Thomaston
Certificate – Criminal Justice
Diploma – Criminal Justice Technology
Associate of Science – Criminal Justice Technology
Fort Valley State University, Fort Valley
Associate of Arts – Criminal Justice
Bachelor of Arts – Criminal Justice*
Bachelor of Arts – Criminal Justice
Gainesville State College, Oakwood
Certificate – Paralegal Studies
Associate in Applied Science – Paralegal Studies
Associate of Science – Criminal Justice
Georgia College & State University, Milledgeville
Bachelor of Arts – Criminal Justice
Master of Science – Criminal Justice
Georgia Military College, Columbus, Martinez, Milledgeville, Union City, Valdosta, Warner, Robins
Associate of Applied Science – Criminal Justice
Associate of Arts – Criminal Justice
Associate of Science – Criminal Justice
Associate of Science – Homeland Security
Georgia Northwestern Technical College, Rock Spring, Rome
Certificate – Crime Scene Investigation
Certificate – Criminal Justice Records Tech
Certificate – Criminal Justice / Safety Services
Diploma – Criminal Justice Technology
Associate Degree – Criminal Justice / Safety Services
Associate of Applied Science – Criminal Justice Technology
Georgia Perimeter College, Clarkston
Associate of Arts – Homeland Security and Emergency Management
Associate of Science – Criminal Justice
Georgia Southern University, Statesboro
Bachelor of Science – Information Technology and the Administration of Criminal Justice
Bachelor of Science – Justice Studies
Georgia State University, Atlanta
Bachelor of Science – Crime and Justice
Bachelor of Science – Legal Issues
Graduate Certificate – Disaster Management
Master of Public Administraton – Criminal Justice
Master of Science – Criminal Justice
PhD – Criminal Justice and Criminology
Gwinnett Technical College, Lawrenceville
Certificate – Cyber Crime Specialist
Diploma – Criminal Justice Technology
Associate of Applied Science – Criminal Justice Technology
Herzing University, Atlanta
AS – Criminal Justice*
AS – Legal Assisting / Paralegal*
Associate of Applied Science – Criminal Justice
Associate of Applied Science – Legal Assisting/Paralegal
Associate of Science – Criminal Justice
Associate of Science – Legal Assisting / Paralegal
Bachelor Degree – Criminal Justice*
Bachelor Degree – Homeland Security*
Bachelor of Science – Criminal Justice*
Bachelor of Science – Homeland Security and Public Safety / Criminal Justice
Bachelor of Science – Homeland Security and Public Safety / Emergency Medical Technology*
Bachelor of Science – Homeland Security and Public Safety
Bachelor of Science – Legal Studies
ITT Technical Institute, Atlanta, Duluth, Kennesaw
Associate of Science – Criminal Justice
Associate of Science – Criminal Justice*
Bachelor of Science – Criminal Justice
Bachelor of Science – Criminal Justice*
Iverson Business School, Atlanta
Certificate – Court Reporting
Certificate – Legal Assistant
Kennesaw State University, Kennesaw
Bachelor of Science – Criminal Justice
Bachelor of Science – Information Security and Assurance
Graduate Certificate – Information Security and Assurance
Minor – Criminology
Lanier Technical College, Oakwood
Certificate – Criminal Justice Specialist*
Certificate – Criminal Justice Technician*
Diploma – Criminal Justice Technician*
Associate of Science – Criminal Justice Technician
Lincoln College of Technology, Marietta
Certificate – Criminal Justice
Macon State College, Macon
Associate of Science – Criminal Justice
Mercer University, Macon
Bachelor of Science – Public Safety
Middle Georgia Technical College, Warner Robins
Technical Certificate – Advanced Legal Assistant
Technical Certificate – Legal Assistant
Technical Certificate – Paralegal Fundamentals
Associate of Applied Technology – Paralegal Studies
Moultrie Technical College, Moultrie
Associate of Applied Science – Criminal Justice Technology
Certificate – Law Enforcement
Diploma – Criminal Justice Technology
North Georgia College & State University, Dahlonega
Bachelor of Science – Criminal Forensics
Bachelor of Science – Criminal Justice
North Georgia Technical College, Clarkesville
Associate of Applied Science – Criminal Justice
Diploma – Criminal Justice
Oconee Fall Line Technical College, Dublin
Technical Certificate of Credit – Criminal Justice Supervisor
Technical Certificate of Credit – Criminal Justice Technician
Diploma – Criminal Justice Technology
Associate of Applied Science – Criminal Justice Technology
Ogeechee Technical College, Statesboro
Certificate – Basic Law Enforcement
Certificate – Criminal Justice Specialist
Diploma – Criminal Justice Technology
Diploma – Forensic Science Technology
Associate Degree – Criminal Justice Technology
Associate Degree – Forensic Science Technology
Okefenokee Technical College, Waycross
Diploma – Criminal Justice
Associate of Applied Science – Criminal Justice
Piedmont College, Demorest
Bachelor of Arts – Criminal Justice
Reinhardt College, Waleska
Associate of Science – Criminal Justice
Bachelor of Science – Public Safety
Savannah State University, Savannah
Bachelor of Arts – Criminal Justice
Bachelor of Arts – Public Administration
Master of Public Administraton – Public Administration
Savannah Technical College, Savannah
Technical Certificate of Credit – Basic Law Enforcement Training
Diploma – Criminal Justice
Associate Degree – Paralegal Studies
Associate of Science – Criminal Justice
South Georgia Technical College, Americus
Associate of Science – Criminal Justice
Certificate – Criminal Justice
Diploma – Criminal Justice
Southeast Technical Institute, Vidalia
Associate of Applied Science – Law Enforcement
Southern Crescent Technical College, Griffin
Diploma – Criminal Justice Technology
Diploma – Forensic Science Technology
Associate Degree – Criminal Justice Technology
Associate Degree – Forensic Science Technology
Associate in Science – Paralegal Studies
Southwest Georgia Technical College, Thomasville
Certificate – Law Enforcement
Diploma – Criminal Justice*
Associate of Applied Science – Crime Scene Investigation
Associate of Applied Science – Criminal Justice Technology
Swainsboro Technical College, Swainsboro
Certificate – Law Enforcement Technician
Diploma – Criminal Justice Technology
Associate of Applied Science – Criminal Justice Technology
Thomas University, Thomasville
Associate of Science – Law Enforcement*
Bachelor of Science – Criminal Justice*
University of Georgia, Athens
Bachelor of Science – Criminal Justice
University of Phoenix, Atlanta, Augusta, Columbus, Dunwoody, Sandy Springs, Savannah
AA – Criminal Justice*
BS – Criminal Justice Administration: Human Services*
BS – Criminal Justice Administration: Management*
BS – Criminal Justice Administration*
BS – Organizational Security Management*
MS – Administration of Justice and Security*
Valdosta State University, Valdosta
Bachelor of Arts – Criminal Justice
Bachelor of Arts – Legal Assistant Studies
Master of Science – Criminal Justice
West Georgia Technical College, LaGrange, Waco
Certificate – Crime Scene Investigation
Certificate – Criminal Justice Records Tech
Certificate – Criminal Justice Technician
Certificate – Law Enforcement Technician
Certificate – Public Safety
Professional Certificate – Crime Scene Investigation Technician
Professional Certificate – Criminal Justice Records Technician
Professional Certificate – Criminal Justice Technician
Professional Certificate – Law Enforcement Technician
Professional Certificate – Public Safety
Diploma – Criminal Justice
Associate of Applied Science – Criminal Justice Technology
Associate of Applied Science – Criminal Justice
Westwood College, Atlanta
BS – Criminal Justice*
Bachelor Degree – Information Technology: Computer Forensics
Bachelor Degree – Information Technology: Systems Security*
Bachelor of Science – Computer Forensics
Wiregrass Georgia Technical College, Valdosta
Diploma – Criminal Justice Technology
Associate of Applied Science – Criminal Justice Technology
Check out our Top Online Criminal Justice Degree Programs for 2015
Back to States
FAQ
Home
Rankings
Features
Resources
Contact Us
About CJD Hub