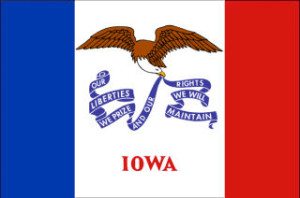 Iowa contains over 3 million people and touches the borders of six other states. Criminal justice and criminal justice jobs play a strong role in this state. Criminal justice careers in Iowa offer rewarding challenges and opportunities for growth in several fields. One of the most distinctive aspects of criminal justice jobs in Iowa is the sheer versatility of the field. While many people automatically think of law enforcement work, criminal justice encompasses a multitude of potential jobs and careers. Pursuing a criminal justice career in Iowa can lead in various directions, including both the public and private sectors.
WHAT ARE THE COMMON CRIMINAL JUSTICE JOBS IN IOWA?
Some of the more common criminal justice jobs available in Iowa include the following:
Featured Schools
Police officer
Parole officer
Correctional Officer
Dispatcher
Deputy sheriff
Security specialist
Customs agent
State trooper
Hunting regulation enforcer
Probation officer
These are only a sampling of the types of criminal justice jobs and careers available in Iowa. Niche jobs and careers involving specific aspects of criminal justice also exist. For example, a private business may want to hire a financial crimes specialist, or a government agency may start an initiative that focuses on criminal justice reforms for juveniles.
As there are always changes to criminal justice systems for various reasons, applicants would do well to keep an eye out for criminal justice jobs that aren't always the most common. It's also worth noting that even the common criminal justice jobs can exist in tiers from entry-level to advanced.
These different levels may require more education, more experience, or more training. Moving through some of the different criminal justice jobs can also help someone gain the experience and credentials they need to pursue positions with more responsibilities and better pay.
DO I HAVE TO WORK IN LAW ENFORCEMENT?
People interested in a criminal justice career in Iowa do not need to choose the law enforcement path if those types of positions don't align with their goals. Law enforcement, while an umbrella term unto itself, represents only one aspect of the criminal justice field.
Criminal justice jobs can include administrative, analysis, support, legal, technical, and various other types of positions. Criminal justice isn't only about enforcement. The field also includes policymaking, processing, rehabilitation, prosecution, defense, teaching, and various other roles someone seeking a criminal justice career can fit into.
Taken as a whole, applicants should consider criminal justice as a vast field that can touch on any of several other fields. For example, private organizations may want someone with a criminal justice degree or background to manage their data security systems just as much as they need someone to work physical security for their locations.
Criminal justice careers do not begin or end with law enforcement. Many opportunities exist, and for some entrepreneurs or those who can think creatively, it's also possible to use a criminal justice education to start a unique business in Iowa as well.
HOW IS THE JOB MARKET IN IOWA? SALARIES?
The job market in Iowa includes a lot of criminal justice jobs and work tangentially related to criminal justice. Many schools in the state offer criminal justice education. A big push toward reforming and improving the juvenile justice system has taken off in Iowa. The state wants criminal justice personnel for jobs outside the most common ones. In addition to criminal justice jobs available through the counties and state, federal workers in this field exist as well.
Iowa contains several departments dedicated to criminal justice. The Iowa Department of Public Safety alone advertises job opportunities and vacancies for civilian careers, law enforcement services, and various other career opportunities.
Salaries for these disparate jobs can vary widely and can depend on numerous factors. Location, demand, experience, education, and employer all play large roles in salary potential.
The salary range for someone with a criminal justice degree can start at about $20k and can go well over $150k. Detectives and investigators can earn, on average, around $73k at the entry level. Correctional officers can earn, on average, around $45k at the entry level. Private businesses may pay far more for similar positions with a public organization.
WHERE ARE THE BEST CITIES FOR CRIMINAL JUSTICE JOBS IN IOWA?
The best city for criminal justice careers and jobs in Iowa is Des Moines, its surrounding areas, and Polk County in general. This is the most populous area with the greatest need for criminal justice professionals.
However, criminal justice jobs exist in every part of the state, especially those areas where the state borders on others. In the end, the best city for a particular person to pursue a criminal justice career will depend entirely on that person's goals and criminal justice specialty.
Related: