If you are looking for a criminal justice school in Iowa, you've come to the right place. Below you'll find a comprehensive list of traditional colleges and universities offering well respected and accredited criminal justice programs. If you live in Iowa but would prefer to get your criminal justice degree online, click here for a list of the top online schools.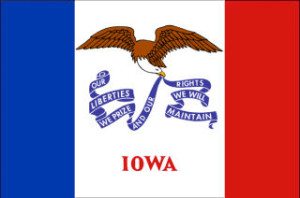 The state of Iowa is well known for its agriculture and is a leader in soybean, oat and corn production. Many residents are in some fashion dependent upon its many crops and fertile soil. As with most industries, technology plays a major role in Iowa's industrial growth. The landscape of Iowa features wide open prairies, wooded hills and river valleys. Des Moines, the capital, is a national hub for insurance corporations.
Outlook for Iowa Criminal Justice
The Iowa state government is actively pursuing additional police workers, correctional officers and other positions involving criminal justice duties. The objective is to provide a sustainable method of maintaining safety standards throughout the state. Job openings in the court, enforcement and correctional systems will require applicants who are certified with a criminal justice degree.
The job prospects and income potential are even better for anyone possessing a bachelor's degree. Criminal justice jobs like forensic analysis and criminology require advanced training and study. Additional career opportunities include probation officer, loss prevention agent, private investigator, security manager, probation officer and paralegal. Salaries vary greatly depending on the type of position pursued.
Financial Study Resources
Financial aid is available at most campuses and is determined by the financial means and needs of each applicant. Scholarships, federal assistance and other financial aid programs can be applied for online. Student assistance can also be obtained through private foundations dedicated to the education of law enforcement professionals.
Iowa is consistently rated as one of the safest states to live and work. The demand for criminal justice graduates is expected to remain steady over the next decade or so. Overall, income is on par with most other states in this field, which makes it a leading career choice.
Iowa Criminal Justice Programs
* – Denotes Online Program Available
AIB College of Business, Des Moines
Bachelor of Science – Court Reporting
Briar Cliff University, Sioux City
Bachelor of Arts – Criminal Justice
Buena Vista University, Storm Lake
Bachelor of Science – Criminology & Criminal Justice
Des Moines Area Community College, Ankeny
Certificate – Legal Assistant
Associate of Arts – Criminal Justice
Associate of Science – Criminal Justice
Associate of Science – Legal Assistant
Dordt College, Sioux Center
Bachelor of Arts – Criminal Justice
Eastern Iowa Community College District, Davenport
Certificate – Health, Safety and Environmental
Certificate – Law Enforcement
Ellsworth Community College, Iowa Falls
Associate in Science – Criminal Justice
Graceland University, Lamoni
Bachelor of Arts – Sociology with coursework in criminology, justice, etc.
Bachelor of Science – Pre-Forensic Science (Biology / Chemistry major)
Grand View University, Des Moines
Certificate – Paralegal Studies: Business and Human Resource Management
Certificate – Paralegal Studies: Criminology
Certificate – Paralegal Studies: Public Administrationt
Bachelor of Arts – Criminal Justice
Hawkeye Community College, Waterloo
Certificate – Law Enforcement
Associate of Applied Science – Criminal Justice
Associate of Science – Criminal Justice
Indian Hills Community College, Ottumwa
Diploma – Emergency Medical Intermediate
Associate of Applied Science – Criminal Justice
Associate of Applied Science – Paramedic Specialist
Iowa Central Community College, Fort Dodge
Diploma – Criminal Justice
Associate Degree – Criminal Justice*
Associate of Arts / Associate of Science – Criminal Justice
Iowa Lakes Community College, Estherville
Associate in Arts – Paralegal / Legal Studies
Associate in Science – Paralegal / Legal Studies
Associate of Science – Criminal Justice
Certificate – Criminal Justice
Iowa State University, Ames
Major in Criminology & Criminal Justice
Iowa Wesleyan College, Mount Pleasant
Bachelor of Arts – Criminal Justice
Bachelor of Science – Criminal Justice
ITT Technical Institute, Clive
Bachelor of Science – Criminal Justice
Kaplan University, Cedar Falls, Cedar Rapids, Council Bluffs, Davenport, Mason City, Urbandale
AAS – Criminal Justice*
AAS – Fire Science*
AAS – Paralegal Studies*
Advanced Start Bachelor of Science – Corrections*
BS – Criminal Justice*
BS – Fire Science*
BS – Fire and Emergency Management*
BS in International and Comparative Criminal Justice*
BSBA – Criminal Justice*
BSCJ – Computer Crime*
BSCJ – Crime Scene Investigation (CSI)*
BSCJ – Criminal Justice Admin & Management*
BSCJ – Forensic Psychology*
BSCJ – Juvenile Justice*
BSCJ – Law Enforcement*
MPA – Criminal Justice*
MS – Criminal Justice*
MS – Fire and Emergency Services*
MS – Homeland Security / Emergency Management*
MS – Legal Studies*
MSCJ – Corrections*
MSCJ – Leadership and Executive Management*
MSLS – Education and the Legal System*
MSLS – Health Care Delivery*
MSLS – Legal System and the Media*
MSLS – State and Local Government*
Kirkwood Community College, Cedar Rapids
Associate of Arts – Corrections
Associate of Arts – Law Enforcement
Associate of Arts – Paralegal
Associate of Science – Corrections
Associate of Science – Law Enforcement
Associate of Science – Paralegal
Loras College, Dubuque
Bachelor of Science – Criminal Justice
Marshalltown Community College, Marshalltown
Associate of Science – Criminal Justice
Mount Mercy College, Cedar Rapids
Bachelor of Arts – Criminal Justice
North Iowa Area Community College, Mason City
Certificate – Criminal Justice
Certificate – Foundations of Security
Associate in Arts – Criminal Justice
Associate in Science – Information Systems Technology: Cyber Security
Saint Ambrose University, Davenport
Bachelor of Arts – Criminal Justice
Bachelor of Arts – Criminalistics
Master of Criminal Justice – Criminal Justice
Master of Criminal Justice – Juvenile Justice Education
Simpson College, Indianola
Bachelor of Science – Criminal Justice: Administration
Bachelor of Science – Criminal Justice: Corrections
Bachelor of Science – Criminal Justice: Justice
Bachelor of Science – Forensic Science / Biochemistry
Southeastern Community College, West Burlington
Certificate – Basic Law Enforcement Training
Certificate – Criminal Justice Technology
Diploma – Criminal Justice Technology
Associate in Applied Science – Criminal Justice Technology
Associate in Arts – Criminal Justice
Associate of Science – Criminal Justice
University of Iowa, Iowa City
Bachelor of Applied Studies – Criminal Justice*
University of Phoenix, Cedar Rapids, Des Moines, West Des Moines
AA – Criminal Justice*
BS – Criminal Justice Administration: Human Services*
BS – Criminal Justice Administration: Management*
BS – Criminal Justice Administration*
BS – Organizational Security Management*
MS – Administration of Justice and Security*
Upper Iowa University, Fayette
BS – Criminal Justice*
BS – Emergency & Disaster Mgmt*
Bachelor of Science – Criminal Justice*
Bachelor of Science – Criminology
Bachelor of Science – Emergency and Disaster Management*
Bachelor of Science – Forensic Science
Bachelor of Science – Public Administration: Law Enforcement
MPA – Government Administration*
MPA – Justice and Homeland Security*
Western Iowa Tech Community College, Sioux City
Certificate – Emergency Disaster
Certificate – Emergency Manager Basic Skills
Certificate – Emergency Planning
Diploma – Computer Forensics Specialist
Diploma – Emergency & Disaster Management
Associate of Applied Science – Cyber Crime Investigations
Associate of Applied Science – Emergency & Disaster Management
Associate of Applied Science – Police Science: Corrections
Associate of Applied Science – Police Science: Forensic Investigations
Associate of Applied Science – Police Science Technology
Check out our Top Online Criminal Justice Degree Programs for 2015
Back to States
FAQ
Home
Rankings
Features
Resources
Contact Us
About CJD Hub