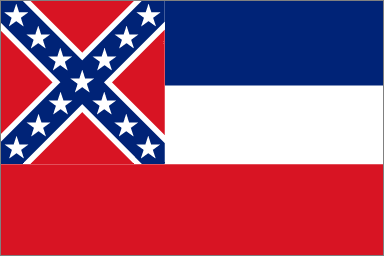 If you are looking for a criminal justice school in Mississippi, you've come to the right place. Below you'll find a comprehensive list of traditional colleges and universities offering well-respected and accredited criminal justice programs. If you live in Mississippi but would prefer to get your criminal justice degree online, click here for a list of the top online schools.
Located in the Southern region of the United States, Mississippi is the 32nd most extensive and 31st most populous state with a population of 2,984,926. Jackson is both the state's capital and largest city, being home to 175,437 residents. Mississippi is the border to the east by Alabama, to the south by Louisiana, to the north by Tennessee, and to the west by Arkansas across the Mississippi River. Mississippi is well-known for its catfish aquaculture farms, which produce the majority of farm-raised catfish that are consumed in the country.
Featured Schools
Although Mississippi has the lowest per capita personal income at $26,908, the state also has the nation's lowest living costs and ranks as one of the highest per capita for charitable donations. Mississippi has been especially recognized for its music and literature, as the state's Delta region was extremely significant to the development of the blues. Many Mississippi musicians have made their mark in other genres too, including Elvis Presley, Jimmy Buffett, Clifton Hyde, and Leontyne Price.
Criminal Justice Jobs Outlook in Mississippi

According to records by the United States Bureau of Labor Statistics, there were 31,620 jobs in criminal justice and law enforcement occupations in May 2012. For every 1,000 jobs, 29.269 were in criminal justice-related professions. The location quotient for the field is 1.19, but jobs in criminal justice are expected to grow at a rate of 1.4 percent from 2010 to 2020. Criminal justice and other protective services compensate employees with an annual average salary of $29,910, which equals a mean hourly wage of $14.38. Those that find employment as detectives and criminal investigators earn the most, with a high annual salary of $54,540.
Financial Aid in Mississippi

The following are some of the state-based grants and scholarships in Mississippi that could be utilized as financial assistance for college students seeking a criminal justice degree:
Mississippi Tuition Assistance Grant – provided to legal residents of Mississippi who are enrolled in a postsecondary institution to pursue their first certificate, associate, or bachelor's degree.
Mississippi Eminent Scholars Grant (MESG) – offered to residents of Mississippi that will be attending an in-state public or nonprofit college and have a proven track record of academic excellence with a cumulative GPA of 3.5 or higher.
Episcopal Diocese of Mississippi Scholarships – awarded to college-bound Mississippi Episcopalians that demonstrate academic achievement, extracurricular accomplishment, and financial need to attend the university of their choice.