When you think Criminal Justice, you may think of dark and gritty Prime Time police dramas, or working in a sterile, white forensics lab, or even pounding pavement walking a beat. But even the tough task of upholding law and order isn't without its beautiful places.
Here is a list of our Top 50 Most Beautiful Criminal Justice Campuses. A school is more than a degree – it's an experience. You might be pursuing digital forensics, but you may want your time away from the screen to be refreshing. And if you share your school experience on Instagram, you want your backdrop to look its best!
Featured Schools
The methodology we used for this list was a consensus model. Since aesthetics are subjective, we chose schools based on their placement on various "Beautiful Schools" lists, and weighted them based landscape features, unique architectural aspects, and geographical location.
1. Colgate University – Hamilton, NY
In 2014, a Princeton Review survey ranked Colgate College as the "Most Beautiful Campus" in the US. Found in the small town of Hamilton in Central NY, Colgate features classic architecture, plentiful green spaces, and a beautiful pond front-and-center.
Colgate offers a Major and Minor program in Peace & Conflict Studies, classes in Criminology and Race & Crime through the Sociology Department, and Pre-Law track.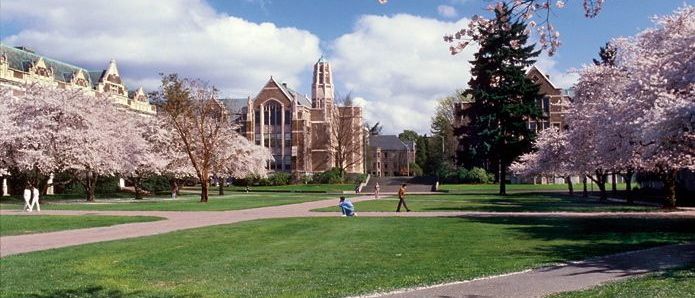 2. University of Washington – Seattle, WA
University of Washington appears on every "Most Beautiful Colleges" list. Right in urban Seattle, it has views of snow-topped mountains and is situated on the shore of Lake Washington.
UW offers a Major in Law, Societies & Justice to help students understand the role of law in determining societal interaction and the concerns of crime and disorder, as well as the importance of human rights in respect to shaping legal institutions.

3. Wake Forest University – Winston-Salem, NC
Wake Forest is found in gorgeous North Carolina. It is near both the mountains to the west and the shoreline to the east. With curated gardens and lush green spaces, it truly is a beautiful campus.
Wake Forest has a Sociology Program with a focus in Crime and Criminal Justice. They also offer a Certificate in Cyber Security.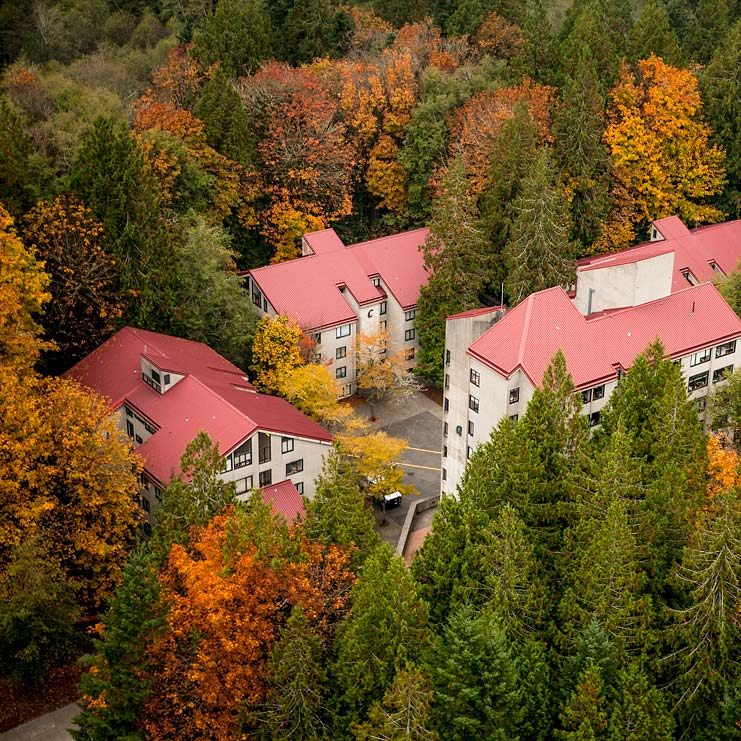 4. Evergreen College – Olympia, WA
Evergreen College in Olympia, Washington is nestled on 1000 acres of forest and has 3,000 feet of beach on Puget Sound, not including the diverse geography of Olympia itself.
A beautiful campus for nature lovers and adventurers, Evergreen offers degrees in Law & Public Policy and Law & Government Policy, guiding you into a career to help shape policy and positively impact crime rates.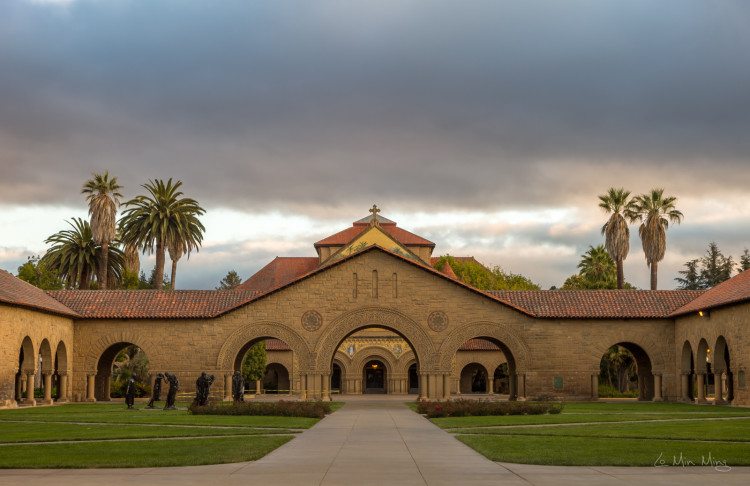 5. Stanford University – Palo Alto, CA
Stanford University is a quintessential West Coast university. The 8,000-acre campus has tree-lined drives and lush gardens. The campus even has beautiful views of the San Francisco bay.
Stanford has a full Law School, and also offers: a degree program in Forensic Psychiatry & the Law and a Graduate Certificate in Cyber Security.
6. University of Virginia – Charlottesville, VA
University of Virginia is a World Heritage site and is settled on a suburban campus of over 1600 acres. In addition to beautiful surroundings, the University has a focus on timeless architecture and design while offering a variety of programs centering on Criminal Justice and Law.
University of Virginia School of Law offers degree programs in Criminal Law and Law & Public Service; the School of Law and Public Policy offers both Bachelors and Masters Degrees in Public Policy; and the UA School of Continuing education offers certificates in Cyber Security.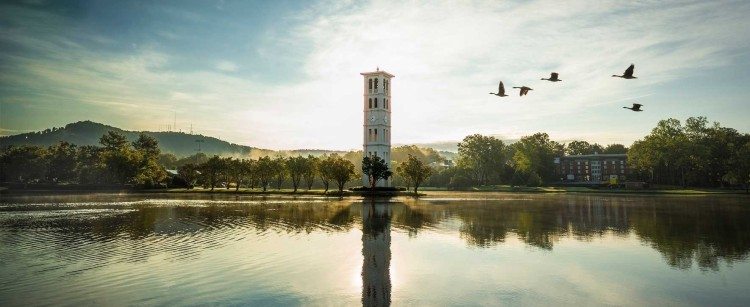 7. Furman University – Greenville, SC
Furman University is another that appears on almost every "Most Beautiful" colleges. With water features, southern charm, and striking vistas composed of both architectural features and tended green spaces, Furman deserves recognition.
Furman offers Criminology classes, along with a Pre-Law degree track.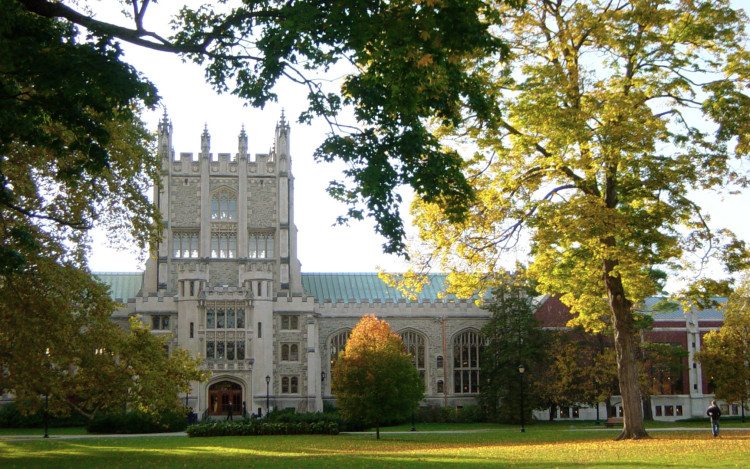 8. Vassar College – Poughkeepsie, NY
Another registered arboretum, Vassar College has ecological preserves, green spaces, and curated gardens. Many of the buildings on campus were designed by some of the biggest names in architecture.
Vassar offers classes in Criminology and Forensic Chemistry, as well as a Pre-Law degree track.

9. Scripps College – Los Angeles, CA
Scripps is one of a handful of women-only colleges in the United States. It is characterized by its Spanish Colonial Revival architecture, which has put it on the National Register of Historical Places.
Scripps has an undergraduate program in Psychology to prepare you for a career in Social Work. They also have a degree program in Legal Studies.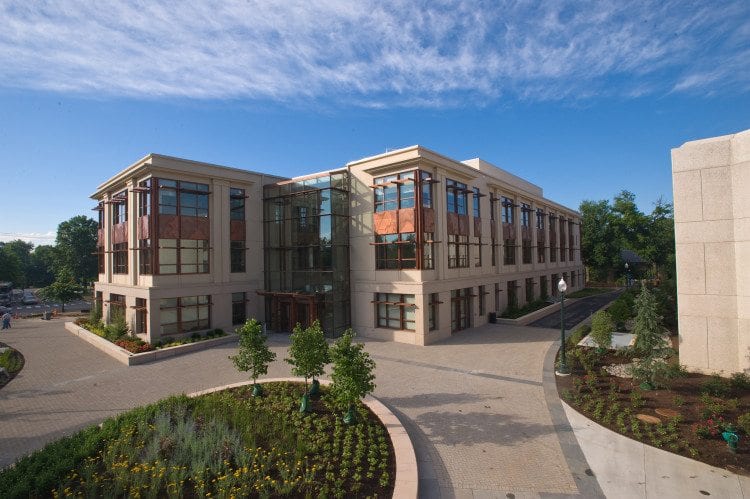 20. American University – Washington, DC
American University is built with Federal styled architecture, and fits nicely in its home city. The green spaces and cultivated gardens allow students to relax and enjoy their studies and the campus is registered as an arboretum.
American University offers a minor in Justice and degree programs in Addiction and Addictive Behavior, Forensic Accounting, Law & Society (B.A.), Public Policy (MPP) Justice and Law (B.A.), Justice, and Law and Criminology (M.S., Ph.D
11. Illinois Institute of Technology – Chicago, IL
IIT's campus in Chicago was designed by a master architect, featuring 20 of his industrial-design buildings. It's been named one of the top 200 most significant architectural collections in the United States.
The IIT School of Applied Technology offers certificates, undergraduate, and graduate programs in Cyber Security and Network Security and Forensics. Their School of Law offers JD and LL.M programs, as well.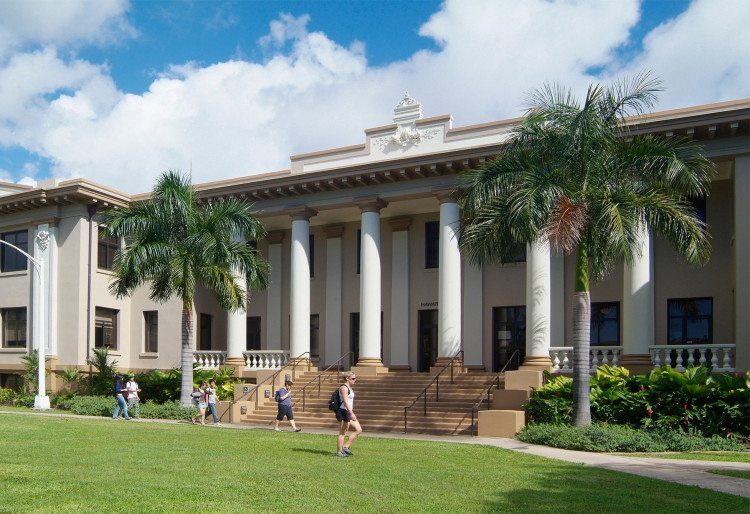 12. University of Hawaii at Mānoa – Honolulu, HI
University of Hawaii at Mānoa is, as you might expect, found in tropical Honolulu. Including all of the obvious scenic vistas surrounding the school, with a research lab built on a coral reef.
Even with all of the beautiful landscape surrounding the campus, the University of Hawaii at Mānoa has a School of Law that has various programs and certificates, including JD, to help you kick off your career in Law and Justice.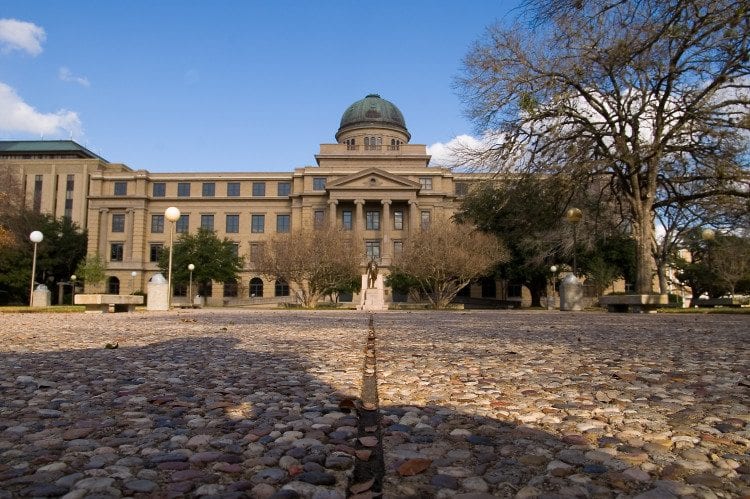 13.Texas A&M University – College Station, TX
Texas A&M is one of the largest colleges in the country. Sitting on over 5,000 acres, it has a wide range of architecture and art to admire.
A&M has numerous degree programs for the Criminal Justice student. They have programs in Criminology and Criminal Justice (Sociology track), Forensic and Investigative Science, and a Law School to boot!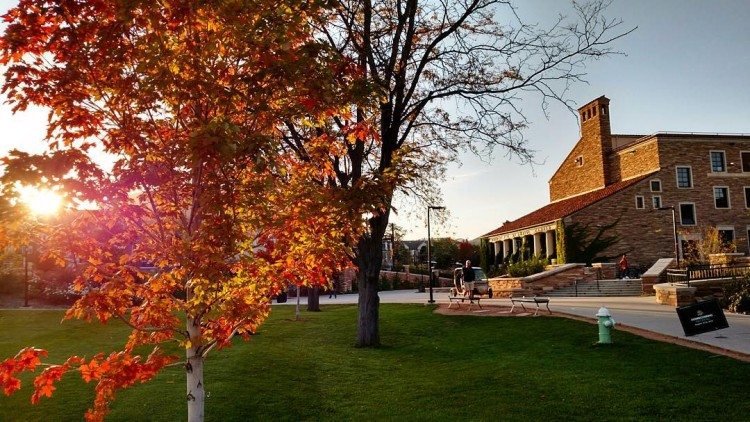 14. University of Colorado Boulder – Boulder, CO
University of Colorado Boulder is beautiful in itself: beautiful buildings with red tile roofs and situated with the stunning vistas of the Rocky Mountains in the background. Right in the Boulder Valley, it's perfect for students who love to hike, bike, or snowboard.
CU Boulder offers a degree in Sociology with a focus on Criminology. They also have a law school offering programs in criminal and public service law.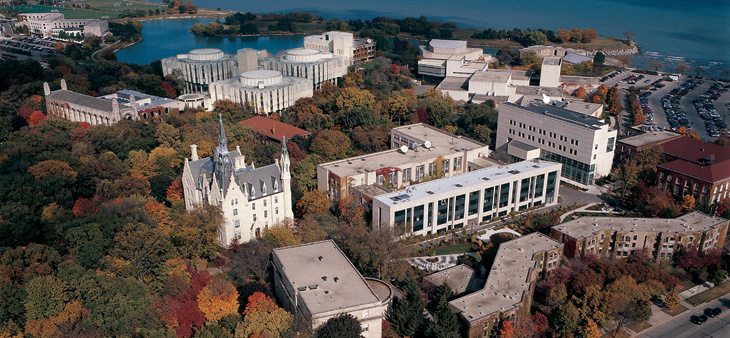 15. Northwestern University – Evanston, IL
Northwestern has an array of architecture, from Gothic to Modern Industrial, and sits on nearly 250 acres next to Lake Michigan.
Northwestern offers a degree program in Forensic Psychology, as well as an adjunct program in Legal Studies. They also offer graduate programs, both a Graduate Fellows in Legal Studies and a J.D./Ph.D joint program.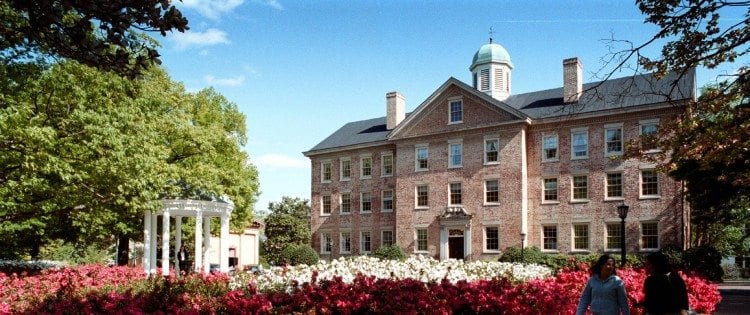 16. University of North Carolina Chapel Hill – Chapel Hill, NC
Chapel Hill, NC is green, lush, and beautiful. The campus has a heavy focus on architecture, and there are many amazing areas to relax or study in peace.
UNC Chapel Hill offers a Professional Science Master's program to help you get into Forensics research and development. They also have a law school with programs in Criminal Law.

17. Brooklyn College – New York City, NY
In their own words: "First-time visitors are surprised by the beauty of our campus, and many of them say it looks like a bucolic New England college, with its stately elm trees, inviting lawns, Georgian-style buildings and profusion of spring flowers and brilliant fall foliage."
Brooklyn College offers a minor in criminal justice and, while they don't offer a major in Forensic Science specifically, they have a Chemistry track to pair with the Criminal Justice minor to set you on the path to a job in Forensics.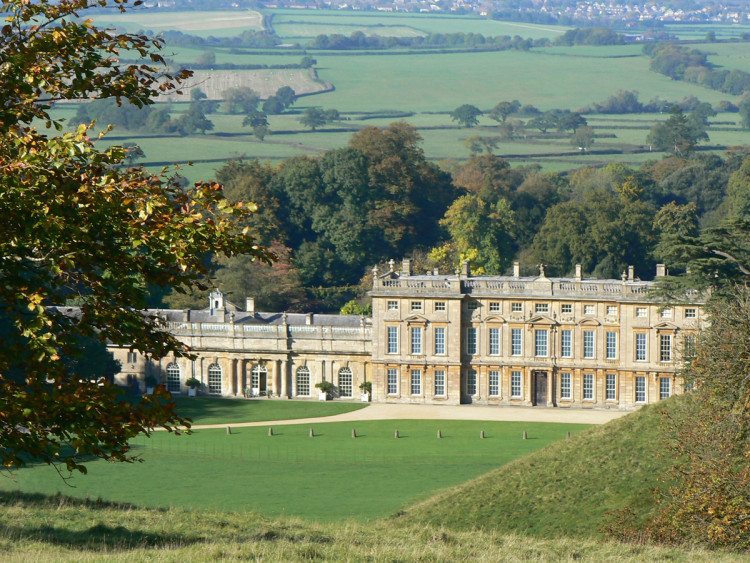 Hamilton College – Clinton, NY
Hamilton has a 1,350 acre campus set in idyllic Central New York. This hilltop campus overlooks the charming village of Hamilton, NY and has a botanical garden attached to miles of curated walking trails in the secluded woods.
Hamilton College offers a Jurisprudence, Law and Justice Studies Program to give students the tools to understand and apply knowledge of law and civic engagement as it applies to a host of careers, including Criminal Justice.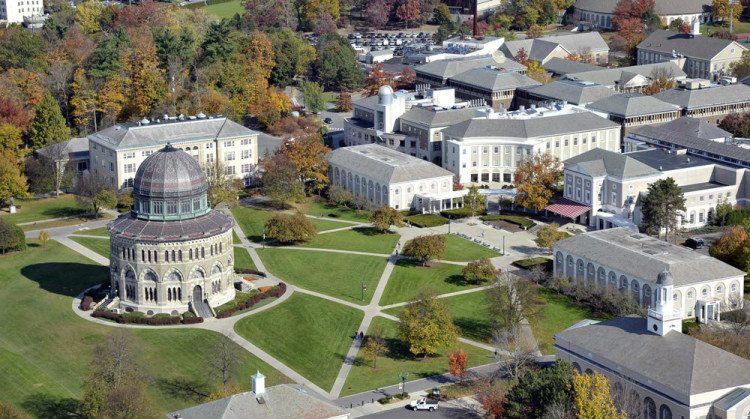 19. Union College – Schenectady, NY
Union College is found in Central New York in downtown Schenectady. Featuring a rich tradition of architecture, the 100-acre campus also contains an 8-acre formal gardens and woodland.
Union has classes in Forensic Chemistry. They also offer a Law and Public Policy program in conjunction with Albany Law School.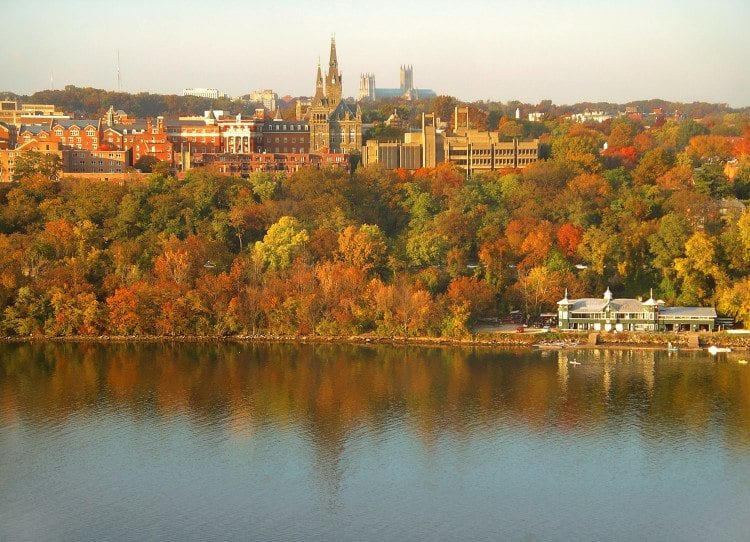 20. Georgetown University – Washington, DC
Georgetown University sits above the Potomac River, overlooking beautiful Northern Virginia and employs multiple schools of architecture. Notably, Georgetown was ranked as the second best college town in the U.S.
Georgetown University offers classes in Criminology and Social Justice under their Sociology program. They also offer a degree program in Forensic Accounting and a School of Law.

21. California Baptist University – Riverside, CA
California Baptist University features gorgeous west-coast architecture with a Mission Revival style. Coupled with the natural beauty found just minutes from the coast, CBU offers a small paradise for students.
California Baptist University has Major and Minor programs in Criminal Justice, as well as a Master's degree program in Forensic Psychology.

22. University of the Pacific – Stockton, CA
Featuring the Burns Tower, beautiful architecture, and a multitude of gardens and green spaces, has been used in some notable films: Raiders of the Lost Ark, Kingdom of the Crystal Skull, and others.
California Baptist University has Major and Minor programs in Criminal Justice, as well as a Master's degree program in Forensic Psychology.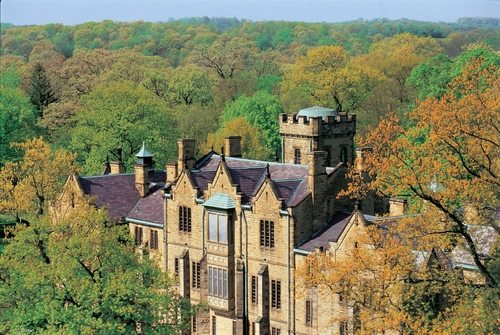 23. Kenyon College – Gambier, OH
Kenyon College has a beautiful 1,000-acre campus, including a 480-acre nature preserve. According to their website: "Timeless beauty endures here… Century-old stone and sleek contemporary glass harmonize on a campus that many feel is one of the Nation's most beautiful."
Kenyon College offers a degree programs in Law & Society and Public Policy.

24. Cornell University – Ithaca, NY
Cornell University is in Ithaca, NY – a town with a timeless, classic beauty. The school sits by Cayuga Lake, in the heart of the Finger Lakes region. Amazing gardens, nearby state parks, waterfalls, and beautiful landscapes set this school apart from other Ivy League institutions.
Cornell offers a Bachelor's program in Policy Analysis and Management. They also have a Law School offering a variety of degrees, such as: J.D., Master of Laws (LL.M.), J.S.D., and Master of Science in Legal Studies (M.S.L.S.)

25. University of Notre Dame – Notre Dame, IN
University of Notre Dame can be identified from afar by its Golden Dome, with its statue of Mary, topping the Main Building. It features astounding architecture, old and new, and set in beautiful Northern Indiana.
Notre Dame offers a concentration in Cyber Security through the Department of Computer Science and Engineering, as well as classes in Criminology within their Sociology program. Additionally, they have a law school offering various Bachelor's and Master's programs in the field of Law.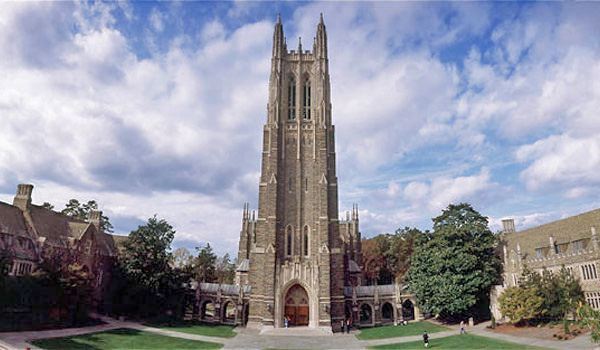 26. Duke University – Durham, NC
According to Duke University's Admissions: "With more than 200 buildings situated on 8,470 acres of land (of which 7,200 acres is forested) it's easy to understand why, at its founding, Duke was deemed a 'university in the forest.'"
Duke has a Center for Criminal Justice & Professional Responsibility within its Law School, and offers degree in Psychiatric Social work through its Psychiatry school, Forensic Psychiatry through Duke Law, and both Bachelor's and Master's degrees in Public Policy through the Sanford School of Public Policy.

27. University of San Diego – San Diego, CA
University of San Diego sits on top of a mesa overlooking Mission Bay. The school is designed in Spanish Renaissance style. The school's founders had a philosophy that studying in beautiful surroundings would improve the educational experience.
San Diego's School of Law offers a full range of degrees and coursework in various legal domains.

28. Princeton University – Princeton, NJ
Architect Mark deShong describes Princeton's campus as: "Princeton has beautiful buildings, but the exquisite landscaping amplifies them even more." The campus features many courtyards, green spaces, and lush flora.
Princeton offers degrees in Public Affairs and Public Policy, classes focusing on crime through the Sociology department, a program in Law & Public Affairs, as well as a complete Law School.

29. University of Richmond – Richmond, VA
University of Richmond's buildings are designed in the collegiate gothic style. There are open greens, rolling hills, and has lush trees filling its 350-acre campus.
Richmond offers a degree program in Criminal Justice and has a Law School.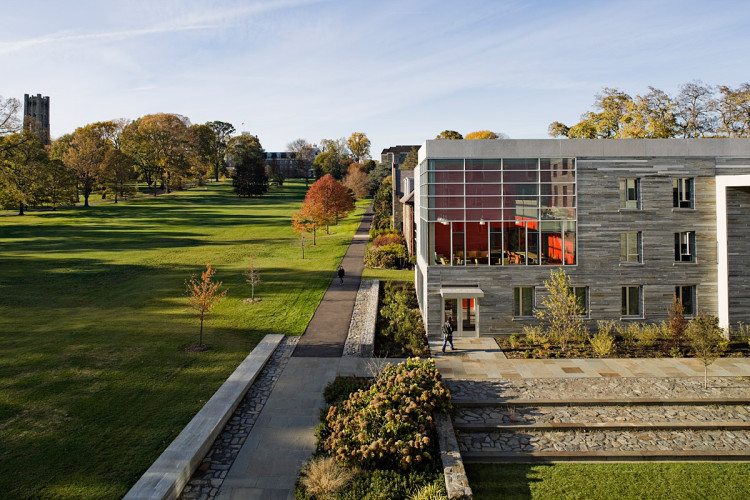 30. Swarthmore College – Swarthmore, PA
Swarthmore College has an arboretum, and is home to a multitude of plants, flowers, and gardens. Featuring an outdoor natural amphitheater, Swarthmore is an idyllic, verdant place to learn and enjoy.
Swarthmore College offers a Peace and Conflict Studies program, as well as a Pre-Law Program.

31. Yale University
Yale has a historic campus, with architecture ranging from the original classical buildings to modern marvels. Yale's campus has large greens and public art throughout.
Yale offers classes and lectures on Criminal Justice, as well as a respected Law School.

32. University of Denver – Denver, CO
Denver is a mix of historic buildings and amazing scenery. The mountain vistas alone are worth the trip. Together with classic architecture and a beautiful campus, you will be in awe.
Denver offers a department of Sociology & Criminology offering both a Major and a Minor in Criminology. They also offer a Master's in Forensic Psychology.

33. Santa Clara University –Santa Clara, CA
Santa Clara sits in the heart of Silicon Valley. It is a quiet, verdant campus, studded with tall palms. The campus features one of the highest observatories.
Santa Clara offers externships in Criminal Justice, as well as a Law School.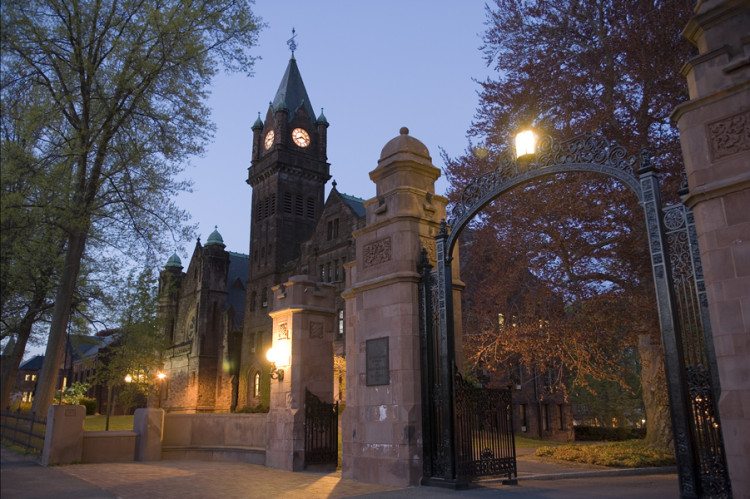 34. Mount Holyoke College – South Hadley, MA
This 2,000-acre campus only contains 2,300 students, so there is plenty of space for everyone. Located in beautiful Massachusetts, the campus has two lakes and really shows off with the color change in autumn.
Mount Holyoke offers classes in Criminology and has a Pre-Law track, as well.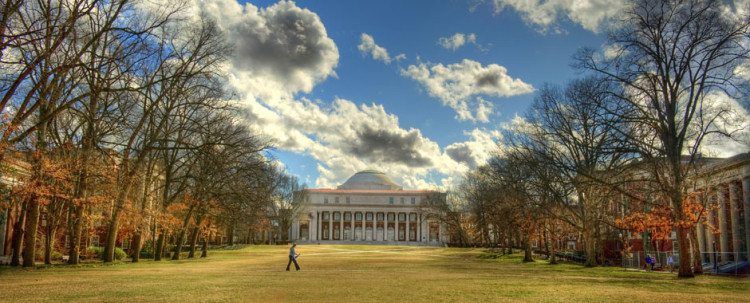 35. Vanderbilt University – Nashville, TN
Vanderbilt is well-known for its natural elements. Another recognized arboretum, it has over 200 recognized species of plant. In addition, Vanderbilt's campus includes the Bicentennial Tree, certified to have been standing since the Revolutionary War.
Vanderbilt offers a program in Criminal Justice through the Law School, as well as Forensic Psychiatry.

36. St. Olaf College – Northfield, MN
St. Olaf College sits on top of "The Hill," picturesque with historical buildings and surrounded by nature. Focused on sustainability, St. Olaf College is committed to restoring and maintaining the natural habitat around the school.
St. Olaf offers courses in Forensic Chemistry, programs in Social Work and Family Studies, and a Pre-Law track.

37. Occidental College – Los Angeles, CA
Occidental College is an urban school, found in LA. The campus is built into a hillside overlooking beautiful local landmarks. The architecture spans from the original Mediterranean style to modern styles with large amounts of glass.
Occidental offers a program in Urban & Environmental Policy and a Pre-Law track.

38. Emory College – Atlanta, GA
The Emory campus sits in the historic district of Druid Hills. At 600 acres, the grounds are lush and heavily forested with a variety of tree species, while a creek runs through the campus. In 2015, the Arbor Day Foundation named Emory a Tree Campus USA school.
Emory has a full suite of Law degrees available.

39. Fordham University at Rosehill – Bronx, NY
Fordham University is an oasis in the city. Found in the Bronx, Fordham Rosehill has classic gothic architecture and tree-lined walkways.
Fordham offers Externships in Criminal Justice through its Law School,

40. Loyola Marymount University – Los Angeles, CA
Loyola Marymount's spectacular Spanish Gothic architecture, replete with white concrete pillars, marble, and stained glass, is surrounded by the beautiful Del Ray hills.
Loyola Marymount offers classics in Forensics, as well as a full Law School.

41. University of Southern California – Los Angeles, CA
USC has an eclectic set of building styles ranging from Modern to Romanesque. The campus houses the oldest university building in California and the main campus is listed in the National Register of Historic Places.
USC offers courses in Criminology, a minor in Forensics and Criminality, and a specialization in Digital Forensics. They also offer a Master's of Social Work program, as well as a full School of Law.

42. Rice University – Houston, TX
Rice University is a verdant campus with gorgeous wooded areas and amazing green expanses. The campus is designed in the Byzantine style and includes an arboretum with over 4,200 species of plant.
Rice University has classes in Criminology, a program in Poverty, Justice, and Human Capabilities, as well as a Pre-Law track.

43. Tulane University – New Orleans, LA
Tulane University's architecture is composed from a wide variety of styles, with little repetition across campus. You'll also find oak-lined streets and calm natural spaces.
Tulane offers classes in Criminology and a Forensic Psychology program through their School of Medicine.

44. Lehigh University – Bethlehem, PA
Lehigh University is located in the scenic Lehigh Valley. It overlooks a mountain vista to the south. The scenery combined with the architecture spanning over 150 buildings, Lehigh University's campus is a beautiful place to sit, reflect, study, or take a leisurely stroll.
Lehigh offers programs in Law for a career in Criminal Law.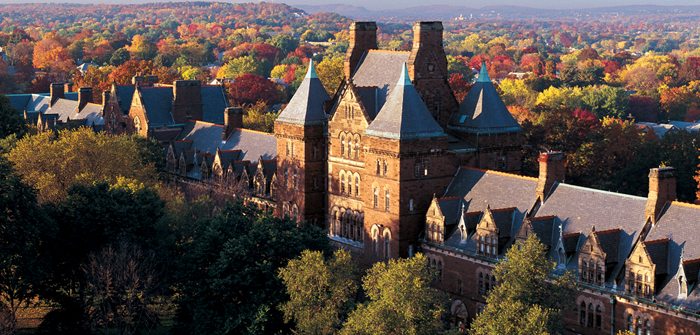 45. Trinity College – Hartford, CT
Trinity College is set apart from Urban Hartford by lines of trees and open spaces. The greens at Trinity are organic, with curves rather than sharp edges. These contrast with the magnificent architecture to create a truly unique space.
Trinity offers a program in Public Policy and Law as well as an Urban Studies Program.

46. Wellesley College – Wellesley, MA
Another all-women's college, Wellesley is an attractive scatter of classic buildings on a 500-acre campus filled with forests, fields, and Lake Waban.
Wellesley offers a full Law School to prepare you for a career in Criminal Law.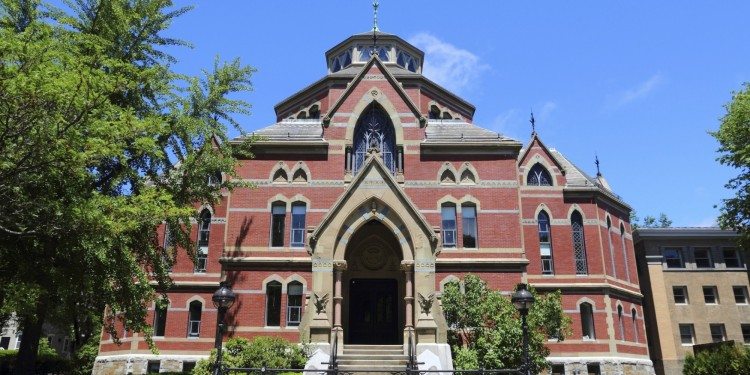 47. Brown University – Providence, RI
Brown University is on College Hill, the largest landowner in Providence. The school blends in with the town in a European style, with low-key stone and wrought-iron markers indicating campus.
Brown offers a degree in Forensic Psychiatry through its Medical School­­ and hosts annual Forensic Science workshops for aspiring forensic scientists.­

48. Bard College – Annandale-on-Hudson, NY
Bard has architecture ranging from the traditional to the modern to the eclectic. Sitting on on the Hudson River, Bard has stunning natural views and green spaces for students.
Bard offers Sociology degrees to support your social work or career in criminology. They even have an experienced criminologist on staff.

49. Lewis & Clark College – Portland, OR
Lewis & Clark has a 137-acre campus that adjoins a state Natural Area. The campus is forested, with vibrant green spaces typical of the Pacific North West.
Lewis & Clark offers law programs including Criminal Law and a graduate program in Counseling.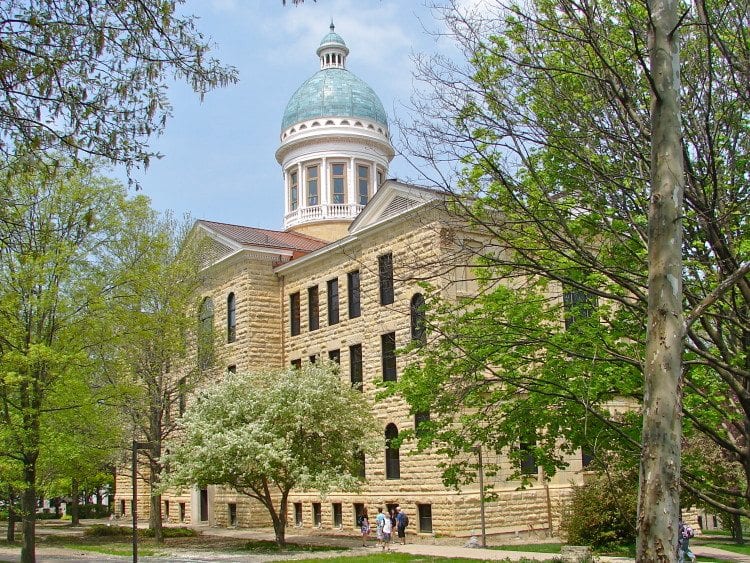 50. Augustana College – Rock Island, IL
Augustana College features European-inspired architecture and beautiful scenery as it sits near the Mississippi River. There are Gothic archways, stained glass, and a central domed tower to draw the eye.
Augustana offers a program in Sociology and Social Welfare, as well as a Pre-Law advisory track.
Related: