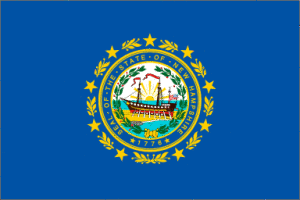 If you are looking for a criminal justice school in New Hampshire, you've come to the right place.
Located in the New England region of the northeastern United States, New Hampshire is the fifth smallest and ninth least populous state with just 1,320,718 total residents. It is bordered by Massachusetts to the south, Maine and the Atlantic Ocean to the east, Vermont to the west, and the Canadian province of Quebec to the north. Although Concord is the state capital, Manchester is the largest city with a population of 109,595. The state is well-known for having no general sales tax or personal income tax at either the state or local level.
Featured Schools
New Hampshire is home to some of the largest ski mountains on the East Coast. Tourists frequent the resorts to enjoy a multitude of winter sports, including skiing, snowmobiling, and snowboarding. While New Hampshire has the shortest ocean coastline of any United States coastal state of just 18 miles, Hampton Beach is a popular summer destination for locals and tourists alike. The Isles of Shoals offshore is also rumored to be the location of the buried treasure of Blackbeard.
Criminal Justice Jobs Outlook in New Hampshire
According to the Bureau of Labor Statistics, there were 11,450 jobs in criminal justice-related occupations in May 2012. For every 1,000 jobs in the state, 18.688 were in the criminal justice and protective services sector. The location quotient for the field is 0.76, while employment is expected to grow in the state by 1.7 percent between 2010 and 2020. As the demand continues to increase, qualified criminal justice degree holders will have increased job opportunities. Those employed in criminal justice jobs are compensated a mean annual salary of $42,400, which translates to an average hourly wage of $20.38.
Financial Aid in New Hampshire
Federal loans are available to all students, however other options do exist. Some of the many different state-based grants and scholarships that are awarded to residents of New Hampshire include:
New Hampshire College and University Council (NHCUC) – granted to college-bound students from low income, Hispanic, African American, Asian American, and students with disabilities that may otherwise not be able to attend college
College Equals Opportunity (CEO) – provided to deserving enrolled college students in the state who have a track record of exceptional leadership abilities and academic success
Stephen Phillips Memorial Scholarship Fund – offered to students from New England states that demonstrate need for financial assistance, as well as academic excellent and strong citizenship
New Hampshire Scholarship for Orphans of Veterans – awarded to students whose parent(s) died as the direct result of a service-related disability while serving in the United States armed services in a combat situation