There are many powerful women who are leaders in criminal justice. Women are involved in the Sheriff's Department, in the City Police, and the FBI to name a few. Women considering careers in criminal justice have Several options to choose from. Criminal justice is one of the most versatile degrees women can undertake.
Here are just some of the countless women who have made lasting impacts in criminal justice.
Featured Schools
1. Kamala Harris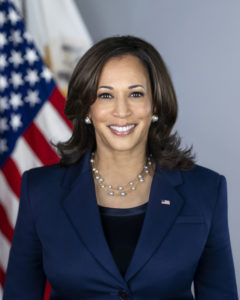 Kamala Devi Harris, the current U.S. Vice President, was born in 1964 in Oakland, California. Kamala is the oldest of two children. Her parents immigrated from Jamaica and India. Kamala Harris attended Howard University – an HBCU (Historically Black College/University) in DC but finished her Juris Doctorate in her home state, at the University of California, Hastings. Kamala was a member of Alpha Kappa Alpha (AKA) – the oldest Black sorority. AKA's gained fame during the 2020 campaign with $19.08 contributions –AKA's founding year.
Kamala Harris is a trend-setter with regard to her many criminal justice career firsts. Ms. Harris holds the distinction of being the first Black woman who was elected California District Attorney, the first senator of Indian descent, and the first Black Woman & Asian-American running as on a major political party's ticket in a presidential election. Kamala's mom may have had an intuition that her daughter would achieve great things and rise to the upper echelon of women in criminal justice as her name refers to the Hindu goddess of women's empowerment – Lakshmi.
2. Gloria Allred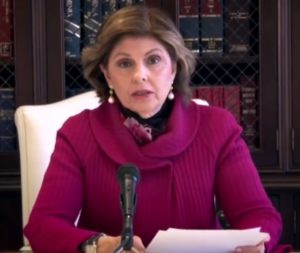 Gloria Allred is a high-profile women's rights attorney who was born in Philadelphia in 1941. Gloria Allred's criminal justice career began after she received her JD from LA's Loyola Marymount University in 1975. Ms. Allred is widely known for her choice of high-profile lawsuits and her masterful and compelling use of press conferences when representing high-profile clients. During her four-decade career, Gloria Allred has been involved in high-profile employment discrimination/wrongful termination, sexual harassment, and women's rights cases. Ms. Allred has also represented many in lawsuits against celebrated figures like R Kelly, Sacha Baron Cohen, Herman Cain, Tommy Lee, and Arnold Schwarzenegger, to name a few celebrities, with her most famous client, Nicole Brown, during the OJ Simpson trial.
Ms. Allred is an inductee of the Women's Hall of Fame, which refers to who works as an author, a courtroom TV show host– We the People w/Gloria Allred, and a radio talk show host. Gloria Allred's daughter, Lisa Bloom, is also a lawyer and has followed her mother's path as one of the most influential women in criminal justice in her own television show in the legal genre.
3. Julie Bower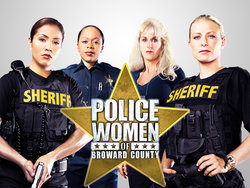 Julie Bower is a veteran detective who works for the Broward Sheriff Office (BSO in south Florida's Broward County). The BSO is the largest law enforcement and fire protection organization in the Sunshine State, with more than 5,100 employees. Ms. Bower's well-respected criminal justice career and personal life were featured in a TLC (The Learning Channel) reality police docu-series entitled Police Women of Broward County that ran from 2009 until 2011. Julie Bower's career at BSO has included participating with Dive Rescue, Road Patrol, Strategic Enforcement, and being a deputy involved in field training .
During filming, Ms. Bower's professional work primarily focused on solving cases involving missing people or sex crimes. In addition, Julie Bower has been actively advising the Broward Sheriff Office's Explorer Program, an interactive education program affiliated with the BSA – the Boy Scouts of America designed to help introduce career options to young adults locally. Julie Bower's illustrious career as a member of law enforcement is an excellent example of how women in criminal justice can make a difference.
4. Sonia Sotomayor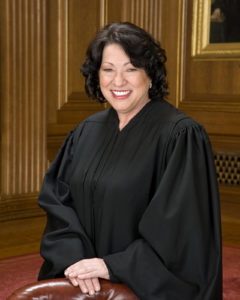 Sonia Maria Sotomayor is among the most high-profile women in criminal justice as a member of the United States Supreme Court. Ms. Sotomayor was born in 1954 in New York City. She graduated from Princeton University, where she earned her undergraduate degree summa cum laude and received her JD from Yale University in 1979. She was also the Yale Law Journal's editor. Ms. Sotomayor has worked as a NY assistant District Attorney and in private practice while actively participating as a director on the boards of New York's Mortgage Agency and the Puerto Rican Legal Defense/Education Fund.
Sonia Maria Sotomayor was nominated to the Supreme Court by President Obama in 2009. When confirmed, she became the 3rd woman to become a Supreme Court Justice, but the first Hispanic and woman of color to become a court justice. Ms. Sotomayor's criminal justice career is quite a feat when one considers she was raised by her mom after her dad passed when Ms. Sotomayor was only nine.
5. Alice Stebbins Wells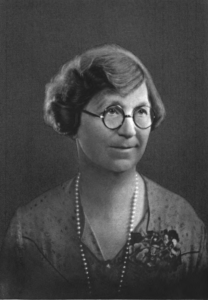 Alice Stebbins Wells, born in 1873 in Manhattan, KS, holds the distinction of being one of the first female police officers in the country. Ms. Wells earned degrees from Oberlin College & the Hartford Theological Seminary. Her background includes work as a background as a minister. Ms. Wells was hired by the City of Los Angeles in 1910 after a long battle with community members and residents that persuaded the LAPD to hire Ms. Wells as a policewoman.
In addition to Ms. Wells' impressive criminal justice career at the Los Angeles Police Department, she was a founding member & IPA president – International Policewomen's Association. Alice Stebbins Wells also became the historian of the Los Angeles Police Department. She died in 1957 but will always be remembered for her career in women in criminal justice that produced incredible work identifying the effectiveness of female police officers working with female criminals and juveniles.
6. Janet Reno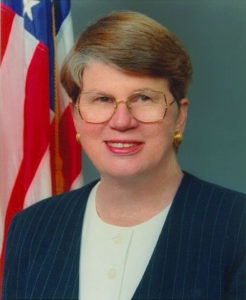 Janet Wood Reno was born in 1938. She was raised in Miami, Florida. Janet Reno received her undergraduate degree from Cornell University and her Juris Doctorate from Harvard University's Law School. Her first professional work in her criminal justice career was at a private firm in the Magic City of Miami. She entered the realm of government work when she worked for the Miami-Dade State Attorney's office, subsequently being elected to the state attorney office five times and the first women State Attorney in 1978.
Janet Reno became the first woman to serves as the United States Attorney General, having been nominated by President Clinton in 1993. In 1993, Janet Reno was named Woman of the Year. Upon completing her career in 2001, Ms. Reno became the second-longest serving AG, which ranks her among the most elite women in criminal justice. Ms. Reno is a founding member of the nonprofit known as the Innocence Project.
7. Beverly J. Harvard
Beverly Joyce Harvard (nee Bailey) was born in Macon in 1950. Ms. Harvard's criminal justice career began in 1973 when she join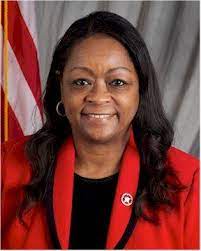 ed the Atlanta Police Department as an officer and concluded with her being the first African American woman to lead any police force in a US major city and one of only a few female police executives. Ms. Harvard earned a sociology undergraduate degree, followed by an MS in urban government from Georgia State University. She completed her final degree from the FBI's National Academy in Quantico.
Beverly Harvard has held a number of significant positions in the Atlanta government system, including an affirmative
action specialist & the director of public affairs at the Dept of Public Safety, before becoming the deputy chief and then the chief of police in 1994 after more than two decades of service. Atlanta has honored one of its most celebrated women in criminal justice as Outstanding Atlantan, Women of the Year in Atlanta, and nationally as one of five Women of the Year by CBS television.
8. Freda Adler
Freda Adler was born in 1934 and is world-renowned for her education and criminal justice career contributions to the field of criminology across a multitude of social issues, including drug abuse, piracy, and female criminality. Ms. Adler earned her three academic degrees from UPenn and has sat on the university's board of directors for alumni. She and her husband, Gerhard Mueller (Chief of UN's crime prevention/criminal justice sections), collaborated with Penn's Wharton School and the Zicklin Business Ethics Research Center. Freda Adler holds professorship positions at Rutgers University and the University of Pennsylvania. Freda Adler has served as a United Nations consultant regarding criminal justice matters since the mid-1970s.
Ms. Adler's prolific career includes more than twenty books and 100 professional journal articles. She is a fellow at the Max-Planck Institute of foreign & International Law & Criminology. The American Society of Criminology presents a Fred Adler Distinguished Award each year, honoring one of the most influential women in criminal justice in the subcategory of criminology.
9. Sandra Day O'Connor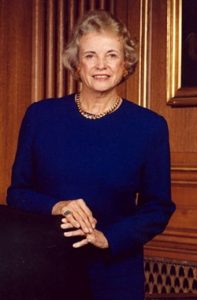 Sandra Day O'Connor was born in 1930 in Texas but was raised on a farm in Arizona. She is recognized to be the first woman to be nominated & confirmed as an associate justice of the U.S. Supreme Court. Ms. O'Connor earned her undergraduate and law degrees from Stanford University in California, graduating Order of the Coif (those students who were within the top ten percent of all students) and serving on the school's law journal with William Rehnquist. Ms. Day O'Connor served as an assistant to Arizona's attorney general before filling a vacancy in Arizona's senate.
Sandra Day O'Connor's reputation for superb negotiation skills became evident when she became Arizona's first female majority leader, the first in any state senate. Sandra Day O'Connor was nominated by President Reagan in 1981 and served as a supreme court justice until 2006s, concluding an illustrious criminal justice career. During her supreme court tenure as FWOTSC – the first woman on the supreme court, Sandra Day O'Connor was considered among the world's most powerful women in criminal justice and thus awarded the Presidential Medal of Freedom from President Obama.
10. Leann K. Bertsch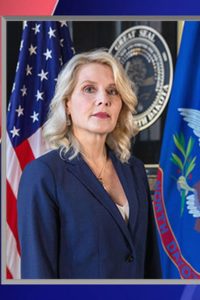 Leann K. Bertsch is an American lawyer, earning her JD from the University of North Dakota's law school in 1991. At the start of Ms. Bertsch's criminal justice career, she worked as a North Dakota court prosecutor and legal aid lawyer. Eventually, Ms. Bertsch moved on to become the Commissioner of the North Dakota Labor Department and then the director of the North Dakota Dept of Corrections & Rehabilitation. During her tenure, Ms. Bertsch worked tirelessly to reform the state's corrections system to focus on repairing the harm caused to victims and improving conditions for prison inmates by eliminating solitary confinement.
Leann K. Bertsch actively serves on several boards, including the Prison Fellowship Warden's Exchange and International Corrections & Prison Association. She has been honored among women in criminal justice with an award by her peers and award in Innovation in Corrections and a Legacy Award from the AWEC – the Assoc. of Women Executives in Corrections. Leann K. Bertsch joined MTC in 2020 as the Senior VP in corrections training and management.
Related rankings:
Top 10 Campus Master's in Criminal Justice Programs
10 Campus Homeland Security Degree Programs
Top 10 Online Homeland Security Degree Programs