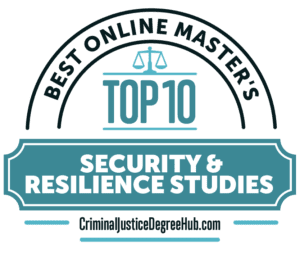 This is a list of the Best Security and Resilience Studies Master's. If you are interested in this career follow along to learn more!
Security, risk, and resilience studies is a young field of study, related to public safety and security, that focuses on assessing systems for risk of threat, strength of security, and resilience of a population. However, the degree itself is multi-disciplinary and pulls from different fields in order to teach a student how to analyze and manage risk, check the infrastructure for protection and resistance to attack, and the ability of a given population to withstand and recover from shocks. Resilience and risk is a relatively new type of degree and was developed within the last 30 years. Since then, the degree has gained prominence as a result of unforeseen forms of attack via the internet and the emergence of a pandemic.
Featured Schools
In addition, risk and resilience theory can be applied to a wide variety of disciplines that range from human populations to IT networks. Risk and resilience assessment is used in modeling for potential outcomes as well as being used in real-time situations where a security threat is recognized and needs to be analyzed for potential outcomes. Moreover, using risk and resilience theory helps an organization anticipate potential problems and create solutions based on the assessments. The data developed by a risk and resilience model has the potential to counter multiple types of threats and prevent worse-case scenarios.
How We Ranked the Best Degrees in Security and Resilience Studies
As a somewhat young discipline, Security and Resilience Studies degrees are few and far between, but they're offered by some of the foremost colleges and universities in the US. Programs featured here are ranked by multiple factors, including tuition cost, student reviews, and salary potential.
1. Vanderbilt University

Vanderbilt University's MEng in Risk, Reliability, and Resilience teaches students leadership skills and decision-making strategies for risk and uncertainty. To promote safety, quality and environmental protection, the university's security and resilience studies include 30 hours of interdisciplinary classes that graduates can complete in one year. Successful graduates go on to work for organizations of various sizes.
Vanderbilt University consists of four undergraduate schools on a lovely 330-acre campus in Nashville, TN. The school is known for its academic rigor and enriching opportunities on campus. The location in the heart of Nashville attracts learners from around the globe and Vanderbilt consistently makes U.S. News and World Report's list of top 20 schools. The school has 7,000 undergraduates from 90 nations for a diverse teaching, research and experiential environment.
Highlight: This high-profile university has a widely recognized brand, making a degree from Vanderbilt highly valued.
Degree: MEng in Risk, Reliability, and Resilience
Format: Campus
2. Northeastern University

Northeastern University has a masters in security and resilience studies. This cutting-edge program integrates security studies with a unique focus on societal resilience. Resilience reflects the ability of communities, individuals, institutions and systems to adapt to threats and shocks they live through. This degree prepares students to deal with the threat and aftermath of these threats.
Northeastern is a well-known and highly rated university in Boston, Massachusetts. This large private university has 13,864 students and the competitive admission rate of 19% makes entry to Northeastern a big deal. Popular majors include Economics, Business and Mechanical Engineering. Nearly nine out of 10 freshmen graduate, making it one of the schools that does the best job in matching applicants with the culture and expectations of a university.
Highlight: Northeastern received an A+ rating from students on Academics, Diversity and Value for Money.
Degree: MS in Security and Resilience Studies
Format: Campus
3. Arizona State University

Arizona State University has an MA in Community Resilience which is one of the most popular security and resilience studies programs. This program prepares graduates to act as representatives of government and non-government organizations. Successful graduates seek jobs developing policies to reduce short-term and long-term safety. This concentration falls under emergency management and homeland security MA. Students learn to promote programs at various levels of government. In addition, students take courses in hazard mitigation, planning and disaster recovery.
Located in Tempe, Arizona State is a public school with good ratings. This public institution has nearly 40,000 undergraduate students and accepts 85% of applicants. It ranks #44 out of 122 best big colleges in America.
Highlight: Arizona State University is the #1 ranked university in the state.
Degree: MA in Community Resilience
Format: Online
4. Clemson University

Clemson University has a Master of Resilient Urban Design that students can take on campus. This security and resilience studies program prepares students to interact in complex market, government and cultural circumstances. Classes include sustainability and the ability of cities to maintain diverse populations. The program teaches students to think widely and dream up more noble and humane urban systems.
Clemson is a large institution of 18,971 undergraduates. Less than half of all applicants are accepted into the competitive college. Popular majors include Business, Industrial Engineering and Marketing. Clemson graduates 83% of students, which is much higher than many large universities.
Highlight: Clemson is rated the #1 best college in South Carolina.
Degree: Master of Resilient Urban Design
Format: Campus
5. Embry Riddle Aeronautical University

Embry Riddle Aeronautical University has an MS in Human Security and Resilience. This online security and resilience studies program gives students an opportunity to earn their degree from home. Human security and resilience demand an interdisciplinary approach. Students learn concepts such as the security of human populations and their ability to recover from shocks such as terrorism and armed conflict.
Embry Riddle is the only college in the nation to specialize in aerospace and aviation. Therefore, this makes graduates natural candidates for company's looking for professional pilots, pre-med majors, engineers and intelligence operatives. The school's mission is to teach the business and science of aviation. Students who wish to work for the military or government agencies often begin with an education at Embry Riddle.
Highlight: Embry Riddle Aeronautica' University ranks #4 among the best colleges in Florida.
Degree: MS in Human Security and Resilience
Format: Online
6. Tulane University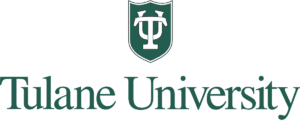 Tulane University has an MS in Disaster Resilience Leadership that students complete on campus. This security and resilience studies program focuses on global humanitarian leadership. It integrates research, education and hands-on learning to prepare graduates for challenging roles in communities impacted by weather events and manmade disasters. Graduates learn the balance needed between the economy and environmental concerns.
Located in New Orleans, Tulane is a public university with approximately 7,000 undergraduates. If you're in the lucky 17% of applicants accepted into Tulane, you can count on a rigorous education. Popular majors include Business, Marketing and Finance. At 85%, the University has an excellent graduation rate, The location makes it more likely that students can obtain a valuable internship in their field of study.
Highlight: Tulane is the top-rated school in Lousiana, giving graduates the support of a nationally recognized university.
Degree: MS in Disaster Resilience Leadership
Format: Campus
7. Eastern Kentucky University

Eastern Kentucky University offers an MS in Emergency Management and Disaster Resilience. This online security and resilience studies program lefts working students complete their degree while juggling other responsibilities. In this ever-changing industry, knowledgeable leaders must keep up with the latest trends in emergency and disaster response. Graduate become emergency management professionals who can effectively deal with emergencies by analyzing the relationship between organizations and first responders. This in addition, includes roles in emergency response plan optimization.
As a public university, Eastern Kentucky is a large Lexington-based institution with 10,451 undergraduate students. The University presents access to education by accepting 87% of applicants. Popular majors include Liberal Arts and Humanities and Law Enforcement Administration.
Highlight: 99% of students receive some form of financial aid. Combined with the online format, this makes Eastern Kentucky University one of the most convenient colleges for students located in remote areas.
Degree: MS in Emergency Management and Disaster Resilience
Format: Online
8. Harvard University

Harvard University offers a Master of Design Studies – Risk and Resilience. This security and resilience studies program seeks new approaches to managing risk and improving the resilience of communities, cities and people impacting by disasters and change. Graduates emerge prepared to articulate preemptive practices to mitigate societal disruptions.
This elite private university is located in the Boston Area. About 7,200 undergraduate students attend Harvard and they are lucky indeed, as just 5% of applicants receive an affirmative letter welcoming them to Harvard. Popular majors include Computer Science, Economics and Political Science. Despite the difficult coursework, 95% of students graduate from this esteemed institution. Four out of five students give their instructors high marks for preparedness and effort when it comes to course delivery. Harvard is the hardest university to get into in the U.S.
Highlight: Ranked #4 in the nation among the best universities, Harvard is a renowned university that opens doors in any industry.
Degree: Master of Design Studies – Risk and Resilience
Format: Campus
9. Naropa University

Naropa University has an MA in Resilient Leadership. This security and resilience studies program is offered on campus. Students learn to recognize systems that isolate organizations and governments in destructive cycles. Classes aim to teach students how to unravel destructive habits so that organizations can rebuild with environmentally just policies. There are two tracks, Climate Justice and Sustainable Systems. Learners study ecopsychology, mindfulness, climate justice, human rights, sustainability, nonprofit management, environmental policy and entrepreneurship. Develop leadership skills to become a compassionate advocate for a more viable world.
This private university, located in Boulder, Colorado, is a small university with just 387 undergraduate students. Naropa accepts nearly all applicants and has an acceptance rate of 98%. Popular majors include Liberal Arts and Humanities and Psychology.
Highlight: Students who prefer a private institution with small class sizes may enjoy attending Naropa University.
Degree: MA in Resilient Leadership
Format: Campus
10. Prescott College

Prescott College has an MS in Resilient and Sustainable Communities. This security and resilience studies program has students apply what they learn to the local community. MRSC students research real examples of energy production, economic development, land-use planning and food systems. Graduates come out of the program with new skills in leadership and conflict resolution. This is a great program for learners who want to immediately apply what they learn in local neighborhoods. Students gain a foundation for new ways of thinking for land-use, energy sourcing and food systems.
Students rated the dorms, campus safety and diversity as top features of Prescott College. Every student at Prescott receives some kind of financial aid, making it more affordable. SAT and ACT scores are neither required nor preferred. The college offers 14 degrees online and on-campus classes have a 9:1 student-to-faculty ratio.
Highlight: Prescott is a highly accessible university, with 95% of applicants accepted into the program.
Degree: MS in Resilient and Sustainable Communities
Format: Campus
Are There Different Kinds of Resilience Studies?
Yes, there are multiple types of risk and resilience studies. This particular discipline is applicable to a variety of situations due to the fact that the risk and resilience framework works with just about any type of dataset. Therefore, inputting most datasets into a risk and resilience framework, along with risk and resilience factors that can affect an outcome, will generate different potential outcomes. The framework can be used for everything from people to the environment when it comes to finding a potential outcome and creating a response.
What is Community Resilience?
Community resilience is the ability of a community to use existing resources to respond to a threat, withstand the assault, and recover from bad situations. Therefore, the community demonstrates its ability to survive and recover after an adverse event. Moreover, Sociologists apply security and resilience framework to communities of all types and sizes.
What is Urban Resilience?
Urban resilience is the ability of an urban system, including residents, to maintain their community and standards of living during a period of shock or stress while adapting in a positive manner and working towards a sustainable existence afterwards. The study of urban resilience is also a part of urban planning.
What is Environmental Resilience?
Environmental resilience studies the ability of a natural system to withstand disturbances, recover, and then ultimately adapt to the changes. Moreover, some of the disturbances include climate change, invasive species, and pasture management. Biologists and scientists use security and resilience models to determine how well a given environment responds to disturbances and finally, its ability to recover.
What Kinds of Jobs are in Security, Risk, and Resilience?
Jobs in security, risk, and resilience are found in many industries due to the ongoing threat of attack by unknown actors. Resilience management involves looking at the security of an organization and making decisions that protect the assets of said organization. Above all, working as a resilience manager means you're responsible for overseeing the day-to-day operations of the most vulnerable areas of the company. That can include working in IT security or at a government or public utility. Resilience management is something that has become more important than ever, and becoming a resilience manager helps you get on a career track with a lot of future potential.
Some of the job titles for this degree include:
Chief resilience officer
Community resilience
Resilience manager
Urban resilience
Students with an undergraduate in IT, sociology, biology, urban planning and more can all benefit from earning a master's degree in security and resilience. They can also earn a post-graduate certificate that enhances their undergraduate degree.
Can I Get a Graduate Certificate in Security and Resilience?
Yes, you can get a graduate certificate in security and resilience. Following is a look at some schools that offer certificate courses.
University of Vermont
The University of Vermont offers a Graduate Certificate in Community Resilience and Planning. It's an 18-credit hour course that gives students the skills and knowledge necessary to lead communities through times of upheaval and disruption. Students gain a thorough understanding of the threats and opportunities that residents of Vermont face and learn how to scale their knowledge similarly to communities across the United States and even the world.
University of New Orleans
The Graduate Certificate in Disaster Management and Community Resilience available at the University of New Orleans is a 12 credit-hour course that draws from various disciplines including sociology, geology and urban and environmental planning. Finally, students are taught by faculty that have working experience in their fields for the best possible education.
University of Alaska Fairbanks
University of Alaska Fairbanks's program for a Graduate Certificate in Resilience and Adaptation teaches students how to study resilience, adaptation and sustainability for application in industry, governments, academia, and similarly, in non-government organizations. In addition, the program exposes students to disciplines that include sociology, anthropology, economics and ecology.
Related Rankings:
10 BEST ONLINE BACHELOR'S IN PUBLIC SAFETY AND SECURITY