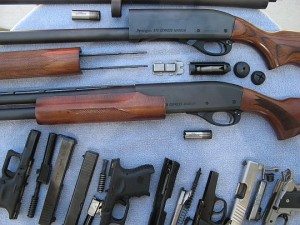 If you're knowledgeable about gun safety and have a bit of mechanical expertise, you may want to consider becoming a gunsmith. Gunsmiths are skilled workers who are responsible for the construction, repair, and maintenance of various firearms. The gunsmithing profession requires a diverse set of skills: woodworking, metalworking, mechanical aptitude, and even some mathematics and science. While many gun enthusiasts take up gunsmithing as a hobby, it's quite possible to earn a living with these skills. Gunsmiths have the opportunity to serve gun owners from the hunting and sporting world, as well as those who own guns as part of a criminal justice career. Let's take a look at the basic steps involved in becoming a gunsmith.

Education and Training
Most gunsmith programs, held at colleges and trade schools, take anywhere from six months to two years to complete. Students in these programs learn mechanical skills, firearm designs, and even chemistry and ballistics. The curriculum delves into the different elements of guns, such as hinges and levers, triggers, and self-loaders. Advanced metalworking techniques such as metallurgy, soldering, and reverse engineering are also covered in these programs. Gunsmithing students gain experience in diagnosing and repairing issues with guns and review proper safety procedures.
Featured Schools
To find a gunsmith program in your immediate area, check out the list of accredited schools on the NRA's website. If you have difficulty finding a school near you, you might want to enroll in an online gunsmith program. No matter which educational option you choose, you'll be required to pass a firearms background check in order to be admitted.
The highest degree available in the gunsmithing field is an associate's degree from a community college or technical college; gunsmiths who would like to pursue a higher-level college degree can choose other courses of study, such as criminal justice.
Licensing
When gunsmiths repair a firearm, they often take possession of it for more than a day. Because of this necessity, gunsmiths are required to obtain a Federal Firearms License (FFL). To obtain an FFL, you need to be over 21 years of age and meet several gun safety requirements. Additionally, you'll need to complete an interview with a field agent before your license is granted.
Career Opportunities
Once you earn the proper educational credentials and obtain your license, you'll find that there are many ways to establish a career as a gunsmith. If you're looking to start your own business, it might make sense to develop a specialty. Gunsmiths can focus on areas such as stock making, gun engraving, and customized gun design. Some gunsmiths specialize in a particular type of firearms, such as rifles or pistols. Depending on your chosen niche, your customers will range from hunters and sportsmen to criminal justice professionals; your choice of specialization may be influenced by your previous experience with certain types of firearms.
If you'd prefer to work for a company rather than start your own business, there are multiple opportunities available. Many gunsmiths find work at sporting goods stores, gun stores, and gun manufacturers.
As you can see, the world of gunsmithing offers a wealth of career opportunities for qualified candidates. If you have an interest in firearms and would like to develop your wood-crafting and metalworking skills, working as a gunsmith may be an ideal fit. Check out the gunsmithing programs at your local colleges and see if this profession is right for you.
RELATED:
IMMIGRATION AND CUSTOMS ENFORCEMENT: EDUCATION AND RESPONSIBILITIES
BECOME A SECRET SERVICE AGENT?