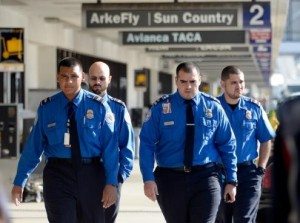 TSA Agents are part of the transportation security administration, and they are responsible for screening passengers, luggage, and cargo to make sure they comply with requirements. The job requires great attention to detail. TSA Agent jobs have become even more involved over the last decade thanks to the unfortunate threats to air travel. The TSA is part of the department of homeland security. Agents work in airports, train stations, and shipping areas. They use specialized equipment such as XRay machines and hand wands on a daily basis. So what does it take to become a TSA agent?
Basic Requirements
In order to apply to be a TSA Agent, you must first hold a few basic requirements. TSA agents must have at the very least a high school diploma or GED. In addition, in order to apply, you must have at least one year of experience as a security officer or Xray technician. Also, you may not work as TSA agent if you are not a US citizen. Once you meet these basic requirements, you may apply to work as TSA Agent. You can find out more about these requirements here.
Featured Schools
Getting an Edge Over the Competition
While you can apply to the TSA with only the basic requirements, it can be a very competitive process. Most TSA agents have additional education beyond a high school diploma and many also have great experience to place on their resume as well. In order to stand out among the competition, you're going to need to distinguish yourself with more than the basic requirements.
Education
As stated previously, you absolutely must have a high school diploma or a GED, but furthering your education will make you stand out. One of the best areas of education to enter the TSA would be criminal justice. A criminal justice degree will teach you about how to handle threats to security and preventing those threats. An associates or bachelor degree will help you not only to get a TSA Agent job, but also once you are on the job. As a criminal justice professional, you can then begin to work on obtaining the necessary experience to become an agent.
Job Experience
The minimum requirement to apply to be a TSA Agent is one year of experience in security or as an xray technician. You can obtain this experience rather easily with a degree in criminal justice. You can work in private security or as a police officer. Both of these jobs will be easier to obtain as a criminal justice professional. Another option is to enter the US military. This is wonderful experience to have on your resume and will be regarded highly by the TSA. There are several ways to enter the military. You can enlist after high school and work on your degree while in the service using military tuition assistance. You can enlist in the national guard or reserves and attend college full-time after training. You can also be part of an ROTC program and complete your bachelors degree and commission as an officer. A job in one of these areas will also let you know whether or not security work is for you.
Getting the Job
Once you have completed the education and job experience that you'll need, then you can apply to become a TSA Agent. You may be able to substitute some of the experience requirement with education provided you take an internship or hands-on experience course. It is also possible to stand out without the education if you have extensive experience. Once you begin the hiring process, there are more requirements you will have to meet. Agents must pass a background check and also have their credit checked. In addition, the TSA will administer drug and alcohol tests. Finally, you will have to meet physical requirements.
Training
Once selected to become a TSA agent, you will have to go through on-the-job training. This training is administered by the TSA and is generally paid. You will undergo 100 hours of training – 40 hours in the classroom and 60 hours shadowing other employees. You will also have to pass a certification exam at the completion of your training. Don't think that your training stops there. As a TSA agent, you will need to pass certifications periodically in different fields.
Benefits
Working for the TSA is a federal job, so agents are elligibile for federal benefits including health insurance, life insurance, a 401k, and sick and vacation leave with pay. Work is usually flexible with shifts available at many different times of the day. Airports are always open, so TSA agents are always on duty. The median pay for the position is around $37,000 a year, according to the Bureau of Labor Statistics. However, more education and experience can translate to a higher paycheck. In addition to the regular benefits of the job, you can have a sense of satisfaction knowing that you are working to keep people safe.
Becoming a TSA Agent requires some preparation, but the benefits are worth it. The job is very secure and offers opportunity for growth and advancement. An educational background in criminal justice as well as some work experience in a similar area will help you stand out among the pool of applicants. The TSA is very strict about professionalism and credibility, therefore make sure you will be able to pass a background check, credit check, and a drug test. If you work hard at your job, you could qickuly see yourself climbing the ranks.
References:
TSA Careers
Bureau of Labor Statistics
RELATED:
IMMIGRATION AND CUSTOMS ENFORCEMENT: EDUCATION AND RESPONSIBILITIES
BECOME A SECRET SERVICE AGENT?