If you are looking for a criminal justice school in Michigan, you've come to the right place. Below you'll find a comprehensive list of traditional colleges and universities offering well respected and accredited criminal justice programs. If you live in Michigan but would prefer to get your criminal justice degree online, click here for a list of the top online schools.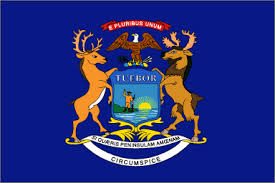 Michigan Background Information
Detroit is the largest city and one time capital of Michigan but the capital is now Lansing. Michigan is made up of two peninsulas; connected by the Mackinac Bridge that spans a five mile stretch across the Straits of Mackinac. Four of the Great Lakes touch Michigan borders making it a haven for boaters and fishing enthusiasts.
Outlook for Employment with a Criminal Justice Degree in Michigan
Michigan is the only state to have lost population in the 2010 census. The downturn in the automotive industry caused many families to leave; however, a diversified economy has brought a slow but steady upturn to the economy.
Michigan has the dubious distinction of two cities named the most violent in America. While crime rates have dropped, Flint heads the FBI's list of most violent cities with Detroit a close second. Detroit is in Forbes #1 spot for the same category. The governor, Rick Snyder, recently signed for more state police to patrol cities as well as Pontiac and Saginaw.
Careers in criminal justice can range from police officers and detectives to correctional and probation officers. Lawyers and security guards, plus transportation security agents (TSA) are also employed in what are considered criminal justice occupations by the Bureau of Labor Statistics (BLS). Flint and Detroit have remained in the top spots of the violent city lists for over four years. The likelihood of an increased need for those employed in criminal justice will continue.
Scholarships and Financial Aid for Michigan Higher Education Institutions
Michigan's largest university, University of Michigan, and the largest in the Upper Peninsula, Northern Michigan University, both have grants and scholarships that are too numerous to list. They open for students in any major and have varying criteria for eligibility. Federal Pell Grants and state scholarships and grants, such as the Indian Tuition Waiver program and the Michigan Army and Air National Guard Grant are awarded regardless of school chosen to attend. A sampling of available scholarships and grants are listed for three of 50+ schools that offer degrees in criminal justice for the state.
Michigan State University:
Zolton Ferency Endowed Scholarship
Diane M. DiPonio Memorial Scholarship
Walter E. Bothe Memorial Scholarship Fund for Law Enforcement Studies
Private & Industrial Security Endowed Scholarship
Tournament of Friendship Scholarship
Louis A. Radelet Graduate Diversity Scholarship
Michael J. Rutherford Endowed Scholarship:
Robert C. Trojanowicz Juvenile Justice Scholarship
Grand Valley State University:
William Hegarty Scholarship
Shawn D. Wiersma Criminal Justice Memorial Scholarship
Mullendore Legal Studies and Criminal Justice Scholarship
Justice and Society Endowed Scholarship
Kendal DenBleyker Endowed Scholarship
Lake Superior State University:
Stephen Bell Memorial Scholarship
John Weir (Sault Police Department) Memorial Scholarship
Harold Weiss Memorial Scholarship
Michigan Criminal Justice Programs:
* – Denotes Online Program Available
Academy of Court Reporting, Clawson
Career Training – Court Reporting
Career Training – Criminal Justice
Career Training – Private Investigation
Certificate – Court Reporting
Certificate – Legal Office Assistant
Certificate – Paralegal
Adrian College, Adrian
Bachelor of Arts – Criminal Justice
Alpena Community College, Alpena
Associate of Applied Science – Criminal Justice: Corrections
Associate of Applied Science – Criminal Justice
Associate of Arts – Criminal Justice
Baker College, Allen Park, Auburn Hills, Cadillac, Clinton Township, Flint, Jackson, Muskegon, Port Huron
Certificate – 911 Telecommunications
Associate Degree – Criminal Justice*
Associate in Criminal Justice – Criminal Justice
Associate of Applied Science – Emergency Services Management
Associate of Applied Science – Emergency Services Management*
Associate of Business – Paralegal
Associate of Criminal Justice – Criminal Justice
Associate of Criminal Justice – Criminal Justice*
Associate of Science – Criminal Justice
Bachelor Degree – Criminal Justice*
Bachelor of Computer Science – Cyber Defense
Bachelor of Criminal Justice – Criminal Justice*
Bachelor of Criminal Justice*
Bachelor of Science – Criminal Justice*
Bachelor of Science – Legal Studies
Bay de Noc Community College, Escanaba
Certificate – Correctional Officer
Associate in Applied Science – Office Systems / Legal Office Assistant
Associate of Applied Science – Corrections
Associate of Applied Science – Law Enforcement
Bay Mills Community College, Brimley
Certificate – Corrections
Associate of Arts – Corrections
Concordia University-Ann Arbor, Ann Arbor
Bachelor Degree – Criminal Justice
Davenport University, Grand Rapids
Certificate – Forensic Accounting
Certificate – Paralegal Studies
Associate of Business Administration – Public Safety and Security Management
Associate of Science – Paralegal Studies
Bachelor of Business Administration – Accounting Fraud Investigation
Bachelor of Business Administration – Public Safety and Security Management
Bachelor of Science – Paralegal Studies
Delta College, University Center
Certificate – Academy of Law Enforcement
Certificate – Corrections
Certificate – Law Office Foundation
Certificate – Law Office Specialist
Certificate – Security / Loss Prevention
Associate in Business – Legal Support Professional
Associate of Arts – Academy of Law Enforcement
Associate of Arts – Corrections
Associate of Arts – Law Enforcement
Associate of Arts – Security / Loss Prevention
Eastern Michigan University, Ypsilanti
Bachelor of Arts – Criminal Justice
Bachelor of Arts – Criminology
Bachelor of Science – Legal Assistant Studies
Ferris State University, Big Rapids
Certificate – Homeland Security
Associate of Applied Science – Legal Studies
Bachelor of Science – Corrections
Bachelor of Science – Criminal Justice
Bachelor of Science – Law Enforcement
Master of Science – Criminal Justice Administration
Finlandia University, Hancock
Associate of Applied Science – Criminal Justice
Bachelor of Arts – Liberal Studies: Criminal Justice
Gogebic Community College, Ironwood
Associate of Science – Corrections
Associate of Science – Criminal Justice
Grand Rapids Community College, Grand Rapids
Associate of Applied Arts and Sciences – Corrections
Associate of Applied Arts and Sciences – Criminal Justice
Associate of Applied Arts and Sciences – Law Enforcement
Associate of Arts – Corrections
Associate of Arts – Criminal Justice
Associate of Arts – Law Enforcement
Grand Valley State University, Allendale
Bachelor of Arts – Criminal Justice
Bachelor of Arts – Paralegal
Bachelor of Science – Criminal Justice
Bachelor of Science – Paralegal
Master of Science – Criminal Justice
Henry Ford Community College, Dearborn
Certificate of Achievement – Corrections / Probation and Parole
Associate in Arts – Corrections / Probation and Parole
Associate in Arts – Law Enforcement with Police Academy
Associate in Arts – Law Enforcement
Associate in Business – Paralegal Studies
ITT Technical Institute, Canton, Swartz Creek, Troy, Wyoming
Associate of Applied Science – Criminal Justice
Associate of Applied Science – Criminal Justice*
Associate of Applied Science – Paralegal Studies
Associate of Science – Criminal Justice*
Associate of Science – Paralegal Studies
Bachelor of Science – Criminal Justice
Bachelor of Science – Criminal Justice*
Bachelor of Science – Information Systems Security
Jackson Community College, Jackson
Corrections Certificate – Corrections
State of MI Correctional Officer Certificate – Corrections
Law Enforcement Certificate – Law Enforcement
Associate of Applied Science – Corrections
Associate of Applied Science – Criminal Justice
Associate of Applied Science – Law Enforcement
Kalamazoo Valley Community College, Kalamazoo
Certificate – Corrections Academy
Certificate – Law Enforcement
Certificate – Police Academy
Associate of Applied Science – Law Enforcement and Criminal Justice
Kellogg Community College, Battle Creek
Certificate – Corrections
Associate Degree – Criminal Justice
Associate in Applied Science – Law Enforcement
Associate in Applied Science – Public Safety
Associate of Applied Science – Corrections
Associate of Applied Science – Paralegal
Post Baccalaureate Certificate – Paralegal
In-Service Training – Police
Kirtland Community College, Roscommon
Certificate – Correctional Officer
Associate in Applied Science – Corrections Administration: Jail Administration
Associate in Applied Science – Corrections Administration
Associate in Applied Science – Criminal Justice Administration
Associate in Applied Science – Criminal Justice Pre-Service
Associate in Criminal Justice – Generalist / Transfer
Lake Michigan College, Benton Harbor
Certificate – Corrections, Probation and Parole
Associate of Applied Science – Law Enforcement
Associate of Arts – Law Enforcement
Associate of Science – Corrections, Probation and Parole
Associate of Science – Forensics
Lake Superior State University, Sault Ste Marie
Associate of Science – Criminal Justice: Corrections
Associate of Science – Criminal Justice: Law Enforcement
Bachelor of Science – Criminal Justice: Corrections
Bachelor of Science – Criminal Justice: Criminalistics*
Bachelor of Science – Criminal Justice: Generalist
Bachelor of Science – Criminal Justice: Law Enforcement
Bachelor of Science – Criminal Justice: Loss Control
Bachelor of Science – Criminal Justice: Public Safety
Bachelor of Science – Forensic Chemistry
Lansing Community College, Lansing
Certificate of Achievement – Juvenile Care Worker
Certificate of Achievement – Mid-Michigan Police Academy
Certificate of Completion – Correctional Officer
Associate in Applied Science – Criminal Justice: Corrections
Associate in Applied Science – Criminal Justice: Juvenile Specialization
Associate in Applied Science – Criminal Justice: Law Enforcement
Associate in Arts – Criminal Justice
Associate in Business – Paralegal
Post Baccalaureate Certificate – Paralegal
Lawton School Warren Branch, Warren
Certificate – Paralegal / Legal Assistant
Macomb Community College, Warren
Certificate – Fire Science
Certificate – Law Enforcement
Associate of Applied Science – Fire Science
Associate of Applied Science – Law Enforcement
Associate of Applied Science – Legal Assistant
Madonna University, Livonia
Certificate – Nurse Paralegal
Certificate of Achievement – Emergency Management
Certificate of Completion – Emergency Management
Certificate of Completion – Forensic Psychology
Certificate of Completion – Homeland Security
Certificate of Completion – Private Investigation
Certificate of Completion – Private Security
Associate of Science – Criminal Justice
Associate of Science – Paralegal Studies
Bachelor of Science – Criminal Justice
Bachelor of Science – Emergency Management
Graduate Certificate – Criminal Justice Leadership
Master of Science in Business Administrtaion – Leadership Studies in Criminal Justice
Marygrove College, Detroit
Certificate – Criminal Justice
Bachelor of Arts – Criminal Justice
Michigan State University, East Lansing
Certificate – Law Enforcement Intelligence Analysis
Bachelor of Science – Criminal Justice
Masters in Criminal Justice – Specializations in:

Judicial Administration*
Security Management*

Masters in Forensic Science
Masters in Law Enforcement Intelligence and Analysis*
PhD in Criminal Justice
Mid Michigan Community College, Harrison
Certificate – Legal Office Specialist
Associate in Business – Legal Secretary / Office Professional
Associate of Applied Science – Corrections
Associate of Applied Science – Law Enforcement
Associate of Applied Science – Pre-Service Law Enforcement
Monroe County Community College, Monroe
Bachelor of Science – Criminal Justice
Bachelor of Science – Law Enforcement
Montcalm Community College, Sidney
Associate of Arts – Criminal Justice: Corrections
Associate of Arts – Criminal Justice
Associate of Science – Criminal Justice: Corrections
Mott Community College, Flint
Associate of Applied Science – Computer Occupations Technology: Security
Associate of Applied Science – Criminal Justice
Associate of Applied Science – Fire Protection Technology
Certificate – Criminal Justice
North Central Michigan College, Petoskey
Certificate – Law Enforcement
Certificate – Legal Assistant
Associate of Applied Science – Criminal Justice
Associate of Applied Science – Law Enforcement
Associate of Applied Science – Legal Assistant
Associate of Arts – Public Administration
Northern Michigan University, Marquette
Diploma – Advanced Law Enforcement
Diploma – Local Corrections
Associate of Applied Science – Law Enforcement*
Associate of Science – Criminal Justice
Bachelor of Arts – Criminal Justice
Bachelor of Arts – Loss Prevention Management
Bachelor of Science – Forensic Biochemistry
Northwestern Michigan College, Traverse City
Certificate – Criminal Justice*
Associate of Applied Science – Law Enforcement
Associate of Applied Science – Legal Assistant
Oakland Community College, Bloomfield Hills
Certificate – Court and Caption Reporting
Certificate – Paralegal
Associate in Applied Science – Court and Caption Reporting
Associate in Applied Science – Paralegal
Associate of Applied Science – Court and Caption Reporting
Olivet College, Olivet
Bachelor of Arts – Criminal Justice
Saginaw Valley State University, University Center
Bachelor of Arts – Criminal Justice
Schoolcraft College, Livonia
Associate of Applied Science – Academy of Criminal Justice
Associate of Applied Science – Criminal Justice
Associate of Applied Science – Homeland Security*
Siena Heights University, Adrian
Associate of Science – Criminal Justice
Master of Science – Publice Service Leadership
Spring Arbor University, Spring Arbor
Bachelor of Arts – Criminal Justice
Endorsement – Criminal Justice
St Clair County Community College, Port Huron
Associate of Applied Science – Criminal Justice: Corrections
Associate of Applied Science – Criminal Justice-Law Enforcement
University of Detroit Mercy, Detroit
Bachelor of Arts – Legal Administration
Bachelor of Science – Criminal Justice
Post Baccalaureate Certificate – Legal Assistant
Master of Arts – Criminal Justice
Master of Science – Intelligence Analysis
Master of Science – Security Administration
University of Michigan-Dearborn, Dearborn
Bachelor of Arts – Criminal Justice
University of Michigan-Flint, Flint
Bachelor of Science – Criminal Justice
Master of Public Administration – Criminal Justice Administration
University of Phoenix, Ann Arbor, Clinton Township, Detroit, East Lansing, Grand Rapids, Livonia, Portage, Southfield, Troy
AA – Criminal Justice*
BS – Criminal Justice Administration: Human Services*
BS – Criminal Justice Administration: Management*
BS – Criminal Justice Administration*
BS – Organizational Security Management*
MS – Administration of Justice and Security*
Washtenaw Community College, Ann Arbor
Certificate – Data Recovery and Analysis
Certificate – Foundations of Data Recovery and Analysis
Certificate – Police Academy
Associate in Applied Science – Criminal Justice: Law Enforcement
Associate in Applied Science – Data Recovery and Analysis
Associate in Arts – Criminal Justice
Wayne County Community College District, Detroit
Associate of Applied Science – Corrections
Associate of Applied Science – Law Enforcement
Associate of Applied Science – Paralegal Technology
Wayne State University, Detroit
Bachelor of Science – Criminal Justice
Post-Bachelor Certificate – Forensic Investigation
Master of Science – Criminal Justice
West Shore Community College, Scottville
Certificate – Corrections
Associate of Applied Science – Corrections
Associate of Applied Science – Criminal Justice
Western Michigan University, Kalamazoo
Bachelor of Science – Criminal Justice
Check out our Top Online Criminal Justice Degree Programs for 2015
Back to States
FAQ
Home
Rankings
Features
Resources
Contact Us
About CJD Hub