If you are looking for a criminal justice school in Pennsylvania, you've come to the right place. Below you'll find a comprehensive list of traditional colleges and universities offering well respected and accredited criminal justice programs. If you live in Pennsylvania but would prefer to get your criminal justice degree online, click here for a list of the top online schools.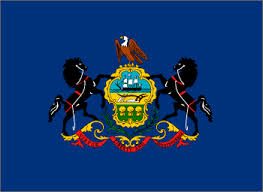 Looking for criminal justice jobs in Pennsylvania? Here is information that you need to know.
ABOUT PENNSYLVANIA:
Pennsylvania (the Keystone State) is located in the Northeast U.S. Its population of 13 million makes it the sixth most populated and the ninth most densely populated state in the country; however, Pennsylvania's population growth projections are flat, with its number of residents expected to remain stable through 2030.
Its geography is very diverse, from the Lake Erie beaches in the northwest to mid-state forests and mountains and eastern farmland. Pennsylvania's four largest cities are located near each corner of the state, with Erie in the northwest, Pittsburgh in the southwest, Allentown in the northeast and Philadelphia in the southeast. Pennsylvania is known for its geographic diversity – whether you like the big-city urban lifestyle or living out in the country, you can find the environment you want here.
CRIMINAL JUSTICE EMPLOYMENT OUTLOOK:
As you would expect in one of the nation's largest states, there are a great number of criminal justice professionals working in Pennsylvania. There were over 28,000 police officers and 17,000 correctional officers working in Pennsylvania in 2012. The outlook for criminal justice jobs for Pennsylvania is average to below average, reflecting the state's lack of population growth. However, the large number of positions in Pennsylvania's criminal justice sector means that many jobs will be open each year due to normal attrition.
FINANCIAL AID AVAILABLE TO PURSUE A CRIMINAL JUSTICE DEGREE:
There are a number of special financial aid programs for students interested in pursuing a criminal justice degree in addition to the scholarships, grants and loans generally available to college students. Pennsylvania offers several grant programs including the Pennsylvania State Grants and the Pennsylvania Postsecondary Educational Gratuity Program. There are also many specific criminal justice scholarships awarded by individual schools. For example, Allegany College in Pennsylvania awards the Detective Captain Leon B. Foley Scholarship to students enrolled in its criminal justice curriculum. Many schools in Pennsylvania have these types of aid available, usually funded as a memorial to a law enforcement officer who died in the line of duty.
Pennsylvania Criminal Justice Programs:
* – Denotes Online Program Available
Academy of Court Reporting, Pittsburgh
Certificate – Court Reporting
Certificate – Criminal Justice
Certificate – Legal Assistant / Secretary
Certificate – Paralegal
Certificate – Security and Investigation
Alvernia University, Reading
Bachelor Degree – Criminal Justice Administration
Bachelor of Science – Forensic Science
Arcadia University, Glenside
Bachelor of Arts – Criminal Justice
Master of Science – Forensic Science
Berks Technical Institute, Wyomissing
Associate of Specialized Business – Criminal Justice
Associate of Specialized Business – Paralegal
Bloomsburg University of Pennsylvania, Bloomsburg
Bachelor of Arts – Criminal Justice
Bradford School, Pittsburgh
Certificate – Paralegal
Associate Degree – Legal Office Assistant
Bucks County Community College, Newtown
Associate of Science – Emergency Management and Public Safety
Certificate – Emergency Management and Public Safety
Certificate – Fire Investigation
Butler County Community College, Butler
Associate of Applied Science – Emergency Services
Associate of Applied Science – Park and Recreational Management
California University of Pennsylvania, California
BS – Legal Studies*
Bachelor of Arts – Forensics
Bachelor of Science – Corporate and Homeland Security
Bachelor of Science – Criminology
Bachelor of Science – Forensic Science
Bachelor of Science – General Justice Studies
Certificate – Crime Mapping
MS – Legal Studies: Homeland Security*
MS – Legal Studies: Public Policy*
Master of Arts in Applied Criminology*
Cedar Crest College, Allentown
Bachelor of Science – Criminal Justice*
Concentration in Chemistry, Biology, Biochemistry, or Genetic Engineering – Forensic Science
Master of Science – Forensic Science
Central Penn College, Summerdale
Associate of Science – Criminal Justice
Bachelor of Science – Criminal Justice Administration
Bachelor of Science – Information Technology – Cyber Security
Chatham University, Pittsburgh
Bachelor of Arts – Forensics
Chestnut Hill College, Philadelphia
Bachelor of Science – Criminal Justice
Bachelor of Science – Forensic Science
Clarion University, Oil City
Associate of Science – Criminal Justice
Community College of Allegheny County, Pittsburgh
Certificate – Court Reporting
Certificate – Paralegal
Associate Degree – Court Reporting
Associate Degree – Paralegal
Associate of Science – Criminology
Community College of Beaver County, Monaca
Associate in Applied Science – Computer Forensics
Associate in Applied Science – Criminal Justice
Associate in Applied Science – Police Technology
Certificate – Police Technology
Community College of Philadelphia, Philadelphia
Certificate – Justice
Associate of Applied Science – Justice
Associate of Applied Science – Paralegal
Consolidated School of Business, Lancaster, York
Certificate – Legal Office Specialist
Associate Degree – Legal Administrative Assistant
Delaware County Community College, Media
Certificate – Paralegal
Associate of Applied Science – Paralegal
Bachelor of Science – Administration of Justice
Delaware Valley College, Doylestown
Bachelor of Science – Criminal Justice Administration
DeSales University, Center Valley
BS – Criminal Justice
Bachelor of Arts – Criminal Justice: Intelligence
Bachelor of Arts – Criminal Justice: Pre Law
Bachelor of Arts – Criminal Justice: Rehabilitation
Bachelor of Arts – Criminal Justice Administration
Bachelor of Arts – Criminal Justice / Social Science Education
Bachelor of Arts – Criminal Justice
Five-Year Bachelor of Arts / Master of Arts Criminal Justice Degree Program
Master of Arts – Criminal Justice Digital Forensics*
Master of Arts – Criminal Justice Investigative Forensics*
Master of Arts – Criminal Justice
Drexel University, Philadelphia
Bachelor of Science – Criminal Justice
Grad Certificate – Homeland Security*
Duquesne University, Pittsburgh
Bachelor of Science – Peace, Justice and Conflict Resolution
Graduate Certificate – Conflict Resolution and Peace Studies
Master of Science – Forensic Science and Law
Edinboro University of Pennsylvania, Edinboro
Associate of Arts – Criminal Justice
Bachelor of Arts – Criminal Justice
Master of Arts – Criminal Counseling
Elizabethtown College, Elizabethtown
Bachelor of Arts – Criminal Justice
Bachelor of Science – Forensic Science
Erie Business Center, New Castle
Associate of Applied Science – Protective Services
Associate of Applied Science – Security
Associate of Specialized Business – Paralegal Studies
Everest Institute, Pittsburgh
Diploma – Criminal Justice
Associate in Science – Criminal Justice
Associate of Applied Science – Legal Administrative Secretary
Associate of Applied Science – Paralegal Studies
Fortis College, Forty Fort
Certificate – Court Reporting
Certificate – Paralegal
Gannon University, Erie
Certificate – Criminal Justice
Associate of Arts – Criminal Justice
Bachelor of Arts – Criminal Justice
Minor – Corrections
Minor – Forensic Investigation
Minor – Juvenile Justice
Gwynedd-Mercy College, Gwynedd Valley
Bachelor of Science – Criminal Justice
Bachelor of Science – Private Security
Harrisburg Area Community College, Harrisburg
Certificate – Corrections
Certificate – Court & Realtime Reporting
Certificate – Police Science
Certificate – Security Administration
Associate of Arts – Criminal Justice
Associate of Arts – Police Science
Associate of Science – Paralegal Studies
Career Associate – Court & Realtime Reporting
Harrisburg University of Science and Technology, Harrisburg
Bachelor of Science – Forensics
Holy Family University, Philadelphia
Bachelor of Arts – Criminal Justice
Master of Arts – Criminal Justice
Immaculata University, Immaculata
Bachelor of Arts – Criminology / Sociology
ITT Technical Institute Bensalem, Dunmore, Harrisburg, King of Prussia, Monroeville, Pittsburgh
Diploma – Criminal Justice
Associate in Specialized Technology – Criminal Justice
Associate of Science and Technology – Criminal Justice
Kaplan Career Institute, Philadelphia, Pittsburgh
Associate in Specialized Business – Criminal Justice
Associate of Specialized Business – Criminal Justice
Keystone College, La Plume
Associate of Science – Criminal Justice
Bachelor of Science – Biological Science: Forensic Biology
Bachelor of Science – Criminal Justice
Minor – Criminal Justice Investigation
Minor – Forensic Biology
Minor – Homeland Security
Keystone Technical Institute, Harrisburg
Associate Degree – Paralegal Specialist
King's College, Wilkes Barre
Bachelor of Arts – Criminal Justice
Kutztown University of Pennsylvania, Kutztown
Bachelor of Science – Criminal Justice
La Roche College, Pittsburgh
Certificate – Criminalistics
Bachelor of Arts – Criminal Justice
Bachelor of Arts – Justice
Bachelor of Arts – Law
Bachelor of Arts – Security
Bachelor of Science – Forensic Science
La Salle University, Philadelphia
Certificate – Criminal Justice Profession Training
Bachelor of Arts – Criminal Justice
Lackawanna College, Scranton
Associate in Science – Criminal Justice: Counseling
Associate in Science – Criminal Justice: Police or Security
Lancaster County Career and Technology Center, Willow Street
Associate of Applied Science – Corrections
Associate of Applied Science – Law Enforcement
Associate of Applied Science – Security
Lansdale School of Business, North Wales
Associate of Science – Criminal Justice
Associate of Science – Paralegal Studies
Lebanon County Career & Technology Center, Lebanon
Associate of Science – Criminal Justice
Lebanon Valley College, Annville
Lehigh Carbon Community College, Schnecksville
Associate of Applied Science – Criminal Justice Administration
Associate of Applied Science – Paralegal Studies
Associate of Arts – Criminal Justice Administration
Bachelor of Science – Crime and Justice
Certificate – Corrections
Certificate – Law Enforcement
Specialized Credit Diploma – Corrections
Lehigh Valley College, Center Valley
Associate of Science – Criminal Justice
Lincoln University of Pennsylvania, Lincoln University
Bachelor of Science – Criminal Justice
Lock Haven University, Lock Haven
Associate of Arts – Criminal Justice
Bachelor of Arts – Sociology: Administration of Criminal Justice
Bachelor of Science – Criminal Justice
Luzerne County Community College, Nanticoke
Associate of Applied Science – Captioning
Associate of Applied Science – Court Reporting / Captioning
Associate of Applied Science – Court Reporting
Associate of Applied Science – Cyber Security Management
Associate of Applied Science – Legal Assisting
Manor College, Jenkintown
Associate Degree – Paralegal
Mansfield University of Pennsylvania, Mansfield
Associate of Science – Criminal Justice Administration
Bachelor of Science – Chemistry: Forensic Science
Bachelor of Science – Criminal Justice Administration
Marywood University, Scranton
Bachelor of Arts – Criminal Justice
McCann School of Business & Technology, Pottsville
Diploma – Security and Investigation
Associate of Specialized Business – Criminal Justice
Associate of Specialized Business – Paralegal Studies
Mercyhurst College, Erie
Associate Degree – Criminal Justice
Bachelor of Arts – Criminal Justice
Bachelor of Arts – Intelligence Studies
Bachelor of Science – Applied Forensic Sciences
Graduate Certificate – Administration of Justice
Master of Science – Administration of Justice
Master of Science – Applied Intelligence
Master of Science – Forensic and Biological Anthropology
Minor – Psychology of Crime and Justice
Messiah College, Grantham
Bachelor of Arts – Criminal Justice
Montgomery County Community College, Blue Bell

Associate in Applied Science – Criminal Justice
Mount Aloysius College, Cresson
Bachelor of Arts – Criminology
Bachelor of Arts – Forensic Accounting in Criminal Investigations
Master of Science – Criminal Justice
Neumann University, Aston
Bachelor of Arts – Criminal Justice
Certificate – Criminal Justice
Northampton Community College, Bethlehem
Specialized Diploma – Emergency Services Specialist
Associate in Applied Science – Criminal Justice*
Associate in Applied Science – Emergency Services Administration
Associate in Applied Science – Emergency Services Technology
Associate of Applied Science – Legal Administrative Assistant
Associate of Applied Science – Legal Office Specialist
Associate of Applied Science – Paralegal
Orleans Technical Institute, Philadelphia
Certificate – Court Reporting
Associate of Applied Science – Court Reporting
Pace Institute, Reading
Associate Degree – Paralegal / Legal Assistant
Peirce College, Philadelphia
Associate of Science – Information Technology: Networking, Administration and Security
Associate of Science – Paralegal Studies
Associate of Science – Paralegal Studies*
Bachelor of Science in Information Technology – Information Security*
Certificate – Paralegal Studies
Certificate – Paralegal Studies*
Certificate of Proficiency – Certified Information Systems Security Professional*
Penn State Abington, Abington
Bachelor of Science – Administration of Justice
Penn State Altoona, Altoona
Associate of Science – Criminal Justice
Bachelor of Arts – Criminal Justice
Bachelor of Science – Criminal Justice
Penn State Fayette-Eberly Campus, Uniontown
Bachelor of Arts – Administration of Justice
Penn State Harrisburg, Middletown
Bachelor of Science – Criminal Justice
Master of Arts – Criminal Justice
Penn State Schuylkill, Schuylkill Haven
Bachelor of Arts – Administration of Justice
Penn State Wilkes-Barre, Lehman
Bachelor of Arts / Bachelor of Science – Administration of Justice
Penn State Worthington Scranton, Dunmore
Bachelor of Science – Organizational Leadership*
Pennsylvania College of Technology, Williamsport
Associate of Applied Science – Legal Assisting / Paralegal Studies
Bachelor of Science – Applied Human Services
Bachelor of Science – Legal Assisting / Paralegal Studies
Pennsylvania Highlands Community College, Johnstown
Associate of Applied Science* – Criminal Justice (evening / online classes)
Associate of Applied Science – Criminal Justice
Pennsylvania State University, University Park
Bachelor of Arts – Crime, Law and Justice
Bachelor of Science – Crime, Law and Justice
Bachelor of Science – Security and Risk Analysis
Master of Arts – Crime, Law and Justice
Philadelphia College of Osteopathic Medicine, Philadelphia
Pathway Program – Forensic Medicine
Certificate of Graduate Study – Forensic Medicine
Master of Science – Forensic Medicine
PJA School, Upper Darby
Certificate – Legal Secretary
Certificate – Paralegal Computers
Associate Degree – Legal Accounting Paraprofessional
Associate Degree – Paralegal
Point Park University, Pittsburgh
Certificate – Intelligence and National Security
Bachelor of Science – Criminal Justice
Bachelor of Science – Forensic Science
Bachelor of Science – Intellingence and National Security
Bachelor of Science – Law Enforcement
Master of Science – Criminal Justice Administrations
Prism Career Institute, Philadelphia
Associate Degree – Paralegal Studies
Reading Area Community College, Reading
Associate in Applied Science – Law Enforcement Administration
Saint Francis University, Loretto
Bachelor of Arts / Bachelor of Science – Sociology / Criminal Justice
Bachelor of Science – Chemistry / Forensics
Saint Joseph's University, Philadelphia
Certificate – Homeland Security*
MS – Behavior Analysis*
MS – Criminal Justice*
MS – Homeland Security*
Sanford-Brown Institute, Pittsburgh
Associate of Applied Science – Criminal Justice
Associate of Applied Science – Paralegal Studies
Seton Hill University, Greensburg
Bachelor of Science – Criminal Justice
Shippensburg University, Shippensburg
Bachelor of Science – Criminal Justice
Bachelor of Science – Public Administration / Policy
Master of Science – Administration of Justice
Master of Science – Public Administration / Policy
Slippery Rock University, Slippery Rock
Bachelor of Arts – Criminology and Criminal Justice
Master of Arts – Criminal Justice*
South Hills School of Business & Technology, State College
Diploma – Criminal Justice
Associate of Specialized Business – Criminal Justice
Temple University, Philadelphia
Bachelor of Arts – Criminal Justice
Master of Arts – Criminal Justice
PhD – Criminal Justice
Thiel College, Greenville
Bachelor of Science – Criminal Justice
Tri-State Business Institute, Erie
Certificate – Criminal Justice
Associate of Applied Science – Paralegal
University of Phoenix, Harrisburg, Levittown, Philadelphia, Pittsburgh, Washington, Wayne
AA – Criminal Justice*
BS – Criminal Justice Administration: Human Services*
BS – Criminal Justice Administration: Management*
BS – Criminal Justice Administration*
BS – Organizational Security Management*
MS – Administration of Justice and Security*
University of Pittsburgh, Pittsburgh
Doctor of Philosophy – Public and International Affairs
Master of Public and International Affairs – Human Security
Master of Public and International Affairs – Security & Intelligence Studies
University of Pittsburgh-Bradford, Bradford
Bachelor of Arts – Criminal Justice
University of Pittsburgh-Greensburg, Greensburg
Bachelor of Arts – Criminal Justice
University of Scranton, Scranton
Bachelor of Science – Criminal Justice
Bachelor of Science – Forensics
Villanova University, Villanova
Bachelor of Science – Criminal Justice
Master of Arts – Criminal Justice
Waynesburg University, Waynesburg
Bachelor Degree – Criminal Justice Administration
Bachelor of Science – Forensic Accounting
Bachelor of Science – Forensic Chemistry
Bachelor of Science – Forensic Computing
Bachelor of Science – Forensic Science
West Chester University of Pennsylvania, West Chester
Bachelor of Science – Criminal Justice
Westmoreland County Community College, Youngwood
Associate of Applied Science – Legal Assistant
Associate of Science – Criminal Justice
Associate of Science – Information Security
Certificate – Corrections Officer
Widener University, Chester
Bachelor of Science – Criminal Justice
Master of Arts – Criminal Justice
Wilkes University, Wilkes-Barre
Bachelor of Arts – Criminology
Wilson College, Chambersburg
Bachelor Degree – Special Major
Minor – Peace and Conflict Studies
York College of Pennsylvania, York
Bachelor of Science – Criminal Justice
Bachelor of Science – Forensic Chemisty
YTI Career Institute, York
Diploma – Criminal Justice & First Response
Associate in Specialized Business – Criminal Justice & First Response
Associate of Science – Criminal Justice and First Response
Check out our Top Online Criminal Justice Degree Programs for 2015
Back to States
FAQ
Home
Rankings
Features
Resources
Contact Us
About CJD Hub