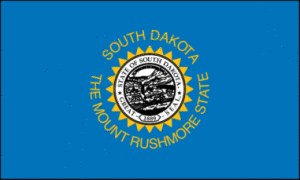 If you are looking for a criminal justice school in South Dakota, you've come to the right place.
Situated in the Midwestern region of the United States, South Dakota is the 17th most extensive state, but the fifth least populous with only 833,354 residents. It is bordered by North Dakota to the north, Minnesota to the east, Wyoming to the west, and Nebraska to the south. Although Pierre is the state's capital, the largest and fastest-growing city is Sioux Falls, which is home to 153,888 people and experiencing dramatic growth of 22 percent since 2000. South Dakota is almost perfectly bisected by the Missouri River, and the majority of the population lives "East River."
Featured Schools
South Dakota enjoys a temperate continental climate, with cold, dry winters and hot, semi-humid summers. Most of the state is covered with rugged mountains, rolling hills, plains, and steep flat-topped buttes. Although the economy predominately depends on agriculture and ranching, there are some major tourist destinations in South Dakota. For instance, nearly three million visitors frequent Mount Rushmore each year to catch a glimpse of the carved faces of four U.S. presidents. Other attractions include the Badlands, Wind Cave National Park, historic Deadwood, and the Crazy Horse Memorial.
Criminal Justice Jobs Outlook in South Dakota
In South Dakota, there were 6,290 jobs in criminal justice-related occupations in May 2012, according to the United States Bureau of Labor Statistics. For every 1,000 jobs, 15.77 were in the criminal justice, law enforcement, and protective service sectors. While the location quotient is 0.64, employment in the field is expected to rise by 2.4 percent from 2010 to 2020. Qualified graduates that hold a criminal justice degree will find more positions as the demand continues to increase. In addition, employees in criminal justice positions earn an annual salary of $36,630, which is equal to an average hourly wage of $17.61.
Financial Aid in South Dakota
Federal Loans are always available to students, but other options are also doable. The following are a few of the various state-based grants and scholarships that are offered to residents of South Dakota as financial assistance:
South Dakota Opportunity Scholarship – rewarded to high school graduates from South Dakota who complete a challenging high school curriculum, maintain a cumulative GPA above 3.0, and receive a score of 24 or higher on the ACT examination.
Vincent L. Hawkinson Foundation Scholarship – provided to undergraduate or graduate students who are attending school in South Dakota and have demonstrated a commitment to peace and justice.
ACS Youth Scholarship Program – awarded to students enrolled in a higher education institution in South Dakota, who were diagnosed with cancer before 21 years of age.
Related:
HIGHEST PAYING JOBS IN CRIMINAL JUSTICE
SOME ONLINE CRIMINAL JUSTICE SCHOOLS
HOW LONG WILL I HAVE TO GO TO SCHOOL FOR A CRIMINAL JUSTICE DEGREE?