If you are looking for a criminal justice school in Virginia, you've come to the right place. Below you'll find a comprehensive list of traditional colleges and universities offering well respected and accredited criminal justice programs. If you live in Virginia but would prefer to get your criminal justice degree online, click here for a list of the top online schools.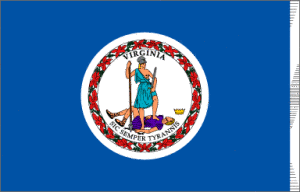 Virginia is one of the few states in the nation where you get the best of all worlds. You can catch some rays on the beach while you are in the Hampton Roads area of the state, and you can also go on a hiking adventure along the Appalachian Trail. If you are near the capital city of Richmond, then you may want to spend your day hanging out with the locals on the James River. While the population density in this state can get rather high in places like Norfolk, there is still plenty of green pastures and farms between the big cities of Virginia.
Criminal Justice Employment Outlook in Virginia
The Bureau of Labor Statistics predicts a positive employment environment for criminal justice jobs for the next five years. Jobs in field related to criminal justice are expected to increase by 15% over the next few years, and the sheriffs and patrol officers earn roughly $51,000 per year. On the other hand, detectives and criminal investigators are able to bring home around $85,000 per year on average. After getting a criminal justice degree, most graduates can expect to earn between $17,000 and $42,000 in an entry level position. The median salary for all of the different types of jobs found under the umbrella of criminal justice is $23,000 per year for Virginia.
Financial Assistance for Criminal Justice in Virginia
There are a variety of different financial aid programs available to individuals who wish to earn a criminal justice degree in Virginia. Virginia Tuition Grants, L. Phil Wicker Scholarships, Virginia Commonwealth Awards, Virginia Guarantee Assistance Program, and Lee-Jackson Educational Foundation Scholarships can all be used when financial assistance is needed for an education in criminal justice.
Virginia Criminal Justice Programs:
* – Denotes Online Program Available
Averett University, Danville
Bachelor of Arts – Sociology / Criminal Justice
Bachelor of Science – Criminal Justice / Sociology for Corrections Professionals
Bachelor of Science – Criminal Justice / Sociology for Law Enforcement Professionals
Bachelor of Science – Criminal Justice / Sociology
Bachelor of Science – Sociology / Criminal Justice
Blue Ridge Community College, Weyers Cave
Career Studies Certificate – Applications in Corrections
Career Studies Certificate – Applications in Law Enforcement
Associate of Applied Science – Administration of Justice: Corrections Specialization
Associate of Applied Science – Administration of Justice: Law Enforcement Specialization
Associate of Applied Science – Administration of Justice
Bluefield College, Bluefield
Bachelor of Arts – Criminal Justice
Bachelor of Science – Criminal Justice
Bryant & Stratton College, Richmond, Virginia Beach
Certificate – Paralegal Studies*
AAS – Criminal Justice*
AAS – Paralegal Studies*
Associate of Science – IT-Security
Associate of Science – Paralegal
BS – Criminal Justice*
Bachelor of Science – Criminal Justice
Bachelor of Science – Criminal Justice*
Bachelor of Science – IT Security
Central Virginia Community College, Lynchburg
Career Studies Certificate – Private Criminal Justice Professional
Certificate – Legal Assistant / Secretary
Associate in Applied Science – Administration of Justice
Centura College, Chesapeake, Richmond, Virginia Beach
Certificate – Police Science
Certificate – Private Investigation Services
Certificate – Security
Associate Degree – Paralegal Law*
Associate of Applied Science – Criminal Justice
Associate of Science – Criminal Justice*
Associate of Science – Paralegal Law*
Dabney S. Lancaster Community College, Clifton Forge
Certificate – Corrections
Certificate – Forensic Science
Certificate – Law Enforcement
Associate of Applied Science – Administration of Justice: Forensic Science
Associate of Applied Science – Administration of Justice
Danville Community College, Danville
Certificate – Corrections
Certificate – Law Enforcement
Certificate – Protective Services
Associate of Applied Science – Administration of Justice: Corrections
Associate of Applied Science – Administration of Justice: Law Enforcement
Associate of Applied Science – Administration of Justice: Protective Services
ECPI University, Virginia Beach
Ferrum College, Ferrum
Bachelor of Arts – Criminal Justice
Fortis Institute, Virginia Beach
Career Training – Court Reporting
George Mason University, Fairfax
Bachelor of Science – Administration of Justice
Graduate Certificate – Administration of Justice
Graduate Certificate – Forensic Nursing
Master of Arts – Justice, Law, and Crime Policy
Doctor of Philosophy – Justice, Law, and Crime Policy
Hampton University, Hampton
Bachelor of Arts – Paralegal Studies*
Bachelor of Science – Criminal Justice / Criminology
ITT Technical Institute, Chantilly, Norfolk, Richmond, Springfield
Associate of Applied Science – Criminal Justice*
Associate of Applied Science – Paralegal Studies
Associate of Science – Criminal Justice
Bachelor of Applied Science – Criminal Justice*
Bachelor of Science – Criminal Justice: Cyber Security
Bachelor of Science – Criminal Justice: Cyber Security*
Bachelor of Science – Criminal Justice
Bachelor of Science – Criminal Justice*
Bachelor of Science – Information Systems Security
J Sargeant Reynolds Community College, Richmond
Certificate – Criminal Justice
Certificate – Legal Office Technology
Associate of Applied Science – Administration of Justice
John Tyler Community College, Chester
Certificate – Homeland Security
Associate of Applied Science – Criminology
Associate of Applied Science – Police Science
Liberty University, Lynchburg
Longwood University, Farmville
Bachelor of Arts – Criminal Justice
Bachelor of Arts – Criminology
Bachelor of Arts – Public Policy
Lord Fairfax Community College, Middletown
Certificate – Office Legal Assistant
Mary Baldwin College, Staunton
Bachelors in Criminal Justice
Marymount University, Arlington
Certificate – Criminal Justice and Forensic Science
Certificate – Forensic Computing
Certificate – Paralegal Studies
Bachelor of Arts – Criminal Justice and Forensics
Bachelor of Arts – Criminal Justice
Bachelor of Arts – Paralegal Studies
Bachelor of Science – Information Technology: Forensic Computing
Master of Arts – Forensic Psychology
Miller-Motte Technical College, Lynchburg
Associate of Applied Science – Criminal Justice
Mountain Empire Community College, Big Stone Gap
Career Studies – Corrections Management and Supervision
Certificate – Administration of Justice
Associate of Applied Science – Criminal Justice
Associate of Applied Science – Paralegal Studies
Associate of Applied Science – Police Science
New River Community College, Dublin
Associate of Applied Science – Forensic Science
Associate of Applied Science – Paralegal Administrative Support
Associate of Applied Science – Paralegal Studies
Associate of Applied Science – Police Science
Norfolk State University, Norfolk
Bachelor of Arts – Applied Sociology: Crime and Criminal Justice concentration
Master of Arts – Criminal Justice
Northern Virginia Community College, Annandale
Career Studies Certificate – Advanced Forensic Investigation
Career Studies Certificate – General Forensic Investigation
Career Studies Certificate – Security Management
Certificate – Administration of Justice
Associate of Applied Science – Administration of Justice
Associate of Applied Science – Paralegal Studies
Old Dominion University, Norfolk
Bachelor of Arts or Bachelor of Science – Criminal Justice
Master of Arts – Applied Sociology
PhD – Criminology and Criminal Justice
Patrick Henry Community College, Martinsville
Associate of Applied Science – Administration of Justice
Associate of Applied Science – Legal Assistant
Paul D Camp Community College, Franklin
Associate in Applied Science – Administration of Justice: Corrections Science
Associate in Applied Science – Administration of Justice: Police Science
Piedmont Virginia Community College, Charlottesville
Career Studies Certificate – Criminal Justice
Associate of Applied Science – Police Science
Radford University, Radford
Bachelor of Arts – Forensics
Bachelor of Arts – Parks and Recreation Management
Bachelor of Science – Criminal Justice
Bachelor of Science – Parks and Recreation Management
Master of Arts – Criminal Justice
Master of Science – Criminal Justice
Regent University, Virginia Beach
Associate Degree – Criminal Justice*
Bachelor Degree – Criminal Justice*
Roanoke College, Salem
Bachelor of Arts – Criminal Justice
Saint Paul's College, Lawrenceville
Bachelor of Arts / Bachelor of Science – Criminal Justice
Bachelor of Science – Sociology / Criminal Justice
Sanford-Brown College, Vienna
Associate of Applied Science – Criminal Justice
Bachelor of Science – Criminal Justice
Shenandoah University, Winchester
Bachelor of Science – Criminal Justice
Southside Virginia Community College, Alberta
Career Studies Certificate – Corrections
Career Studies Certificate – Law Enforcement
Career Studies Certificate – Private Investigations
Certificate – Administration of Justice
Associate in Applied Science – Administration of Justice
Southwest Virginia Community College, Richlands
Certificate – Law Enforcement
Certificate – Legal Assistant
Associate of Applied Science – Administration of Justice
Strayer University, Newington
Certificate – Homeland Security & Info System*
Certificate – Homeland Security*
Associate in Arts – Criminal Justice*
Bachelor of Science – Criminal Justice: Criminal Justice Administration*
Bachelor of Business Administration – Legal Studies Concentration*
Bachelor of Science – Criminal Justice: Homeland Security and Emergency Management*
Bachelor of Science – Criminal Justice: Computer Security and Forensics*
Bachelor of Science – Criminal Justice: Homeland Security Technology*
Bachelor of Science – Information Systems: Computer Forensics Management*
Bachelor of Science – Information Systems: Cyber Security Management*
Bachelor of Science – Information Systems: Homeland Security Management*
Bachelor of Science – Information Technology: Cyber Security Technology*
Bachelor of Science – Information Technology: Digital Forensics Technology*
Bachelor of Science – Information Technology: Enterprise Security Technology*
Masters – Accounting: Forensic Accounting*
Masters – Information Systems: Computer Forensics Management*
Masters – Information Systems: Computer Security Management Concentration*
Thomas Nelson Community College, Hampton
Certificate – Legal Assistant
Associate of Applied Science – Administration of Justice
Associate of Applied Science – Paralegal Studies
Tidewater Community College, Norfolk
Associate of Applied Science – Administration of Justice
Associate of Applied Science – Emergency Management
Associate of Applied Science – General Practice Paralegal
Associate of Applied Science – Homeland Security
Associate of Applied Science – Litigation Paralegal
University of Phoenix, Arlington, Fairfax, Reston, Richmond
AA – Criminal Justice*
BS – Criminal Justice Administration: Human Services*
BS – Criminal Justice Administration: Management*
BS – Criminal Justice Administration*
BS – Organizational Security Management*
MS – Administration of Justice and Security
University of Richmond, Richmond
Associate of Science – Paralegal Studies
Bachelor of Arts – Criminal Justice
Virginia Commonwealth University, Richmond
Certificate – Public Safety
Bachelor of Arts – Homeland Security
Bachelor of Science – Criminal Justice
Bachelor of Science – Forensic Biology
Bachelor of Science – Forensic Chemistry
Bachelor of Science – Forensic Crime Scene Investigation
Bachelor of Science – Forensic Science
Bachelor of Science – Justice
MBA – Insurance and Risk Management
Master of Arts – Homeland Security*
Master of Science – Criminal Justice
Master of Science – Forensic Science
Virginia Highlands Community College (Abingdon, VA)
Associate of Applied Science – Police Science
Virginia Intermont College, Bristol
Bachelor of Arts – Paralegal Studies
Bachelor of Arts – Pre-Law: Criminal Justice
Bachelor of Arts / Bachelor of Science – Criminal Justice
Bachelor of Science – Paralegal Studies
Virginia State University, Petersburg
Bachelor of Science – Criminal Justice
Master of Science – Criminal Justice
Virginia Wesleyan College, Norfolk
Bachelor of Arts – Criminal Justice
Bachelor of Science – Criminal Justice
Virginia Western Community College, Roanoke
Associate of Applied Science – Administration of Justice
Associate of Applied Science – Paralegal Studies
Westwood College, Annandale, Arlington
Associate of Science – Information Technology: Systems Security*
B.S. – Criminal Justice*
Wytheville Community College, Wytheville
Certificate – Corrections
Certificate – Law Enforcemen
Associate of Applied Science – Corrections Science
Check out our Top Online Criminal Justice Degree Programs for 2015
Back to States
FAQ
Home
Rankings
Features
Resources
Contact Us
About CJD Hub