If you are looking for a criminal justice school in Kansas, you've come to the right place. Below you'll find a comprehensive list of traditional colleges and universities offering well respected and accredited criminal justice programs. If you live in Kansas but would prefer to get your criminal justice degree online, click here for a list of the top online schools.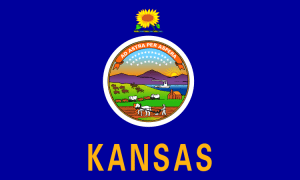 Situated in the Midwestern region of the United States, Kansas is the 15th most extensive and 33rd most populous state with 2,885,905 total residents. While the capital of the state is Topeka, the largest city is Wichita, which has a population of 382,368. Kansas is bordered by Colorado to the west, Oklahoma to the south, Missouri to the east, and Nebraska to the north. It is located at the geographic center of the 48 mainland states, being equidistant from the Pacific and Atlantic oceans.
Lying in the great central plain, Kansas is one of the most productive agricultural states in the nation. It is a top producer of wheat, cotton, corn, sorghum, soybeans, and sunflowers. Sumner County is known as the "Wheat Capital of the World." Although it experiences frequent sunshine, its location makes it increasingly prone to severe weather. Kansas has an average of 50 tornadoes each year, being in the heart of the Tornado Alley. In fact, Dodge City has won the award for being the windiest city in the country, with an average wind speed of 14 mph.
Criminal Justice Jobs Outlook in Kansas
According to records by the Bureau of Labor Statistics, there were 28,880 jobs available in criminal justice and law enforcement related occupations in May 2012. For every 1,000 jobs in Kansas, 21.86 were in the criminal justice sector. While the location quotient is 0.89, employment is predicted to rise between 2010 and 2020 at a rate of 3.3 percent. Employees in criminal justice jobs earned a mean annual salary of $37,390, which translates to an average hourly wage of $17.98. First-line police supervisors and detectives were the top earners in criminal justice, making significantly higher than average at $64,550.
Financial Aid in Kansas
Some of the financial assistance resources that are offered to in-state Kansas college students, including those seeking a criminal justice degree are:
Kansas Comprehensive Grant – awarded to financially needy students enrolled full-time at one of the eighteen private colleges or six state universities in Kansas.
Kansas Ethnic Minority Scholarship – provided to students that are academically competitive and identified as members of ethnic minority groups, including African Americans, American Indians, Asians, or Hispanics.
Kansas State Scholarship – granted to Kansas high school seniors that are in the top 20 to 40 percent of their class and who demonstrate a need for financial assistance to further education.
Kansas Criminal Justice Programs:
* – Denotes Online Program Available
Allen County Community College, Iola
Certificate – Corrections
Certificate – Criminal Justice
Certificate – Law Enforcement
Associate of Arts – Criminal Justice
Associate of Arts – Law Enforcement
Associate of Science – Criminal Justice
Associate of Science – Law Enforcement
Barton County Community College, Great Bend
Certificate – Criminal Justice: Law Enforcement Officer
Bethany College, Lindsborg
Bachelor of Arts – Criminal Justice
Bachelor of Arts – Forensic Science
Butler Community College, El Dorado
Associate Degree – Administration of Justice
Cloud County Community College, Concordia
Certificate – Paralegal Studies
Associate of Applied Science – Corrections & Law Enforcement
Associate of Applied Science – Criminal Justice
Associate of Arts – Criminal Justice
Associate of Science – Criminal Justice
Colby Community College, Colby
Associate of Applied Science – Criminal Justice
Cowley County Community College, Arkansas City
Certificate – Criminal Justice
Associate of Applied Science – Computer Forensics
Associate of Applied Science – Criminal Justice
Associate of Science – Criminal Justice
Associate of Science – Forensic Science
Dodge City Community College, Dodge City
Associate of Applied Science – Criminal Justice and Police Science
Emporia State University, Emporia
Bachelor of Arts – Crime and Delinquency Studies
Bachelor of Science – Crime and Delinquency Studies
Fort Hays State University, Hays
Certificate – Information Networking for Criminal Justice
Bachelor of Arts – Justice Studies*
Bachelor of Science – Chemistry: concentration in Forensic Science
Bachelor of Science – Justice Studies*
Master of Liberal Studies – Liberal Studies: Criminal Justice
Fort Scott Community College, Fort Scott
Certificate – Criminal Justice
Associate of Science – Criminal Justice
Friends University, Wichita
Bachelor of Arts – Criminal Justice
Bachelor of Science – Forensic Science
Master of Science – Leadership and Management
Garden City Community College, Garden City
Associate of Applied Science – Law Enforcement
Associate of Science – Law Enforcement
Highland Community College, Highland
Associate of Applied Science – Criminal Justice
Associate of Arts – Criminal Justice
Hutchinson Community College, Hutchinson
Certificate – Criminal Justice
Associate in Applied Science – Paralegal
Associate of Applied Science – Criminal Justice Administration
Associate of Applied Science – Emergency Dispatch
Independence Community College, Independence
Associate Degree – Criminal Justice
Johnson County Community College, Overland Park
Certificate – Paralegal
Associate of Arts – Paralegal
Associate of Science – Administration of Justice
Associate of Science – Law Enforcement
Kansas City Kansas Community College, Kansas City
Certificate – Corrections
Certificate – Homeland Security
Certificate – Victim / Survivor Services
Associate in Applied Science – Paralegal
Associate of Applied Science – Corrections
Associate of Applied Science – Victim / Survivor Services
Associate of Arts – Forensic Science
Associate of Science – Forensic Science
Kansas Wesleyan University, Salina
Associate of Arts – Law Enforcement
Bachelor of Arts – Criminal Justice
Labette Community College, Parsons
Associate of Applied Science – Corrections
Associate of Applied Science – Criminal Justice
Associate of Applied Science – Parole
Associate of Applied Science – Probation
Associate of Science – Corrections
Associate of Science – Criminal Justice
Associate of Science – Parole
Associate of Science – Probation
MidAmerica Nazarene University, Olathe
Bachelor of Science – Criminal Justice
National American University, Overland Park
Associate of Applied Science – Criminal Justice*
Associate of Applied Science – Paralegal Studies
BS – Criminal Justice*
Bachelor of Science – Criminal Justice*
Bachelor of Science – Paralegal Studies
Newman University, Wichita
Associate of Science – Paralegal
Bachelor of Science – Criminal Justice
Bachelor of Science – Forensics
Ottawa University, Ottawa
Bachelor of Arts – Law Enforcement Administration*
Bachelor of Arts – Police Science*
Pittsburg State University, Pittsburg
Bachelor of Science – Justice Studies
Seward County Community College, Liberal
Associate in Criminal Justice – Fish & Wildlife
Associate in Criminal Justice – Law Enforcement
Associate of Science – Community Corrections
Bachelor of Science – Forensic Science
University of Phoenix, Lenexa, Topeka, Wichita
AA – Criminal Justice*
BS – Criminal Justice Administration: Human Services*
BS – Criminal Justice Administration: Management*
BS – Criminal Justice Administration*
BS – Organizational Security Management*
MS – Administration of Justice and Security*
Washburn University, Topeka
Associate of Applied Science – Criminal Justice
Associate of Arts – Legal Studies
Bachelor Degree – Legal Studies
Bachelor of Science – Corrections
Bachelor of Science – Law Enforcement
Bachelor of Science – Security
Master of Science – Criminal Justice
Wichita State University, Wichita
Bachelor of Science – Criminal Justice
Master of Arts – Criminal Justice
Master of Arts – Public Administration / Policy
Check out our Top Online Criminal Justice Degree Programs for 2015
Back to States
FAQ
Home
Rankings
Features
Resources
Contact Us
About CJD Hub