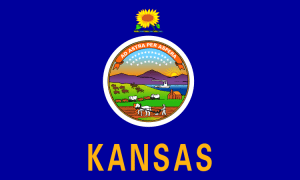 A criminal justice career in Kansas can include any of a number of jobs or paths for those interested in the field. These jobs serve almost 3 million people who live in the state. The courts, law enforcement groups, and other agencies that make up the criminal justice field look for qualified individuals to serve in a variety of capacities.
Starting on the path of a criminal justice career in Kansas can become a journey that's rewarding, lucrative, and even socially responsible. Kansas, like many other states, has a society that's always growing, changing, and in need of people who understand the criminal justice system to help keep the wheels turning.
Featured Schools
WHAT ARE THE COMMON CRIMINAL JUSTICE JOBS IN KANSAS?
Kansas offers a lot of criminal justice jobs to satisfy anyone interested in the field, but there are some that are more common than others in the state. As with most locales, there is always a demand for law enforcement personnel at the county, state, and federal levels. Job and career seekers can also find law enforcement work in the private sector as well.
Of course, careers in Kansas in this field, aren't only about law enforcement. Some of the common and high-demand jobs and careers include:
Probation officer
Child protection specialist
Victim advocate
Investigator (public and private)
Security (armed and unarmed)
Campus police officer
Any job search for criminal justice jobs in Kansas will return various results that span across various career types and opportunities. To put that in perspective, a mobile crisis responder represents a criminal justice job just as much as a correctional facility nurse position does. The field needs people of all types, from beginners to experts, and specialization can help a job seeker do and earn more.
DO I HAVE TO WORK IN LAW ENFORCEMENT?
Law enforcement often serves as the default field when people think about criminal justice, but it's only one part of a much larger whole. The criminal justice field includes court positions, security work, IT security, data collection, correctional personnel, and a myriad of other duties. Even under the law enforcement umbrella, there are numerous job and career categories that serve to support rather than tackle criminal justice issues head-on.
Criminal justice also includes rehabilitation, which is an aspect of the field that may appeal to many people more than law enforcement. Teaching and educational paths make up criminal justice careers in Kansas as well. Applicants may want to take the route of a paralegal, legal assistant, teacher, or another position focused on education, paperwork, or helping people deal with the administrative side of the criminal justice field.
HOW IS THE JOB MARKET IN KANSAS? SALARIES?
A criminal justice career can flourish in Kansas. The state takes criminal justice very seriously, so the market for jobs in this field continues to grow in the state. Many schools in the state offer dedicated criminal justice programs, both traditional and online.
The state has increased its investment in criminal justice solutions by creating numerous panels, task forces, and divisions. This means the state itself is pushing the growth of the field, which makes it a good time to seek a criminal justice career.
For example, the Highway Patrol, the Kansas Criminal Justice Coordinating Council, the Kansas Criminal Justice Reform Commission, and various other groups need people right now. They need people to work the jobs, to help come up with solutions, and to generally play a role in making the system work better for the people of Kansas.
Because criminal justice jobs and careers can come in numerous forms, pinpointing salary ranges isn't easy. Salary will depend on education, experience, job title, and a plethora of other factors. Detectives and criminal investigators can average around $65k and police supervisors can average around $72.8k.
However, these salaries can rise exponentially based on location and experience. In addition, the field itself contains a vast array of job types with salaries that can start with five figures and end with six. In some cases, the same job titles can earn far more in the private sector.
WHERE ARE THE BEST CITIES FOR CRIMINAL JUSTICE JOBS IN KANSAS?
The best cities for criminal justice jobs in Kansas are typically the larger ones. Someone pursuing a criminal justice career in Kansas might find a lot of viable options in Sedgwick County, especially around the Wichita metro area and its surrounding areas.
El Dorado and the rest of Butler County are also good places to start a criminal justice career. Nevertheless, Kansas contains over 600 cities, and all of them require people with a desire to work in the criminal justice field.
Related:
JOBS IN LAW ENFORCEMENT OR AS A FEDERAL AGENT
HOW LONG WILL I HAVE TO GO TO SCHOOL FOR A CRIMINAL JUSTICE DEGREE?