What kind of military jobs are there in criminal justice? This article will get you started on that journey! In today's society, crime is a major issue, which has led to overcrowded prisons and overpowering probation and parole cases. This has sparked the demand for a wide variety of career opportunities within the criminal justice field, and highly qualified professionals are also needed in the armed forces to keep law and order. A criminal justice degree prepares students for a wide range of career options, including military positions. Individuals serving in the military can find criminal justice careers that will hone their previous knowledge and training. Potential career fields include military police, corrections officer, NCIS special agent, Air Force Office of Special Investigations special agent, and military lawyer.
Military Police
Military police officers protect the well-being and property of individuals on military installations. They enforce military laws and regulations, prevent crimes, and assist in emergency situations. Some military police officers also control traffic. They monitor structures on military bases and other military properties and guard gates and entrances. In addition to protecting military installations, military police officers are subject to a deployment where they provide security, help with protection aspects, and assist with training police forces in the area. They also guard foreign detainees, prisoners of war, and convicted military members.
Featured Schools
Corrections Officer
Military corrections officers understand, look over, and review policies and regulations, and manage the care and custody of individuals who are confined in military prisons and related structures. They explain and provide advice about treatment programs and custody issues. They also provide recommendations on parole and restoration to duty and other daily requests from inmates. Military corrections officers also look into disturbances and research and compose correspondence and reports. Some individuals manage counseling and rehabilitation programs.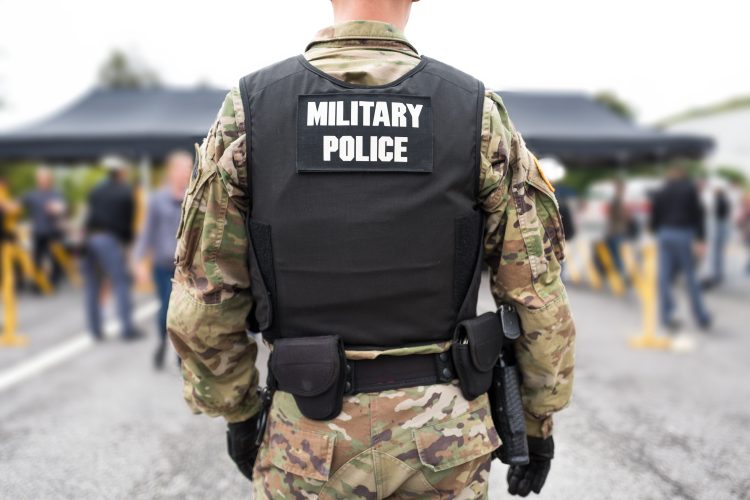 NCIS Special Agents
Each branch of the military operates a special investigations unit, and the Naval Criminal Investigative Service (NCIS) is likely the most well-known. NCIS special agents investigate major crimes that involve military members of the U.S. Navy or Marine Corps. They also employ counter-terrorism and intelligence efforts and assist in protecting the U.S. Navy worldwide.
Air Force Office of Special Investigations Special Agents
Special agents working for the Air Force Office of Special Investigations lead independent and unprejudiced investigations of Air Force personnel. Their main purpose is to look into criminal activity and provide information. They also assist with the security of the country's defense technology organization. The office runs the Defense Cyber Crime Center, which houses training for forensics investigators to protect the Department of Defense's information technology systems.
Military Lawyer
Military lawyers represent individuals under the jurisdiction of military law and courts. They work exclusively with military personnel and provide representation in civil and criminal cases. They prepare legal documents, create and maintain military handbooks, and advise military personnel on military law, civilian law, and international law. They also provide legal assistance and answer questions posed by military personnel. Military lawyers participate in a variety of military offense cases, such as insubordination or dissertation. Military lawyers commonly work with a specific branch of the military.
Related:
JOBS IN LAW ENFORCEMENT OR AS A FEDERAL AGENT
HOW LONG WILL I HAVE TO GO TO SCHOOL FOR A CRIMINAL JUSTICE DEGREE?