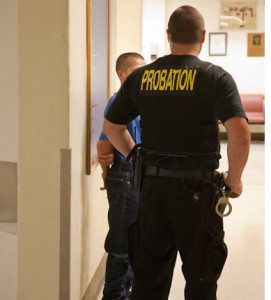 Are you interested in learning more about what is probation? This article will get you started on that journey! If you've gotten into some kind of trouble with the criminal justice system, you may have been put on probation.
What exactly is probation, though? While you can always discuss the guidelines of your specific with your probation officer, here are the basics of the sanction.
Featured Schools
What is Probation?
Probation is a sanction that's been ordered by the court system. A person is put on this when they've been found guilty of committing a crime. Probation lets a person stay in their community, so long as they're being supervised by a probation officer. However, this is not an option for every single offense – some offenders go to jail or prison without ever having the offer of probation on the table.
Conditions vary from person to person and case to case, and can include:
Community service
Counseling
Fines
Jail time
Reporting to the probation officer
Restitution
Restrictions on drugs and alcohol
Restrictions on weapons
What are The two types of probation?
1. Serving time in jail and then being put on probation after completing jail time. Often, the time is jail is shortened because the offender will be on probation.
2. Going on probation instead of going to jail. As long as probation is completed successfully, the offender can skip their jail time.
Sometimes, people hate being on probation so much that they would rather go to jail, do their time, and be done with it. Since probation can last longer than jail time, this seems like a better option for some.
What Happens if I Don't Follow the Rules of My Probation?
Not taking probation seriously is a huge mistake. The point of this is making sure that the public is safe – if someone disregards an aspect of their probation, then the public may not be as safe as possible. When somebody breaks the rules of their probation, they have to go in front of the judge again. Ultimately, the person can be sent to prison or jail for breaking probation.
What is a Probation Officer's Role?
Assessing the person on probation for needs they should have met.
Assessing the person on probation for risks they may pose.
Giving drug tests to make sure the person has not been drinking alcohol or doing drugs.
Helping the person to make sure they have access to any services they may need.
Monitoring the person to make sure that they're following court orders.
Overseeing the person's rehabilitation.
Preparing recommendations and reports that the court will use in their judgement.
Supporting the person to help them get their life back on track.
Visiting the home of the person on probation.
Oftentimes, probation officers don't simply have to keep the offending person on track. They also have to handle a variety of problems, including drug and alcohol abuse, child abuse, mental illness, domestic violence and sexual abuse.
Related:
JOBS IN LAW ENFORCEMENT OR AS A FEDERAL AGENT
HOW LONG WILL I HAVE TO GO TO SCHOOL FOR A CRIMINAL JUSTICE DEGREE?