The Bureau of Alcohol, Tobacco, Firearms, and Explosives (ATF) is a law enforcement agency responsible for examining violations of Federal laws within the jurisdiction of the United States Department of Justice. These investigations of criminal violations related to explosives, firearms, arson, and tobacco and alcohol diversion within the United States and its Territories. These investigations involve interviewing witnesses and suspects, surveillance, getting and carrying out search warrants, surveillance, searching for physical evidence, and making arrests. Securing ATF jobs as a Special Agent or Support Personnel requires aggressive planning, education, experience, and physical and psychological preparations to work in this criminal justice field.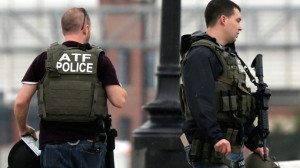 What Does the ATF Do?
Rather than listing what people in ATF jobs do, perhaps a review of high-profile cases where they were involved, like the 1993 Waco siege and the 1995 Oklahoma City bombing, will give you a better perspective on ATF jobs in action. Unlike the confrontation at Waco, fortunately, no ATF agents lost their lives during the Oklahoma City bombing. Reports vary, but at least four ATF Special Agents lost their lives at Waco in what began as an attempt to serve search and arrest warrants at a ranch occupied by a religious group suspected of weapons violations, among them the stockpiling of illegal weapons. While this article will not examine the controversies surrounding that incident, it does offer insight into the tasks performed by the ATF.
Featured Schools
The ATF's involvement in the Waco siege began in May 1992 by investigating a telephone call from the Sheriff about a package of firearms, inert grenade casings, and black powder that had broken open upon delivery to the religious compound by a UPS driver. Concerns over this and reports of automatic gunfire coming from the compound set the ATF in motion. At points along investigating this case, the ATF traced the origins of the purchases and presented affidavits raising concerns that though purchased legally, past experience demonstrated that such purchasers modified them to make illegal firearms.
Much surveillance was necessary, including sending in an undercover agent whose identity was discovered but not revealed by the leader until the siege began. Agents worked with the local media to attempt to avoid or at least postpone their publishing of a series of inflammatory articles about the group and its activities. ATF agents later testified at the trial about their involvement and observations during the siege. Certainly, ATF Support staff not on location contributed to the investigations before and after the incident.
The Does the ATF Not Do?
They do not spend most of their time fervently profiling criminals as they race against the clock to locate and apprehend them in a tidy matter of a few days or weeks. As exciting as the Media portrays criminal justice jobs in profiling, neither the ATF, FBI, nor other Federal agencies have positions titled profilers. Their work is not based on the genius of a brilliant mind calculating complex mathematical equations or a computer wiz def at data mining.
Profiling tasks are important to the work done by the ATF and other federal agencies, but it happens differently than the way the media presents it. In the clash at Waco, for example, there were no profilers per se, but reports show that religious scholars who study apocalypticism in religious groups tried to persuade officials that despite outside appearances that the group may have seemed extreme, to them their religious beliefs were deeply personal and they were willing to die for them.
If criminal profiling is your dream career, your bubble has not burst. According to a 1995 study by Gary Copson of 184 accounts of profiling, profilers are not limited to one profession. They are those with relevant expertise for a particular criminal investigation such as forensic, academic, and clinical psychologists and psychiatrists, therapists, and police scientists or police data systems analysts. You can still relish a parallel career in ATF jobs.
Where Does The ATF Work?
ATF jobs require extensive travel. Applicants are asked to list their top 5 choices for their first duty station, but the newly hired especially may not get any. Assignments in the U.S. and its Territories may last for years in one place. There are few overseas assignments. Transfers are possible depending on experience, expertise, and department needs.
What Are The Requirements For ATF Jobs?
Serving criminal justice requires physical stamina and psychological capacity to operate and think critically. However, an average day in the life of an ATF agent includes desk work preparing detailed investigative reports. One day they may be attesting in court. Another day they may be collecting and analyzing evidence, answering emergency calls about a particular type of case, or attending staff training. According to the information posted on their website, ATF jobs for Special Agent candidates in particular require:
U.S. Citizenship
Be 21-36 years of age at the time of appointment.
Have a valid driver's license.
Complete the ATF special agent applicant questionnaire.
Take and pass the ATF special agent exam, assessment test, and Pre-employment Physical Task Test.
Successfully complete an in-person field panel review, which includes submitting a writing sample.
Be in compliance with ATF's drug policy for special agent applicants.
Take and successfully complete a polygraph examination.
Complete and obtain a background investigation for top secret security clearance.
Take and pass a medical examination by an authorized government physician and meet medical requirements. These include being height-weight proportionate, being able to perform strenuous physical duties safely, and passing a drug test.
As with any Federal job, male applicants must be registered with the Selective Service or certify that they are exempt from it under Selective Service law.
What are the Education Requirements for ATF Careers?

No set degree is stated, but an advanced degree in Behavioral or Forensic Science is desirable. Interested applicants are encouraged to pursue a degree in the discipline that matters the most to them, keeping a perspective on gaining experience as an investigator or other forensic professional specializing in violent crimes, particularly rapes, child abductions, homicides, and threats.
Related:
WHAT CAN I DO WITH AN ASSOCIATES DEGREE IN CRIMINAL JUSTICE?
25 SCHOLARSHIPS FOR LEGAL & LAW STUDENTS
JOBS IN LAW ENFORCEMENT OR AS A FEDERAL AGENT
HOW LONG WILL I HAVE TO GO TO SCHOOL FOR A CRIMINAL JUSTICE DEGREE?