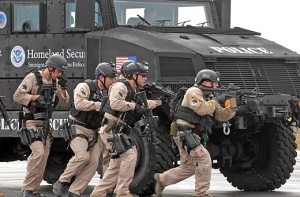 The Department of Homeland Security (DHS) is an executive department of the United States federal government. Congress created the cabinet-level department in November 2002 in response to the September 11 attacks the previous year. Former Pennsylvania Governor Tom Ridge became the first Secretary of Homeland Security in January 2003. Jeh Johnson, an American trial lawyer, currently heads the department.
Homeland Security has the crucial mission of national security. The men and women who work for the department protect the nation from numerous foreign and domestic threats. More than 240,000 people work in DHS jobs, which range from border security to cybersecurity to emergency response. Although their duties differ, they share the same goalkeeping Americans safe.
Featured Schools
Department Creation
Eleven days after September 11, 2001, President George W. Bush created the Office of Homeland Security. He called on Ridge to oversee this White House office and coordinate a national security strategy against terrorism. In November 2002, Congress passed the Homeland Security Act, which created a stand-alone department to unify the security efforts.
Department Modifications
When Michael Chertoff took office in February 2005, he initiated a Second Stage Review (2SR) to evaluate all areas of Homeland Security. A team of public and private partners at all levels of government worked on the review, which resulted in the department's reorganization.
Congress passed the Security Accountability for Every Port Act, or SAFE Port Act, in October 2006. It also established the Domestic Nuclear Detection Office (DNDO) and reorganized the Federal Emergency Management Agency (FEMA). Many of the FEMA changes were built on post-Katrina emergency management reforms.
The 9/11 Commission Implementation Act of 2007 implemented some of the 9/11 Commission's recommendations and created information-sharing fusion centers. In 2010, Janet Napolitano completed the Quadrennial Homeland Security Review (QHSR) and established a framework for homeland security goals.
Department Members
Congress integrated 22 federal departments and agencies to create the Department of Homeland Security. This has resulted in a more effective cabinet department. The current DHS agencies include the United States Citizenship and Immigration Services (USCIS), Customs and Border Protection (CBP), Immigration and Customs Enforcement (ICE), the Secret Service, the Coast Guard, and various offices within FEMA, the Federal Bureau of Investigation (FBI) and several cabinet departments.
Department Careers
The employees of Homeland Security have a wide range of duties. They secure the national borders, airports, seaports, and waterways. They research cybercrimes and develop security technologies. They respond to natural disasters and terrorist attacks. They analyze intelligence data and more.
There are eight general categories of DHS jobs: citizenship and immigration services, customs and border protection, federal emergency management, federal law enforcement, and criminal justice, immigration and customs enforcement, transportation, the United States Coast Guard, and the Secret Service.
USCIS Jobs
America is a nation of immigrants, and those who work for USCIS serve the qualified immigrants who enter the United States. Many DHS employees dedicate their lives to securing freedom and opportunity for people around the world. They make a significant impact on the lives of immigrants and refugees.
CBP Jobs
CBP employees are responsible for preventing terrorists and their weapons from entering the country. They secure the nation's borders and entry ports. Border security protects legitimate trade and travel between the United States and other countries. It is vital to the American economy and way of life.
FEMA Jobs
Americans look to FEMA during emergencies and natural disasters. DHS jobs in FEMA allow people to work in various aspects of emergency management. Some employees work with response and recovery efforts on a full-time, on-call basis. For others, the work is temporary or intermittent. Their primary goal is to help disaster survivors in every possible way.
Law Enforcement Jobs
Most federal agencies hire people to enforce the nation's laws. After the September 11 attacks, many law enforcement functions were transferred to Homeland Security, and this has had a significant impact on law enforcement and criminal justice jobs. The Justice, Treasury and Defense departments also employ law enforcement personnel in large numbers.
ICE Jobs
ICE is the largest investigative agency in Homeland Security. It enforces the immigration and customs laws of the United States. Many criminal justice schools offer special educational programs for ICE agents. The department hires people for professional and administrative positions as well as core criminal justice jobs.
Coast Guard Jobs
The United States Coast Guard, one of five branches of the Armed Forces, is under the jurisdiction of Homeland Security. It has multiple missions including maritime and military functions. In addition to people who enlist for service, the Coast Guard employs civilians for various business and technical positions.
Secret Service Jobs
The United States Secret Service jobs are fast-paced and exciting DHS jobs. The Secret Service employs highly-trained federal agents and uniformed officers to protect the safety of national leaders. Financial crimes are another area of responsibility for this federal agency. In addition to law enforcement jobs, the agency has administrative, professional, and technical positions.
The Homeland Security website (dhs.gov) provides career links, online forms, contact information and help desk support to anyone who has questions about this executive department. It also posts links to the agencies and departments that make up the department. Career information is available on each of these sites as well.
Related:
WHAT CAN I DO WITH AN ASSOCIATES DEGREE IN CRIMINAL JUSTICE?
25 SCHOLARSHIPS FOR LEGAL & LAW STUDENTS
JOBS IN LAW ENFORCEMENT OR AS A FEDERAL AGENT
HOW LONG WILL I HAVE TO GO TO SCHOOL FOR A CRIMINAL JUSTICE DEGREE?