It seems as though we're constantly hearing or reading about immigration status, illegal immigrants, immigration laws and similar immigration-related topics, whether it's on the local news, in the newspapers or online. We also often hear the term "ICE" in reference to illegal immigrants. Just what is ICE and what do they do? Continue reading and learn all about this government agency designed to keep our country safe. Have you ever asked yourself, What Does ICE Do? If so this is the article for you and will get you started.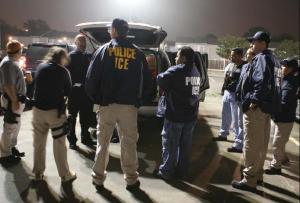 What is ICE?
ICE, a title used to describe the U.S. Immigration and Customs Enforcement, is a federal agency formed after the devastation that took place on September 11, 2001. Its purpose is to keep both U.S. residents and immigrants safe while also ensuring the security of the borders leading both to and from the United States.
Featured Schools
Originating in 2003 as a department within the criminal justice field, ICE was developed in collaboration with the investigative divisions of the Federal Protective Service, the Immigration and Naturalization Service and the U.S. Customs and Border Protection. In addition, ICE works hand-in-hand with the following agencies.
Federal Bureau of Investigation (FBI)
Department of Homeland Security (DHS)
Central Intelligence Agency (CIA)
What Does ICE Do?
Although the main spectrum of ICE is to protect US citizens, immigrants and the borders, its role is much larger and more comprehensive. Many don't realize the huge undertaking it is to keep so many people safe; however, ICE does this using the following methods.
Removing criminals, national security threats and illegal aliens and immigrants from the U.S.
Targeting and auditing employers who hire undocumented or illegal immigrants
Assuring that legal and U.S. workers who are hired have safe workplaces and legal wages
Developing a transparent agency that allows ICE To publish online information that's make it easier to find illegal immigrants
Removing unsafe and danger individuals such as fugitives, dangerous criminals and terrorists, to keep everyone safe
Working with border security and government agencies to ensure the borders are kept safe
Helping legal immigrants receive the respect and positive impact they deserve so they're not unfairly labeled as illegal just because they are immigrants
As mentioned above, ICE employees, and the organization as a whole, perform many important roles in the task of keeping the country safe and free from dangerous criminals or terrorists. For instance, let's take a look at the method of ensuring that employers don't hire illegal immigrants.
There are many employers who hire illegal immigrants with the sole purpose of offering unscrupulous work conditions and unfair wages. ICE takes on the role of monitoring these situations and making sure they don't take place.
ICE not only has the responsibility of protecting the country and the borders from known threats but also has the task of recognizing and determining any potential threats that may be present so they can be eliminated before they become a problem. Individuals who have ICE jobs may perform a variety of tasks, which may include the following:
Inspecting incoming and outgoing cargo
Monitoring the border
Identifying terrorist threats
Setting regulations and restrictions regarding illegal immigrant deportation
Recognizing gun, drug and human trafficking
Protecting federal buildings
If you happen to hear a news article about an illegal immigrant being deported or a potential terrorist being denied a visa, chances are excellent that this was done by an ICE operation. On an average day, ICE has the task of arranging for the deportation of about 500 illegal aliens each day.
ICE, which is located in Washington, D.C., currently has more than 20,000 employees. It's the second-largest investigative agency in the United States – second only to the FBI. Helping ICE in its duties are confidential informants, undercover agents and surveillance equipment. Also part of ICE's responsibility is enforcing at least 400 U.S. statutes, with ICE having to answer to the Department of Homeland Security.
What Are the Requirements to Become an Employee of ICE?
Like most criminal justice jobs, a career with ICE involves specific education and training. Although many of the ICE jobs are open to the public, the requirements one must meet will vary depending on what specific job the candidate is interested in pursuing. As a rule, criminal justice jobs generally require the candidate to complete a formal training program as well as field experiences or externships.
For instance, an interested individual might pursue a degree in criminal justice with a concentration in computer forensics, Homeland Security or police science, among others. Individuals who already have the training or experience in criminal justice usually have the advantage over those who do not. Even with criminal justice training completed, the ICE candidate may be required to complete specific training related to the position. Being hired as an employee of ICE is a very competitive process and one must, at the very least, have the following qualifications.
Experience
Education
U.S. citizenship
Knowledge, ability and skills required for the position
Criminal background clearance
In addition to the qualifications listed above, the candidate may also be required to pass a physical and written exam as well as pass a drug test. Criminal background checks may take several months to complete because of the security involved in this type of career.
How Do Individuals Find ICE Jobs?
Individuals who have recently completed criminal justice training or those who are experienced in criminal justice can learn more about possible job openings with ICE in several different ways. Any positions available with ICE may be listed on USA JOBS, which is a website that lists federal government jobs.
The ICE Pathways Programs website also lists fellowship programs or internships that may be offered. The Department of Homeland Security career page is an informative resource that also lists many career opportunities in the field of security. Additionally, also has several recruiters that can help individuals who are interested in ICE jobs and need guidance as to what needs to be done to get the career rolling, so to speak.
Related:
Should I Get an CSI Certification?
JOBS IN LAW ENFORCEMENT OR AS A FEDERAL AGENT
HOW LONG WILL I HAVE TO GO TO SCHOOL FOR A CRIMINAL JUSTICE DEGREE?