If you are looking for a criminal justice school in Indiana, you've come to the right place. Below you'll find a comprehensive list of traditional colleges and universities offering well respected and accredited criminal justice programs. If you live in Indiana but would prefer to get your criminal justice degree online, click here for a list of the top online schools.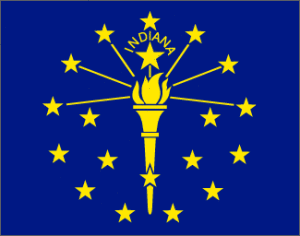 Situated in the Midwestern and Great Lakes region of the United States, Indiana is the least extensive state west of the Appalachian Mountains, but the 16th most populous state with 6,537,334 residents. Indiana is bordered by Michigan to the north, Lake Michigan on the northwest, Ohio to the east, Illinois on the west, and Kentucky on the south. The state's capital and largest city is Indianapolis, which is home to 829,718 residents and the famous NFL football team, the Indianapolis Colts. It is the famous home base for the NBA's Indiana Pacers, WNBA's Indiana Fever, and the Indianapolis 500 NASCAR race too.
Indiana experiences a humid continental climate, with cold winters and warm, wet summers. Annual snowfall varies widely, ranging from 14 to 80 inches of lake effect snow. Although it is not in Tornado Alley, Indiana is ranked eighth of the top tornado-prone states by the National Weather Service. The state is also well-known for being the location of some of the best universities in the country, such the University of Notre Dame that is consistently ranked in the top 20.
Criminal Justice Jobs Outlook in Indiana
According to the United States Bureau of Labor Statistics, there were 56,630 jobs in May 2012 for criminal justice and protective service occupations. For every 1,000 jobs in Indiana, 20.14 are in professions related to law enforcement. The location quotient for the field is 0.82, while employment in criminal justice is expected to rise 1.9 percent from 2010 to 2020. Those employed in criminal justice jobs earned an average annual salary of $36,760, which is comparable to a mean hourly wage of $17.67.
Financial Aid in Indiana
The following are just a few of the many different local grants and scholarships that are awarded to college students in Indiana, including those pursuing a criminal justice degree:
Indiana Sheriffs Association Scholarship – offered to members of the association who are committed to pursuing an education and career in law enforcement full-time at an Indiana college or university.
Frank O'Bannon Grant Program – provided to Indiana residents that enroll in an eligible postsecondary institution leading to an associate or bachelor's degree full-time.
Carson Scholar's Fund – rewarded to students who have maintained a strong academic achievement record with a GPA over 3.75, and demonstrated humanitarian qualities that have a positive effect on society.
Indiana Criminal Justice Programs:
* – Denotes Online Program Available
Ancilla College, Donaldson
Bachelor of Science – Criminal Justice
Ball State University, Muncie
Associate of Arts – Criminology
Associate of Science – Criminal Justice
Bachelor of Arts – Criminology
Bachelor of Science – Criminal Justice
Bachelor of Science – Legal Studies: Business
Bachelor of Science – Legal Studies: Public Law
Bethel College, Mishawaka
Associate of Arts – Criminal Justice
Bachelor of Arts – Criminal Justice
Butler University, Indianapolis
Bachelor of Arts – Criminology and Psychology
Bachelor of Arts – Criminology
Calumet College of St. Joseph, Whiting
Certificate – Paralegal / Pre-Law
Associate of Science – Forensic Science
Associate of Science – Paralegal / Pre-Law
Associate of Science – Probation, Parole and Courts
Bachelor of Science – Criminal Justice
Bachelor of Science – Forensic Science
Bachelor of Science – Paralegal / Pre-Law
Bachelor of Science – Probation, Parole and Courts
Master of Science – Public Safety Administration
College of Court Reporting Inc, Hobart
Associate of Applied Science – Court Reporting
Associate of Applied Science – Court Reporting*
Grace College and Theological Seminary, Winona Lake
Bachelor of Arts – Criminology
Bachelor of Science – Criminology
Harrison College, Anderson, Elkhart, Fort Wayne, Indianapolis, Muncie
AAS – Criminal Justice*
AAS – Paralegal*
Associate of Applied Science – Criminal Justice*
BS – Criminal Justice*
Bachelor of Science – Criminal Justice
Bachelor of Science – Criminal Justice*
Indiana Institute of Technology, Fort Wayne
Associate of Science – Criminal Justice
Bachelor of Science – Computer Security and Investigation
Bachelor of Science – Crime Analysis
Bachelor of Science – Criminal Justice Administration
Indiana University Bloomington, Bloomington
Certificate – Criminal Justice
Bachelor of Arts – Criminal Justice
Master of Arts – Criminal Justice
Master of Security – Security Informatics
Doctor of Philosophy – Criminal Justice
Indiana University-East, Richmond
Bachelor of Science – Criminal Justice
Indiana University-Kokomo, Kokomo
Certificate – Correctional Management
Certificate – Homeland Security
Associate of Science – Criminal Justice
Bachelor of Science – Criminal Justice
Indiana University-Northwest, Gary
Bachelor of Science – Criminal Justice
Master of Public Affairs – Criminal Justice
Indiana University-Purdue University Fort Wayne, Fort Wayne
Bachelor of Science – Criminal Justice
Master of Public Administration – Criminal Justice
Master of Public Management – Criminal Justice Administrations
Indiana University-Purdue University-Indianapolis, Indianapolis
Bachelor of Science – Criminal Justice
Bachelor of Science – Forensic and Investigative Science
Bachelor of Science – Public Safety Management
Master of Public Affairs – Criminal Justice
Master of Science – Forensic and Investigative Science
Indiana University-South Bend, South Bend
Certificate – Correctional Management
Certificate – Public Management
Certificate – Public Safety
Associate of Applied Science – Criminal Justice
Indiana University-Southeast, New Albany
Bachelor of Science – Criminal Justice
Indiana Wesleyan University, Marion
Certificate – Criminal Justice*
Associate of Science – Criminal Justice
Bachelor of Science – Criminal Justice
International Business College, Fort Wayne, Indianapolis
Associate Degree – Legal Administration
Associate Degree – Paralegal
Bachelor Degree – Legal Administration
Bachelor Degree – Paralegal
Diploma – Legal Administration
ITT Technical Institute, Fort Wayne, Indianapolis, Newburgh, South Bend
Associate of Applied Science – Criminal Justice
Associate of Applied Science – Criminal Justice*
Associate of Applied Science – Paralegal Studies
Associate of Science – Criminal Justice
Associate of Science – Paralegal Studies
Bachelor of Science – Criminal Justice: Cyber Technology
Bachelor of Science – Criminal Justice
Bachelor of Science – Criminal Justice*
Bachelor of Science – Cyber Security*
Ivy Tech Community College, Bloomington, Columbus, Evansville, Fort Wayne, Gary, Indianapolis, Kokomo, Lafayette, Madison, Muncie, Richmond, Sellersburg, South Bend, Terre Haute
Certificate – Community Preparedness and Management
Associate of Applied Science – Criminal Justice: Corrections
Associate of Applied Science – Criminal Justice: Law Enforcement
Associate of Applied Science – Criminal Justice: Youth Services
Associate of Applied Science – Criminal Justice
Associate of Applied Science – Paralegal Studies
Associate of Applied Science – Paralegal Studies*
Associate of Applied Science – Public Safety: Environmental Health and Safety
Associate of Applied Science – Public Safety: Fire Science
Associate of Applied Science – Public Safety: Hazardous Materials
Associate of Applied Science – Public Safety: Public Administration
Associate of Applied Science – Public Safety
Associate of Science – Community Emergency Preparedness
Associate of Science – Corrections
Associate of Science – Criminal Justice: Corrections
Associate of Science – Criminal Justice: Law Enforcement
Associate of Science – Criminal Justice: Youth Services
Associate of Science – Criminal Justice: Corrections
Associate of Science – Criminal Justice
Associate of Science – Law Enforcement
Associate of Science – Paralegal Studies
Associate of Science – Paralegal Studies*
Bachelor of Science – Corrections
Bachelor of Science – Criminal Justice
Bachelor of Science – Law Enforcement
Manchester College, North Manchester
Associate of Arts – Criminal Justice
Bachelor of Arts – Sociology: Criminal Justice concentration
Martin University, Indianapolis
Bachelor of Arts – Criminal Justice
Oakland City University, Oakland City
Associate of Science – Criminal Justice
Bachelor of Science – Criminal Justice
Saint Joseph's College, Rensselaer
Bachelor of Science – Criminal Justice
Saint Mary-of-the-Woods College, Saint Mary-Of-The-Woods
Certificate – Paralegal Studies
Associate Degree – Paralegal Studies
Bachelor of Science – Criminal Justice*
Bachelor of Science – Paralegal Studies: Litigation
Bachelor of Science – Paralegal Studies: Personal Law
Trine University, Angola, Fort Wayne, Mishawaka
Bachelor of Arts – Criminal Justice
Bachelor of Science – Criminal Justice
Bachelor of Science – Forensic Science
Master of Science – Criminal Justice
University of Indianapolis, Indianapolis
Bachelor of Arts – Criminal Justice
University of Phoenix, Greenwood, Indianapolis, Merrillville
AA – Criminal Justice*
BS – Criminal Justice Administration: Human Services*
BS – Criminal Justice Administration: Management*
BS – Criminal Justice Administration*
BS – Organizational Security Management*
MS – Administration of Justice and Security*
Vincennes University, Vincennes
Certificate – Law Enforcement
Certificate – Paralegal
Associate Degree – Paralegal
Associate of Applied Science – Loss Prevention and Safety
Associate of Applied Science / Associate of Science – Conservation Law Enforcement
Associate of Science – Emergency Management and Planning
Bachelor of Science – Homeland Security and Public Safety
Check out our Top Online Criminal Justice Degree Programs for 2015
Back to States
FAQ
Home
Rankings
Features
Resources
Contact Us
About CJD Hub