If you are looking for a criminal justice school in Maine, you've come to the right place. Below you'll find a comprehensive list of traditional colleges and universities offering well respected and accredited criminal justice programs. If you live in Maine but would prefer to get your criminal justice degree online, click here for a list of the top online schools.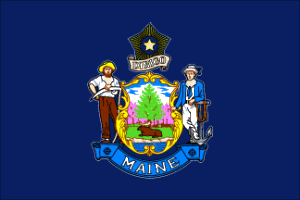 Maine is a New England based state in the United States, and it is one of the lowest populated states in the country. It is also the least densely populated state in America, meaning that there are plenty of spacious towns and cities that make up Maine. Portland, Lewiston and Bangor are the three highest populated cities in the state, with populations of around 66,000, 36,000 and 32,000 respectively. These statistics show that Maine is not a city with too many people, which means that job opportunities may not be as plentiful as they are in other north-eastern states. However, with a competitive criminal justice degree from a top Maine college, it is possible to land a decent paying job in one of the bigger cities.
The beauty of the criminal justice degree is that it opens door to a multitude of careers for students. It is possible to claim criminal justice jobs in both the public and private sectors. People can work as police officers, correctional officers, prison employees, and detectives after completing their education. In addition, it is possible to be a security manager or private investigator, with those jobs likely to pay less in the long term.
As examples, a private investigator in Maine can expect to earn anywhere from $35,000 to $50,000 a year, while a police officer can earn from $35,000 to $70,000.
In order to find the right criminal justice jobs in Maine, it is imperative that a four year degree be completed with a competitive GPA. There are plenty of great colleges in Maine, but be wise to choose the one with a top criminal justice program. That will put you in a position where you are taken seriously by prospective employers when you look for a job.
The private and public scholarships in Maine are handled by the Finance Authority of Maine, with students applying directly or through the college they have been accepted to. The institution also advises that people look to high school guidance offices, college financial aid offices, prospective employers, faith based institutions, and in-state companies for private grants and scholarships.
Maine Criminal Justice Programs:
* – Denotes Online Program Available
Husson University, Bangor
Certificate – Paralegal Studies
Associate of Science – Criminal Justice
Associate of Science – Paralegal Studies
Bachelor of Science – Criminal Justice
Bachelor of Science – Paralegal Studies
Dual Bachelor of Science – Criminal Justice and Psychology
Master of Science – Criminal Justice Administration
Kaplan University, S Portland
AAS – Criminal Justice*
AAS – Fire Science*
AAS – Paralegal Studies*
Advanced Start Bachelor of Science – Corrections*
BS – Fire Science*
BS – Fire and Emergency Management*
BS in International and Comparative Criminal Justice*
BSBA – Criminal Justice*
BSCJ – Computer Crime*
BSCJ – Crime Scene Investigation (CSI)*
BSCJ – Forensic Psychology*
BSCJ – Juvenile Justice*
BSCJ – Law Enforcement*
MPA – Criminal Justice*
MS – Criminal Justice*
MS – Fire and Emergency Services*
MS – Homeland Security / Emergency Management*
MS – Legal Studies*
MSCJ – Corrections*
MSCJ – Leadership and Executive Management*
MSLS – Education and the Legal System*
MSLS – Health Care Delivery*
MSLS – Legal System and the Media*
MSLS – State and Local Government*
Saint Joseph's College of Maine, Standish
Bachelor of Arts – Criminal Justice*
Southern Maine Community College, South Portland
Bachelor of Science – Criminal Justice
Thomas College, Waterville
Bachelor of Science – Criminal Justice Administration
Bachelor of Science – Criminal Justice
Bachelor of Science – Forensic Psychology
University of Maine at Augusta, Augusta
Certificate – Forensic Science
Associate of Science – Justice Studies
Bachelor of Science – Justice Studies
University of Maine at Presque Isle, Presque Isle
Associate of Arts – Criminal Justice
Bachelor of Arts – Criminal Justice
Check out our Top Online Criminal Justice Degree Programs for 2015
Back to States
FAQ
Home
Rankings
Features
Resources
Contact Us
About CJD Hub