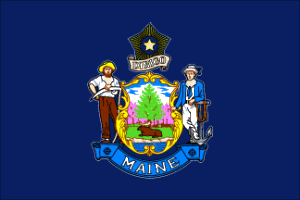 Starting a criminal justice career in Maine can become a particularly rewarding path for those who have an interest in any aspect of the system. Criminal justice encompasses numerous job types, institutions, and agencies.
Many people think criminal justice jobs in Maine are all about law enforcement, but, it's possible to obtain work at every level of the field depending on education and experience. Criminal justice involves law enforcement, but it also involves the courts, prisons, public and private institutions. Those who pursue a criminal justice career will always have options and a direction to go in.
Featured Schools
WHAT ARE THE COMMON CRIMINAL JUSTICE JOBS IN MAINE?
The availability of criminal justice jobs, like any other type of job, will depend on location and demand. In Maine, some of the more common criminal justice jobs an applicant might find can include:
Police officer
Police dispatcher
Probation and pretrial officer
Security officer
Corrections officer
Campus safety officer
Detective
While it's possible to look at some of the more common criminal justice jobs in Maine, demand for specific types of criminal justice jobs can vary widely at the county level.
Applicants looking for a criminal justice career in Maine should narrow their searches whenever possible. For example, Maine wants law enforcement officers, but a higher demand may exist in one county more so than another.
Some niche criminal justice jobs might only exist in one area of the state. So, it's best for applicants to look around and stay flexible enough to consider criminal justice careers in nearby counties if they cannot find precisely what they're looking for in their own county.
DO I HAVE TO WORK IN LAW ENFORCEMENT?
Criminal justice includes law enforcement, but that's only one type of career choice available. These jobs in Maine can include things like computer forensics, forensic science, interviewers, advocates, security managers, teachers, trainers, and just about anything else that has to do with criminal justice.
This field isn't all about law enforcement. And even within law enforcement, there are a plethora of opportunities with nothing to do with becoming a law officer of any type. The criminal justice system of Maine has a lot of moving parts, and each of those parts needs people who understand criminal justice and the law.
Maine, its government, and its private businesses require people at every level, so it's possible to embark on a full criminal justice career without moving into law enforcement. However, for those who do want to pursue a criminal justice career along the path of law enforcement, there are plenty of opportunities for that as well.
HOW IS THE JOB MARKET IN MAINE? SALARIES?
Searching for criminal justice jobs in Maine will net quite a few results. The job availability is there, from entry-level positions to advanced, titled occupations. In addition, employment projections aren't the same for all criminal justice job types.
For example, the need for law enforcement officers at the county, state, and federal levels is projected to continue to grow. However, the need for criminal justice teachers isn't expected to change over the next few years.
Salaries for criminal justice jobs in Maine can vary quite a bit as they will depend on the specific position, the applicant's education, and the applicant's experience. As with most industries, the more experience or the more education, the more someone can demand as far as salary.
In addition, some private employers have their own salary criteria. This means someone can earn far more working in a criminal justice capacity at one place than they might earn working in the same position for another company.
Some salary range examples include:
Maine State Troopers and Police Officers – $49k to $66k
Correctional Officer – $41k to $63k
Security Manager – $70k to $128k
Salary will also change depending on location. What a criminal justice job pays in one county isn't always the same as what the next county pays.
WHERE ARE THE BEST CITIES FOR CRIMINAL JUSTICE JOBS IN MAINE?
The best cities for criminal justice jobs in Maine are the larger ones. The more people in an area, the larger the need for criminal justice professionals of every sort. Nevertheless, this also means more competition. Places like Portland, South Portland, Lewiston, and Bangor are some of the best picks.
Smaller cities and towns can also offer a lot to an applicant that's closer to them. Job seekers don't need to look only in the larger municipalities and surrounding areas, they may find a perfectly suitable start to a criminal justice career in another part of the state, or even closer to the border where there is more need for Border Patrol and related duties.
Related:
JOBS IN LAW ENFORCEMENT OR AS A FEDERAL AGENT
HOW LONG WILL I HAVE TO GO TO SCHOOL FOR A CRIMINAL JUSTICE DEGREE?