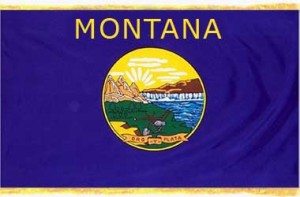 If you are looking for a criminal justice school in Montana, you've come to the right place. Below you'll find a comprehensive list of traditional colleges and universities offering well-respected and accredited criminal justice programs. If you live in Montana but would prefer to get your criminal justice degree online, click here for a list of the top online schools.
Montana Background

Montana is ranked the 4th largest state in the United States but ranked 48th in population density with only 6.86 inhabitants per square mile. Billings, situated in the south-central portion of Montana, is the largest city in Montana and the only city in the state to surpass 100,000 people. By comparison, the state capital of Helena has a population of only 28,000 people. Montana's economy is mostly based on agriculture such as cereal grain farming and ranching. However, there are other significant economic activities such as hard rock and coal mining, gas, oil, and lumber. The fastest-growing sector in Montana is the tourism industry, with millions of tourists visiting Yellowstone National Park, Glacier National Park, and Bighorn Battlefield National Monument each year. Although there are many jobs in tourism, hotel and hospitality, and other service areas in the state's high population areas, the wages are some of the lowest in the United States. However, the cost of living and housing expenses are also among the lowest in the country. Montana is split into two by the Continental Divide, resulting in a distinct western and eastern region. Most of the mountain ranges are in the western region, while the eastern region contains a prairie landscape.
Featured Schools
Montana's Outlook for Criminal Justice Employment

There are excellent prospects for criminal justice jobs in Montana as the state has a budget surplus, which is sometimes spent on public sector hiring. Annual criminal justice occupations in demand in Montana are Police and Sheriff Patrol, Correctional Officers, Detectives, Investigators, Forensic Techs, Security Guards and Paralegals. Some examples of specific annual job opening projections are 55 Police and Sheriff Patrol, 45 Correctional Officers, and 20 Paralegals. Of the individuals currently employed as Montana Police Officers, 88 percent report that they have attended some college courses. Mean annual salaries within the criminal justice field greatly depend on the level of training required.
Available Financial Aid

There are many grants and scholarships available to students seeking a criminal justice degree in Montana. Grants applicable for criminal justice students include the Federal Pell Grant, which is available almost exclusively to undergraduates, and the Federal Supplemental Educational Opportunity Grant for undergraduates with exceptional financial need. In addition, a wide variety of scholarships are available through educational institutions and outside donors.
Related:
JOBS IN LAW ENFORCEMENT OR AS A FEDERAL AGENT
HOW LONG WILL I HAVE TO GO TO SCHOOL FOR A CRIMINAL JUSTICE DEGREE?