If you are looking for a criminal justice school in Nevada, you've come to the right place. Below you'll find a comprehensive list of traditional colleges and universities offering well respected and accredited criminal justice programs. If you live in Nevada but would prefer to get your criminal justice degree online, click here for a list of the top online schools.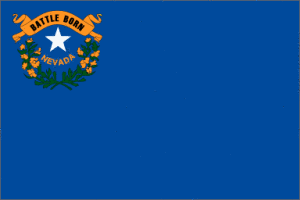 Nevada is a large state located in the Southwestern United States. The state is the seventh largest based on size, but only the 35th most populated state in the country. While the state overall is not very densely populated, it does have a few major cities located within it. Las Vegas, NV is the largest and most populated city in the state. Beyond Las Vegas, Reno and Carson City are also two highly populated regions within the state.
Demand for Criminal Justice
For people that are looking to pursue a criminal justice degree, finding a degree program that will allow you to work in Nevada could be a great idea. Nevada is one state in the country that will likely always have plenty of criminal justice jobs available for peopled educated in the field. Nevada is one of the fastest growing states in the union, which will help to encourage growth in the field. Beyond that, the state has very unusual laws regarding legalized gambling, which adds an entirely different element of need for those that are in criminal justice.
Financial Assistance
Like in most other areas of the country, people that are looking to pursue a criminal justice degree in Nevada will find that there are plenty of financial assistance options available. One of the best ways to get financial assistance would be to apply for scholarships, which are provided directly through the school, through local communities, and through other third-party organizations. In many cases you will also be able to qualify for state and federal grants, which could help to reduce the financial burden that comes with getting a degree.
Nevada Criminal Justice Programs:
* – Denotes Online Program Available
Career College of Northern Nevada, Sparks
Associate Degree – Paralegal
Carrington College, Las Vegas, Reno
College of Southern Nevada, Las Vegas
Associate of Applied Science – Criminal Justice: Correctional
Associate of Applied Science – Criminal Justice: Hotel / Industry Security
Associate of Applied Science – Criminal Justice: Juvenile Justice
Associate of Applied Science – Criminal Justice: Law Enforcement Training Academy
Associate of Applied Science – Criminal Justice: Law Enforcement
Associate of Applied Science – Paralegal
Associate of Arts – Criminal Justice
Associate of Arts – Emergency Management Administration
Certificate – Legal Support Specialist
Certificate – Paralegal
Certificate of Achievement – Criminal Justice: Law Enforcement Training Academy
Certificate of Achievement – Criminal Justice: Public Safety Communication
Certificate of Achievement – Criminal Justice*
Everest College, Henderson
Associate Degree – Paralegal Studies
Associate of Applied Science – Criminal Justice
Bachelor of Science – Criminal Justice
Great Basin College, Elko
Associate of Applied Science – Corrections
Associate of Applied Science – Human Services
Associate of Applied Science – Law Enforcement
ITT Technical Institute, Henderson
Associate of Applied Science – Criminal Justice
Bachelor of Science – Criminal Justice
Kaplan College, Las Vegas
Associate of Arts – Criminal Justice
Nevada State College, Henderson
Bachelor of Applied Science – Criminal Justice
Bachelor of Public Administration – Law Enforcement
Truckee Meadows Community College, Reno
Certificate – Northern Nevada Law Enforcement Academy
Certificate of Achievement – Criminal Justice
Associate of Applied Science – Criminal Justice: Corrections / Probation
Associate of Applied Science – Criminal Justice: Investigations
Associate of Applied Science – Criminal Justice: Juvenile Justice
Associate of Applied Science – Criminal Justice: Law Enforcement
Associate of Applied Science – Military Occupations
Associate of Applied Science – Paralegal
Associate of Arts – Criminal Justice: Community Policing and Problem Solving
Associate of Arts – Criminal Justice: Pre-Law
Associate of Arts – Criminal Justice
University of Nevada-Las Vegas, Las Vegas
Bachelor of Arts – Criminal Justice
Master of Arts – Professional: Criminal Justice
Master of Arts – Traditional: Criminal Justice
University of Phoenix, Henderson, Las Vegas, Nellis AFB, Reno
AA – Criminal Justice*
BS – Criminal Justice Administration: Human Services*
BS – Criminal Justice Administration: Management*
BS – Criminal Justice Administration*
BS – Organizational Security Management*
MS – Administration of Justice and Security*
Western Nevada College, Carson City
Associate of Applied Science – Criminal Justice: Law Enforcement Academy
Associate of Arts – Criminal Justice
Certificate of Achievement – Criminal Justice: 9-1-1 Dispatch Telecomm.
Certificate of Achievement – Criminal Justice: Law Enforcement Academy
Check out our Top Online Criminal Justice Degree Programs for 2015
Back to States
FAQ
Home
Rankings
Features
Resources
Contact Us
About CJD Hub