A law enforcement officer's lifeline is his weapon. Guns for law enforcement must be powerful enough to stop criminals and accurate enough to help officers hit their mark. The quality of their guns can mean the difference between surviving to work another day and tragically dying in the line of duty. Here are ten firearms for law enforcement that should be known by anyone looking to pursue a career in criminal justice. have you ever wondered what are the Most Popular Guns Used by Law Enforcement Professionals? This is a guide to read.
Glock 19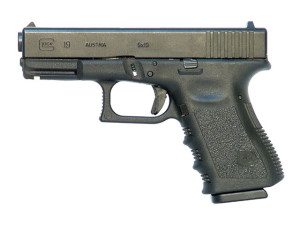 Glock is an Austrian handgun manufacturer that prides itself on quality. In 1988, they introduced the Glock 19 to the market. This model quickly became popular with officers for its lightweight design. It was made to be a toned-down version of the Glock 17. Officers wanted a smaller Glock that was easier to conceal. The Glock company responded by making the Glock 19 about four inches smaller on the barrel and about 7 inches shorter in total. This brought the total weight of the gun while fully loaded to about 30 ounces. The best part is they achieved this while keeping the magazine at 15 rounds.
Featured Schools
This firearm is popular among law enforcement for its durability, accuracy, and versatility. This weapon has a simple design, which means it is simple to clean. It is also designed to work in extreme temperature conditions. This makes it a great choice for officers in all regions of the world. Officers have also said this gun is more accurate and has more stopping power than its predecessor. These are big reasons why this firearm is a favorite for an off-duty or undercover weapon.
Glock 22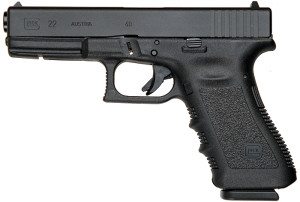 The Glock 22 is the next firearm in line after the Glock 19 and looks quite similar at first glance. The only two aesthetic differences are the Glock 22 is a couple of inches longer and a few ounces heavier than the Glock 19. Launched in 1990, this gun became one of the top guns for military and police by 2006. The reason this gun has become so favorable is it offers more power.
The only advantage the Glock 19 offers officers is the fact that it's easier to conceal. If concealment isn't a concern, then most officers prefer the Glock 22. A big reason for this is that it has the capability to shoot both 9mm and .40 caliber ammunition. Before the Glock 22, there was no Glock in between .45 caliber and 9mm. This gun combines the power of a .45 caliber weapon with the size and flexibility of a 9mm weapon. It's for this reason it can be found in the holsters of thousands of cops around the world.
Smith & Wesson M&P 9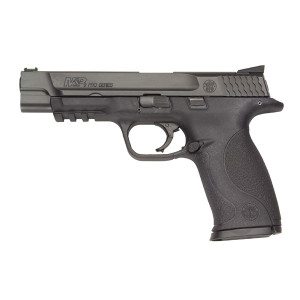 Smith & Wesson is an American gun company that has been manufacturing guns for over a century. They made their first gun in 1852 and have since gone on to supply American troops with sidearms in virtually every war since the Civil War. Smith & Wesson has become one of the top suppliers of the world's police forces due to their prestigious reputation. One of the most popular police issue firearm from this company is the Military & Police (M&P) 9. Back in 2013, the entire Los Angeles Police Department switched over to the M&P 9. If the second largest police force in America thinks the M&P 9 is a great weapon, then that's all the social proof you need.
What makes this gun so popular among law enforcement is its personalization capabilities. The M&P 9 has a Picatinny rail under the muzzle that allows officers to install all types of custom accessories. This includes things like laser sights and flashlights. It also accommodates left-handed officers with ambidextrous controls. It also offers small upgrades in the safety department, such as the loaded chamber indicator.
Beretta Model 92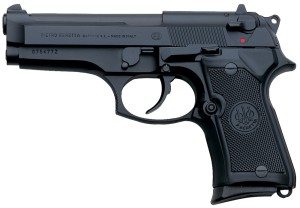 Beretta's claim to fame is that it is the oldest active gun manufacturer in the world. This Italian company has been producing fine firearms dating back all the way to the 16th century. Since then, they have expanded to a multi-national corporation that supplies militaries and police forces all around the world with quality firearms.
The Beretta Model 92 hit the market in 1975. It has the open-side design that Beretta is noted for, and it is constructed out of a lightweight aluminum alloy that is comparable to what is used in aircrafts. This makes it one of the most durable guns on the market. Some officers were complaining that the gun was too bulky, so Beretta came out with the 92SB in 1981. This version was smaller, shorter, and lighter. Beretta also released an automatic model, the 92C, in 1990 so officers would have an equal to the rise of semi-automatic and automatic weapons on the streets.
Sig Sauer P226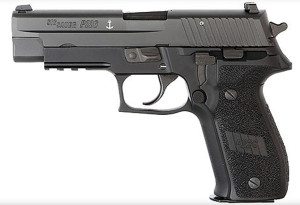 The original SIG company dates back to Switzerland in the 1850's. They got their start by producing muskets for the Swiss army. The owners wished to expand but were limited by Swiss law. They partnered with a German company by the name of Sauer & Sohn and the rest is history. The Sig Sauer brand was officially created in 1985 and has been the American face of this company ever since.
The Sig Sauer P226 was designed as an upgrade to the P220. Its original intent was for military officers, and this shows in the design. It has a larger capacity than its predecessors at 15 rounds. It also has an ambidextrous catch that makes it a favorite among left-handed officers. The extended barrel provides extra accuracy, which is a big reason why agents from the FBI, US Coast Guard, and Navy SEALS all favor the Sig Sauer P226.
Heckler and Koch HK45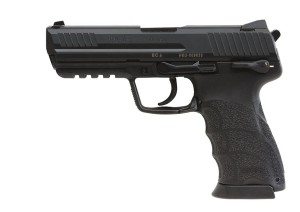 Heckler and Koch is a German gun manufacturer that has been making guns for law enforcement since it was founded in 1948. This company prides itself on innovation and commitment to excellence. Their motto translates to "No Compromises!" in English, which is a testament to their dedication to producing quality guns.
Those officers who use the HK45 do so because it is a versatile and powerful firearm. This gun was designed for the military, which means that it was heavily tested for accuracy, power, and durability. Many officers who used the HK45 love the customization options. The accessory rail allows offers to add laser sights and silencers. This is a big reason why it's a favored firearm for covert operations. Another reason the HK45 is favored is its recoil reduction technology. Offers say this technology cuts down recoil over 25%.
Ruger LC9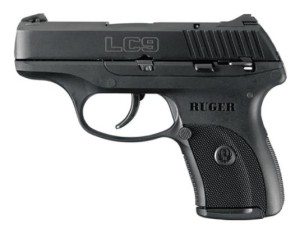 Ruger is an American company that has been specializing in revolvers, pistols, and rifles since 1949. The LC9 is a favorite among law enforcement for their personal off-duty weapon. At just six inches and 17 ounces, it is one of the smallest options on the list. It is an update of its predecessor to allow for 9mm capability. Officers felt the .380 cartridge did not offer enough protection.
Colt M1911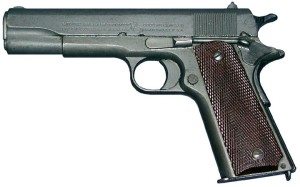 The original M1911 was designed in 1911 and was the standard sidearm of the US military from 1911 to 1986. Over this time period, close to 3 million M1911s were made. It is .45 caliber and semi-automatic, which is why it was such a favorite for so long. Although the Beretta M9 replaced it as the standard military sidearm, it is still favored by law enforcement agencies around the country.
Remington 870 Shotgun

Remington Arms, which was founded in 1816, is the oldest American gun manufacturer still in business. They are also the country's largest producer of rifles and shotguns. This is why law enforcement officers across the nation go to Remington for their shotgun needs.
One of the most favored shotguns is the Remington 870. One of the reasons it is so heavily favored is they take the quality of their law enforcement firearms seriously. Law enforcement shotguns and rifles are assembled by the same group of employees in a separate section of the factory. Each gun then undergoes a 23 station check to ensure every component is up to standard.
Colt M4 Carbine

Colt's Manufacturing Company, founded in 1855, is one of the most prestigious gun manufacturers in the world. They were the main suppliers of the American forces between the Civil War and World War 1.
The Colt M4 Carbine is not generally your everyday law enforcement weapon, although some departments now carry them in their patrol cars. This gun is mainly for SWAT divisions who face some of the most dangerous situations and criminals a cop can face. This gun was designed for soldiers who needed an assault rifle that performed well at close range. It was designed as a shorter, lighter, and more mobile version of the M16. This gas-operated gun has a both a single fire and automatic option. It also offers custom add-on capabilities like scopes, lasers, and night vision devices. This is a great option for law enforcement agencies to keep on hand for when the worst case scenario unfolds.
Anyone who plans to enter a career in criminal justice should be familiar with these ten firearms. All of these guns are great for law enforcement and do a great job keeping the men and women in blue safe.
Related:
Should I Get an CSI Certification?
JOBS IN LAW ENFORCEMENT OR AS A FEDERAL AGENT
HOW LONG WILL I HAVE TO GO TO SCHOOL FOR A CRIMINAL JUSTICE DEGREE?