Agents of the United States Secret Service are often anything but secret. A notable presence at any public event attended by a U.S. President, the program has become synonymous with those black-suited agents in sunglasses, carefully scanning the crowd and speaking gravely into their shirt cuffs. But the agents you might see in films and on television represent only a small portion of the task force that makes up the actual Secret Service, and protecting government officials comprises only half of this unique agency's rather weighty responsibilities. Have you ever wondered What Does the Secret Service Do? If so, then this is the article to help you learn and get started on your journey.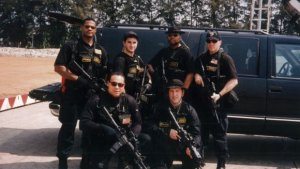 A Brief History
Although most people might recognize the name, very few really know the history of the U.S. Secret Service, federal law enforcement and investigative agency that predates even the Federal Bureau of Investigation.
Featured Schools
One of the largest issues the nation faced as it struggled to recover from the American Civil War was the battle against counterfeit money. In 1865, directly following the war, it's estimated that up to one-half of all U.S. currency was actually fake, and the United States Treasury Department found itself in desperate need of a criminal justice agency dedicated to fighting the counterfeiters. The United States Secret Service was established to do just that, as a branch of the Treasury Department, and for the next thirty six years the agency's primary function was to restore the American people's confidence in the Department and its currency.
The role of the program changed significantly in 1901, when President William McKinley was assassinated while attending the Pan-American Exposition in Buffalo, New York. Suddenly it seemed necessary to establish a federal agency responsible for protecting the president, and the Secret Service added this crucial task to its roster.
The Secret Service Today
Today, the United States Secret Service employs over 6,500 people, with these jobs ranging from special agents to administrative professionals. The core duties of the Secret Service are, surprisingly, still divided between the agency's two roles: protection of the president, vice president, their families and other officials, and investigating financial crimes including counterfeit money.
Agents of the Secret Service are authorized to carry firearms, execute warrants, make arrests without warrants, and have primary jurisdiction to investigate any threats made against a protectee or financial crimes that affect federally-insured institutions. This protection is provided to ex-presidents, and their spouses, for the remainder of their lives after they leave office, and agents are also often called upon to protect visiting dignitaries from other countries.
In the war against counterfeiting, agents are now hard-pressed to keep up with advances in counterfeit technology, which makes it easier than ever to reproduce currency and extremely difficult to trace counterfeit activity. Although the percentage of counterfeit U.S. money currently in exchange is considerably lower than it was in 1865, there still remains an estimated $200 million counterfeit U.S. dollars in circulation today, and those bills are often made using scanners, color copiers, and home graphics programs. Although a growing global economy means new international challenges for the Secret Service, they still spend a substantial amount of time and resources domestically, trying to teach business owners how to protect themselves from fraud.
Training Agents
Training programs for Secret Service employees vary based on the positions within the agency. Once they pass extensive background checks, Secret Service agents are required to complete a number of criminal justice training sessions, including the 10-week Criminal Investigator Training Program (CITP) at the Federal Law Enforcement Training Center and the 17-week Special Agent Training Course at the Training Academy. Throughout their career, agents continue to receive advanced training and re-qualification befitting their position, as well as personal development courses such as Ethics, Interpersonal Awareness, and Practical Leadership. Special agents of the United States Secret Service agency must maintain a high level of physical fitness and demonstrate mental acuity at all times, as special agents' duties include both investigation and protective services.
Joining the Secret Service
Of all the criminal justice jobs available through the federal government, the United States Secret Service probably has one of the most rigorous background checks available. Potential agents need to be able to get Top Secret security clearance before they can even be considered for a position, and this six- to nine-month-long process includes everything from credit checks to neighborhood references. Once cleared, new agent trainees will still need to complete their training program, subject themselves to polygraph examinations, and successfully pass the Treasury Enforcement Agent (TEA) exam.
The application process begins by locating a position vacancy and filling out an online application through the United States Secret Service website. The application requires a number of supporting documents, including transcripts and military history, if applicable.
Understandably, it's not easy to garner a position with the Secret Service, an agency responsible not only for safeguarding the lives of the world's most important leaders but also for ensuring the validity of U. S. currency around the globe. The Secret Service is directly accountable for the most valuable assets the United States has to offer, our money and our policy-makers, and that means that the power of the nation rests solely in the protective hands of this venerated organization. That's a hefty job for one of America's oldest, and perhaps most misunderstood criminal justice agencies.
Related:
Should I Get an CSI Certification?
JOBS IN LAW ENFORCEMENT OR AS A FEDERAL AGENT
HOW LONG WILL I HAVE TO GO TO SCHOOL FOR A CRIMINAL JUSTICE DEGREE?