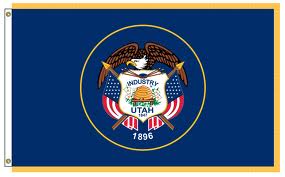 If you are looking for a criminal justice school in Utah, you've come to the right place.
Utah Background
Utah is the 13th largest state in the United States, but it is the 10th least populated state with a population density of only 34.3 inhabitants per square mile. However, Utah is the fourth fastest-growing state in the United States according to the U.S. Census Bureau's population estimates. Most of Utah's residents live along the Wasatch Front, a metropolitan region in the north-central part of the state containing the cities of Provo, Ogden, and Salt Lake City. The state is well known for its Mormon population, and the majority of residents are members of The Church of Jesus Christ of Latter-day Saints. Utah features beautiful natural diversity and it offers landscapes from sand dunes on barren deserts to lush pine forests in mountain valleys. The state is also a major tourist destination for outdoor recreation activities. There are five popular national state parks, two national recreation areas, seven national monuments, seven national forests and multiple state monuments and parks. In addition, Utah's winter activities are well known, with several huge ski resorts located in the northern part of the state near Salt Lake City.
Featured Schools
Utah's Outlook for Criminal Justice Employment
There is an abundance of criminal justice jobs in Utah due to the state's unprecedented growth. Private security is one of the fastest-growing job sectors in Utah due to growth and business expansion in the state, and it is projected to grow at an above-average rate through 2016. Therefore, private detectives and investigators are among those in high demand. Paralegals and corrections officers are also among the fastest-growing occupations in Utah. State agencies such as the Utah Highway Patrol, Department of Public Safety, and Utah Department of Corrections hire a substantial number of criminal justice degree graduates. The Federal Government is one of the largest employers in Utah and offers many positions with agencies such as the Department of Homeland Security, Department of Defense, and Department of Justice.
Available Financial Aid
There are multiple grants and scholarships available to criminal justice students in Utah. Grants include the Federal Pell Grant, Federal Supplemental Educational Opportunity Grant, Utah Education Fund Grant, Higher Education Success Stipend Program, Need-Based Tuition Assistance Grant, and the TEACH Grant Program. In addition, scholarships are available within educational institutions and through private outside sources.
Related:
JOBS IN LAW ENFORCEMENT OR AS A FEDERAL AGENT
HOW LONG WILL I HAVE TO GO TO SCHOOL FOR A CRIMINAL JUSTICE DEGREE?