If you are looking for a criminal justice school in Hawaii, you've come to the right place. Below you'll find a comprehensive list of traditional colleges and universities offering well respected and accredited criminal justice programs. If you live in Hawaii but would prefer to get your criminal justice degree online, click here for a list of the top online schools.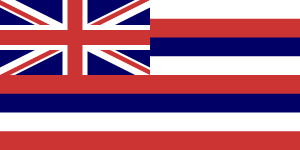 Situated in the central Pacific Ocean in northern Polynesia, Hawaii is the only state in the United States that entirely consists of islands. It is the eighth smallest and eleventh least populous state, but it is the 13th most densely populated with 1,392,313 residents. Boasting more than 750 miles of ocean coastline, Hawaii encompasses eight main islands and hundreds of smaller islands. On the island of Oahu is the state's capital and largest city of Honolulu, which 390,738 people call home. Due to its mid-Pacific location, Hawaii is the only state in the country with an Asian plurality and is not positioned in the North America.
Hawaii is well-known for its diverse natural scenery, abundance of pristine beaches, active volcanoes, and warm, sunny tropical weather. Therefore, it is an extremely popular tourist destination and has millions of international visitors each year. Hawaii possesses a strong and vibrant native culture, as well as influences from North American and Asian cultures. Interestingly, Hawaii has the longest average projected lifespan of any other state in the country at 79.8 years.
Criminal Justice Jobs Outlook in Hawaii
According to the Bureau of Labor Statistics, there were 20,520 jobs in May 2012 for employees in the criminal justice and protective service sector. For every 1,000 jobs in the state, 34.88 were in criminal justice related occupations. While the location quotient for the field is 1.42, employment for qualified criminal justice degree holders is expected to rise by an impressive 6.5 percent between 2010 and 2020. Those employed in criminal justice are compensated with a mean annual salary of $40,670, which is equivalent to $19.55 per hour. Detectives and criminal investigators earn the highest annual salaries in the field at $87,790.
Financial Aid in Hawaii
The following are some of the scholarships and grants for residents of Hawaii that could provide financial assistance to enrolled students seeking a criminal justice degree:
Second Century Scholarship – awarded to Native Hawaiians who are enrolled either full-time or part-time in undergraduate or graduate programs, and remain in good academic standing.
Hawaii Community Foundation Scholarship (HCF) – granted to residents that demonstrate financial need to attend an accredited two or four-year college full-time.
Korean University Club Scholarship – offered to students of Korean ancestry that promote further understanding of the ancestral heritage, participate in community affairs, and maintain academic excellence with a minimum GPA of 2.7.
Hawaii Criminal Justice Programs:
* – Denotes Online Program Available
Chaminade University of Honolulu Honolulu
Bachelor of Science – Criminology and Criminal Justice
Bachelor of Science – Forensics
Master of Science – Criminal Justice Administration
Master of Science – Forensics
Hawaii Community College, Hilo
Associate in Science – Administration of Justice
Hawaii Pacific University, Honolulu
Bachelor of Arts – Justice Administration
Honolulu Community College, Honolulu
Associate in Applied Science – Administration of Justice
Kapiolani Community College, Honolulu
Certificate – Legal Secretary
Associate of Science – Paralegal
Maui Community College, Kahului
Certificate – Administration of Justice
Associate of Applied Science – Administration of Justice
Remington College, Honolulu
Associate Degree – Criminal Justice*
Bachelor Degree – Criminal Justice*
University of Hawaii at Hilo, Hilo
Bachelor of Arts – Administration of Justice
University of Phoenix, Honolulu, Kapolei, Mililani
AA – Criminal Justice*
BS – Criminal Justice Administration: Human Services*
BS – Criminal Justice Administration: Management*
BS – Criminal Justice Administration*
BS – Organizational Security Management*
MS – Administration of Justice and Security*
Check out our Top Online Criminal Justice Degree Programs for 2015
Back to States
FAQ
Home
Rankings
Features
Resources
Contact Us
About CJD Hub